OPINION: A sad, but inevitable, farewell to The Nation daily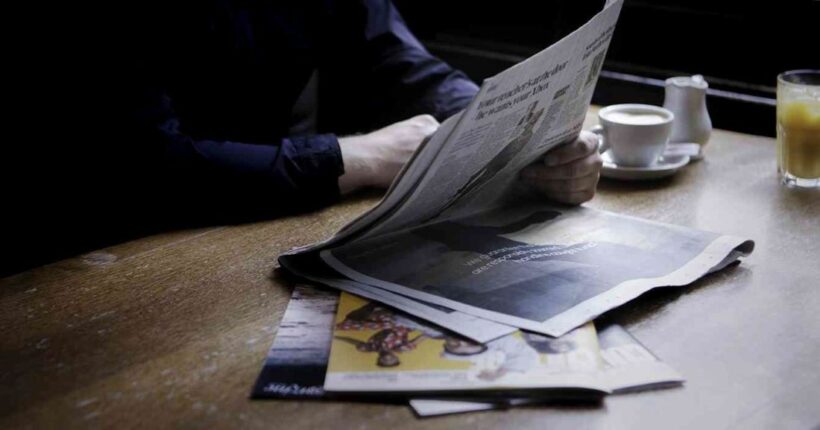 Sad news that after 48 years, The Nation Multimedia Group is shutting up shop on its daily newspaper.
It's final edition hit news stands around Thailand today (June 28).
It wasn't entirely unexpected and is a decision that every newspaper has either already made, is constantly reviewing or will have to make in the future, probably soon. The Nation Multimedia Group's CEO maintained that there would be no reductions in editorial staff. When these announcements are made there is always promises of a rosy online future and no reductions in staff. In reality there has to be a reduction in staff to make the transition from paper to online fiscally possible.
For The Nation it was somewhat of a perfect storm of problems that precipitated yesterday's announcement to go online-only.
Thailand's expat and english-speaking demographic is changing. The numbers of English-speaking expats is dropping but the numbers of non English-speaking expats is growing. The same is reflected in the tourist mix passing through the Kingdom these days. It's just an evolutionary transition that's also reflected in the nationalities buying property in Thailand.
A hard core of expats, some of The Nation's devout readers, are also finding it increasingly difficult to stay in Thailand. Take a long-term British expat for example, living happily on their UK pension and spending long days by the beach. With the British pound plunging against the Thai baht the real cost of living has gone up, a lot, for many of these long-termers. Then add the steadily rising costs of living in Thailand and new requirements for long-stay visas and the long days at the beach are getting more expensive and more complex.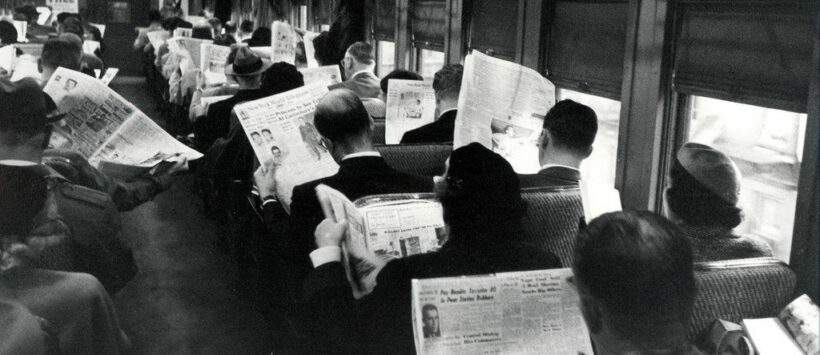 Then
The expat mix is also getting a lot younger. You guessed it, younger people are more inclined to read their news and seek information online.
Finally, the advertising revenue for newspapers is getting very thin on the ground. Newspaper advertising is expensive, non-intuitive and certainly not 'real time' as demanded by both readers and advertisers now. Business owners are moving away from newspaper ads when, for a fraction of the cost, they can directly target THEIR customers with an online ad. AND it's totally measurable – more eyeballs on their product for a fraction of the cost.
The strong baht, falling exports and political uncertainty are also eating into business advertising spend and confidence as well.
There's also a lot more choice for advertisers these days as the revenue creeps away from the old triumvirate of press, radio and TV. At the same time online platform traffic soars in numbers and new platforms and innovations get added every day.

Now
The Nation's daily paper is just another victim of the relentless technological march.
The people (me included) who used to make it a daily habit to trawl through the pages of the dailies are getting older, moving across to the online platforms, simply dying or leaving Thailand. At the same time a few thousand smartphones will be bought today bringing almost instantaneous news to their screens, along with hundreds of choices of media, opinions, formats and, yes, advertisements.
The sight of people travelling on public transport, or walking around, heads buried in their screens is scary to us 'old-timers'. But the smartphone, and to a lesser extent tablets, laptops and desktops, is where people will increasingly source just about everything they need to know. They will 'choose' what they want to read, not some editor's view of the world or slanted choices of news to publish.
It's a sad day when any venerable banner, like The Nation, has to cease publishing but we, the consumers, have already determined their fate, and the fate of the remaining newspapers in Thailand, by making the move online. The publishers are adjusting to the new technology as well and following the new money-trail.
The Thaiger has an editorial partnership with the Nation Multimedia Group.
Keep in contact with The Thaiger by following our
Facebook page
.
Royal Barge Procession on Bangkok's Chao Phraya postponed to December 12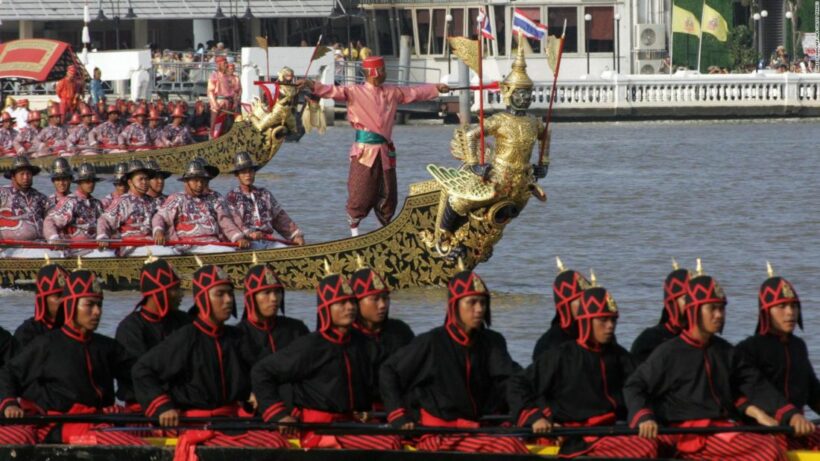 PHOTOS: AFP
His Majesty the King has ordered the Royal Barge Procession to be postponed to December 12, originally scheduled for October 24, as recommended by the organising committee chaired by PM Prayut Chan-o-cha. Deputy PM Wissanu Krea-ngarm told Parliament yesterday about the official postponement.
After ten rehearsals and one dress rehearsal, he said the organising committee agreed that, if the procession were to proceed on October 24, the water conditions in the Chao Phraya River, currents and weather conditions would not be optimal. The committee then reported its concerns to HM the King, who subsequently agreed that the event be postponed until December 12, the beginning of the winter in Bangkok and the most settled weather of the year, according to Thai PBS World.
The committee will meet again on October 21 and a formal announcement will be made about the new schedule, said Wissanu, adding that December would be perfect timing for the event as there will be little chance of rain.
The Royal Barge Procession is the official finale of the King's Coronation ceremony held in May this year. Their Majesties the King and Queen will ride on one of the 52 barges in the procession.
SOURCE: Thai PBS World
Here's an example of what it will look like…
Keep in contact with The Thaiger by following our
Facebook page
.
BTS thief and credit card skimmers arrested in Bangkok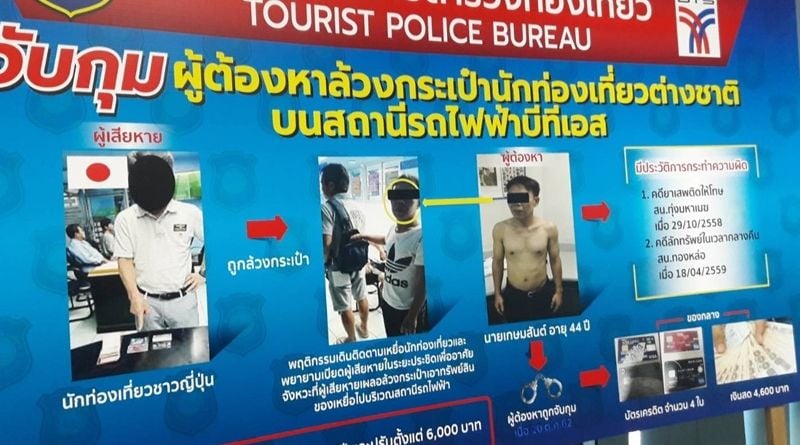 Tourist police in Bangkok have arrested a thief accused of pick-pocketing tourists on the city's BTS Skytrain, along with an Indonesian couple charged with credit card fraud and card skimming.
Kasem Masan Jantaro, a 44 year old food vendor in the Huay Kwang market, says he started pick-pocketing when business became too slow for him to adequately support his family. The Skytrain security team alerted the police after several reports of tourists being pick-pocketed on the trains. Victims described the thief as middle-aged, with pale skin.
Kasem was arrested while trying to flee the scene at the Asok BTS station on Wednesday and was found to have 4,600 baht in cash and four stolen credit cards in his possession. Thai Residents reports that Kasem was previously prosecuted for drugs offences in 2015 and for robbery in 2016.
In a separate arrest, Bangkok police detained 32 year old Alexander Eddilias and 33 year old Estie Rusdiana, an Indonesian couple charged with being in possession of fake credit cards, stolen credit cards, and skimming devices used to steal credit card information.
The arrest comes after several banks notified police of transactions made using fake cards and the couple were tracked to a room in the Pratunam area of Bangkok. Officers also seized a computer, a skimming device, twenty two fake credit cards, two stolen credit cards, and twenty four credit card receipts.
The suspects say they bought the information on the Dark Web. The information was then recorded in the magnetic strip of the fake cards, which were used to make purchases worth approximately 2 million baht.
SOURCE: Thai Residents
Keep in contact with The Thaiger by following our
Facebook page
.
Bangkok and Nonthaburi to get 2 extra holidays during ASEAN summit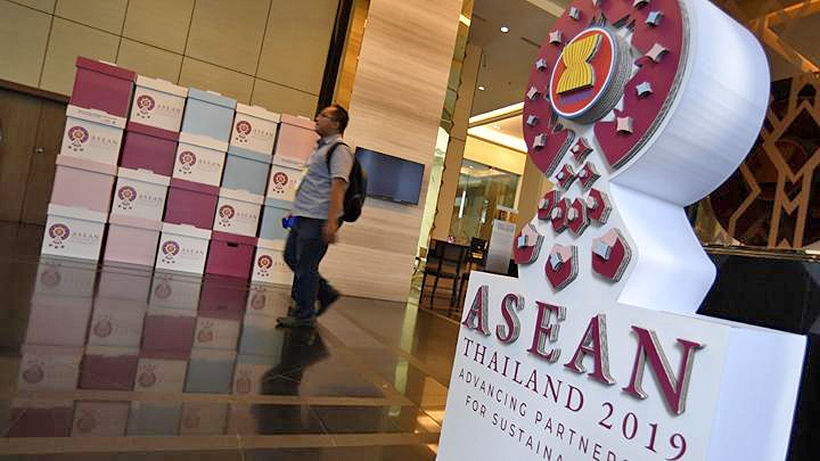 November 4 and 5 have been approved as official holidays for Bangkok and Nonthaburi as a result of the 35th Asean Summit and Related Summits being held at Impact Arena Muang Thong Thani in Bangkok.
Deputy government spokeswoman Traisulee Traisoranakul confirmed yesterday that the measure was being taken in an effort to alleviate traffic problems in both areas during the summit, adding that other state enterprises and the Bank of Thailand could implement the holidays for their subsidiaries at their own discretion and on a case-by-case basis.
"Government agencies in Bangkok and Nonthaburi will stop working on these dates. Meanwhile, state enterprises and the Bank of Thailand will consider announcing November 4 and 5 as holidays for their subsidiaries on case-by-case basis."
"However, government agencies which have a necessity to provide urgent or previously scheduled services to their clients that cannot be postponed may stay open on November 4 and 5, depending on the decision by the heads of these departments."
Some other public or regional holidays coming up…

SOURCE: The Nation
Keep in contact with The Thaiger by following our
Facebook page
.