MONTAGE: TNews
The South Korean Government reports that there are about 370,000 illegal immigrants in the country. Thais are the number one offenders as the highest number of illegal immigrants living and working in South Korea.
The South Korean Ministry of Justice has revealed the official number of illegal immigrants living and working in South Korea is 370,889 illegal immigrants, some 15% of all foreigners living in South Korea. They report that many Thai's choose to enter South Korea by using a travel visa, then abuse the visa-on-arrival system. Instead of traveling to visit the country, some Thais will stay for months or even years working illegally with jobs and living 'under the radar'.
Even though it is mostly Chinese tourists entering South Korea for holidays, it is the Thai tourists who are most likely to abuse the system. Thai nationals can stay in South Korea for 90 days as tourists without having to apply for visas.
There are so many of these so called 'little ghosts' attempting to enter South Korea, Korean immigration officials have to be extremely strict, making it more difficult for real Thai tourists to enter the country because of the reputation left behind by the illegal over-stayers. Only 25,000 Thai workers are working in South Korea legally, a mere fraction of the so-called grey market.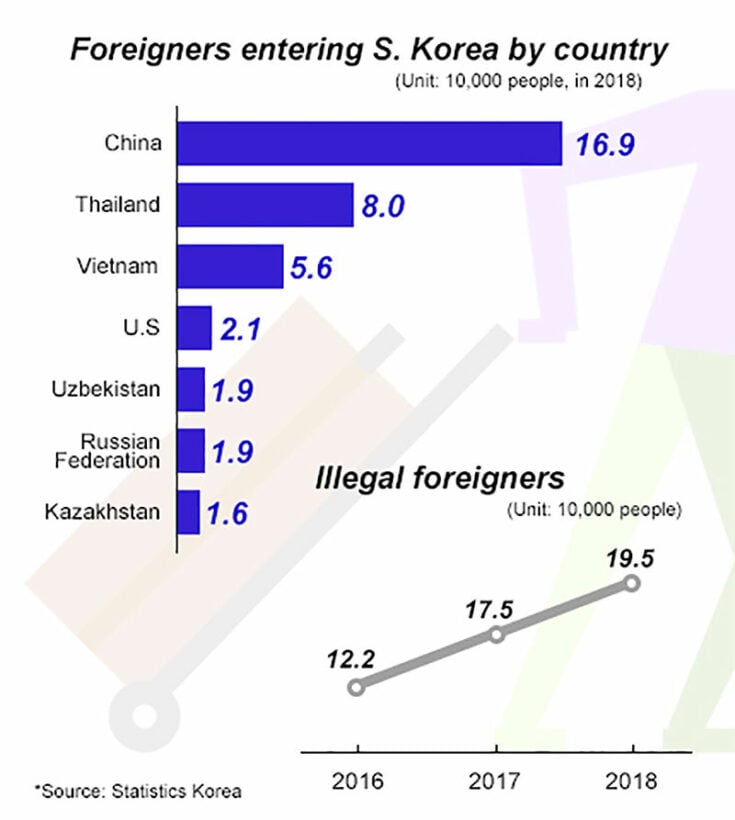 The most popular option of travel into South Korea for 'little ghosts' is by organised tour. They will buy a seat with a tour company but disappear after arriving in South Korea – so there's no surprise if the tour group ends up having 2 or more people vanish after leaving the airport when they arrive in South Korea. Besides massage, illegal Thai labourers work at farms, factories and construction sites.
South Korean immigration officials are trying to tap into the underground 'assistance' these illegal workers are receiving to help them live and work 'under the radar' and out of view of South Korean officials.
Out of 370,889 illegal immigration in South Korea, over 140,000 are Thai citizens, according to the country's statistics. The number was calculated in July of this year, which indicates there is double the amount of illegal Thai's working in Korea compared to 2015.
One of the main reasons for the high number of illegal immigration in South Korea is due to the South Korean government expanding a visa exemption period when the Olympic Winter Games took place in Pyeongchang during February 2018.
SOURCE: Thai Residents