Thailand News Today – Thursday, April 9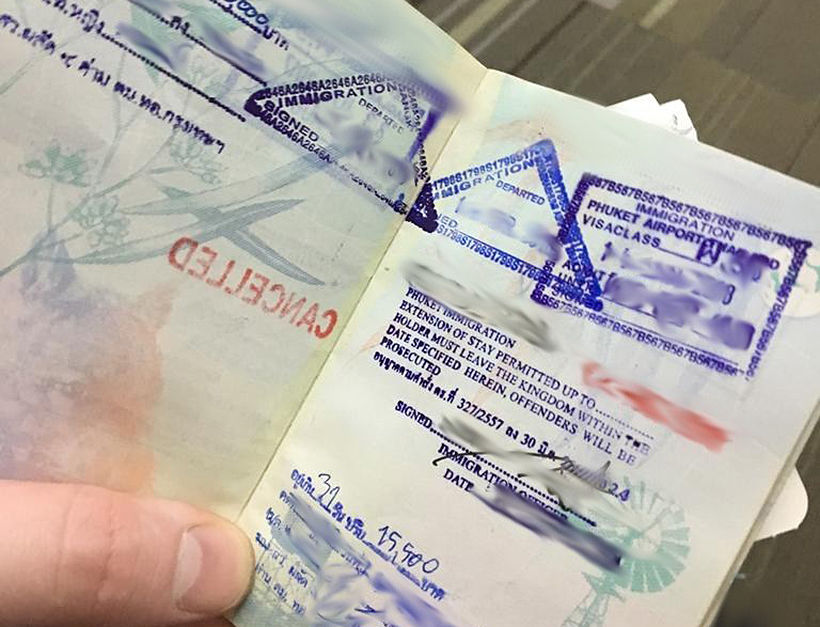 Chamber predicts 7 million Thai people to be jobless by June
7 million Thais could be on the unemployment queue by June in dire predictions from an industry chamber.
The Joint Standing Committee on Commerce, Industry and Banking have predicted that 7 million people will be joblessby June.
The report says… "Low wage workers will be affected the most by the layoffs, an estimated of 4.2 million retail and shopping mall workers will lose their jobs, along with 1 million construction workers, 978,000 hotel workers, 250,000 restaurant workers, 200,000 spa and massage workers and 200,000 garment factory workers."
Thailand's labour market currently employs about 38 million workers.
Thailand confirms 54 new coronavirus cases, 2 new deaths
54 new cases of the Covid-19 coronavirus in have been announced in Thailand today, less than half of yesterday's 111.
The new cases bring the total number of infections in the country to 2,423. Two additional deaths were reported as an 82 year old Thai man and a Frenchman aged 74. This brings the national death total to 32.
2,423 confirmed cases including…
• 1,242 in Bangkok
• 161 in Phuket
• 142 in Nonthaburi
• 103 in Samut Prakan
• 73 in Chon Buri
Visa amnesty for foreigners – but conditions apply
The visa amnesty has been announced, hopefully relieving some of the stress on stranded tourists and other foreigners that have ended up without flights or ways to get home.
The Immigration Bureau has announced that it is granting amnesty for all foreign nationals who have found themselves marooned in Thailand. The key points are…
• Visas that have expired from March 26 onwards will be automatically extended to April 30.
• Foreigners are no longer required to apply in person for an extension at an immigration office
• They will not be charged 500 baht per day for overstaying their visa
• Foreigners who are due to file their 90 day reports, between March 26 and April 30, are also temporarily exempted.
• Foreigners with border passes will be allowed to stay in Thailand for now but will be required to leave Thailand within 7 days once the borders are opened again.
Stranded Burmese permitted to return home
Stranded Burmese people at Chiang Rai's Mae Sai border crossing in Northern Thailand have been allowed to return home to Myanmar.
The Burmese people, stuck in Thailand since borders were closed have been held in quarantine at a temple in Mae Sai. Myanmar officials allowed them to cross the border after being declared free from Covid-19 infection.
A fleet of 23 trucks transported the nearly 200 Burmese from the temple to the Friendship Bridge at Mae Sai. They'll be quarantined in Myanmar for another 14 days.
Burmese pair arrested at border for smuggling 16.5 million baht
But the traffic hasn't all been one way up in the north. Police have arrested two Burmese nationals for trying to smuggle 16.5 million baht in cash into Thailand. The 29 and 24 year olds were arrested following a tip-off.
Police found 16,500 1,000-baht banknotes in two black plastic bags during a routine check.
Police say the pair claimed they were going to deposit the cash at a Kasikorn bank in Mae Sot but they were unable to produce any evidence of bank books or a bank account.
Keep in contact with The Thaiger by following our Facebook page.
Never miss out on future posts by following The Thaiger.
Stop the burn – Thai Governors told to stop farmers burning off agricultural waste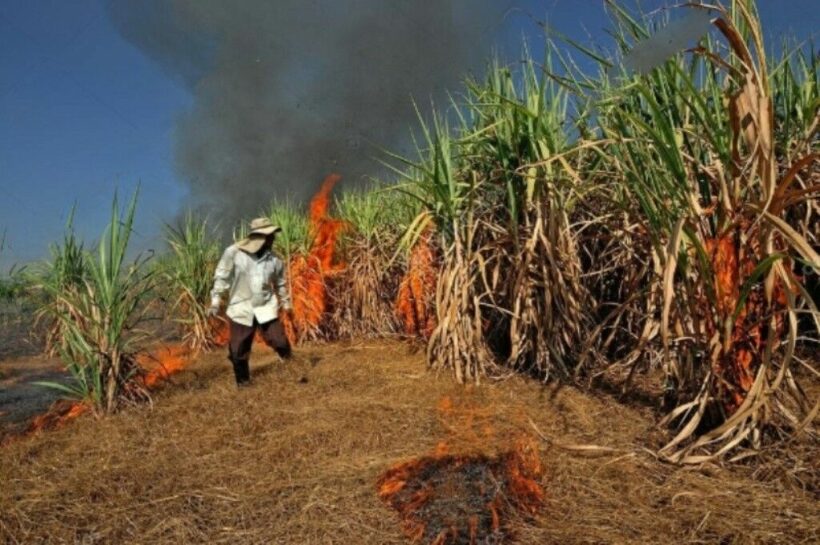 Provincial governors in Thailand's farming areas are being told to mitigate the burning off of agri-business waste by farmers in their provinces. The annual burn-offs are the biggest cause of the December to April air pollution in Bangkok and Central Thailand which lie in the wake of the light north-easterly breezes this time of the year. The burn-offs partly co-incide with the lighter annual north-easterly monsoons.
Lt-Gen Kongcheep Tantravanich, a spokesman for Deputy PM Prawit Wongsuwan, has been one of the first to openly admit that the agri-fires are the common denominator in the capital's annual smog woes. Over recent decades Bangkok's Pollution Control department has trotted out any number of PR stunts, including water-spraying drones and asking temples to stop lighting josh sticks.
Now that spokesperson says that the accumulation of PM2.5 micron dust in the atmosphere… "mainly caused by outdoor burning of waste, especially on farms, combined with poor air circulation, has been posing a health risk for the past several days".
Deputy PM Prawit has now ordered all provincial governors to send teams to warn farmers to stop the burning or face prosecution. It's not the first order from the top directed at farmers trying to find cheap ways to get rid of agri-waste and prepare their plantations for the next crop. But, despite the 'warnings' in the past the practice has continued largely unenforced.
Thai farmers conduct the burn-off activities to reduce the amount of leftover materials – biowaste – like stalk tops, leaves and refuse left after the harvesting. Rice farmers also routinely burn rice stubble – the residual plant waste to prepare fields for the next season of crops.
Around 70-75% of Thailand's sugar production is sent overseas and the country ranks second in exports just behind Brazil. It's a big industry. The government also introduced a quota, distribution and price support system between growers and millers which has helped to artificially keep a ceiling on the export prices. Most of Thailand's sugarcane plantations are in the Central and Northeast regions, some of them, evidenced by the fire maps, are less than 100 kilometres north of the capital.
But the Natural Resources and Environment Minister Woravut Silpaarcha is resorting to the old government narrative, repeating that officials at the Pollution Control Department will have to coordinate with the Interior Ministry and the Bangkok Metropolitan Administration to "intensify efforts to reduce emissions of PM2.5 dust from vehicles and factories".
He's also suggested that companies should allow employees to work from home to reduce the amount of vehicles on the city's roads.
The Pollution Control Department is now estimating that the biomass burn-off contribution to the PM2.5 levels could vary between 24 – 38%, with the majority of it coming from sugarcane and rice burning. Most of the concentrations of agri-burning is around Northern Thailand and in the farmlands north of Bangkok. These areas also suffer considerably from the direct effects of the smoke. Fire maps also indicate that an even worse problem exists in northern Cambodia and north-west Myanmar where the burning carries on un-abated.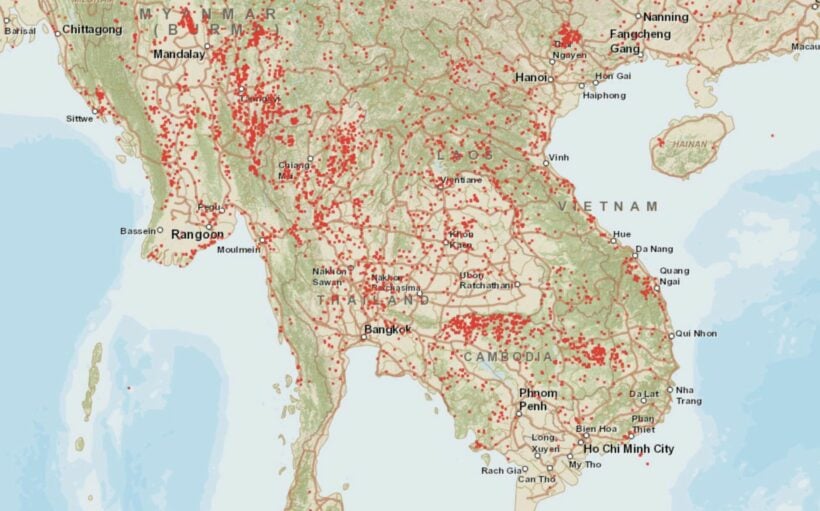 GRAPHICS: firms2.modaps
The Thaiger has waged a long campaign to provide fire maps and air-pollution readings over the past 3 years as evidence of the contribution of the agri-burning to Bangkok's annual smog problem. But officials have kept beating the same drum, blaming factories, vehicle traffic and old diesel buses (which certainly need to be regulated as well but are not the main cause of the December to April haze and smog).
Keep in contact with The Thaiger by following our Facebook page.
Never miss out on future posts by following The Thaiger.
34.7% of Thai tourist businesses closed down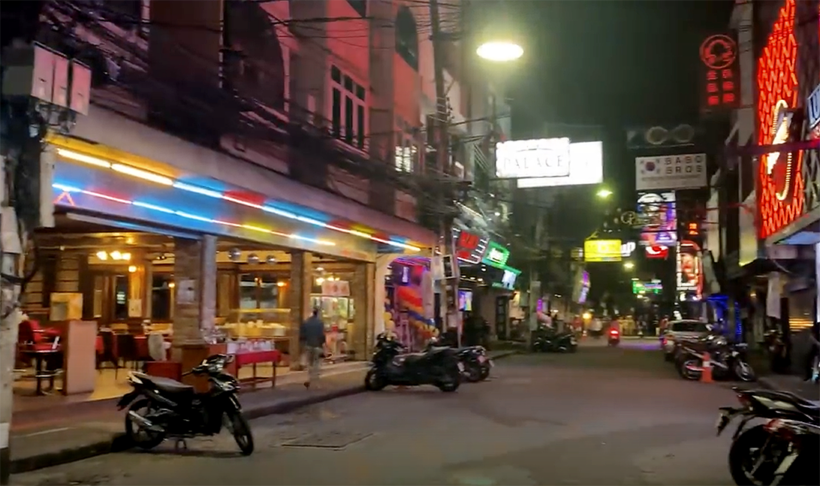 "When the tourists start coming back it will be a very different holiday experience for them. Will it ever get back to the numbers before Covid? Never."
A Tourism Authority of Thailand survey, conducted between January 10 – 12, indicates that more than a third of the country's tourism-related businesses has already shut up shop and gone out of business. But industry players estimate the number is much higher. In regions almost solely relying on tourism for an income – Phuket, Pattaya, Koh Samui, Gulf and Andaman islands and touristy areas around Bangkok – up to 90% of the front-line tourism businesses have closed.
1,884 tourism businesses in Thailand were surveyed by the TAT about their current situations and how they were coping with the long-term closure of the Thai borders and the local restrictions on travel. Businesses covered areas like accommodation, travel agents, tour companies, restaurants, car and bike rentals and public transport businesses.
34.7% said they had already shut down or gone out of business.
That the TAT admit that more than a third of their front-line organisations have gone to the wall already is a big turn-around from the perennially optimistic tone and often cringe-worthy predictions. The TAT and the Thai Minister of Tourism and ports are now staring down the barrel of an industry, not only diminished, but changed forever after decades of stunning growth.
But speaking to several major tourism players during the week The Thaiger heard a much bleaker prediction from both foreign and Thai-owned tourism related businesses. One long-term hotel manager in the south, who is responsible for 11 hotels in Phuket, Krabi and Khao Lak, says they've had to lay off almost all of their staff after "hanging in" over the past 9 months.
"We can no longer keep even a small number of rooms open without any hope of the borders opening up in the next few months. We're finished. And even when they do start allowing tourists back into the country it would take us up to 6 months to get staff and maintenance ready again."
"I would say that 90% of tourism-related businesses are gone. And gone forever. A lot were small family businesses who had taken the punt and invested their savings into the booming tourism business down here. They'll never return."
"When the tourists start coming back it will be a very different holiday experience for them. Will it ever get back to the numbers before Covid? Never. People will be looking for something different as the world travel industry reinvents itself."
Last week Thailand's Tourism and Sports Minister claimed that 10 million tourists would start arriving in Thailand from the middle of this year for the rest of 2021. Just 3 months ago he also predicted that domestic tourists would undertake some 10 million trips a month during the forthcoming high season (December to February).
In 2019 nearly 40 million overseas tourists arrived in Thailand. In the second half of 2019 there were just over 20 million tourists, twice the amount the Minister predicts will arrive from July to December this year.
This week's prediction was that tourists, foreign and local, would be spending 1.2 Trillion baht on the battered tourist industry during 2021. The Minister failed to provide details about where these tourists would come from or where they would visit during their stays – stays that still have to begin with a 14 day mandatory quarantine.
The break out of a cluster of infections in the Samut Sakhon province, just south west of Bangkok, and now spread to the majority of other Thai provinces, on December 20, forced the government to restrict inter provincial travel. The not-quite-a-lockdown that followed severely dampened the travel plans of locals and foreigners inside Thailand over the traditional December/January holiday season. This week the Bangkok Metropolitan Authority loosened some of the earlier restrictions and allowed some formerly closed businesses to re-open.
Keep in contact with The Thaiger by following our Facebook page.
Never miss out on future posts by following The Thaiger.
Thai people hope Covid-19 vaccine will help end pandemic – survey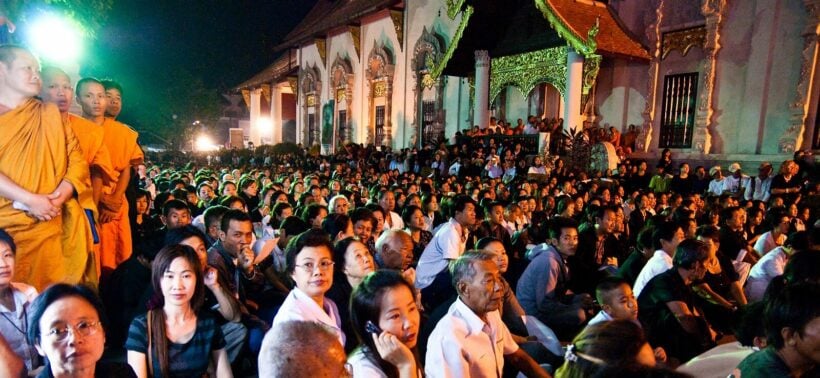 A Bangkok University poll indicates that around half of the Thai population are holding out hope that the Covid-19 vaccine will help end the pandemic. But the same respondents fear the vaccines' side effects.
The poll was conducted on January 18-20 on 1,186 people nationwide, aged 18 and over. A bare majority, 50.1% say their jobs and incomes would be affected if the pandemic continues without the masses being inoculated. About 27% said the most worrisome effect of the continued pandemic would be getting infected by the virus. 15% said they would be most worried about travelling. The rest of respondents said the availability of necessities and food, expenses for protective gear, children's education topped their lists of worries.
Asked if vaccines would help curb or end the pandemic in the country, 51.3% said they are moderately hopeful, with a smaller percentage, 32.8%, very hopeful, and almost 16% had little or no hope. When asked about their concerns surrounding vaccines, almost 40% chose side effects.
Almost 13% said they were concerned about new vaccines being needed to fight new Covid-19 variants, with the same amount worried they wouldn't receive free vaccines. About 8% worried about receiving smuggled vaccines without the Food and Drugs Administration's approval.
The biggest lessons Thais say they learned from the Covid-19 outbreak during the past year focused on the illegal entry of migrants – 40.2%. About 20% say they learned that hiding information could put other people at risk, while about 18% said recklessness on the part of some people could put the majority at risk.
SOURCE: Bangkok Post
Keep in contact with The Thaiger by following our Facebook page.
Never miss out on future posts by following The Thaiger.