Thailand News Today | STV arrivals, Released then re-arrested, Petition to oust PM | October 21
Today's latest news and information, coming to you from the Asok BTS in Bangkok. Like and subscribe our YouTube channel too. Go on, right now 🙂 You can also LIKE our Facebook page https://facebook.com/thethaigernews to get even more information about Thailand.
From 40 million visitors to 41: first STV tourists arrive
In 2019, almost 40 million tourists arrived in Thailand. Yesterday, it was 41. It was progress of sorts but a long, long way from the 110,000 daily arrivals at the same time last year.
Yesterday, the Kingdom welcomed its first tourists in 7 months, with the arrival of 41 Chinese tourists from Shanghai. The group landed at Bangkok's Suvarnabhumi airport on a chartered flight laid on by Spring Airlines, a low-cost Chinese carrier.
The visitors are here on the recently-launched Special Tourist Visa and had to download a special app to track their movements while in Thailand. They were bundled off to their 14 day quarantine before they can explore the rest of the country. The STV grants them a stay of up to 90 days and can be extended twice.
According to the TAT, "Most of them planned to visit the beaches and already reserved hotel rooms."
For anyone wishing to apply for the STV, your first port of call will be your local Thai Embassy and the thailongstay.co.th website. Good luck!
2 Thai protest leaders immediately re-arrested after being released on bail
To some protest news and authorities have re-arrested 2 of the leaders at the centre of anti-government protests right after they were granted temporary release on bail.
The 2 were being held on charges of violating the State of Emergency and released alongside fellow a fellow protester, after Thammasat University professors paid bail of 200,000 baht for each of them.
But the initial 2 were promptly re-arrested on the basis of another warrant issued by police, this time charged over another mass gathering in violation of the State of Emergency. They are being held pending another detention request being filed by police.
Letter calling for Thai PM's resignation signed by over 1,000 academics
A petition calling for the resignation of Thai PM Prayut Chan-o-cha, has been signed by up to 1,118 academics and delivered to Government House.
The petition was created by the Thai Academic Network for Civil Rights. A group of university lecturers and students have marched to Government House to deliver the letter. In the letter, academics slam the government's clampdown on an October 16 rally in Bangkok, when police used high power water cannons, allegedly laced with blue-dyed chemical irritants, to disperse protesters at the Pathumwan intersection.
They're also calling on the Government to refrain from violence when dealing with protesters, to stop the gagging of government critics andto put an end to laws that infringe on freedom of speech.
Protesters are also calling for a re-write of the 2017 Thai Charter (Constitution) and for reforms to the role of the Thai Monarchy.
Khao San Road evolving, all ages daytime event planned for Halloween
Bangkok's iconic Khao San Road now looks very different as Thailand emerges from the local coronavirus outbreak.
Not only are the backpackers gone from the "backpacker mecca," but the road in Bangkok's Banglamphu neighbourhood has gone through a street make-over. Now, Bangkok officials plan to hold events for "all ages" during the daytime during Halloween. But chaos can still be expected at night, even if it's mostly Thai customers at the moment as Thailand waits for the re-emergence of some sort of tourism industry.
Some 48.4 million baht was poured into a revamp of the "tatty" old Khao San Road, improving the drainage system and levelling out the road and sidewalk. There's now designated space reserved for emergency vehicles. You're invited to join in some Halloween celebrations at the new Khao San Road on October 30 and 31… events for kids will start as early as 9.30am.
Up to 5,900 jobs to go as Hong Kong carrier Cathay Dragon shuts down
Hong Kong airline Cathay Pacific is set to close its subsidiary, Cathay Dragon, with the loss of up to 5,900 jobs.
The carrier, that used to be called Dragon Air before being absorbed by Cathay, has become yet another casualty of the Covid-19 pandemic that has decimated the world's aviation business.
5,300 jobs are expected to go in the airline's Hong Kong base, with a further 600 axed in their overseas offices and operations. In total some 17% of Cathay's total workforce. Cathay Dragon primarily operated short-haul routes within Asia, including direct flights from Hong Kong to Bangkok and Phuket
Keep in contact with The Thaiger by following our
Facebook page
.
Never miss out on future posts by
following The Thaiger
.
Thailand News Today | Burmese border #&#!!!, Charges for Penguin, 9 dead in floods | Dec 4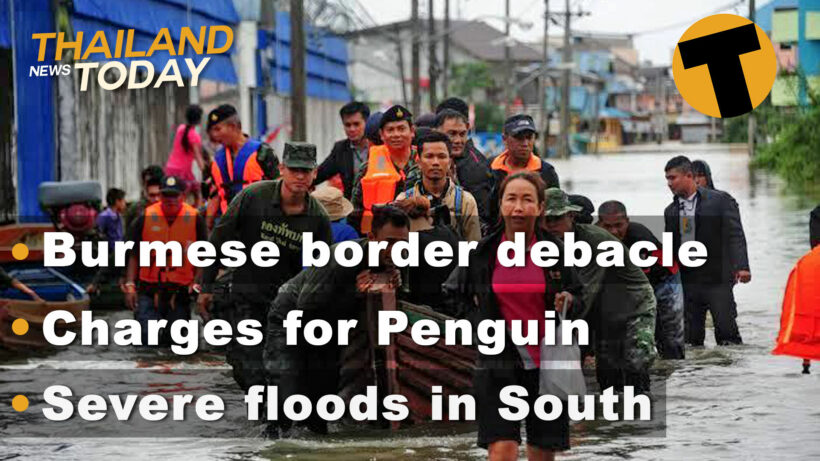 Thailand News Today, coming to you from the relatively dry Phuket, compared to the horrible flooding in parts of southern Thailand.
5 shot and in critical condition after gang clash in Phitsanulok
5 people have been shot and critically wounded in what police believe to be a turf war between 2 rival gangs in Phitsanulok, Central Thailand.
Police say gang members attacked another gang in the Wang Thong district because they were on "their territory." Police say the alleged attackers threw ping pong bombs and fired shots at the rival gang members. The victims were reportedly found with several bullet wounds and are now in critical condition. Police are continuing their investigations into the attacks and shootings.
Covid-19 spread through commercial sex at Myanmar hotel, border resident claims
A resident of Myanmar's border town Tachileik claims the recent Covid-19 outbreak has spread at a commercial sex venue parading as a hotel. 10 Thai women have so far tested positive for the coronavirus after returning from the location they had worked at. Some confirmed they worked at the 1G1 Hotel.
A local resident has told local media that a group of "fat military generals" from Yangon, where infections continue to rise, had sex with Thai women working at the venue.
The payment for services was up to 10,000 baht for the Thai girls working there.
Meanwhile, a Facebook page that appears to be linked to the hotel advertises jobs for "beautiful women." One post offers a 3 day position to earn 30,000 baht, saying the "entertainment" job has "high class business customers."
150 Thai workers ask to be allowed home from Myanmar's virus-hit Tachilek
The Department of Disease Control says up to 150 Thai nationals have now applied to return from Myanmar, as Covid-19 cases rise in the Burmese border town.
The requests come as health officials attempt to trace hundreds who came into contact with a number of Covid-infected Thai women who crossed back into the Kingdom illegally, bypassing health checks and quarantine.A man in Chiang Rai who had contact with the women has since tested positive for the virus and we're awaiting the results of many more tests as of today.
A total of 10 women, all of whom were carrying the virus, are believed to have made the illegal crossing. 2 of them subsequently boarded flights to Bangkok and Phitsanulok.
The Thai military is working with other relevant agencies to block the border crossing at the second Thai-Myanmar Friendship Bridge, in the Mae Sai district of Chiang Rai. At least 80 officials, accompanied by additional troops, are being deployed to check illegal border crossings. #gateshutafterhorsebolted
Thai Constitutional Court official files contempt charge against protest leader
A student protest leader is facing charges of contempt after he made statements on Facebook critical of the Constitutional Court ruling to acquit PM Prayut Chan-o-cha.
Tuesday's ruling allows the Thai prime minister and former Army General to continue occupying a military-owned residence. Critics have argued that allowing Prayut, a retired general, to say at the Army residence is a conflict of interest.
Now the director of the Constitutional Court's litigation office has filed the charge against pro-democracy protest leader known as Penguin. The director says the Facebook posts were defamatory to the court and had tarnished its reputation.
In addition to the Facebook posts, Montri says the protest leader made an offensive speech following the court ruling at the Lat Phrao intersection in Bangkok. Police are now investigating the claims to determine if charges should be pressed.
Khao San Road remains empty during the day, night crowds keep the street alive
Without foreign tourists at Bangkok's famous backpacker mecca, Khao San Road has gone quiet.
While the nights draw local crowds, it's definitely not what it used to be and the once bustling street remains largely empty during the day time.
The deserted street during the daytime remains an ongoing problem for traders who have long term rents with big price tags attached… reflecting the busy international traffic that used to mingle there.
The area has had a reputation for being an eclectic party street with noisy hostels, cheap alcohol and balloons filled with laughing gas but without the foreign tourists, many of the hotels on the street are now closed with most of the traders unable to quickly adapt to the new market conditions.
Severe flooding in southern Thailand kills 7
Heavy flooding in the south of the country has already killed 7 people, while many others have been injured.
The worst of the flooding, which has affected 9 provinces, is in Nakhon Si Thammarat, which has had over 6 days of persistent rain. In total, the floods have affected over 261,000 households and tens of thousands of people. Vast areas of land are submerged, with road and rail travel severely affected in places.
Other southern provinces hit by the heavy rain and flooding are Surat Thani, Phatthalung, Trang, Satun, Songkhla, and Pattani, Yala and Narathiwat down along the Malaysian border.
Keep in contact with The Thaiger by following our
Facebook page
.
Never miss out on future posts by
following The Thaiger
.
Ceremony marks 6 months since Thai activist's disappearance in Cambodia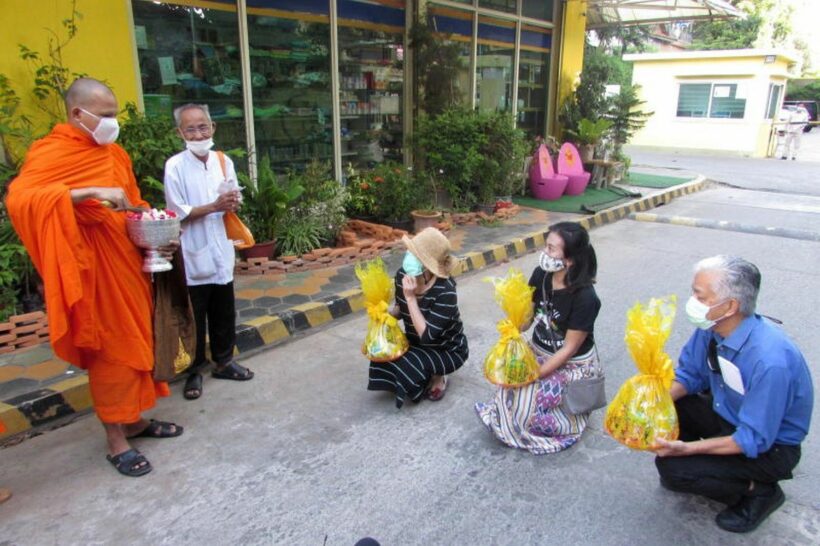 It's been 6 months since Thai pro-democracy activist Wanchalearm Satsaksit disappeared in Cambodia. Many, including his family, claim the activist was abducted. The Human Rights Watch says the 37 year old was seen being forced into a vehicle in front of his Phnom Penh apartment in June.
A Buddhist ceremony was held today outside the activist's apartment, marking 6 months since the disappearance. Monks chanted and scattered sacred water. The activist's sister, Sitanun, attended the ceremony and called on authorities to solve the case.
"We do not know the perpetrator; however it is the duty and responsibility of authorities both in Cambodia and Thailand to find the truth."
Wanchalearm fled Thailand after the 2014 military coup. He was accused of violating Thailand's strict lèse majesté law. Since the coup, at least 8 other self-exiled Thai activists have disappeared from Laos, Cambodia and Vietnam. Some were found dead. Thai authorities deny any involvement with the disappearances.
Not much has been said by authorities regarding the activist's disappearance. In past interviews, Cambodian police have said that they are unaware about a kidnapping. Cambodian police declined to comment when reached by Reuters reporters. Thailand's embassy in Phnom Penh says they're following the case, but couldn't comment on details because it is "under legal process."
Sitanun says she will appear in Phnom Penh court on December 8. She says she has photos and videos that show her brother was in the city when he disappeared.
SOURCE: Reuters
Keep in contact with The Thaiger by following our
Facebook page
.
Never miss out on future posts by
following The Thaiger
.
Greenpeace Thailand names 5 local companies "top plastic polluters"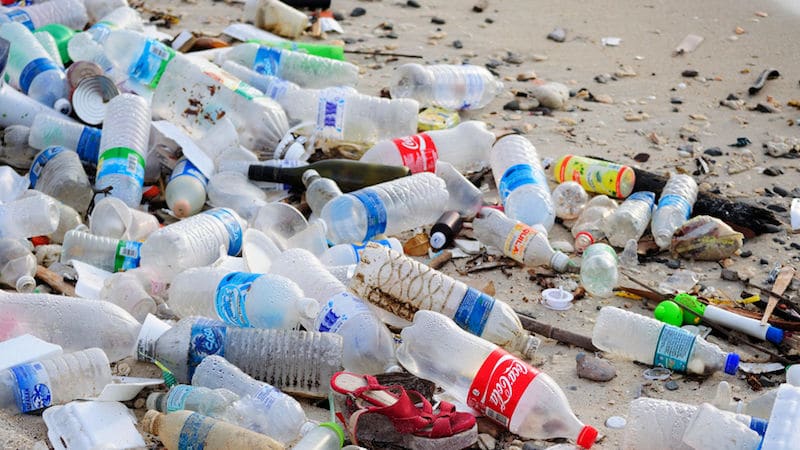 After collecting thousands of pieces of plastic waste, Greenpeace Thailand found that the majority of the trash comes from 5 Thai Companies, naming them the "top plastic polluters."
Volunteers from Greenpeace collected plastic waste from Doi Suthep in Chiang Mai and Wonnapa beach in Chon Buri. Out of the 13,001 pieces of plastic was collected, they say most of the waste traced back to 5 Thai companies: CP Group (which operates Thailand's 7-Eleven convenience stores), Dutch Mill Company, Osotspa (which produces M-150 drinks), TCP Group and Lactasoy.
This is the third year that Greenpeace Thailand and each year they find the same types of plastic from the same companies, according to leader of the organisation's "Plastic Project" Pichmol Rugrod. The CP Group was named the top polluter for the second year in a row.
"Single-use plastic has devastating effects not only to nature but to frontline communities as well. There will be no solutions to the plastic crisis unless there is a plan to urgently reduce plastic production and consumption."
"In addition, corporations must take full responsibility for the pollution they have caused, taking into account the externalised cost of their single-use plastic products- such as the cost of waste collection treatment, their continued contribution to greenhouse gas emissions and the irreparable environmental damage that will continue to harm people and biodiversity for years to come."
Director of Thailand's Ecological Alert and Recovery, Penchom Saetang, says the Thai government needs to step up plastic waste management and motivate companies to reduce single-use plastic products.
SOURCE: Greenpeace Thailand
Keep in contact with The Thaiger by following our
Facebook page
.
Never miss out on future posts by
following The Thaiger
.