Thailand News Today | Bars, pubs and restaurants 'sort of' back to normal | Feb 23
Bars and pubs throughout Thailand will be able to open from March 1 in every province except Samut Sakhon, the recent epicentre of new Covid-19 infections. With Thailand's number of coronavirus infections now on a downward trajectory, many provinces with little to no cases have been reclassified by the CCSA. The majority of Thailand's 77 provinces are now classified as "green zones" where bars and pubs can operate as normal.
Bars, pubs and entertainment venues in "orange zones," which includes Bangkok, will be able to serve alcohol until 11pm. Restaurants will also be able to serve alcohol and offer dine-in services until 11pm. Live performances are allowed, but the customers are not allowed to dance. Some of them shouldn't be allowed to dance anyway… I've seen them. Schools and other education facilities are now open as normal.
In "yellow zone" provinces, bars and entertainment venues can serve alcohol until midnight while restaurants can also serve alcohol and offer dine-in services until midnight. Live performances are allowed, but just like "orange" provinces, no dancing is allowed.
Sports stadiums in both "orange" and "yellow" zones can open, but only a limited number of spectators are allowed. Gyms and other fitness centres can open as normal from the start of March.
Orange zones include… Bangkok, Samut Prakan, Samut Songkhram, Nonthaburi, Nakhon Pathom, Pathum Thani, Tak, Ratchaburi.
Full details about the restrictions at thethaiger.com
The pro-democracy Ratsadon group called for "honest" police officers to join a rally taking place today to protest police and government corruption. Protesters are expected to gather at the Ratchaprasong intersection in Bangkok from 5pm, about when this program is uploaded. During last week's no confidence debate against the PM, members of the opposition accused Prayut Chan-o-cha and his deputy, Prawit Wongsuwa, of involvement in a corrupt system of "payment for promotion" to allow police officers to move up the ranks.
The Ratsadon group is appealing to officers who have not benefited from such corruption to join them in calling it out.
The rally is being called, "police mob to defeat an elephant" in reference to the system known as "elephant tickets", in which prominent figures at the top of the political system sign tickets that promote officers swiftly through the ranks. It's understood such tickets can be bought for millions of baht and even give the holder a discount on the bribe needed for promotion.
The crooked system was highlighted during last week's parliamentary debate, with leaked documents claiming the involvement of the PM and Prawit, as well as another institution that we are unable to mention. An MP from the Move Forward Party, Rangsiman Rome, was swiftly threatened with the country's lèse majesté law after he presented a 2019 palace document which backed the promotion of 20 police officers.
Rangsiman says he's aware of the risk he's taking in presenting such evidence in parliament, but that the system creates a circle of immorality and corruption.
A top virologist from Bangkok's Chulalongkorn University says the inactivated Covid-19 vaccines that will be in use in Thailand carry a low risk of side-effects. Yong Poovorawan claimss the risk of a severe reaction such as anaphylaxis, is lower with the Chinese Sinovac jab than with the AstraZeneca vaccine.
Posting on his Facebook page, he says a US study shows that 1 month after the administration of 13.7 million vaccine doses, 4.5 cases of anaphylaxis were reported in 1 million patients. No deaths from anaphylaxis were reported. But vaccines such as the Pfizer and Moderna jabs are a newer type of vaccine and therefore have the potential to have more side-effects.
Police in Bangkok are questioning 2 medics and 4 other staff members after a patient allegedly died during a liposuction procedure. A 54 year old died at a clinic in the capital last Saturday. The woman's 30 year old daughter says her mother wanted to remove fat from her back and had a number of consultations with various clinics and private hospitals. She chose the clinic in the Bang Kapi district because of its "satisfaction guaranteed" assurances.
Keep in contact with The Thaiger by following our Facebook page.
Never miss out on future posts by following The Thaiger.
Thailand News Today | Changes to quarantine, 'adult content' ban continues | March 5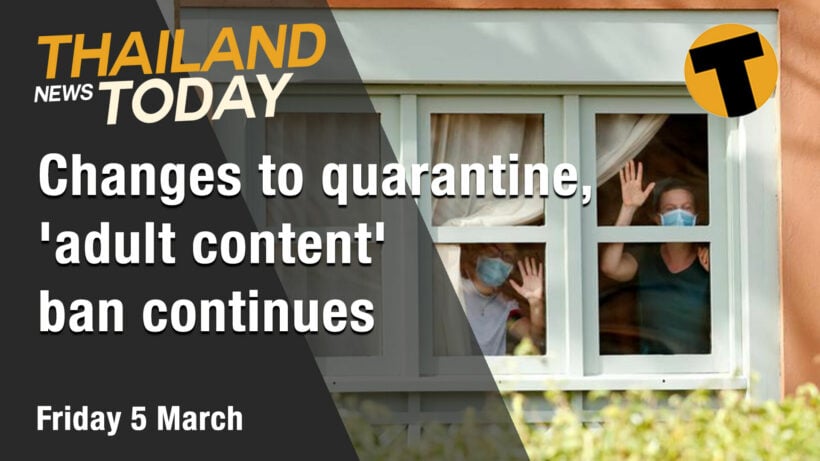 Thailand's Public Health Minister is chairing a meeting next Monday, where a vaccine passport scheme and potential travel bubbles is on the agenda. Anutin says those who've been vaccinated against Covid-19 will be issued with a book to confirm their vaccination. It's hoped this will make international travel easier, as well as boosting the public's confidence and helping life return to some kind of normality.
In related news…. From next month, foreign visitors to the Kingdom will be able to experience the delights of "area quarantine", after the government confirmed the scheme for 5 provinces. Following a meeting with the Public Health Ministry, the Tourism Minister confirmed that Phuket, Krabi, Chiang Mai, Chon Buri and Surat Thani, which includes Koh Samui, have been chosen to pilot the scheme.
P**nhub and other adult websites are remaining blocked in Thailand as they apparently "conflict with good morals for upstanding citizens". The Thai Government says the websites encourage "poor moral standpoints and can affect youth in a negative manner".
The Acting Minister of Digital Economy and Society and current Minister of Culture says that the decision that was made by the previous office holder will be upheld. The decision also includes keeping other popular adult websites blocked as the Thai Government has labelled them to be "obscene". But the move to ban adult content has brought protests with those disagreeing saying such sites are a part of freedom of expression.
A houseowner in the central province of Ang Thong, central Thailand, has discovered 3 skeletons on his land that are thought to be over 3,000 years old. 54 year old Somkiat Briboon says this most recent discovery isn't the first, as the first lot of bones was found last year after preparing his 17 rai plot of land to be rented out for sugarcane farming.
The Thai PM says he's ordered an investigation into allegations that the military has been using fraudulent social media accounts to aggravate the ongoing unrest in southern Thailand. Facebook has announced the removal of 185 accounts and groups that it has accused of "information-influencing", targeting audiences in the deep south of the country, where Muslim insurgents continue to fight for independence. The PM says he's tasked the Defence Ministry with looking into the matter and explaining it to the public.
Keep in contact with The Thaiger by following our Facebook page.
Never miss out on future posts by following The Thaiger.
Pro-democracy group to reach outskirts of Bangkok after almost 250 kilometre walk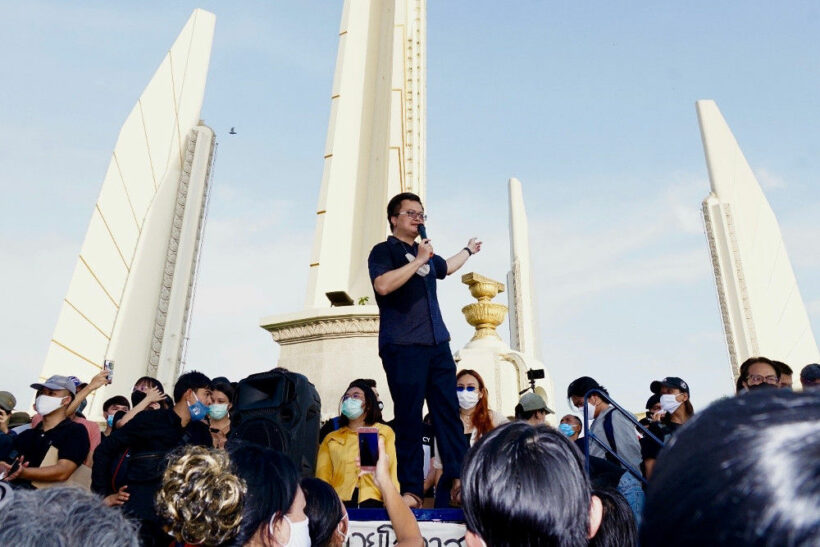 A group of pro-democracy protestors, on an almost 250 kilometre walk, are expected to reach the outskirts of Bangkok today. The group has been walking for 17 days, starting from the Thao Suranaree statue in Korat province's Muang district to protest the imprisonment of 9 pro-democracy demonstrators who are being denied bail.
The demonstrators imprisoned include 4 protest leaders from Ratsadon named Parit "Penguin" Chiwarak, Anon Nampa, Somyot Pruksakasemsuk and Patiwat "Morlum Bank" Saraiyeam. The 247.5-kilometre march, named "Walk Through the Sky: Bring Back the People's Power," started on February 16. Jatupat "Pai Dao Din" Boonpattararaksa, from the student-led protest group Ratsadon, is leading the walking protesters and says they have been held in jail without bail since February 9.
The 4 are facing charges under Article 112, which prohibits lese-majeste, or the defaming of the Thai Royal Monarchy. Lese-majeste carries a jail sentence of 3 to 15 years. They are also facing charges of sedition under Article 116 of the Criminal Code, which carries a jail term of 7 years, as they are accused of organising pro-democracy rallies.
"The ignition and the fuel for the walk is simple. They have started to incarcerate our friends while denying their bail requests, which made it impossible for us to do nothing."
The court has denied the demonstrators bail requests 4 times now, citing that their release would create more unrest.
Pai said he emphathises with the detained protestors as he has been imprisoned for lese-majeste before. He says he spent 2 years and 6 months in prison for sharing a BBC Thai's biography of the monarch on Facebook.
"When I was in jail, there were people outside who were protesting for my release so now that my friends are in jail by an unfair law while being denied their right to political expression, I must come out and do something."
"A walk is a type of a fight against injustice and we choose to fight this way in order to peacefully spread the words about police brutality, the uses of various laws to silence dissidents, the plights of the poor and the mismanagement of the government's covid-relief measures and natural resources."
The walk-in protest group is expected to reach Zeer Rangsit in Pathumthani around 5:30 pm today and will camp out near the department store before marching at the Bang Khen intersection tomorrow. On Sunday, the march is expected to end at Bangkok's Democracy Monument.
SOURCE: Thai Enquirer
Keep in contact with The Thaiger by following our Facebook page.
Never miss out on future posts by following The Thaiger.
79 new cases today-COVID-19 Update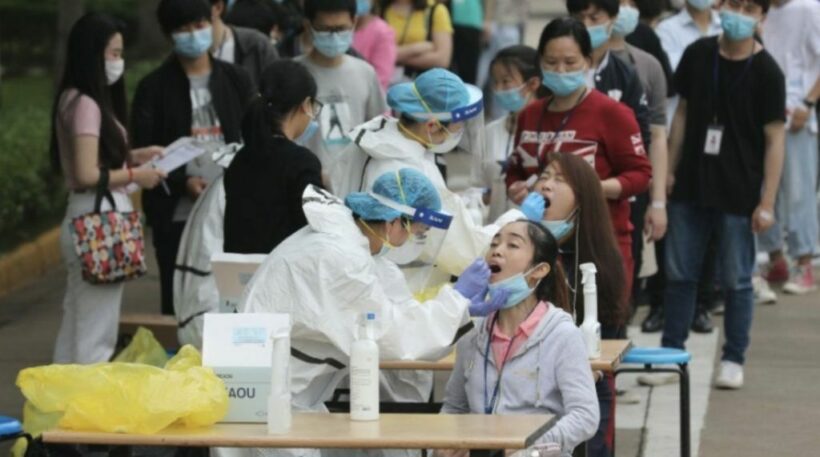 Today, the Thai government is reporting 79 new cases of Covid-19, with 65 locally-transmitted, and 14 imported, raising the total to 26,241 since the pandemic began. 1 new death has been reported, raising the total amount of deaths to 85. The new infections, which are now in the double-digits, shows Thailand's Covid situation as improving according to the assistant spokeswoman for the Centre for Covid-19 Situation Administration, Panprapa Yongtrakul.
"The two-digit level of new cases found at hospitals and communities shows that the local Covid-19 situation is under control."
The CCSA reports that 43 of the 65 local infections were found in communities with 22 of the 65 found in hospitals across 4 provinces.
Samut Sakhon province, the source of the second wave of Covid in the Kingdom, reported 77% of the new cases. Of the 50 cases found in the province, 38 were found in communities and 12 were found at hospitals.
Pathum Thani reported 8 new cases, with 3 being found at hospitals, and 5 in the community. Bangkok reported 6 new cases at hospitals and Chon Buri reported 1 infection found at a hospital. 12 of the 14 imported infections were quarantined arrivals from Russia, The United Arab Emirates, The United States, Slovenia, South Africa, Germany, Libya and Italy.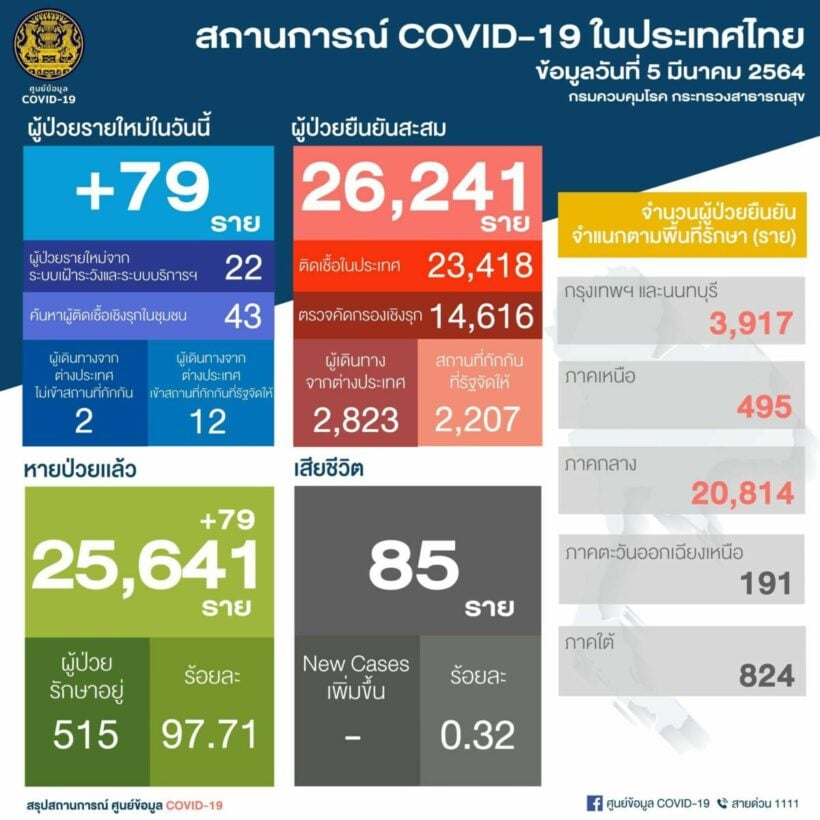 The other 2 imported cases were that of Thai women, who ellegedly returned from Myanmar illegally through a natural border crossing in Tak province, despite the government closing off natural border crossings after the February coup by the military in Myanmar.
Covid-19 cases rose worldwide by 446,747 over the past 24 hours to 116.21 million. The worldwide death toll rose by 9,955 to 2.58 million. The US still has the most cases at 29.53 million, rising by 68,321 over the past 24 hours, and the most deaths at 533,636, rising by 1,993 over the last 24 hours.
In light of the recent downturn in reported cases, Samut Sakhon has recently reopened 22 of its wet markets. However, the seafood market where the second wave of the Covid outbreak began, is not one of them, and it is not yet known when that might reopen.
SOURCE: Bangkok Post
Keep in contact with The Thaiger by following our Facebook page.
Never miss out on future posts by following The Thaiger.