Thailand News: Alleged call center scam; ASEAN update; Govt seeks release of more than 80 Thais detained in Burma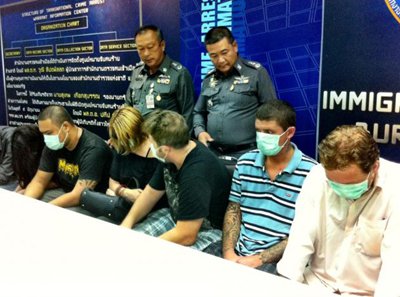 PHUKET MEDIA WATCH
– Thailand news compiled by Gazette editors for Phuket's international community
Police crack call-centre scam, 15 arrested
Phuket Gazette / The Nation
PHUKET: Police have arrested 15 foreigners in Bangkok, most of them from Europe, for allegedly running a call-center scam and duping several people into wiring more than 320 million baht into their accounts.
Of the suspects, six are British, two are American, two Romanian, three from the Philippines, one German and one South African. The suspects were arrested recently at a flat in Sukhumvit Soi 13, where they allegedly ran the scam based on bogus stock-market trades. The suspects usually worked from 1pm to midnight – during which most stock exchanges overseas are in operation.
Police said that most of the victims were Westerners, who were advised by the suspects – posing as independent brokers – that they could make 95 per cent profit from their investment in exchange for a 25-per-cent cut. The suspects had allegedly opened a bank account in Switzerland, which they used to transfer money to Malaysia-based accounts and then on to Thailand.
Meanwhile, police arrested a Liberian national and a Guinea national for duping an American into buying a 'magic potion' for 147,000 baht. The potion, they claimed, could turn US dollar bills of a lower denomination into $100 bills. The victim notified police after the suspects demanded another 1 million baht in exchange for the key to a safe deposit where the remainder of the potion was kept.
Universal healthcare essential, Asean+3 health ministers say
Phuket Gazette / The Nation
PHUKET: ASEAN and its key partners Japan, South Korea and China yesterday jointly decided to make universal health coverage an essential provision for the more than 2 billion people living in the region.
This joint statement was made at the 5th ASEAN+3 Health Ministers Meeting held yesterday in Phuket. The countries discussed means of implementing joint activities in the health sector, especially in terms of universal health coverage, sharing their concerns and expressing their commitment to strengthening this collaboration.
They agreed that the universal health coverage played a crucial role in reducing poverty and giving people access to essential health services.
All participating health ministers said they were committed to establishing an ASEAN+3 network on universal health coverage, as well as to share and collectively build a national as well as regional capacity to assess and manage an efficient health system that supports universal health coverage.
They will also bring up the issue of universal health coverage at a forum with the United Nations.
The ministers also said that ASEAN and its key partners should focus on cooperating over issues such as prevention and control of communicable diseases, emergency response mechanisms, mitigating health impacts of natural disasters, food safety, human resource development for health, traditional medicine development and pharmaceutical development including vaccines.
Public Health Minister Witthaya Buranasiri said yesterday that his counterparts praised Thailand's successful implementation of the universal health coverage scheme over the past 10 years. The universal health scheme in Thailand has provided more than 48 million people with essential medical services and has reduced their financial burden.
Witthaya said Thailand would transfer its knowledge to help regional countries, including Japan, South Korea and China, fully implement universal health coverage. He added that Brunei, Myanmar, Cambodia and Laos were also interested in the universal health scheme.
Meanwhile, Vietnam's Health Minister Dr Thi Kim Tien Nguyen said his government had set its sights on providing universal health coverage by 2020, which would cover poor people, minority groups and children under the age of six.
"We will learn from Thailand because it is experienced in implementing universal health coverage," she said.
Vietnam is planning to reform its healthcare system and will work on improving its primary care services and strengthening prevention programmes for emerging diseases as well as infectious and non-communicable conditions like heart disease, cancer, hypertension and mental health, she added.
Laos Public Health Minister Prof Dr Eksavang Vongvichit said his country had issued a decree on national health insurance and financing strategies to ensure equity and easy access to healthcare. Laos is hoping to have its universal health coverage scheme also in place by 2020.
"The key direction is to shift from the direct out-of-pocket mechanism to the universal coverage of health," he said.
Asean+3 health ministers will next meet in 2014 in Vietnam.
Govt seeks release of more than 80 Thais captured in Myanmar
Phuket Gazette / The Nation
PHUKET: Officials in Ranong province are seeking to negotiate the release of more than 80 Thai nationals caught by Myanmar authorities on Wednesday for encroaching onto their land.
The first round of talks between the two military units, held yesterday afternoon via two-way radio, failed, turning the issue into a bilateral one.
News reports did not cite any reasons behind this failure other than that the matter is snowballing bilaterally. Thai authorities have been trying to talk their Myanmar counterparts into relocating the detainees to an area closer to the border, but have not received any replies yet.
Rations have been made available by the Kra Buri district office and were delivered to the detainees yesterday evening.
Foreign Minister Surapong Towichukchaikul said the detainees had been duped into planting rubber trees in a large plot of land and settling there by an unnamed person, who allegedly said that he had sought permission from Myanmar authorities. Surapong said the prisoners were safe and they should not be detained for much longer.
A number of ministry officials have been dispatched to Ranong to coordinate with Myanmar officials and help take care of the detainees' welfare, he added.
The Commander of the Fourth Army Area, Lt-General Udomchai Thammasaroj, said a senior Myanmar military commander would meet his Thai counterpart today to discuss the issue and find a solution.
Deputy Prime Minister General Yuthasak Sasiprapha said this issue had not affected bilateral ties and that Myanmar President Thein Sein would still visit Thailand on July 22-24 as scheduled.
Authorities believe that hundreds of Thai nationals are either stranded or hiding on the other side of the border after Myanmar officials cracked down on alleged encroachers on Wednesday afternoon.
Officials and Thai nationals, who have fled home, said more than 300 Thai families have cleared forests and set up a community in the area between the Thai-Myanmar border across from Ranong's Kra Buri district. They also said that about 800 Thai nationals were in hiding after the crackdown.
Colonel Pornsak Poolsawat, commander of the 25th Infantry Regiment's Taskforce, said Thai authorities were still waiting for a chance to negotiate the release of the detainees.
Ranong Deputy Governor Patthawee Paratkhajariya said Pornsak, who chairs the joint Thai-Myanmar Border Committee, was prepared to hold talks and was hoping to have the detainees released as soon as possble.
< — Phuket Gazette Editors
Keep in contact with The Thaiger by following our Facebook page.
Never miss out on future posts by following The Thaiger.
Foreign tourists must use Covid-19 tracking app when travelling to Thailand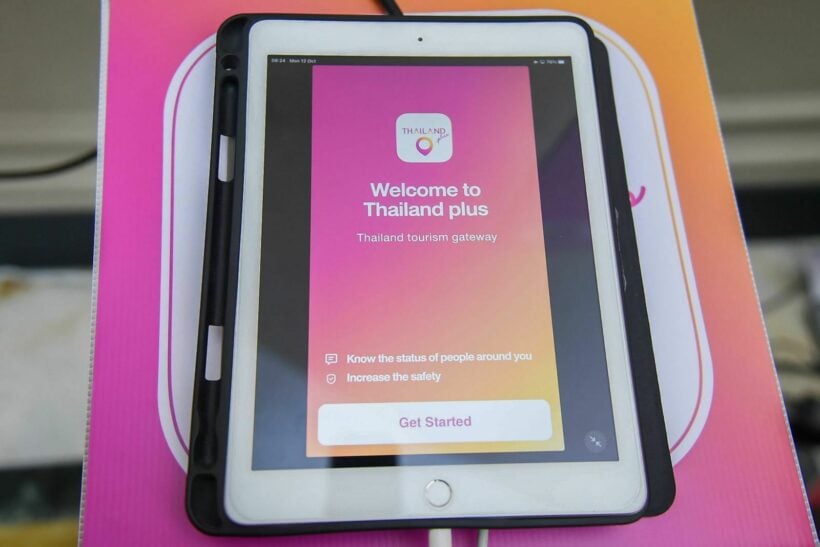 Foreign tourists travelling to Thailand will need to download the Covid-19 contact tracking mobile application "ThailandPlus" before arriving in Thailand and use it throughout their stay. The app will notify travellers if they have been in close contact with any confirmed cases.
Throughout their trip to Thailand, tourists will need to keep the app "on" and check in and out of various locations by scanning QR codes. The app requires access to the smartphone's GPS , but the Tourism Authority of Thailand says the information collected will only be used for public health purposes and will not infringe on the tourists' right to privacy.
Travellers will also need to upload a recent headshot as well as supply their Certificate of Entry number and reference ID from the Royal Thai Embassy.
The app is a spinoff to the "Thai Chana" and "Mor Chana" apps. All use GPS and Bluetooth as well as QR code scanning to detect the users' locations. The apps sparked controversy and many Thais expressed concerns about their privacy, but the government has assured the public that information will be kept private.
The development of the app is a collaboration between the Ministry of Digital Economy and Society, the Prime Minister's Office and the Digital Government Development Agency.
Click HERE to download the ThailandPlus.
SOURCE: TAT
Keep in contact with The Thaiger by following our Facebook page.
Never miss out on future posts by following The Thaiger.
Thailand News Today | Pollies in jail, Covid originated in Thailand? | Feb 25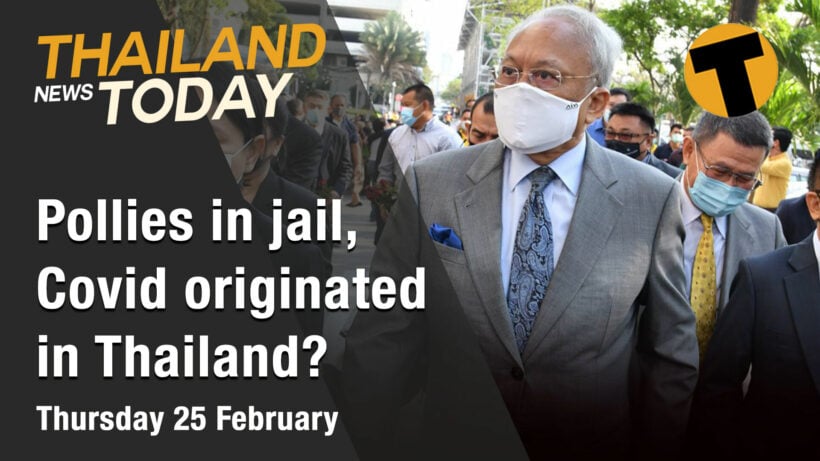 Today on Thailand News Today, a number of government ministers have ended up in jail, the vaccines are about to roll out but experts say the injections are not the end of the pandemic, and A Pattaya motorbike taxi driver is being accused of attacking a Chilean national. We've also get a special report on the channel about accusations that surfaced this week that Covid 19 may not have started in Wuhan at all, but in Thailand. That's all coming up now on Thursday's Thailand News Today.
A number of government ministers have been jailed for their part in protests against the government of Yingluck Shinawatra that crippled Bangkok and ultimately led to the 2014 military coup. Yesterday, the Criminal Court handed prison sentences to 29 former members of the People's Democratic Reform Committee, some of whom were serving as MPs in the current Chan-o-cha administration.
Police have shut down a network of online casinos in raids that took place across 7 provinces, with 19 suspects arrested, and cash and other goods seized. In total, 8 online casino networks in 7 provinces have been shut down, with police apprehending 19 out of a total 22 suspects.
A specialist in infectious diseases at the Faculty of Medicine of Bangkok's Chulalongkorn University says the arrival of vaccines does not mean it will automatically be safe to re-open to foreign visitors. Thira Woratanarat says opening the borders too soon will only put Thailand in more danger, pointing to a lack of data on the efficacy of vaccines against transmission.
The Thai Ministry of Public Health is being praised after seemingly doing an about face over whether Bangkok's Chatuchak Weekend Market could be the source of Covid‐19. After health officials denied that the World Health Organisation was investigating the market, a recent Facebook live press conference saw the Ministry acknowledging that unregulated wildlife trades may endanger public health.
A Pattaya motorbike taxi driver is being accused of attacking a Chilean national, leaving his nose broken and face bloodied. The 24 year old Salvatore Chilean, filed a report to the Pattaya City Police at around 2am this morning after saying he had left a nightclub on Pattaya's Walking Street after it had closed.
Keep in contact with The Thaiger by following our Facebook page.
Never miss out on future posts by following The Thaiger.
Canadian Embassy to help Thailand recruit English teachers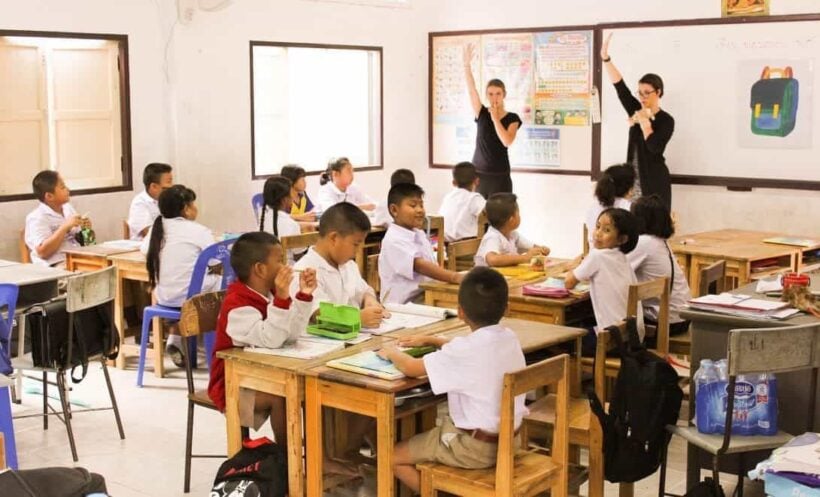 Thailand officials want more native speaking English teachers and plan to recruit more than 10,000 English teachers for 300 schools to improve English proficiency among Thai students. To help draw in potential teachers, the Education Ministry is teaming up with the Canadian Embassy in Thailand.
Teachers will be placed in schools once the pandemic has eased. Recruitment for the plan is expected to be completed by May, according to Education Minister Nataphol Teepsuwan. He says the Cabinet has approved an agreement between the ministry, embassy and the Thai-Canadian Chamber of Commerce for the recruitment plan.
The ministry plans to focus on teaching language in early levels of education because young students are at a suitable age for building communication skills, Nataphol says. Teachers will be either native English speakers or Thai teachers who hold an English degree, according to Nataphol.
Along with 10,000 English teachers, the Cabinet also plans to recruit 10,000 Chinese teachers. Teachers will also receive training.
SOURCE: Bangkok Post
Keep in contact with The Thaiger by following our Facebook page.
Never miss out on future posts by following The Thaiger.