Thailand
Suicidal woman fished out of river alive after floating for 10 hours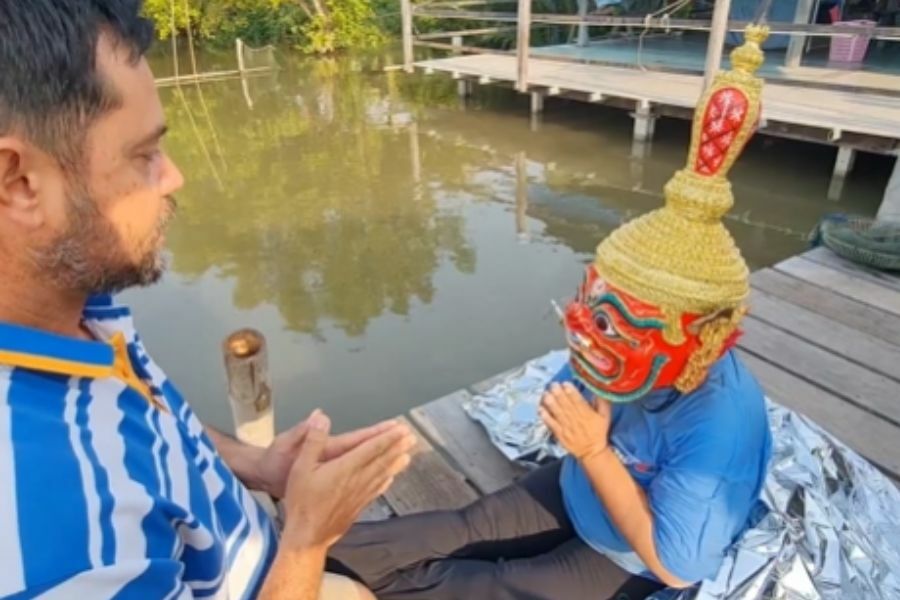 A woman attempted suicide by jumping into the Mae Klong River in the central province of Samut Songkram. She reportedly attempted to drown herself but floated for 10 hours before being fished out by a rescue team.
Baan Koh Restaurant owner Wichai Tiamcharoen contacted a rescue team after the 45 year old saw the body of a woman floating near the pier of his eatery today at 8am.
The woman, later identified as 45 year old Pinthong, wore a maroon-red sweater and black pants. Her face was turned up, her eyes were closed, and her hands were set in a praying gesture.
The rescue team arrived at the scene and plunged into the river to fish her out. Thinking she was already dead, the team was startled when Pinthong suddenly opened her eyes.
Samrit Karndee, a rescuer, told Thai media that although he has been a part of an emergency services' team for a decade, he had never seen anything like this. He expressed his shock when the woman opened her eyes, but quickly gathered himself to assist her.
Wichai told the media that what happened gave him goosebumps. He believed that some magical power had helped Pinthong survive.
According to Khaosod, Wichai held a ceremony to dispel her bad luck and negative spirits by covering Pinthong's head with a Vessavana mask. Vessavana is a god of giants and is believed by Thai people to protect humans from evil spirits.
The rescue team brought Pinthong to hospital as she was exhausted. After recovering, Pinthong told the media that she had been stressed and had left home the previous night at around 9pm to commit suicide at a pier near Wat Chong Lom, which was about 2 kilometers from where she was found.
Pinthong did not reveal when she arrived at the pier and decided to jump. Thai media predicted that she spent over 10 hours floating in the river before she was helped.
A similar incident occurred in September last year with an 81 year old woman named Granny Ree in the central province of Ayutthaya. Ree informed the media that she attempted suicide due to several health problems and not wanting to be a burden on her family.
She stated that she tried to drown herself but the current carried her along the river for 20 kilometres from one district to another, where she was eventually assisted by a fish farm owner.
If you or anyone you know is in emotional distress, please contact the Samaritans of Thailand 24-hour hotline: 02 713 6791 (English), 02 713 6793 (Thai) or the Thai Mental Health Hotline at 1323 (Thai). Please also contact your friends or relatives at this time if you have feelings of loneliness, stress or depression. Seek help.