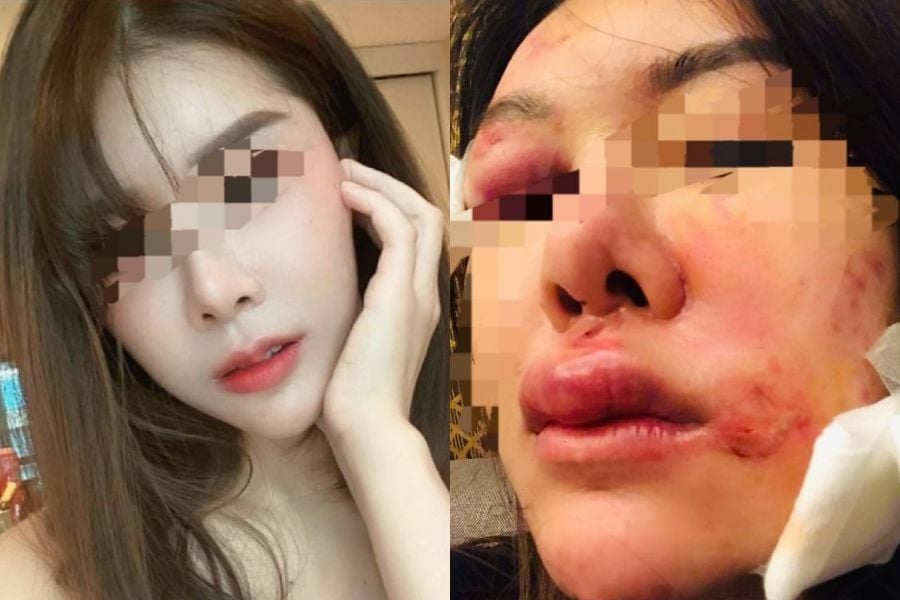 A Thai woman filed a complaint at Pan Thong Police Station in Chon Buri after her boyfriend savagely bit her face after she refused to go boozing with him.
She said she was worried that the case would be ignored because her boyfriend had a close connection with a senior police officer.
The woman, identified as Bee, told the media that she was a party entertainer, and her boyfriend was a former customer. She knew him from work and later dated him. They lived together for about two months before the incident happened.
Bee said she was assaulted at 8pm on Monday, January 2 at a rental house in the Panthong district of Chon Buri province. Her boyfriend asked her to drink alcohol with him. She went to meet him but didn't want to drink because she was exhausted from work.
Bee said her boyfriend got angry and pulled her into a bathroom where he strangled her and then viciously bit her face several times. He bit her very hard near Bee's eyes making her bleed a lot.
Bee begged him to stop and said she was sorry that she refused to drink with him. Then, she urged him to take her to the hospital.
Bee added that she had been bitten before by him on Wednesday, December 7 but did not file a complaint.
Bee was worried about her safety and also worried that the case would be ignored by the police because her boyfriend was friendly with a senior police officer. She filed a complaint on Wednesday, January 4 but there was no development.
Bee said…
"He made a call to a police inspector, whom he claimed to be his relative. That officer saw me with a bloody wound on the face but he did not help me."
The deputy superintendent of the Pan Thong Police Station, Arnuparp Kadeevee, insisted that the officers would deliver justice to the woman. The relationship between the man and the police officer would not affect the case.