Storms raise flood threats in 37 provinces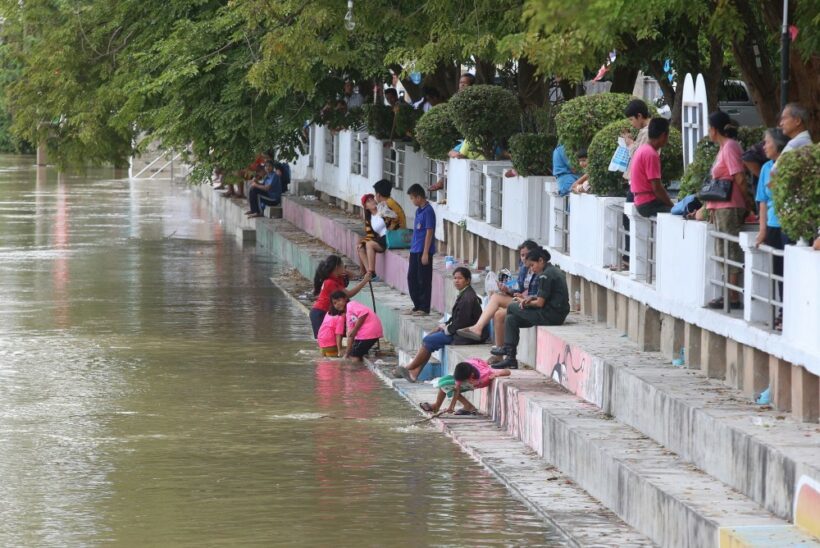 Whilst the flood situation in the far north of the country, bordering the Mekong River, has abated over the past week, the situation is still dire for many other communities around the Kingdom today.
Disaster warnings have now been issued as heavy downpours threaten to bring flash floods and landslides to 37 provinces across Thailand.
A monsoon storm is predicted to increase rainfall in the Northern, Northeast, Central, East and South of Thailand until next Tuesday.
Among the at-risk provinces are Surat Thani, Chiang Rai, Ubon Ratchathani, Nakhon Phanom, Kanchanaburi, Lop Buri, Saraburi, Chachoengsao, Chon Buri, Krabi, Phuket, Phang Nga and Trang.
Surat Thani has already faced the wrath of floods, with soaring water levels. Hundreds of people along the Khlong Sok Canal in the province's Phanom district are now living on the upper floors of their homes as floodwater, up to a metre and a half deep, rises below them.
Of the three districts flooded by overspill from the canal, Phanom is the worst-hit, said a source at the province's disaster prevention and mitigation office.
Chai Buri and Than Chana are also inundated. In Chai Buri, homes and several roads in three villages are under 50 to 70 centimetres of floodwater and classes at some schools have been suspended.
In Krabi province, Than Bok Khorani National Park chief Weerasak Srisajjang warned tourists against entering the park's Bok Khorani waterfall zone.
"Due to continued rain, there is a risk of flash floods," he said.
In Phetchaburi province, the growing flood risk comes from water discharged from the overwhelmed Kaeng Krachan Dam. Located in the province's Kaeng Krachan district, the dam was 104 per cent full as of press time. To lower that, about 18.2 million cubic metres of water were being released into the Phetchaburi River a day, increasing the flood risk downstream. Authorities have predicted that the Muang district or the town of Phetchaburi itself could be flooded for about 14 days from this weekend. The Phetchaburi River runs through many districts in the province, including Muang and Ban Laem.
"I am now watching the water level in the Phetchaburi River all the time," said Yod Yongsuk, a resident in the province's Ban Laem district.
According to Yod, the water level has been rising by three centimetres per hour since Wednesday night. Yod recalled being unprepared last year when the river overflowed at night and inundated his house.
"This year, I have taken precautions and moved my belongings to higher ground already," he said.
In the north-east's Sakon Nakhon province, the Nam Oun Dam was 103 per cent full as of press time and discharging 4.84 million cubic metre of water daily. However, downstream zones are not affected.
In Kanchanaburi province, the Vajiralongkorn Dam was 85 per cent full and discharging 41.26 million cubic metres of water a day. While the water volume has barely affected downstream zones, it may affect the operations of some resorts along the Kwai Noi River.
In Nakhon Phanom, water in the Mekong River along the northeastern border province of Nakhon Phanom is receding, enabling water in the tributaries to flow into the main river in a larger volume, according to provincial governor Somchai Witdamrong.
The Mekong water level was at 11.42 metres yesterday morning, about 1.60m below the maximum level of 13m, and is receding by about 10 centimetres per day.
The Nakhon Phanom irrigation office has installed more water pumps at various gates along the Nam Kam stream, discharging about 25 million cubic metres per day, up from 18-20 million cu/m, into the Mekong River. More water is also being drained into the main river from Nam Oon and Song Khram streams. However, about 30 houses in Tambon Si Songkhram and 150 houses in Tambon Thabo Songkhram of Si Song Khram district are still flooded, and about 50,000 rai of farmland inundated.
Somchai said 10 districts have been declared disaster zones with 13,724 people in 878 villages being affected and 28 houses, two schools, two temples, 111 roads and 179,704 rai of farmland damaged.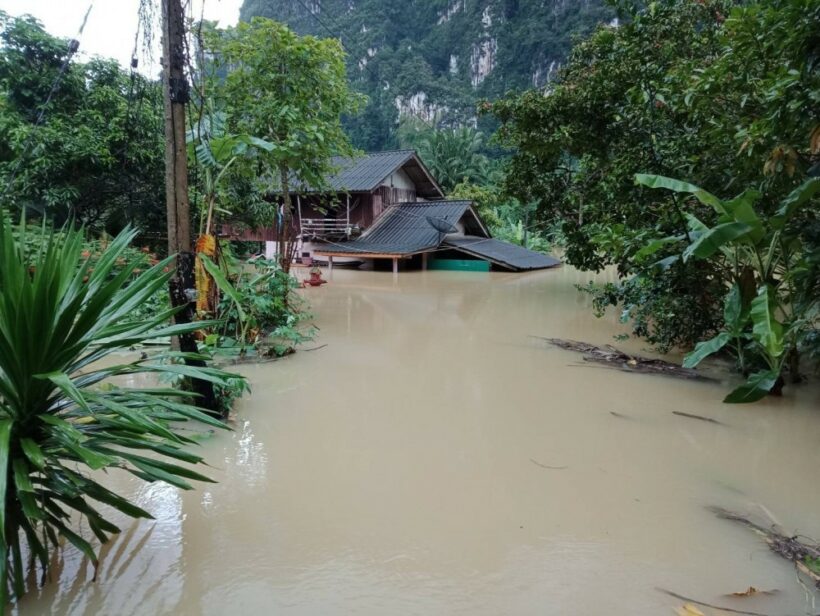 STORY: The Nation


Read more headlines, reports & breaking news in Thailand. Or catch up on your Thailand news.

New WHO world road death report – Thailand drops to number 8 but still high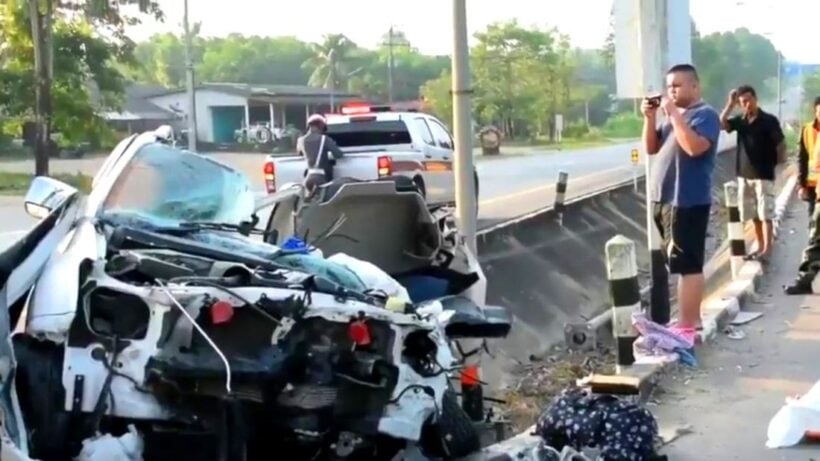 Thailand's roads remain some of the deadliest in the world. But the Kingdom has dropped from its previous number two position to number eight, behind a collection of backwater African states and other undeveloped countries.
A new report by the World Health Organisation shows that the road safety situation in Thailand hasn't improved. The shocking news is outlined in a the WHO report, Global Status Report on Road Safety 2018,
The report indicates the death rate per 100,000 population in Thailand was 32.7. This ranks Thai roads as at least the deadliest in ASEAN and amongst the deadliest in the world.
Only seven other nations fared worse than Thailand, while the countries with the highest road traffic death rate per 100,000 population were Liberia, Saint Lucia, Burundi and Chad.
The report, compiled using data from 2016 from 175 countries, shows that Europe has the safest roads with 9.3 deaths per 100,000 population. The African continent had the worst rates.
The report shows that there is an average of 22,491 people killed on Thai roads every year. South east Asia, where motorcycle-related deaths account for 43 percent of the total road toll, had an average of 20.7 deaths per 100,000 population.
Globally, the report found that the situation regarding road traffic deaths is worsening, with someone killed in a road accident every 24 seconds somewhere in the world.
The WHO road death Hall of Shame…
1. Liberia – 35.9 (per 100,000 people)
2. Saint Lucia – 35.4
Equal 3. Burundi and Zimbabwe – 34.7
Equal 4. Democratic Republic of Congo and Venezuela (Bolivarian Republic of) – 33.7
5. Central African Republic – 33.6
6. Thailand – 32.7
7. Burkina Faso – 30.5
8. Namibia – 30.4
9. Cameroon – 30.1
10. Mozambique – 30.1
Floating clinic opens in Kanchanaburi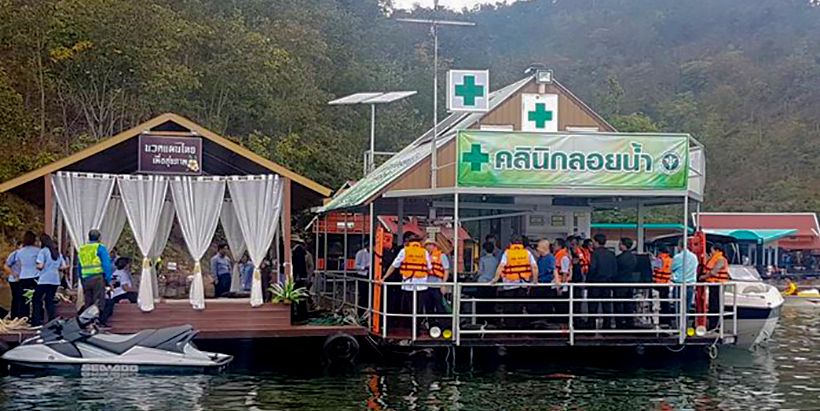 PHOTO: Pattaya Mail
Last week saw residents and visitors to Srinakaring Dam in Sri Sawat district, Kanchanaburi, in Thailand's west, witness the first day of operations of a new floating medical unit.
The Bangkok Post reports that the dam is a huge tourist magnet which attracts 800,000 tourist a year in an area where 140 businesses operate and over 600 towing rafts reside. Due to reports of accidents (sometimes with fatal results) the Public Health Ministry's Health Region 5 came up with the 'floating clinic'.
The clinic boasts a solar cell power system able to function during power outages, as well as modern and efficient communications systems in case of emergencies. The floating clinic is equipped with beds for check-ups, respirators, medical supplies and basic lifesaving equipment.
The project will provide help to tourists and locals in case medical attention is required. Depending on the severity there are referral vessels such as jet skis and speedboats available for quick access to local hospitals, with helicopter landing pads planned for the near future.
SOURCE: The Bangkok Post 
Thaiger Radio News – Monday