Storms raise flood threats in 37 provinces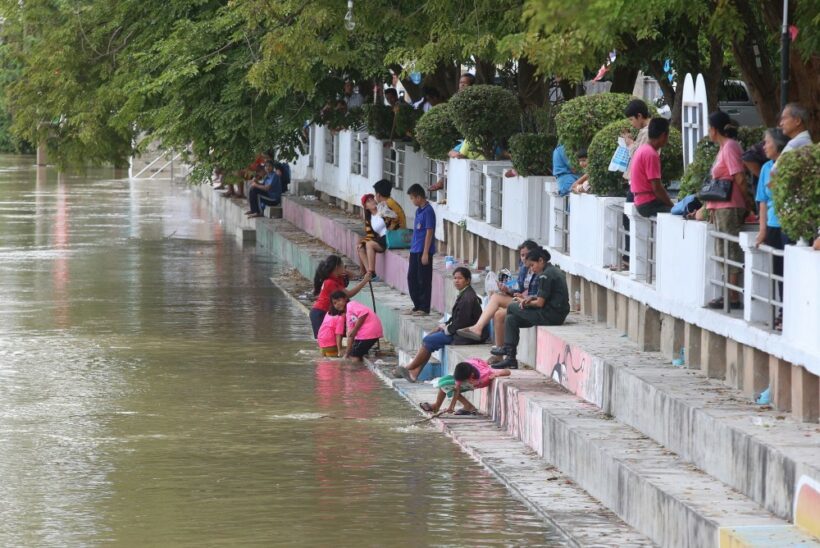 Whilst the flood situation in the far north of the country, bordering the Mekong River, has abated over the past week, the situation is still dire for many other communities around the Kingdom today.
Disaster warnings have now been issued as heavy downpours threaten to bring flash floods and landslides to 37 provinces across Thailand.
A monsoon storm is predicted to increase rainfall in the Northern, Northeast, Central, East and South of Thailand until next Tuesday.
Among the at-risk provinces are Surat Thani, Chiang Rai, Ubon Ratchathani, Nakhon Phanom, Kanchanaburi, Lop Buri, Saraburi, Chachoengsao, Chon Buri, Krabi, Phuket, Phang Nga and Trang.
Surat Thani has already faced the wrath of floods, with soaring water levels. Hundreds of people along the Khlong Sok Canal in the province's Phanom district are now living on the upper floors of their homes as floodwater, up to a metre and a half deep, rises below them.
Of the three districts flooded by overspill from the canal, Phanom is the worst-hit, said a source at the province's disaster prevention and mitigation office.
Chai Buri and Than Chana are also inundated. In Chai Buri, homes and several roads in three villages are under 50 to 70 centimetres of floodwater and classes at some schools have been suspended.
In Krabi province, Than Bok Khorani National Park chief Weerasak Srisajjang warned tourists against entering the park's Bok Khorani waterfall zone.
"Due to continued rain, there is a risk of flash floods," he said.
In Phetchaburi province, the growing flood risk comes from water discharged from the overwhelmed Kaeng Krachan Dam. Located in the province's Kaeng Krachan district, the dam was 104 per cent full as of press time. To lower that, about 18.2 million cubic metres of water were being released into the Phetchaburi River a day, increasing the flood risk downstream. Authorities have predicted that the Muang district or the town of Phetchaburi itself could be flooded for about 14 days from this weekend. The Phetchaburi River runs through many districts in the province, including Muang and Ban Laem.
"I am now watching the water level in the Phetchaburi River all the time," said Yod Yongsuk, a resident in the province's Ban Laem district.
According to Yod, the water level has been rising by three centimetres per hour since Wednesday night. Yod recalled being unprepared last year when the river overflowed at night and inundated his house.
"This year, I have taken precautions and moved my belongings to higher ground already," he said.
In the north-east's Sakon Nakhon province, the Nam Oun Dam was 103 per cent full as of press time and discharging 4.84 million cubic metre of water daily. However, downstream zones are not affected.
In Kanchanaburi province, the Vajiralongkorn Dam was 85 per cent full and discharging 41.26 million cubic metres of water a day. While the water volume has barely affected downstream zones, it may affect the operations of some resorts along the Kwai Noi River.
In Nakhon Phanom, water in the Mekong River along the northeastern border province of Nakhon Phanom is receding, enabling water in the tributaries to flow into the main river in a larger volume, according to provincial governor Somchai Witdamrong.
The Mekong water level was at 11.42 metres yesterday morning, about 1.60m below the maximum level of 13m, and is receding by about 10 centimetres per day.
The Nakhon Phanom irrigation office has installed more water pumps at various gates along the Nam Kam stream, discharging about 25 million cubic metres per day, up from 18-20 million cu/m, into the Mekong River. More water is also being drained into the main river from Nam Oon and Song Khram streams. However, about 30 houses in Tambon Si Songkhram and 150 houses in Tambon Thabo Songkhram of Si Song Khram district are still flooded, and about 50,000 rai of farmland inundated.
Somchai said 10 districts have been declared disaster zones with 13,724 people in 878 villages being affected and 28 houses, two schools, two temples, 111 roads and 179,704 rai of farmland damaged.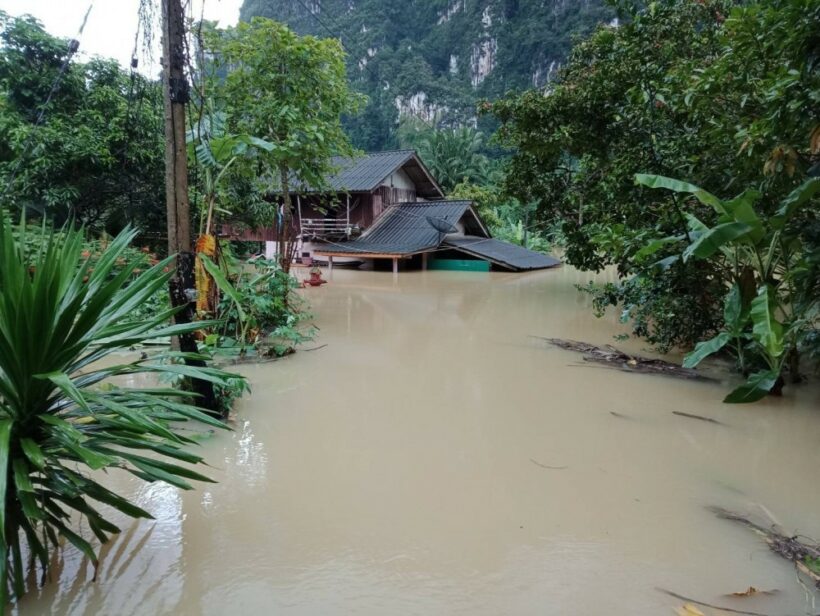 STORY: The Nation


Read more headlines, reports & breaking news in Thailand. Or catch up on your Thailand news.
Thai exports fall 5.7 percent in January, year-on-year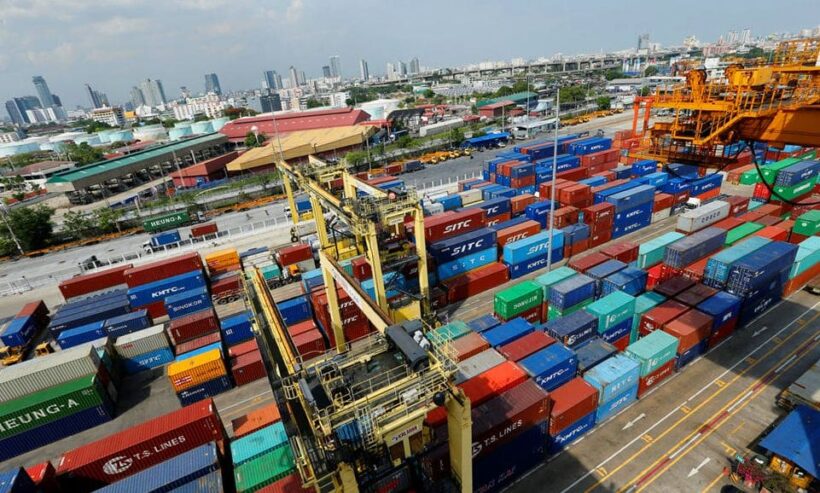 Thai export results have dipped for the third straight month, falling more than 5.65% compared to a year earlier. The fall was a lot bigger than expected, according to the Thai commerce ministry.
Shipments contracted 1.72% in December, compared to a year earlier as well.
January's export drop was due to falling shipments of rice, gold, electronics and cars, according to the ministry. Digging into the numbers, exports to the US rose 8.3% in the first month of the year, compared to January 2018, but exports to China slumped 16.7%.
The strong Thai baht, Asia's best performing currency this year, has increasingly hit exports, particularly rice orders.
Checking imports for the same period, and the numbers jumped surprisingly 13.99% year on year, after sliding 8.15% in December 2018. Analysts say the surge in imports was partly due to imports of arms and military weapons.
There was a trade deficit of $4.03 billion in January, compared with a forecast surplus of $320 million surplus. December 2018 had a $1.06 billion surplus.
But the ministry says they are still forecasting export growth of 8% for 2019 after a 6.7% increase last year.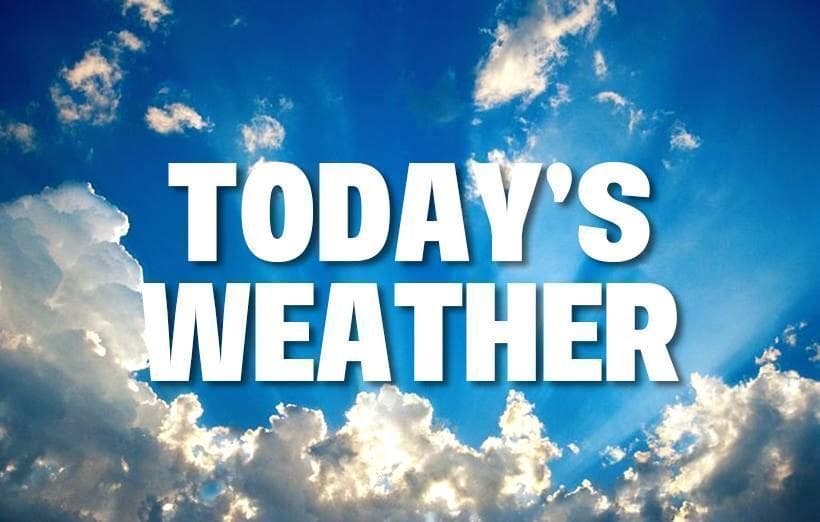 Bangkok
Generally clear. High 35ºC. Winds S at 15 to 25 km/h.


Phuket
Generally clear. High 32ºC. E winds shifting to S at 15 to 25 km/h.


Chiang Mai
Generally clear. High 36ºC. Winds SSE at 10 to 15 km/h.


Pattaya
Generally clear. High 31ºC. Winds SSW at 15 to 25 km/h.


Hua Hin
Partly cloudy. High 33ºC. Winds SSE at 15 to 30 km/h.


Ko Samui
Partly cloudy. High 26ºC. Winds SE at 15 to 25 km/h.


Strong baht a concern for Thai hotel sector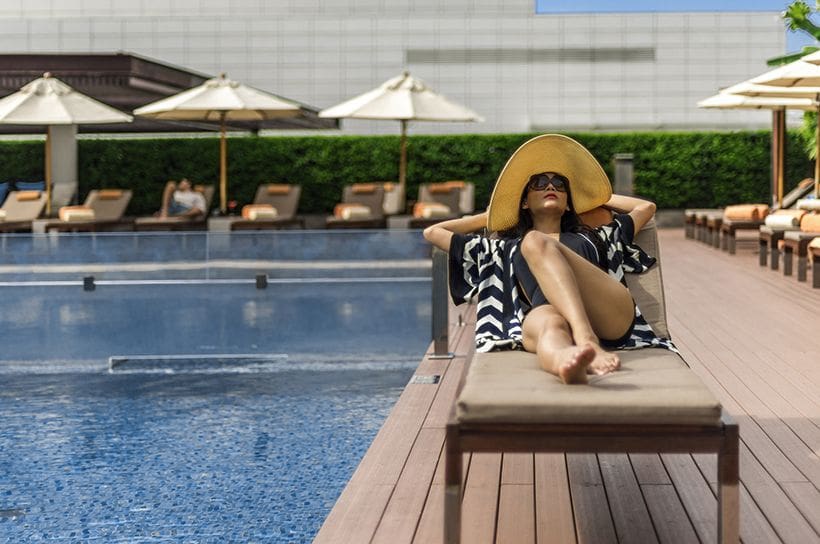 by Bill Barnett
Thailand's baht performance against Asian currencies in 2018, was unmatched, with the exception of the Japanese yen.
Commenting on the trend financial news Bloomberg have highlighted that in 2019, a further 4% in growth this year have it sitting at the top of the table.
Oddly, one of the underlying factors stimulating the baht's appreciation is the recovery in tourism arrivals which has a double-digit impact on the country's GDP.
While the elections remain a wild card on forward expectations, the reality is that the currency has not been hit like the Chinese yuan, which has been disrupted by a threatened U.S. China trade war and slowdown in its economy.
Despite higher than expected tourism numbers in 2018, hotel owners are cautiously optimistic on the prospects for the year.
In reality, despite rising prices for visitors, the economic climate is leading many property developers turning to hospitality assets as the real estate market remains volatile. The general view is that sustainable cash flow as part of their business mix is good and that tourism fundamentals remain strong.
Still, looking at nearby competitors such as Vietnam, which is rapidly growing from a cub into a tourism tiger, the issue of affordability is concerning. Currency swings remain a real and present factor in demand, so expect hoteliers to keep watching currency levels closely in 2019.