Storms raise flood threats in 37 provinces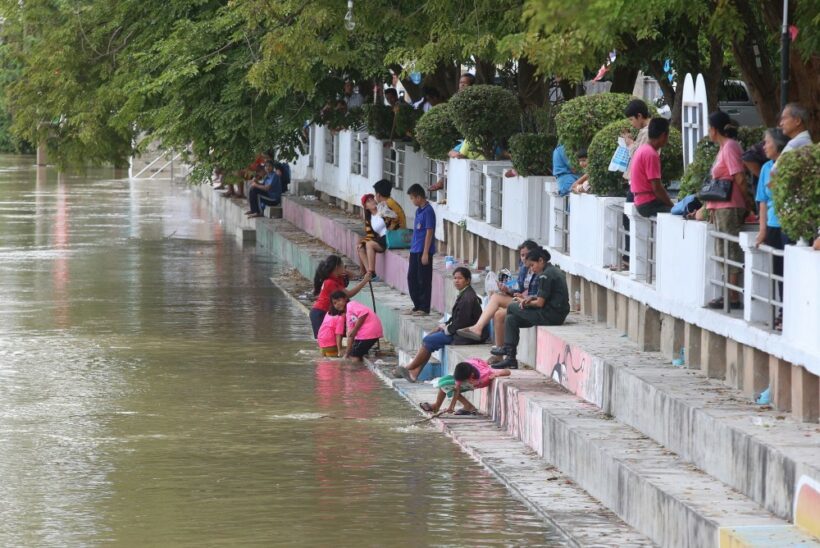 Whilst the flood situation in the far north of the country, bordering the Mekong River, has abated over the past week, the situation is still dire for many other communities around the Kingdom today.
Disaster warnings have now been issued as heavy downpours threaten to bring flash floods and landslides to 37 provinces across Thailand.
A monsoon storm is predicted to increase rainfall in the Northern, Northeast, Central, East and South of Thailand until next Tuesday.
Among the at-risk provinces are Surat Thani, Chiang Rai, Ubon Ratchathani, Nakhon Phanom, Kanchanaburi, Lop Buri, Saraburi, Chachoengsao, Chon Buri, Krabi, Phuket, Phang Nga and Trang.
Surat Thani has already faced the wrath of floods, with soaring water levels. Hundreds of people along the Khlong Sok Canal in the province's Phanom district are now living on the upper floors of their homes as floodwater, up to a metre and a half deep, rises below them.
Of the three districts flooded by overspill from the canal, Phanom is the worst-hit, said a source at the province's disaster prevention and mitigation office.
Chai Buri and Than Chana are also inundated. In Chai Buri, homes and several roads in three villages are under 50 to 70 centimetres of floodwater and classes at some schools have been suspended.
In Krabi province, Than Bok Khorani National Park chief Weerasak Srisajjang warned tourists against entering the park's Bok Khorani waterfall zone.
"Due to continued rain, there is a risk of flash floods," he said.
In Phetchaburi province, the growing flood risk comes from water discharged from the overwhelmed Kaeng Krachan Dam. Located in the province's Kaeng Krachan district, the dam was 104 per cent full as of press time. To lower that, about 18.2 million cubic metres of water were being released into the Phetchaburi River a day, increasing the flood risk downstream. Authorities have predicted that the Muang district or the town of Phetchaburi itself could be flooded for about 14 days from this weekend. The Phetchaburi River runs through many districts in the province, including Muang and Ban Laem.
"I am now watching the water level in the Phetchaburi River all the time," said Yod Yongsuk, a resident in the province's Ban Laem district.
According to Yod, the water level has been rising by three centimetres per hour since Wednesday night. Yod recalled being unprepared last year when the river overflowed at night and inundated his house.
"This year, I have taken precautions and moved my belongings to higher ground already," he said.
In the north-east's Sakon Nakhon province, the Nam Oun Dam was 103 per cent full as of press time and discharging 4.84 million cubic metre of water daily. However, downstream zones are not affected.
In Kanchanaburi province, the Vajiralongkorn Dam was 85 per cent full and discharging 41.26 million cubic metres of water a day. While the water volume has barely affected downstream zones, it may affect the operations of some resorts along the Kwai Noi River.
In Nakhon Phanom, water in the Mekong River along the northeastern border province of Nakhon Phanom is receding, enabling water in the tributaries to flow into the main river in a larger volume, according to provincial governor Somchai Witdamrong.
The Mekong water level was at 11.42 metres yesterday morning, about 1.60m below the maximum level of 13m, and is receding by about 10 centimetres per day.
The Nakhon Phanom irrigation office has installed more water pumps at various gates along the Nam Kam stream, discharging about 25 million cubic metres per day, up from 18-20 million cu/m, into the Mekong River. More water is also being drained into the main river from Nam Oon and Song Khram streams. However, about 30 houses in Tambon Si Songkhram and 150 houses in Tambon Thabo Songkhram of Si Song Khram district are still flooded, and about 50,000 rai of farmland inundated.
Somchai said 10 districts have been declared disaster zones with 13,724 people in 878 villages being affected and 28 houses, two schools, two temples, 111 roads and 179,704 rai of farmland damaged.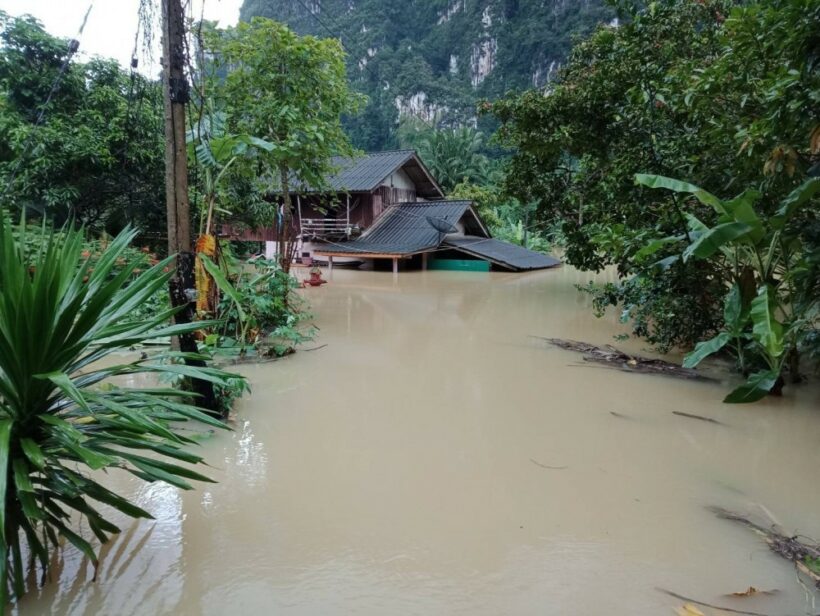 STORY: The Nation


Read more headlines, reports & breaking news in Thailand. Or catch up on your Thailand news.
Infamous 'large' passenger dies in Koh Samui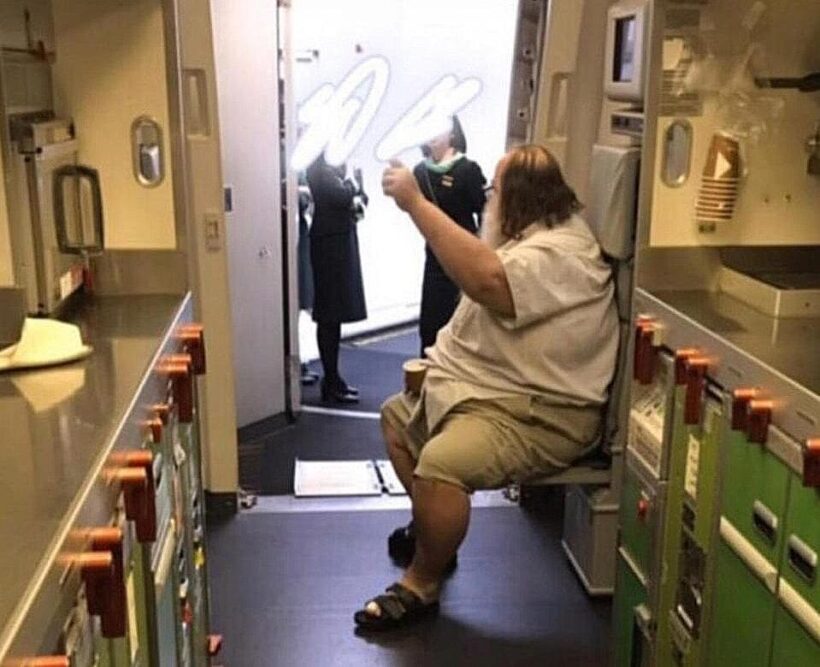 PHOTOS: The Sun
A 200 kilogram tourist, who forced flight crews to wipe his bum as he moaned with pleasure in January, has died on Koh Samui.
The American, who hasn't been named, died whilst staying on the Gulf island due to an undisclosed illness. But he has left an indelible memory in his wake.
At the same time, as the news emerged about his demise, EVA Air were putting plans in motion to ban the oversize traveller from flying with their airline ever again.
The man shocked readers is January when he was accused of forcing cabin crew to strip him in a cramped airline toilet (remember this guy weighed 200 kilograms) and wipe his bum while he "moaned with pleasure".
The incident occurred on an EVA Air long-haul flight from LA to Taiwan's Taoyuan Airport and was covered extensively on world media.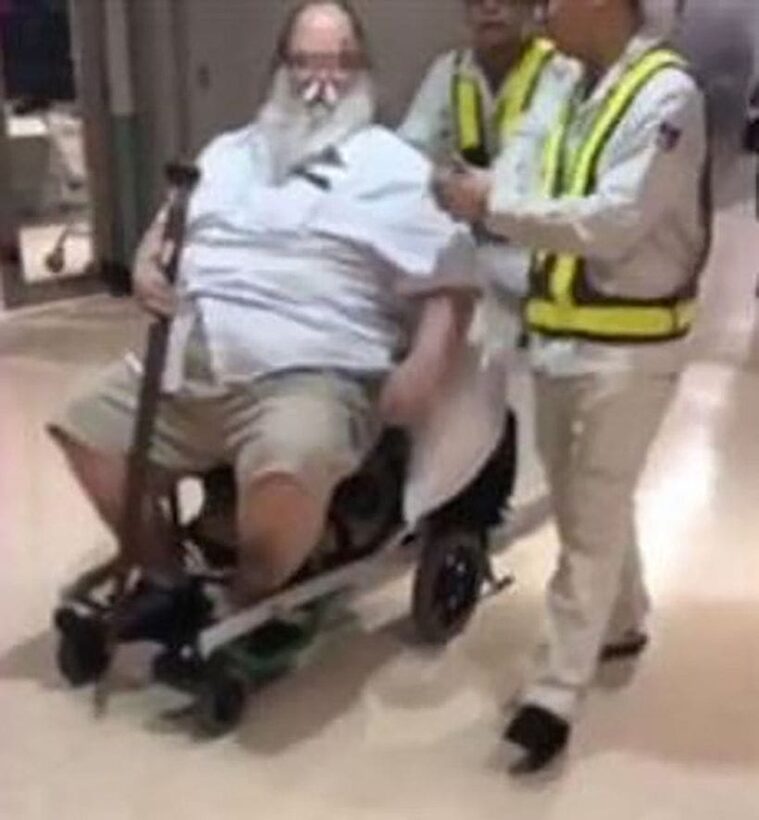 A flight attendant, who on the same flight, described how the passenger boarded the plane in a wheelchair and then insisted on having three adjoining seats in economy class due to his size. He then demanded to use the plane's business class lavatory, as he couldn't fit into the economy toilets.
But (put down your food if eating) while in the toilet, he demanded cabin crew strip him down so he could relieve himself, saying he had an arm injury that prevented him from doing it himself.
"I told him we couldn't help him, but he started yelling. He told me to go in there immediately and threatened to relieve himself on the floor. As the passenger's genitals were now exposed, one of my colleagues brought a blanket, which I used to cover his modesty."
"But he very angrily slapped my hand away, saying he didn't want it and only wanted me to remove his underwear so he could use the toilet."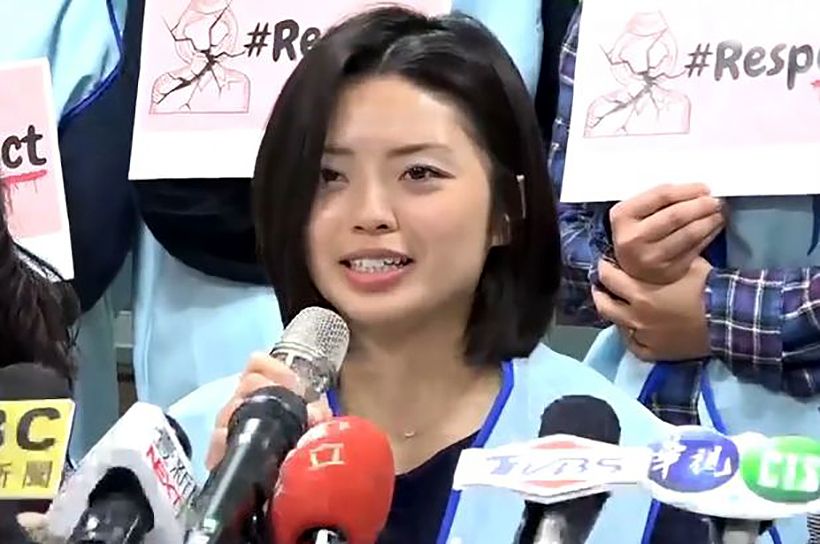 The flight attendant who 'assisted' the man should be awarded lots of medals and a lifetime supply of latex gloves
The passenger then asked crew to wipe his bum for him leading him to groan as the chief attendant fulfilled his request while wearing three pairs of latex gloves.
"He said: 'Oh, mmm, deeper, deeper,' and then accused my chief attendant of not properly cleaning his backside, requesting that she do it again," recalled the attendant, who was holding onto the passenger to keep him steady.
She said the attendant repeated the action three times before the man said, "You can pull my pants back up now."
The two female flight attendants involved, who both said they were traumatised by the incident in January, are both on extended paid leave.
The Sun.co.uk, reporting this story, says that "Party island Ko Samui – the second largest island in Thailand – is known for its prostitution and seedy nightlife."
Despite the source, the incident has been widely reported by 'respectable media' on January 20 this year, and the large man has indeed passed away on Koh Samui.
SOURCE: The Sun

'The Sun' confuses Koh Samui with Walking Street
Ambulances must not exceed 80kph, except in emergencies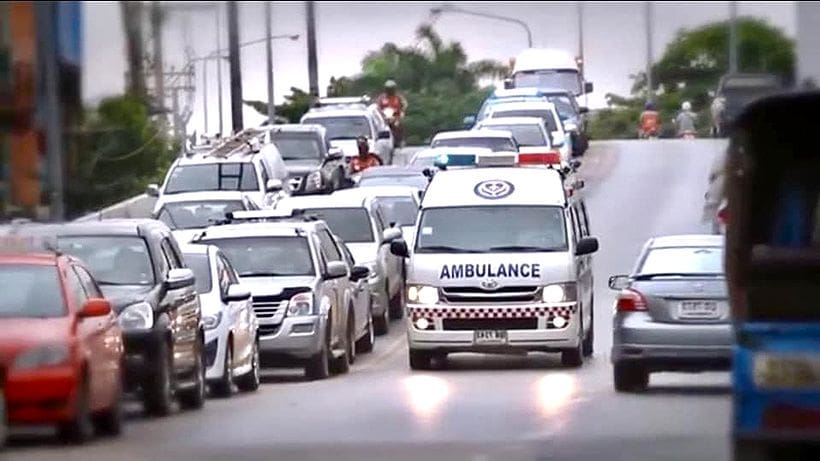 The Public Health Ministry's directive to ensure ambulances keep below 80 kph only applies to non-emergency referral cases. The clarification issued today after a lot of criticism in social media.
The ministry's deputy permanent secretary, Dr Prapon Tangsrikertikul, says… "The policy has been introduced to ensure the safety of those inside the ambulances. But, of course, drivers can use appropriate speeds on a case-by-case basis."
But critics pointed out that if emergency patients were not administered timely treatment, the chance of a full recovery or survival would fade in many cases.
Chawalit Rattanasuttikul, who chairs rescue units in the South, said speed was necessary to save lives. He argued that ambulance accidents were relatively few when compared with the number of patients they helped in a year.
"The policymakers should think more about patients," he said.
He also wondered if the ministry's policy was intended to favour some private companies that had sold premium car insurance and GPS systems.
But Prapon explained that the speed-limit policy was only for ambulances of agencies under his ministry's supervision, not ambulances used by other organisations and not vehicles used by rescue workers.
He said the ministry decided to introduce the policy due to the number of accidents involving ambulance vehicles. The new policy will bar ambulances from jumping red lights.
"Also, we have increased protection coverage for ambulance passengers who get maimed or die in accidents. The compensation amount has now been raised to 2 million baht per person," Prapon said.
SOURCE: The Nation
Thailand to ban three kinds of plastic by end of this year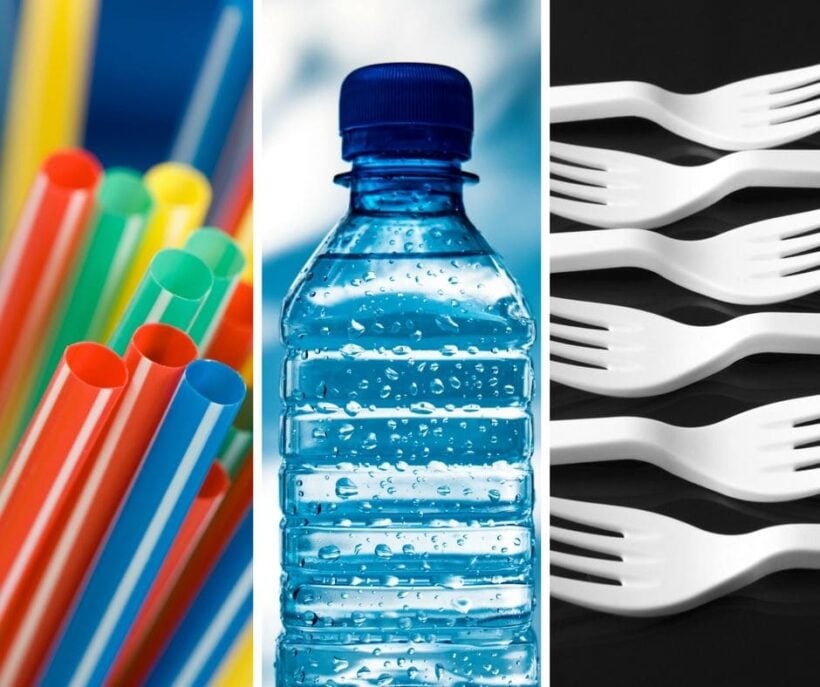 By the end of 2019 Thailand will be free from three types of plastic – microbeads, cap seals and oxo-degradable plastics.
Then by 2022 four other types of single-use plastics will also be banned – lightweight plastic bags less than 36 microns thick; styrofoam food containers for takeaways; plastic cups and plastic straws – according to a road map approved by the Cabinet.
The Plastic Waste Management Road Map 2018-2030 also includes an ambitious plan for Thailand to use 100 per cent recycled plastic by 2027 in various forms, including turning waste into energy.
The Cabinet has acknowledged the road map and assigned the Natural Resource and Environment Ministry to formulate a draft action plan for plastic waste management, so it is in line with the 20-year national strategy.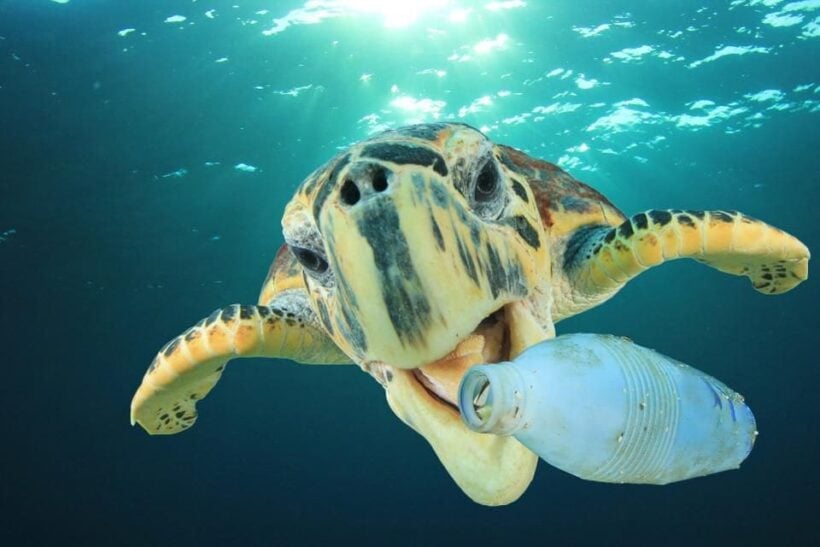 The Cabinet also called for clear details on related agencies' role in the integration of the work for managing plastic waste, which will also get huge participation from the private and business sectors. The related state agencies should create various mechanisms to propel this forward such as creating a good understanding among agencies, continuously implementing a public relations campaign via social media to achieve the set goals, the Cabinet instructed.
The work procedure must consider lifecycle plastic-waste management so steps are taken from the very start: with plastic products designed applying the "Eco Design" approach, manufacturing and post-consumption disposal which will include garbage separation, transport and storing, recycling and proper disposal.
According to the Department of Environmental Quality Promotion, Thais generate as much as 1.14 kilogram of garbage per head per day, contributing to the 27.04 million tonnes of waste per year.
One person uses approximately eight plastic bags a day – or 500 million plastic bags per day for the whole nation.
Most of the plastic waste ends up in the oceans, accounting for 16% of garbage in the seas.
SOURCE: The Nation