Phuket Gazette Thailand News: Suit filed against PTTGC; Sting operation ends in shoot-out; Flash floods hit Mae Sot; Social media shows outrage over oil spill, calls for hair donations[VIDEO]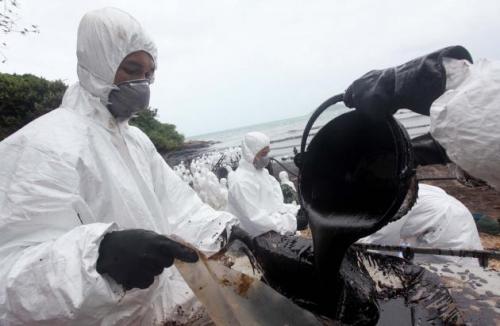 PHUKET MEDIA WATCH
– Thailand news compiled by Gazette editors for Phuket's international community
Case filed against PTTGC
The Nation / Phuket Gazette
PHUKET: The Marine Department yesterday lodged a police complaint against PTT Global Chemical over the crude oil leak from the undersea pipeline it owns in the Gulf of Thailand.
The department's strategic move is aimed at ensuring the public company takes responsibility for cleaning the oil spill and paying compensation, which could potentially amount to a 2.3 billion baht loss for the tourism sector and a 5.4 million baht daily loss by the fishing industry.
Sorrrasak Saensombat, director-general of the department, said the total damage from the spill and the loss in revenue for the tourism, business and fishery industries had not been included in the suit, pending estimates from aggrieved parties. It is not yet known through which legal channel the suit will be processed – administrative, civil or environmental – after the complaint was lodged with a local police station in Rayong.
He said the severity of the leak was at the intermediate Level 2, which requires state intervention in the salvage operation and clean-up. Level 3 is for the heaviest damage, which needs foreign-supported salvaging operations, and Level 1 is for moderate leakage, which can be salvaged by the private sector.
Transport Minister Chadchart Sittipunt called the first meeting of a national body tasked with dealing with an oil spill or recovery, three days after the oil leak was reported on Saturday morning.
The little-known Prevention and Elimination of Marine Pollution Caused by Oil Spill committee under the PM's Office was formed in 1995 with the transport minister as its chair and the director-general of the Marine Department as its secretary.
Sorrrasak said the oil slick has reached the Rayong coast while the thick crude oil that has dirtied Ao Phrao has been contained.
The bay, popular with tourists, would be cleaned almost completely within a few days, and the black globules could be removed from the beach and sea within a week.
PTTGC president Bowon Vongsinudom said the spill that was spreading into the sea had already been stopped and that the recovery process would be initiated as soon as possible.
"The oil film spreading across the sea near Rayong's Samet Island will be naturally destroyed by bacteria within two weeks," he added.
After completing the clean-up, a third-party assessor would be deployed to estimate the environmental damage and lay out recovery plans.
Prime Minister Yingluck Shinawatra, who is on an overseas trip, has ordered a systematic response to cope with the oil leak. Minister of Energy Pongsak Ruktapongpisa said all parties affected by the leak would be compensated.
He said he preferred to see negotiations between both parties rather than lawsuits in terms of compensatory payments, because the PTTGC was willing to make immediate amends, while the lawsuits would take time.
Chairat Trirattanajarasporn, head of Rayong Tourism Association, said the local tourism industry had lost about one-fifth of its annual revenue of Bt16 billion, or about Bt3.2 billion so far, while a group of fishermen said they were losing Bt5.4 million in daily revenue.
Most room reservations have been cancelled even though Phrao Bay makes up only 5 per cent of the island's entire area.
Natural Resources and Environment Minister Vichet Kasemthongsri told the Cabinet meeting that PTT, of which PTTGC is a group company, was covered by a Bt1.5-billion insurance policy and could use the payout to help defray the damage..
Drug suspects killed in sting operations
The nation / Phuket Gazette
PHUKET: A sting operation during which Narcotics Suppression Police officers tried to buy 400 ya bah tablets from five drug suspects, turned into a gunfight early yesterday in Chumphon's Lamae district, resulting in one suspect being killed and a policeman injured.
A suspect was also killed in a similar sting operation in Bangkok yesterday.
After hearing of a gunfight at around 5am, Lamae police rushed to the site to find a Mitsubishi sedan on Lamae-Khao Chamod Road with dozens of spent bullets and Pol Sr Sgt-Major Thammanoon Nokkhao slumped with a wound on his left shoulder. After following a trail of blood into a rubber plantation about 300 metres away, police found the body of suspect Tinnakorn Boonmak, 25, being held by his mother.
Police also found on Tinnakorn's body the 50,000 baht officers used to buy the drugs and the suspect's pistol nearby. A manhunt has been launched for the four other suspects who fled the scene.
Pol Major Apichart Jiapanich, who led the sting operation, said the team aimed to crack a gang of drug dealers led by a native of Surat Thani's Than Chana district identified as "First Thathai".
The gang had changed the venue for the exchange twice before agreeing to meet on the Lamae-Khao Chamod Road. However, when the police tried to arrest the suspects, they opened fire.
Meanwhile, Narcotics Suppression Police officers also exchanged gunfire with drug suspects at the Thewakam intersection in Bangkok's Nang Lerng area yesterday afternoon. One suspect had been reported killed and one wounded. A stray bullet also hit a female student nearby.
Border trade halted as Mae Sot inundated
The Nation / Phuket Gazette
PHUKET: Tak's Mae Sot district continued to suffer from what has been described as the worst flooding to hit the area in 20 years, with the rising Moei River bringing Thai-Myanmar border trade to a total halt for four days, causing 1.2 billion in lost business.
Banpot Korkiatcharoen, honorary chairman of the Tak provincial chamber of commerce, said the flood situation in Mae Sot had stabilised, and cars could access roads, but Rim Moei Market along the border was still inundated. He described the flooding, which was triggered by a week of rainfall, as the worst in 20 years as it had lasted for four days and counting – compared to previous flash floods that lasted two days at most. Mae Sot's economy, in particular its B300-million-a-day border trade, had been adversely affected, he said.
As some areas of Mae Sot were still without power due to the high waters, Tak Deputy Governor Suwat Phronsuwan yesterday morning presented 500 relief bags and 500 bags of rice to residents of 20 flood-hit communities at Wat Don Kaew School.
Deputy Prime Minister Niwattumrong Boonsongpaisan said after a cabinet meeting yesterday that Prime Minister Yingluck Shinawatra, who is on an overseas trip, was greatly concerned about flooding in 25 provinces and had instructed the Interior Ministry and the Disaster Prevention and Mitigation Department to speedily aid flood-hit people.
Two villages at the foot of Khao Yai in Prachin Buri's Muang district were hit by a flash flood late on Monday night. Local officials planned to dredge Khlong Chanthu to help drain floodwater into the Prachin Buri River more quickly.
In Kanchanaburi's Sangkhlaburi district, forest run-off swept about 30 food-sellers' rafts, along with floating fish baskets, some 40 kilometres down river, tambon Wang Ka mayor Pakorn Noiket said yesterday. Pakorn was inspecting the scene of a landslide that damaged a 50-metre-long section of pipeline supp
— Phuket Gazette Editors
Keep in contact with The Thaiger by following our
Facebook page
.
Activists want Thailand to lead total ban on wildlife trade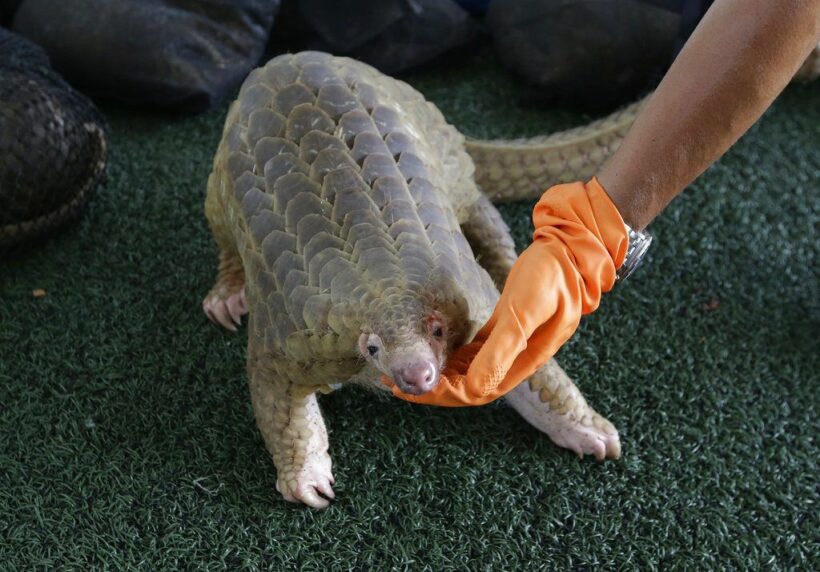 With the Covid-19 pandemic continuing to sweep the globe and the World Health Organization saying 75% of all emerging infectious diseases are zoonotic, campaigners against wildlife crime say Thailand could become a global leader in stopping pandemics by cracking down on poaching and ceasing to be a gateway for illegal wildlife trade. Activists believe this would help stop animal-to-human disease transmission, saying data show that the majority of emerging diseases usually originate from wet markets – where wild animals are caged and sold for food.
At a press conference yesterday to launch the global campaign "Endpandemics", Steven Galster, the founder of nonprofit group Freeland, which campaigns against animal and human trafficking, called on the government to take more aggressive actions to ban the wild animal commercial trade. Freeland started "Endpandemics" in April when the Covid-19 pandemic exploded globally.
Galster says the nation could return to its top place in the regional fight against the illegal wildlife trade under the framework of the ASEAN Wildlife Enforcement Network. He called Thailand's response to the Covid-19 outbreak "exemplary, resulting in some of the lowest numbers of cases and deaths in the world."
But, he says, Thailand has left a door open for a new viral bomb to explode on its own doorstep; the illegal wildlife trade. He says there needs to be strong efforts from all stakeholders, especially law enforcement, to ban it entirely.
He believes Thailand should close its gates to wildlife traders and lead other countries by example to follow the WHO "One Health" approach that involves protecting not only people but wild animals and ecosystems.
"A new vaccine will not work against a new outbreak strain. A true, sustainable vaccine will address the root causes of these outbreaks but there needs to be a new approach not only for the protection of people but of wildlife and natural ecosystems as well. Thailand can be that global leader by becoming the first country in the world to ban all commercial trade in wild animals. "
Despite its efforts to control wildlife crime, Thailand is widely known as a regional hub for wildlife crime due to its geographic location and transport system linking it to neighboring countries. Tonnes of African ivory, rhino horn, pangolins, and their scales, snakes, tiger cubs, and all manner of wildlife and wildlife products are confiscated at Thai airports annually. The final destination of these items is usually China.
Many anti-wildlife trafficking experts say the Covid-19 pandemic has helped stop the illegal wildlife trade; China has closed its wildlife markets and banned the trade, with some exceptions.
But the order to close the markets will likely be eased when the outbreak fades. Galster says reopening them will be detrimental to wildlife protection and increase the possibility of diseases jumping species from animals to humans, such as Sars, Mers, bird flu, and Covid-19.
SOURCE: Bangkok Post
Keep in contact with The Thaiger by following our
Facebook page
.
Outgoing army chief says no plans for US base on Thai soil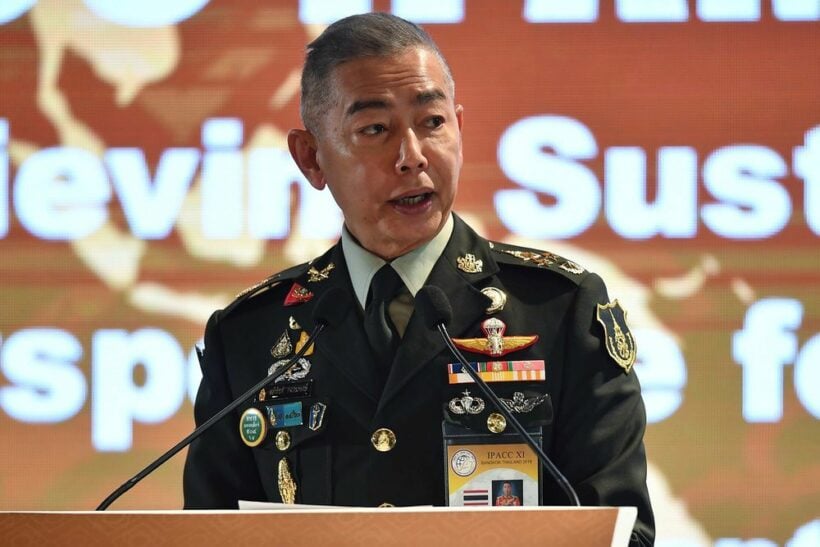 Outgoing army chief Apirat Kongsompong, is denying that the US is seeking to establish a military base on Thai soil. At a press briefing, Apirat said that Thai and US troops have only carried out joint military drills, code-named Cobra Gold, and nothing more. The drills are a multinational exercise held annually in Thailand.
Apirat insisted the US did not ask to use Thailand as a stage for a base but admitted that US troops left behind some of their military equipment deployed during the drills, but says reporters shouldn't read too much into this. However, Singapore has a longstanding agreement with Thailand, giving it access to a military area in Sai Yok district in the western Kanchanaburi province, in order to reportedly conduct military training. That agreement is renewed every 3 years.
Apirat also defended the 2 day visit by the US Army Chief of Staff James McConville and his delegation after an activist criticised the government for not sending the visitors into the mandatory quarantine that was imposed for all visitors. He says the delegation will be tested for Covid-19 before and upon arrival to Thailand. Tests will be performed by doctors from the Public Health Ministry, Phramongkutklao Hospital, and Thai Airways International staff. These procedures will become a model for future visits by foreign delegations.
"Don't stir up issues that might create conflict in the region."
The US delegation are the first group of foreigners to officially visit Thailand since the country began lifting Covid-19 restrictions. McConville will meet Apirat and PM Prayut Chan-o-cha today and tomorrow.
In a related development, General Narongpan Jitkaewthae is widely expected to replace Apirat as army chief during the annual military reshuffle at the end of September. A military source told Bangkok Post that the reshuffle dominated a pre-session discussion shortly before a meeting between top military officials and the Royal Thai Police yesterday.
The source says that this time around the reshuffle will involve high ranking personnel whose names were brought up during the pre-session discussion. The source said a list of high ranking officers up for promotion will likely be presented to the chief of the defence forces next week before it's forwarded to PM Prayut Chan-o-cha, who also serves as defence minister.
Apirat said yesterday he will retire at the end of September, adding he will no longer be active in handling government affairs after that month. He denies he will seek to extend his tenure as army chief. Apirat has also been rumoured to have long term political aspirations.
"I will pass the baton to the next army chief on Sept 30 when my duties will come to an end. There is absolutely no need to prolong my tenure."
SOURCES; Bangkok Post | Bangkok Post
Keep in contact with The Thaiger by following our
Facebook page
.
Doctors say Covid-19 first wave may be over, but warn against complacency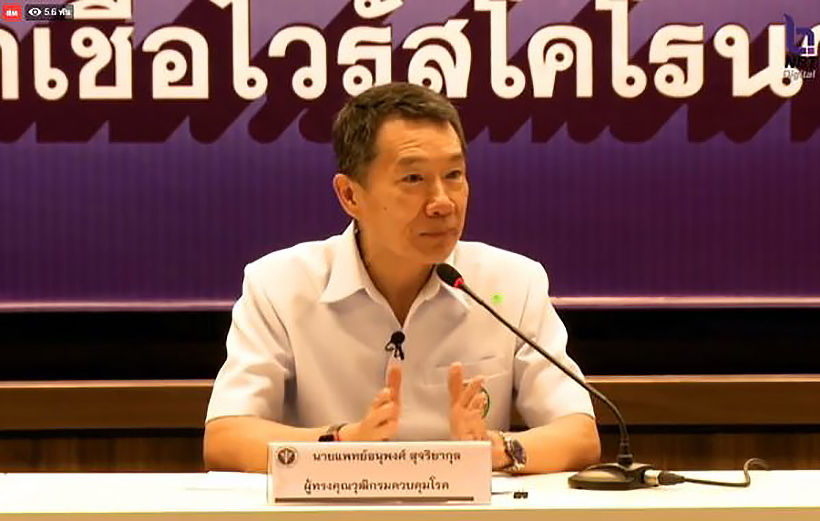 A spokesman for the Department of Disease Control says the "first wave" of the Covid-19 outbreak in Thailand is over after the country seeing no cases of community transmissions for 44 straight days. Dr Anupong Sujariyakul warned, however, that the kingdom must be prepared for the possibility of a second wave, as the contagion is still spreading in many parts of the world, with several countries thought to have eliminated the virus already experiencing second outbreaks.
Anupong says the Ministry of Public Health supports the government's plan to open the country slowly and cautiously, in order to restart its struggling economy, while still keeping its guard up by strictly observing the basic rules of hygiene: wearing face masks, regular handwashing, and social distancing.
As for the warning from scientists in 32 countries to the World Health Organization that Covid-19 can be spread through airborne droplets smaller than 5 microns, Anupong says the Public Health Ministry has previously explained that the contagion can be transmitted through airborne droplets. He notes, however, that the transmissions occur in enclosed environments such as intensive care units, but not in open spaces with good ventilation and sunlight. He advised the public to not be overly concerned about an airborne contagion at this point.
"If Covid-19 could be easily transmitted through the air, like tuberculosis, then worldwide operations would not be just 11-12 million cases, but many more."
The deputy director of the DDC warns that Thai people are becoming less concerned about the prospect of a second wave and may actually be encouraging the return of contagion. On his Facebook page, Dr Thanarak Plipat was asked if the country is ripe for a second wave. His answer was "yes" as he pointed to the behavior of many Thais "who are putting Thailand at an increased risk," saying many stores and shops no longer insist on the wearing of masks and customers appear to be more confident about not wearing them.
"Whether the disease will return again depends on the Thai people, and I personally feel that they are not afraid of Covid-19 and want it to return."
Thanarak added that this attitude is very dangerous, and he wants people to "come to their senses." He cited a report by Dr Taweesilp Visanuyothin, spokesman for the Center for Covid-19 Situation Administration, saying that about 3,000 migrant workers recently reentered Thailand after the easing of lockdown restrictions, noting that some of these people could be infected and may spread the disease.
"The best protection we currently have is to wear masks and observe the other safety measures."
The director of the General Contagious Diseases Division echoed the words of both doctors, saying the fact that Thailand has been without local infection for 44 consecutive days doesn't mean the disease has been eradicated. He warns that it could return with a vengeance "if we lower our guard and ignore basic safety measures."
SOURCES: Thai PBS World | Thai PBS World
Keep in contact with The Thaiger by following our
Facebook page
.