Phuket Gazette Thailand News: Suit filed against PTTGC; Sting operation ends in shoot-out; Flash floods hit Mae Sot; Social media shows outrage over oil spill, calls for hair donations[VIDEO]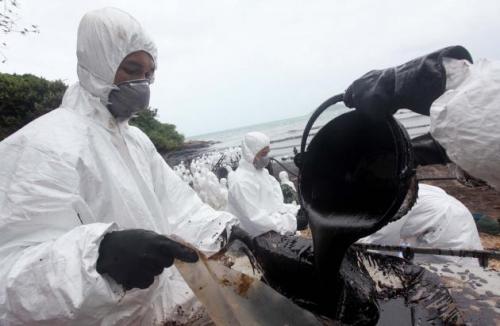 PHUKET MEDIA WATCH
– Thailand news compiled by Gazette editors for Phuket's international community
Case filed against PTTGC
The Nation / Phuket Gazette
PHUKET: The Marine Department yesterday lodged a police complaint against PTT Global Chemical over the crude oil leak from the undersea pipeline it owns in the Gulf of Thailand.
The department's strategic move is aimed at ensuring the public company takes responsibility for cleaning the oil spill and paying compensation, which could potentially amount to a 2.3 billion baht loss for the tourism sector and a 5.4 million baht daily loss by the fishing industry.
Sorrrasak Saensombat, director-general of the department, said the total damage from the spill and the loss in revenue for the tourism, business and fishery industries had not been included in the suit, pending estimates from aggrieved parties. It is not yet known through which legal channel the suit will be processed – administrative, civil or environmental – after the complaint was lodged with a local police station in Rayong.
He said the severity of the leak was at the intermediate Level 2, which requires state intervention in the salvage operation and clean-up. Level 3 is for the heaviest damage, which needs foreign-supported salvaging operations, and Level 1 is for moderate leakage, which can be salvaged by the private sector.
Transport Minister Chadchart Sittipunt called the first meeting of a national body tasked with dealing with an oil spill or recovery, three days after the oil leak was reported on Saturday morning.
The little-known Prevention and Elimination of Marine Pollution Caused by Oil Spill committee under the PM's Office was formed in 1995 with the transport minister as its chair and the director-general of the Marine Department as its secretary.
Sorrrasak said the oil slick has reached the Rayong coast while the thick crude oil that has dirtied Ao Phrao has been contained.
The bay, popular with tourists, would be cleaned almost completely within a few days, and the black globules could be removed from the beach and sea within a week.
PTTGC president Bowon Vongsinudom said the spill that was spreading into the sea had already been stopped and that the recovery process would be initiated as soon as possible.
"The oil film spreading across the sea near Rayong's Samet Island will be naturally destroyed by bacteria within two weeks," he added.
After completing the clean-up, a third-party assessor would be deployed to estimate the environmental damage and lay out recovery plans.
Prime Minister Yingluck Shinawatra, who is on an overseas trip, has ordered a systematic response to cope with the oil leak. Minister of Energy Pongsak Ruktapongpisa said all parties affected by the leak would be compensated.
He said he preferred to see negotiations between both parties rather than lawsuits in terms of compensatory payments, because the PTTGC was willing to make immediate amends, while the lawsuits would take time.
Chairat Trirattanajarasporn, head of Rayong Tourism Association, said the local tourism industry had lost about one-fifth of its annual revenue of Bt16 billion, or about Bt3.2 billion so far, while a group of fishermen said they were losing Bt5.4 million in daily revenue.
Most room reservations have been cancelled even though Phrao Bay makes up only 5 per cent of the island's entire area.
Natural Resources and Environment Minister Vichet Kasemthongsri told the Cabinet meeting that PTT, of which PTTGC is a group company, was covered by a Bt1.5-billion insurance policy and could use the payout to help defray the damage..
Drug suspects killed in sting operations
The nation / Phuket Gazette
PHUKET: A sting operation during which Narcotics Suppression Police officers tried to buy 400 ya bah tablets from five drug suspects, turned into a gunfight early yesterday in Chumphon's Lamae district, resulting in one suspect being killed and a policeman injured.
A suspect was also killed in a similar sting operation in Bangkok yesterday.
After hearing of a gunfight at around 5am, Lamae police rushed to the site to find a Mitsubishi sedan on Lamae-Khao Chamod Road with dozens of spent bullets and Pol Sr Sgt-Major Thammanoon Nokkhao slumped with a wound on his left shoulder. After following a trail of blood into a rubber plantation about 300 metres away, police found the body of suspect Tinnakorn Boonmak, 25, being held by his mother.
Police also found on Tinnakorn's body the 50,000 baht officers used to buy the drugs and the suspect's pistol nearby. A manhunt has been launched for the four other suspects who fled the scene.
Pol Major Apichart Jiapanich, who led the sting operation, said the team aimed to crack a gang of drug dealers led by a native of Surat Thani's Than Chana district identified as "First Thathai".
The gang had changed the venue for the exchange twice before agreeing to meet on the Lamae-Khao Chamod Road. However, when the police tried to arrest the suspects, they opened fire.
Meanwhile, Narcotics Suppression Police officers also exchanged gunfire with drug suspects at the Thewakam intersection in Bangkok's Nang Lerng area yesterday afternoon. One suspect had been reported killed and one wounded. A stray bullet also hit a female student nearby.
Border trade halted as Mae Sot inundated
The Nation / Phuket Gazette
PHUKET: Tak's Mae Sot district continued to suffer from what has been described as the worst flooding to hit the area in 20 years, with the rising Moei River bringing Thai-Myanmar border trade to a total halt for four days, causing 1.2 billion in lost business.
Banpot Korkiatcharoen, honorary chairman of the Tak provincial chamber of commerce, said the flood situation in Mae Sot had stabilised, and cars could access roads, but Rim Moei Market along the border was still inundated. He described the flooding, which was triggered by a week of rainfall, as the worst in 20 years as it had lasted for four days and counting – compared to previous flash floods that lasted two days at most. Mae Sot's economy, in particular its B300-million-a-day border trade, had been adversely affected, he said.
As some areas of Mae Sot were still without power due to the high waters, Tak Deputy Governor Suwat Phronsuwan yesterday morning presented 500 relief bags and 500 bags of rice to residents of 20 flood-hit communities at Wat Don Kaew School.
Deputy Prime Minister Niwattumrong Boonsongpaisan said after a cabinet meeting yesterday that Prime Minister Yingluck Shinawatra, who is on an overseas trip, was greatly concerned about flooding in 25 provinces and had instructed the Interior Ministry and the Disaster Prevention and Mitigation Department to speedily aid flood-hit people.
Two villages at the foot of Khao Yai in Prachin Buri's Muang district were hit by a flash flood late on Monday night. Local officials planned to dredge Khlong Chanthu to help drain floodwater into the Prachin Buri River more quickly.
In Kanchanaburi's Sangkhlaburi district, forest run-off swept about 30 food-sellers' rafts, along with floating fish baskets, some 40 kilometres down river, tambon Wang Ka mayor Pakorn Noiket said yesterday. Pakorn was inspecting the scene of a landslide that damaged a 50-metre-long section of pipeline supp
— Phuket Gazette Editors
Keep in contact with The Thaiger by following our Facebook page.
Never miss out on future posts by following The Thaiger.
When can we travel again? World Covid Travel Update | VIDEO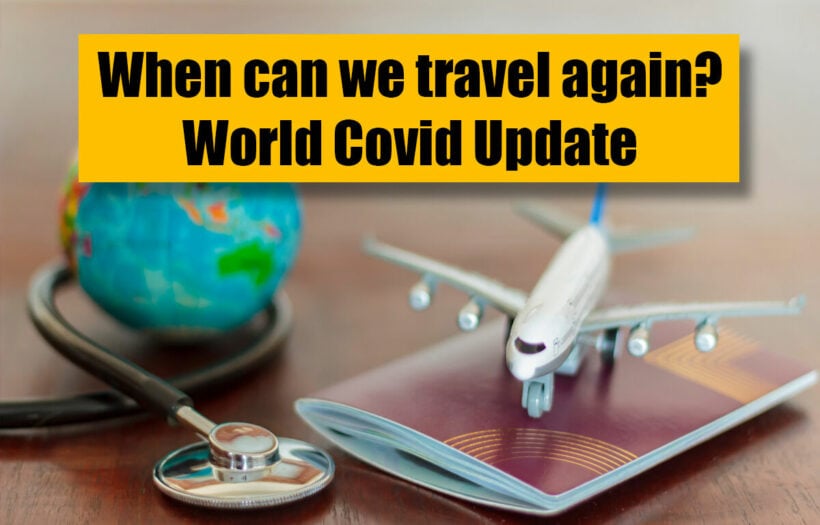 Today we'll look at the larger world travel picture in this Covid era, and then we'll check the latest opportunities if you want to come back to Thailand for travel.
So when can we pack the bags and travel again? Well, in theory, right now. But in practice, depending where you're coming from and where you want to go, that may still be very complicated… and remain so for at least the rest of this year. But some of the world's travel so-called experts are now speaking in terms of months and not years. Whilst some of that might be optimistic travel industry spin, there may be some greater certainty on re-openings of some sectors of the world travel industry in the next few months.
But first, consider all the variables that need to fall into place for things to go smoothly..
Despite the roll out of various vaccines, and more on the way, some countries are more advanced in that process than others. The appearance of virus mutations could send all the best guesses for an improvement in travel opportunities into disarray. Whilst it seems the vaccines will be a great benefit for victims to avoid the worst ravages of Covid-19, there is still a long way to go to measure the longer term effects on the changes in transmission and community immunity.
Keep in contact with The Thaiger by following our Facebook page.
Never miss out on future posts by following The Thaiger.
Thailand tourism sector seeks to reopen the country by July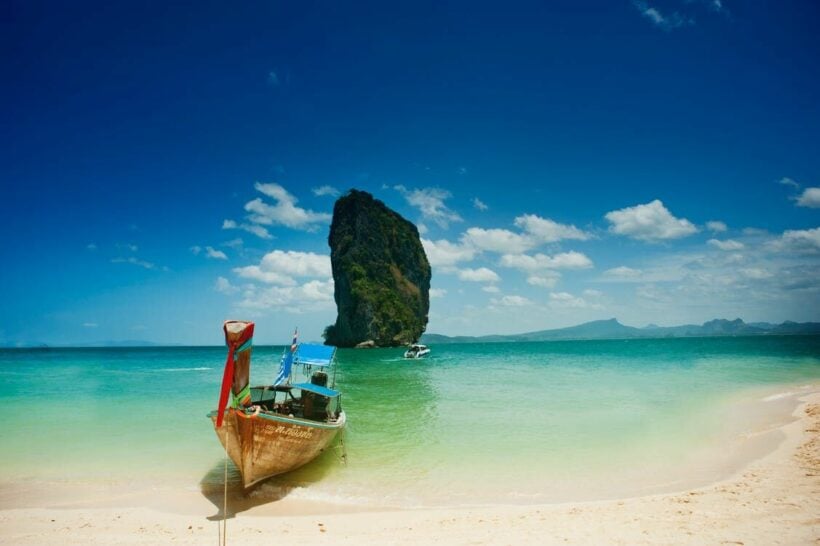 The following was submitted by Open Thailand Safely, a campaign pushing the Thai government to reopen Thailand to international tourism by July 2021.
Leading international tourism companies in Thailand have launched a campaign to reopen the country's borders from 1 July 2021.
The #OpenThailandSafely campaign was launched 2 March with the support of over 15 major companies including YAANA Ventures, Minor Group, Asian Trails, Capella Hotels and Resorts, EXO and many others. (The full launch list is here)
The Open Thailand Safely campaign has laid out its arguments in a petition which will underpin a formal request to the Royal Thai Government to respond favourably to the rollout of Covid-19 vaccination programmes underway in Europe, USA and other Thailand tourism source markets.
The petition is open to anyone in Thailand or around the world who would like to see the country reopen.
The campaign argues that 1 July is an appropriate date for five reasons: the majority of citizens in many source markets will have been vaccinated by then; it gives time to Thai medical authorities to vaccinate both front line staff in hospitality settings in Thailand and/or vulnerable citizens around the country; it gives international travellers time to make travel plans and bookings; the date gives time to airlines, hotels, tour operators and others to start marketing and sales and get ready for tourism operations to commence; and it will take Thailand at least a year, and maybe longer, to return to the large numbers of international visitors that it had before the Covid-19 crisis.
To ensure the safe reopening of Thailand, the petition argues that "international tourists can be asked to satisfy any safeguards the Thai Government may require. This may, for example, include showing officially recognised proof of a Covid-19 vaccination from their home country, purchasing health insurance, showing proof of a negative Covid test within 72 hours of departure, and so on."
#OpenThailandSafely was the initiative of leading Bangkok-based private sector travel companies YAANA Ventures, Minor Group and Asian Trails.
The CEO of YAANA Ventures, Willem Niemeijer [pictured right], said: "The 1 July reopening would be a strategic opportunity for Thailand to show a leadership role among Asian countries and prepare the way for a solid recovery of the Thai economy in 2022."
In the coming days, the Open Thailand Safely campaign will also send the 1st July request to Thailand Prime Minister General Prayut Chan-o-cha, the Minister of Tourism and Sports, Mr Phiphat Ratchakitprakarn, and the Governor of the Tourism Authority of Thailand, Mr Yuthasak Supasorn.
According to the Bank of Thailand and official sources in Thailand, tourism, pre-Covid, was worth about 2.9 trillion baht (US$96.5 billion). Some 39.7 million international visitors in 2019 helped sustain up to 8.3 million jobs. However, arrivals fell to 6.7 million in 2020 making between two and four million people unemployed.
Meanwhile, destinations such as Seychelles, Maldives, Greece and Sri Lanka have either opened borders already or are in discussions to do so in light of successful Covid vaccine rollouts in their key source markets.
People can sign the petition for Thailand to reopen on 1 July at www.OpenThailandSafely.org.
Keep in contact with The Thaiger by following our Facebook page.
Never miss out on future posts by following The Thaiger.
Thailand News Today | Dodgy vaccine doctor nabbed,Pattaya club raided for 'explicit' shows | March 3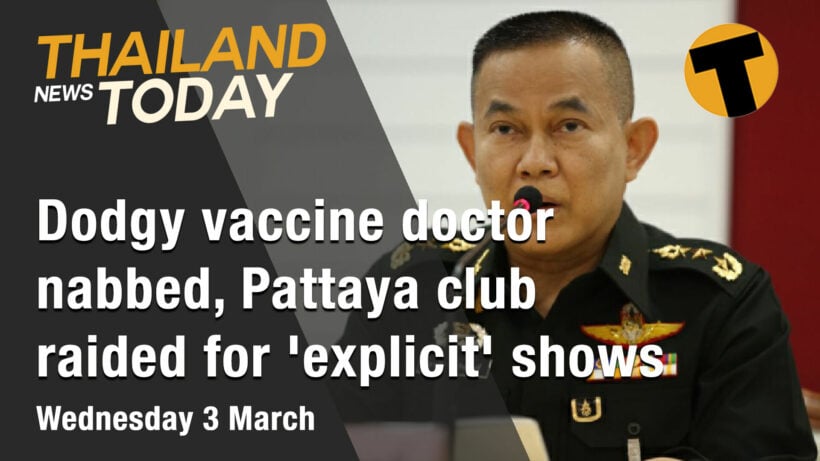 The Bangkok Military Court has issued an arrest warrant for a Royal Thai Army medic who is accused of injecting troops with a fake Covid-19 vaccine. He reportedly made more than 100,000 baht by charging troops, who were on a UN mission, 500 baht each for a tetanus vaccine and a fake Covid-19 vaccine, which an internal army investigation determined was simple saline solution…. Harmless but not very effective.
The Thai Army held a press conference after the medic's fake vaccine scam made headlines, saying the incident had tarnished the army's image. The field medic, who was also a lieutenant, injected more than 250 Thai troops stationed in South Sudan on a UN peacekeeping mission with the fake vaccine, claiming it was the head doctor's order. An Army spokesperson says the medic was in the Thai-South Sudan Horizontal Military Engineering Company and "is a serious disciplinary offence and also violates ethical standards as the wrongdoer is a doctor."
The governor of the central province of Samut Sakhon is slowly recovering after more than 2 months battling Covid-19. Weerasak Wichitsangsri tested positive for the virus in late December and subsequently ended up on a ventilator for over 40 days. It's understood Weerasak's time on the ventilator was a record for the hospital and, at times, medics were unsure if he would recover.
Pattaya City Police inspected a nightclub after reports that the venue was hosting pornographic shows over the weekends. Although the nightclub, named as Dragon Man Club in Thai media, wasn't presenting a sexually explicit show when officers dropped in, the owner was arrested for operating an entertainment business and selling alcohol without the proper permit.
The Thai government has approved a budget of over 6 billion baht to procure an additional 35 million doses of Covid-19 vaccines. The budget was approved at a Cabinet meeting yesterday.
The Covid-free gulf islands of Koh Samui, Koh Phangan, and Koh Tao are offering special discounts and privileges to tourists until the end of April. Over 80 tourism operators are taking part in the program.
In an act of good will, navy officials have rescued 4 cats from a ship that had caught fire and began to sink about 13 kilometres off Koh Adang in the southern province of Satun. The ship's 8 member crew had jumped off the sinking vessel and were rescued by a passing fishing ship, but the cats were left onboard.
Keep in contact with The Thaiger by following our Facebook page.
Never miss out on future posts by following The Thaiger.