Thailand
Phuket Gazette Thailand News: Obec bows over schools; Chalerm to head BRN peace talks; Hot rods a mystery; Bomb blast 'from the heart'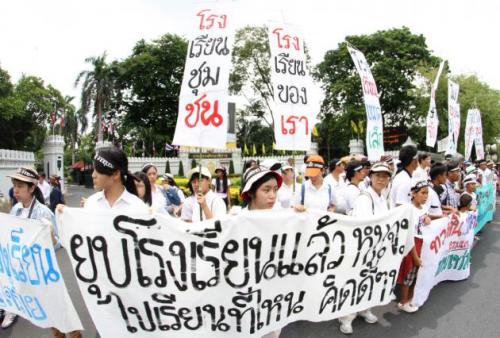 PHUKET MEDIA WATCH
– Thailand news compiled by Gazette editors for Phuket's international community
Pupils at small schools to use facilities at other sites: OBEC
The Nation / Phuket Gazette
PHUKET: The Office of Basic Education Commission (Obec) bowed to public pressure yesterday, with Obec secretary-general Chinnapat Bhumirat announcing no small schools would be closed this academic year. Instead, pupils will be moved between 1,000 schools to get more efficient use of facilities.
Education Minister Phongthep Thepkanchana has ordered a new joint committee, to be chaired by former deputy education minister Sirikorn Maneerin, with Chinnapat as deputy, to gather opinions on and find solutions for small and alternative schools, before reporting back to the ministry.
Chinnapat met yesterday with representatives of some 200 parents and students who were rallying under the banner of the Association for Thai Alternative Education Council and the Community School Network outside the Education Ministry. Upset at news some directors of schools with less than 60 pupils had been removed from their posts by educational zone offices, the group called for a halt to the policy of closing and merging small schools, pending proper consultation between education authorities and the public.
Chinnapat said that 178 of the 182 primary education zones outside Bangkok had submitted plans to Obec to develop some 3,500 schools with less than 60 pupils. These would be condensed into a master plan for small-school development to be proposed to the ministry today. No small schools would be closed down, apart from schools that had no fresh intake of students in three primary education zones. The closed schools' facilities would be used to create nurseries or non-formal education centres, he said.
Other schools, Chinnapat said, would be divided into two groups: 2,200 small schools, including 300 located in "special and necessary" areas such as islands, would undergo intensive learning-teaching development, while the other 1,000 would rotate students between their schools.
Chatchawal Thongdeelert, head of the Association for Thai Alternative Education Council, said its five seminars in March and May found people want the ministry to reduce its limits on public schools and promote participation by all in education management while the ministry adopts a role of supervising and following-up. They wanted curricula and assessments to be flexible and suited to social context and learners' differences and an institute for education management and development according to article 12 of the National Education Act.
Resident Supat Khanthom from Roi Et's Pathumrat district said she was worried that Ban Som Hong School, which had 49 students and three teachers, where her youngest child attends kindergarten, would be closed because the school director was removed. "If I have to send my kid to a city school, I'll have to pay Bt1,000 in transport costs a month. We are farmers. If this school near our home is closed, we'll be affected," she said.
Chiang Mai's education development for children and youth project member Boonpravee Thaweepanarat said if schools in mountains were closed villagers wouldn't send their kids to city schools because they couldn't afford transport expenses. So kids would suffer a lack of access to education, which would lead to problems such as drugs and human trafficking. She called for education assessment to be flexible and include cultural and vocational skills from the community's participation in education management.
Chalerm gets PM's nod to lead Thai delegation in BRN-NSC talks
The Nation / Phuket Gazette
PHUKET: Following a fresh mandate from Prime Minister Yingluck Shinawatra, Deputy Prime Minister Chalerm Yoobamrung said yesterday that he would replace the National Security Council (NSC) chief and lead a Thai delegation in the coming round of peace talks with insurgent representatives, scheduled for June 13 in Kuala Lumpur.
Chalerm said he had been following the peace efforts and would maintain his stance against the demand of the Barisan Revolusi Nasional-Coordinate (BRN-C) for territorial separation – a Patani state or an autonomous Patani metropolitan area.
"These drastic changes will no longer be discussed in any future meetings," he said.
If the June 13 meeting ends in deadlock, Chalerm said he would consider seeking a meeting with Malaysia's interior minister to discuss further steps in the peace efforts.
Asked about the practicality of dialogue while violence continued despite a promise by the BRN-C to rein in the attacks, Chalerm said no one – not even the BRN-C – could control insurgents who operated independently.
He added that the dialogue for peace sent a positive message to the world that Thai authorities were keen to find a non-violent solution.
"Thailand is a single, inseparable state, and we are always ready to listen to the insurgents and talk with them. This is what we want to tell the international community, and that is why we still need to go ahead with the dialogue," he said.
Chalerm added that he was being briefed about the situation and the previous talks attended by NSC secretary-general Paradorn Pattanathabutr and two key members of the Thai delegation. However, he declined to say whether they would accompany him to the June 13 meeting.
Meanwhile, security officials shot dead two suspected insurgents after a shoot-out in Yala province that followed a security blockade in Bannang Sata district.
One of the dead, Yukipuelee Jehdemae, was purportedly a leader in a bomb attack in 2010 that killed dedicated and much-loved police colonel, Somphian Ek-somya. The other victim in the attack was identified as Redawa Laeha, a Muang district resident.
Burned out cars a mystery : police
The Nation / Phuket Gazette
PHUKET: Officers of Provincial Police Region 3 are still looking for the owner of four luxury cars that caught fire on Wednesday in Nakhon Ratchasima's Pak Chong district during transportation on a semi-trailer truck. No one has claimed ownership of the burned-out vehicles.
Altogether six cars were being transported, but only four of them burned in a mysterious fire, including a Lamborghini, a Bentley, a BMW and a Mercedes-Benz. The total value of the four cars is thought to be in the region of Bt100 million.
Investigations have so far not been able to link the cars to any illegal imports or tax evasions.
It was initially believed that the car owner was a wealthy person in the lower Northeast of Thailand.
Provincial Police Region 3 deputy chief Pol Col Panu Bunarasiri said yesterday that A-ngoon Jeungsaengmanee Co Ltd in Bangkok's Min Buri district was hired to transport the cars to a gas station in Si Sa Ket. Police are investigating the scene for more clues and a possible cause of the fire. Luxury car experts were also called in to help police check the cars' origin and whether they had been imported illegally. The Department of Revenue also sent officials to join the investigation to identify the cars' origin.
Meanwhile, forensic expert Pol Col Seri Chanprathin led a team to inspect the burned-out cars at Nakhon Ratchasima's Klang Dong police station yesterday and said the probe would take time as some evidence needed to be analy
— Phuket Gazette Editors