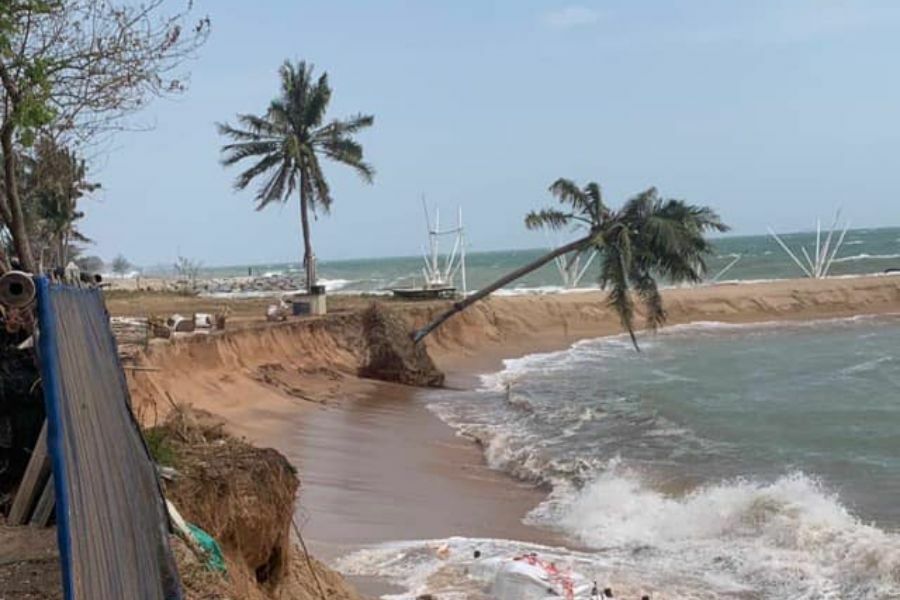 Thap Sakae Beach and 200 palm trees in the southern province of Prachup Khiri Khan were devastated as huge waves battered its shoreline yesterday morning.
According to Thap Sakae sub-district chief Maria Phaopratarn, the waves and wind at Thap Sakae Beach in the southern province of Prachup Khiri Khan were unusually strong yesterday morning and began to subside around 4pm.
The chief reported that a series of large waves repeatedly struck the beach, causing significant damage. Approximately 500 meters of beach were destroyed and around 200 palm trees, some over 30 years old, were washed away.
The impact of the inclement weather on the lives and properties of residents is currently unclear, but according to social media posts, many temporary shelters built by fishermen in the area were also destroyed.
More strong winds and waves are expected to hit the resort by the end of January, according to the Thai Meteorological Department (TMD). The authorities have warned local fishermen to take care of their fishing boats and tools and keep them away from the shore.
What was left of the fishermen's small shelters along the beach were demolished by the authorities to avoid further damage.
The TMD also announced that heavy rain will continue in the southern region of Thailand from now until the end of January. The provinces affected are Surat Thani, Nakhon Si Thammarat, Pattalung, Songkhla, Pattani, Yala, Narathiwas, Krabi, Trang, and Satun.
Due to the inclement weather in the southern part of Thailand, a touring long-tail boat in Krabi sank yesterday after travelling in the sudden rain and strong winds.
A young fisherman went out fishing for squid in Laem Hang Nak cape, Mueang district when he decided to turn back to shore due to sudden rain and strong winds yesterday afternoon. He came across four people floating in the sea, one was wearing a life jacket.
A pregnant woman and young child were unconscious when the fisherman found them. He pulled all four people onto his boat and brought them to shore at Klong Sai Pier.
A Malaysian man and the boat driver survived, but the Malaysian tourist's pregnant wife and six year old daughter were pronounced dead from drowning later at the hospital.