Thailand
A bungling low-flying helicopter pilot injures eight people of Children's Day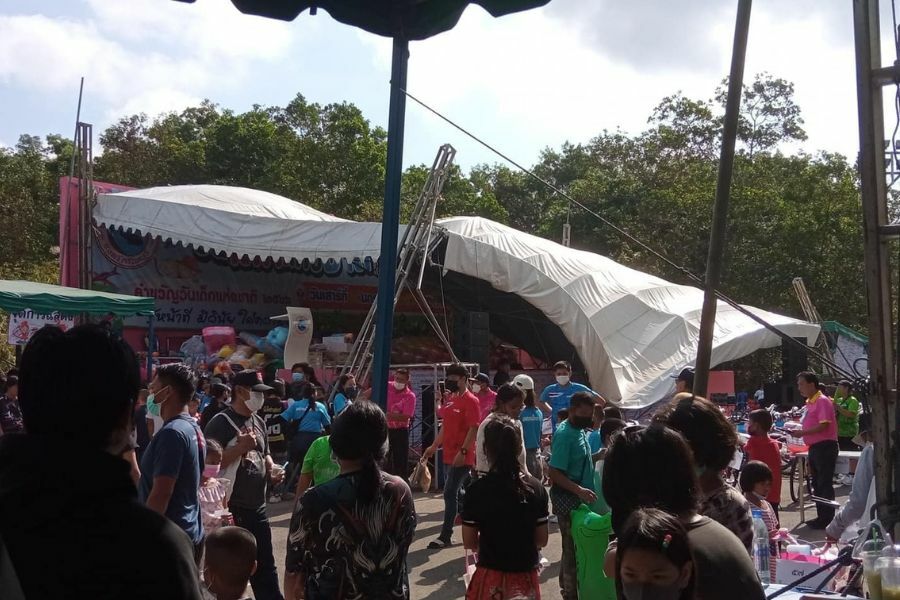 A bungling Royal Thai Navy (RTN) helicopter pilot caused chaos on Children's Day by flying too low. The helicopter pulled down tents on top of people, injuring eight people including five children and three adults.
The incident happened at a Children's Day event on Saturday in the central province of Chantaburi.
According to a report on Khaosod, RTN officers flew to the event to give gifts to children. While the helicopter was flying at a very low level over the tents, its propellers caused a strong wind making people frightened.
The event host shouted through a speaker…
"Hey, go up! Fly higher! It's going to ruin the event!"
A minute after the message was announced the effect of the low-flying aircraft's propellers brought down three tents. People who were standing under or nearby the tents got injured. Watch the video of the incident here.
A rescue team was notified and rushed to the event to take the injured victims to hospital.
Seven of the victims who got injured were able to leave the hospital yesterday while one adult victim, a 58 year old woman, was still receiving treatment in hospital. Her condition has not been reported.
An RTN spokesperson, Pokkhlong Montartpalin, apologised for the incident yesterday. Pokkhlong revealed RTN officers would visit each victim at their homes and hospitals and compensate them for their injuries and losses.
The video of the moment went viral on Thai social media, making many Thai netizens criticise the RTN.
People said that this should not happen on the biggest day of the year for Thai children. The RTN officers were supposed to be specialists and should recognise that flying at such a low level would cause damage to the event and people.
A similar case happened at a beach in the southern province of Songkhla. The blundering helicopter pilot, with no report of where it came from, flew too low along the beach to greet some children playing there.
The low-flying aircraft blasted sand in the faces of children and parents enjoying the beach and also blew away the toys of children making them cry.