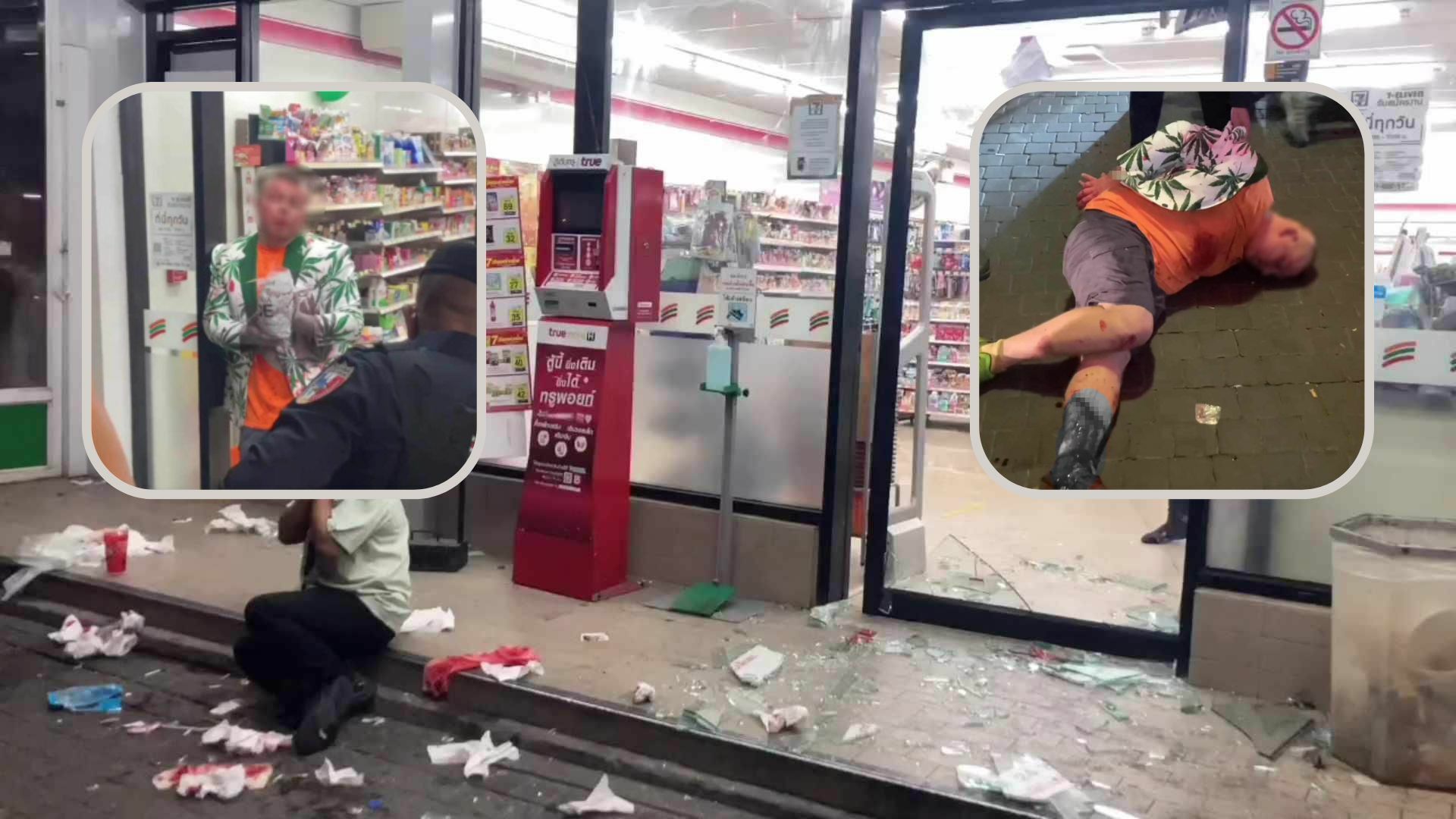 A Russian tourist smashed his way through the door at a 7-Eleven convenience store on Walking Street in Pattaya in Chon Buri province early this morning, injuring himself and others.
He continued to vandalize a second 7-Eleven branch before being detained by police.
An employee explained that a Russian man, estimated to be 35 – 40 years old, came into 7-Eleven in South Pattaya, Bang Lamung district, at 4.30am and picked up a drink from the fridge.
Suddenly, he began destroying and launching produce around the store. Then, he molested a customer, said the employee.
The wrathful Russian – wearing a marijuana-themed blazer – ran at the shop window, smashing it into smithereens and causing himself several wounds. The floor was strewn with blood and broken glass.
A 53 year old employee named Kanya was injured by the smashed glass.
He ran outside and attacked a motorbike "win" taxi driver who sustained a bleeding eyebrow. Then, the Russian man ran off down Walking Street.
At around 4.30am, 7-Eleven staff notified Pattaya City's Special Affairs Officers Radio Station that a foreign tourist was on a rampage on Walking Street so they deployed rescue workers and police to the scene.
The tourist ran into a second 7-Eleven branch, picked up a bottle of water, and poured it over the wounds on his leg.
He walked around the store picking up some more products before hurling verbal abuse at the staff. Then, he pulled the automatic sliding doors shut and locked himself in the shop.
As he trapped himself inside the store, police officers arrived and detained him.
The Russian was bleeding and had glass stuck in his legs so rescue workers rushed him to the hospital for treatment.
Police didn't say what kind of charges the tourist would be looking at once he is discharged from hospital.
In August last year, a European tourist of unknown nationality walked around Pattaya's Bang Lamung district stark naked, wearing nothing but a fanny pack, sandals and a camera slung around his shoulder.