The legacy lives on – International Gill Dalley's Remembrance Day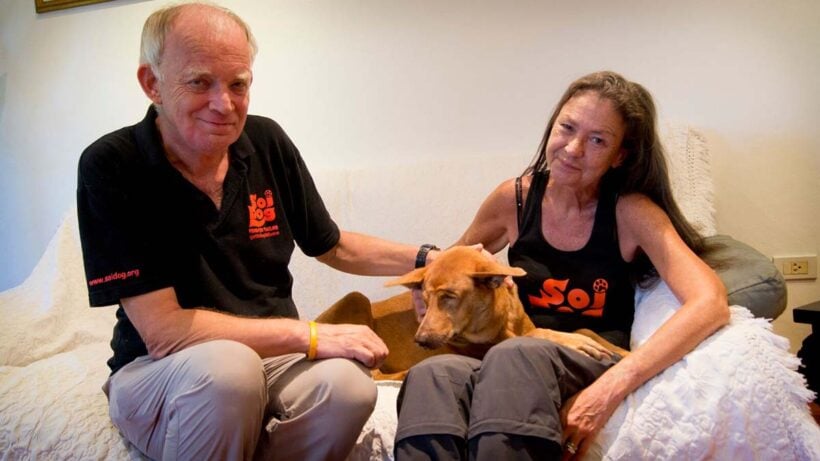 PHOTO: John & Gill Dalley (soidog.org)
February 13 is known by Soi Dog Foundation as the International Gill Dalley's Remembrance Day, in order to honour the kind heart of the co-founder of the foundation, Gill Dalley, who had dedicated her life working on the strays' issue in Thailand.
Gill Dalley founded the Soi Dog Foundation in 2004 with her husband, John Dalley. The couple meant to end the suffer of stray dogs and cats.
In 2003, the couple moved and planned to have their quiet and peaceful retired life in Phuket but by 2004, they ended up working 14 hours a day, 7 days a week for the foundation.
The Dalley's had noticed not just the sheer number of stray dogs and cats living on the streets of Phuket (an estimated 70,000 at the time), but also their appalling health conditions.
"We were a bit shocked at first. Most of the dogs were emaciated through malnutrition. Many had mange and were covered in sores. Some had open wounds which could have been caused by road traffic accidents, dog fights or human cruelty. Many of the wounds were infested with parasites and maggots, and riddled with infection. They were living on the streets without anyone to care for them. I wanted to find a solution to improve their lives, but was unsure how to do this. The scale of the problem was just so overwhelming," said John.
The same year, a dog, which had been darted for sterilization, ran into a flooded buffalo field, knowing that the dog would quickly lose consciousness and drown, Gill ran in to rescue her. In that flooded field, Gill unknowingly contracted a rare form of septicemia. A few days later, she started to feel ill. She was taken to a hospital and was in coma for 6 weeks. She lost her legs from the infection.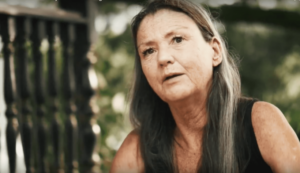 VIDEO: Unbound Project (click pic to watch a tribute to Gill)
"I don't think too many people achieve their goals, their aims, their dreams and I'm not of those people who's going to go to the grave thinking 'what if'"
"I got the best outcome, only losing my legs. I could have lost my life so I've a lot to be grateful for that I was given this chance to carry on doing the work that I love," a quote from Gill after she got out from the hospital and got the amputation.
After the Tsunami disaster that killed more than 200,000 people, John and Gill volunteered with humanitarian effort to rescue the dogs left hurt and hungry during the flood.
This rescue put Soi Dog on the map drawing volunteers and donations from across the globe.
"Animals feel pain the same as we do. They need food. They need a doctor when they are sick. They need a safe place to sleep. They need somebody to love them. That is domestic animal. Wild animals are no different apart from the fact they don't need mankind. We created these creatures, the dog. For me, we have a huge responsibility to take care of these creatures," said Gill.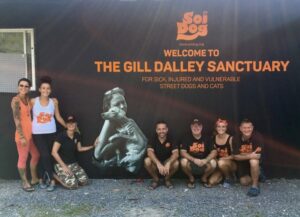 Gill was diagnosed with cancer and passed away on February 13, 2017 after a short battle. However, her dedication, vision and mission will be well carried on by the Soi Dog Foundation. Her efforts to improve the welfare of dogs and cats, resulting in better lives for them and human communities, to create a society without homeless animals, and to ultimately end animal cruelty gradually become more and more clear.
So far, Soi Dog foundation has sterilised more than 150,000 dogs and cats, while also providing life-saving treatment to them by the teams of vets, nurses, nurse assistants and staff in Phuket and Bangkok including mobile clinics in the two provinces and Koh Samui. The work will continue to other places as planned.
The Soi Dog Shelter has been renamed to Gill Dalley's Sanctuary to remind staff, volunteers and visitor about the iron lady.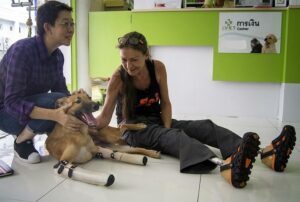 Read more headlines, reports & breaking news in Koh Samui. Or catch up on your Thailand news.
Samui Regatta welcomes Synergy Samui Resort as new home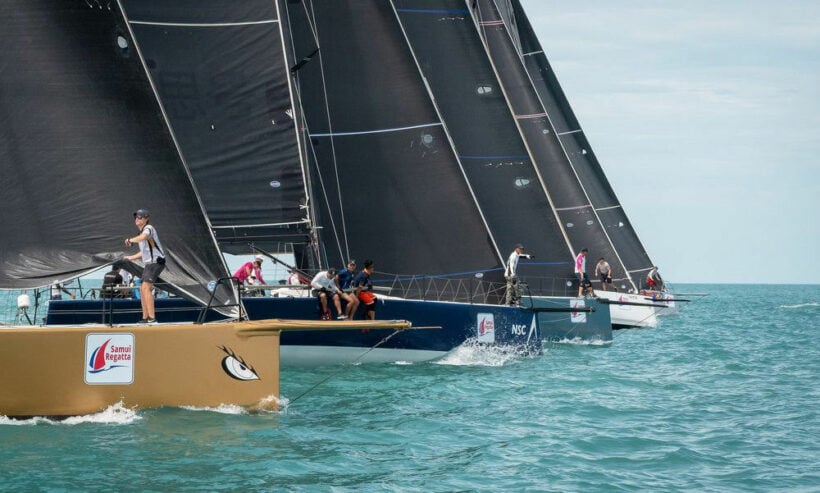 "Early entries are looking good with a strong line-up of boats and crew from Hong Kong, Singapore, Australia and Thailand."
The "Tropical Island Regatta" is set to return to Koh Samui's shores from May 25 to June 1 on Chaweng Beach and this year will be at a new venue, Synergy Samui Resort.
Samui Regatta is popular with sailors from around Austral-Asia and organisers expect to welcome competitors of more than 20 nationalities in what is also the season-ending event in the 2018/19 AsianYachting Grand Prix.
"The regatta has a new home this year. We will be headquartered at Synergy Samui Resort which has welcomed us with open arms and will be our base throughout the event, providing us with a beachfront hub from which to operate the regatta as well as hosting a number of daily prize givings," said Orawintanee Wattana, Regatta Director.
"The resort is just a few hundred metres along Chaweng Beach from our previous home so the popular anchorage remains unchanged, as does the stunning sailing area off the east and north coasts, and our many repeat sailors can continue to enjoy their favourite hangouts onshore."
Organisers are expecting a top draw line-up of some of the best IRC yachts and crews in the region. The ever-green Jelik (HKG), which has a new bulb configuration, intends to give the region's top TP52 crews a run for their money including Kevin and Tom Whitcraft's THA72 (defending champion), Team Hollywood (AUS) and Freefire (HKG), as well as WindSikher II (SIN) and Zannekin (HKG) in IRC Zero.
Returning to the regatta this year is the Premier Cruising Class with MoonBlue 2 (HKG), Bella Uno (HKG) and Lawana (THA) towing the startline.
Meanwhile in IRC 1, last year's regatta and 2017/18 AYGP winner, Nick Burns and Fred Kinmonth's Mandrake III (HKG), will be up against some tough competition from the likes of Fujin (AUS), Tenacious (AUS) and Over Here (THA).
Lead by Samui veteran Mick Grover, the 'new' MoonShadow2 will race all-comers in IRC Cruising, including a number of boats based around the Gulf of Thailand as well as the Pattaya-based SailQuest Hi Jinks (USA) which will be sailed by students from the SailQuest Sailing School, and Holding Patten (AUS), a newcomer to the regatta with a well known face at the helm, Michael Spies.
"Early entries are looking good with a strong line-up of boats and crew from Hong Kong, Singapore, Australia and Thailand. We also have interest from sailors in China and are working with Thailand-based cruising sailors to grow a fun and competitive cruising class," added Wattana.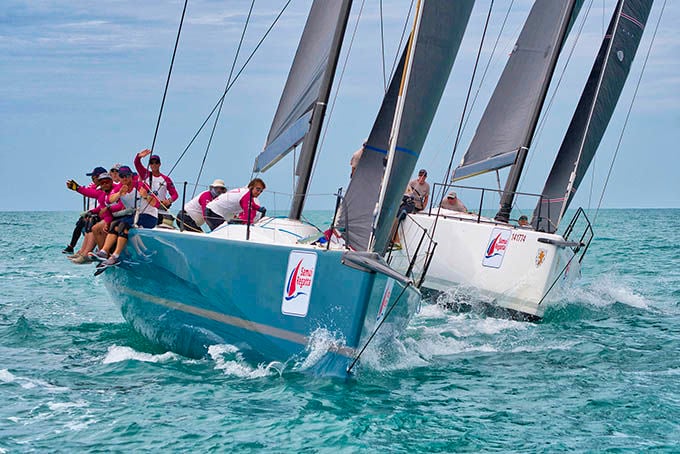 Koh Pha Ngan rapist participates in reenactment of rape of Norwegian tourist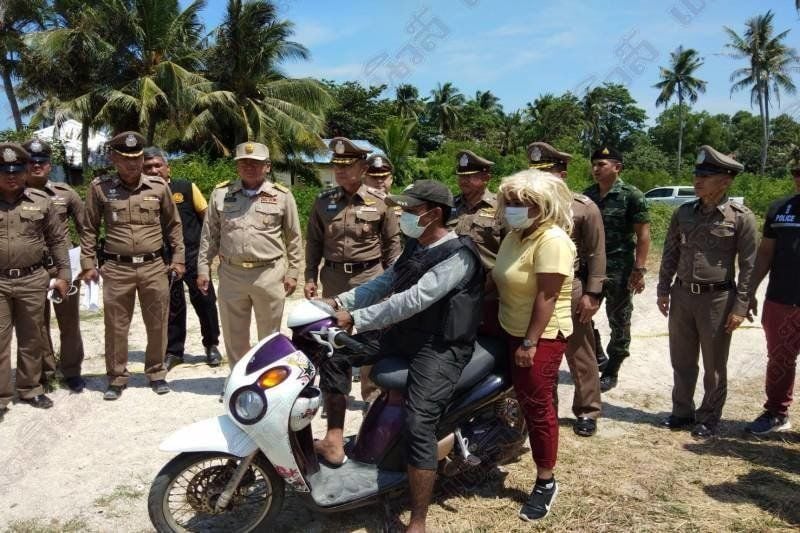 PHOTOS: ThaiRath
Police have held a bizarre reenactment of the rape of a 26 year old Norwegian tourist after a 33 year old Thai man was arrested for the crime soon after it was reported on Sunday night on Koh Pha Ngan.
Rewat "Moss" Hansuwan says had offered the victim to help her find her lost wallet but ended up raping her on the beach instead. The incident occurred after the Half Moon Party on Koh Pha Ngan on Saturday night.
The suspect has a list of priors including attempted murder and theft. He had been released from jail in the weeks before (not the day before the rape as had been previously reported), just before Singkran.
2006: Attempted murder
2011: Gun possession
2012: Theft
2015: Driving while under the influence of drugs
2016: Drug taking
2016: Drug possession.
Thai Rath reports that a video of the reenactment shows the suspect on a motorbike with a Thai woman in a blonde wig and surgical mask standing in as the Norwegian victim. The video shows him simulating the rape of the bewigged woman on the beach with local police and the Surat Thani governor looking on and taking photos.
Provincial governor Witchawut Jinto spoke of the damage to tourism, Koh Pha Ngan and Surat Thani. The Norwegian victim was never discussed during the media conference.
Meanwhile Daily News reports that Moss claimed he was egged on when the tourist allegedly put her hands round him on the bike. But she resisted when he groped her on the beach and then he punched and raped her.
SOURCES:  Thai Rath | Daily News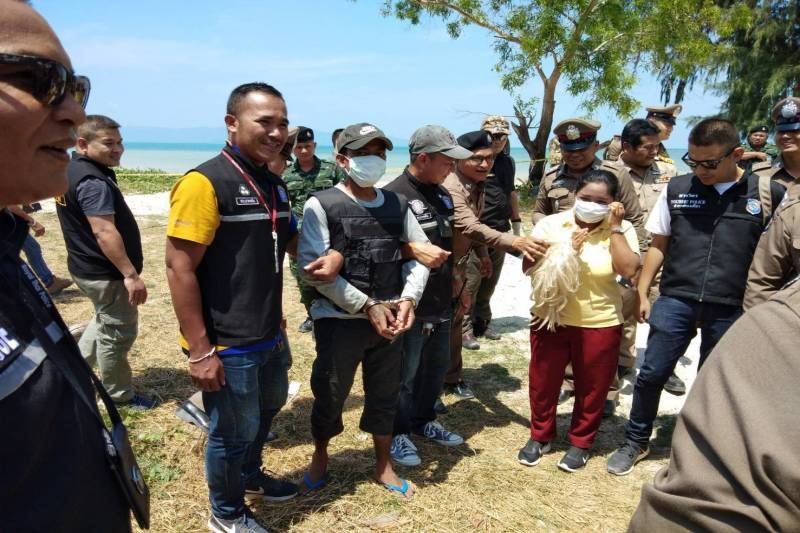 Search continues for missing British tourist after falling overboard off Samui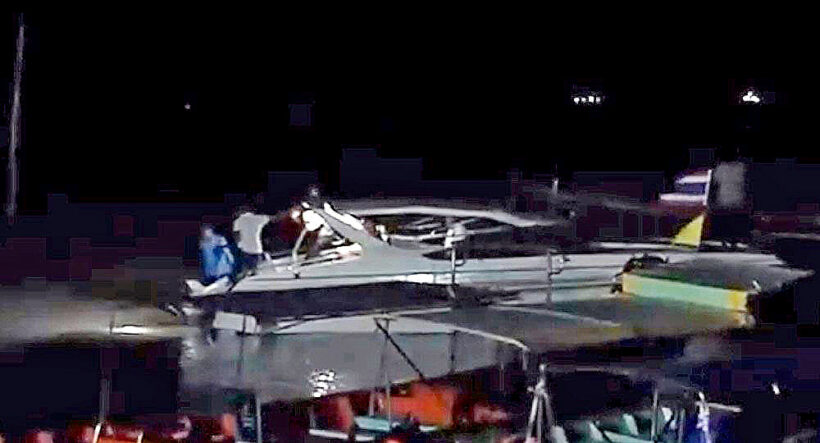 Royal Thai Navy officers, divers and local volunteer organisations are continuing their search for a 40 year old British man who went missing on Monday off Koh Samui.
Officials on the Gulf island say that the search for a missing British tourist who fell from a speedboat while out on an island-hopping trip is continuing. The tourist was not named but is aged about 40.
ThaiVisa reports that the man was one of eight tourists plus crew who who set out on a day trip from the pier at Koh Taen in Taling Ngam, off the south coast of Samui, on Monday afternoon.
Other members of the boat tour say the man had been sitting on the bow of the speedboat, without a life jacket, when a wave hit, causing him to fall overboard. The incident happened late in the day.
Police mobilised a search after the alarm was raised at around 6pm. But the searching was called off as the light faded. The search with Royal Thai Navy, helicopters and divers, continued yesterday.
The other tourists on the boat and the crew are helping police with their inquiries, they said.
SOURCE: Thaivisa.com