How many Thai durians can Alibaba sell in one minute?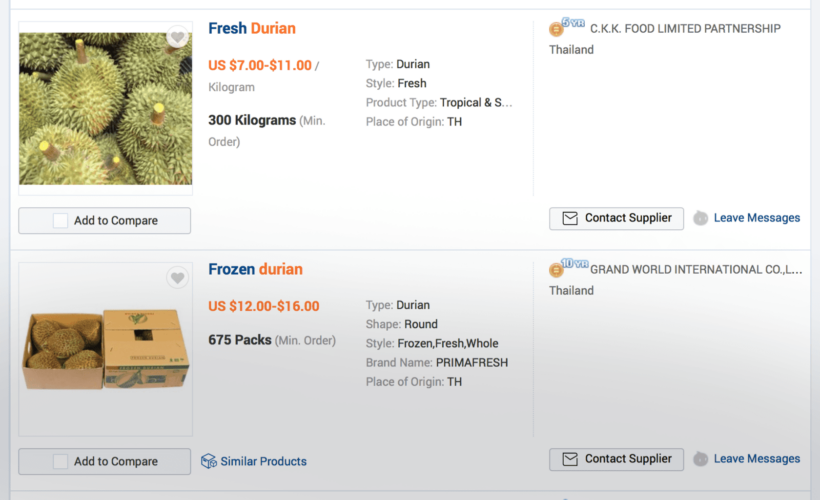 Thai durian sold like hot cakes after Jack Ma showed the magic of e-commerce during his visit to Thailand by selling 80,000 golden pillow durians on his online platform T-mall within one minute.
One minute!
While Ma was in Thailand to make a mega-deal on investment on Thursday, Commerce Minister Sontirat Sontijirawong gifted the founder of China's e-commerce giant Alibaba a fresh "golden pillow", the Kingdom's most famous variety of durian.
Alibaba has signed a deal for durian worth USD$428 million (13.4 billion baht) with the Thai government, according to China's state-run Xinhua News yesterday.
Ma said at a press interview in Bangkok on Thursday that during the pre-order two days before the launch, there were over 60,000 orders and immediately 40,000 durians were sold, which rose to 80,000 within a minute.
The "golden pillow" durian, Thailand's most well-known export variety, has been sold on Alibaba's online supermarket since Wednesday, a day before Ma signed four memoranda of understanding with the Thai government on trade, investment, support for e-commerce and tourism.
The Chinese e-commerce giant is reportedly splashing about USD$330 million in Thailand, as it aims to tap Chinese consumers' appetite for the Southeast nation's agricultural goods and its tourism market.
At the ceremony, Alibaba and the Thai Commerce Ministry launched the first official Thai rice flagship store on T-mall, the world's largest third-party platform for brands and retailers, besides driving the sale of popular Thai fruits into China.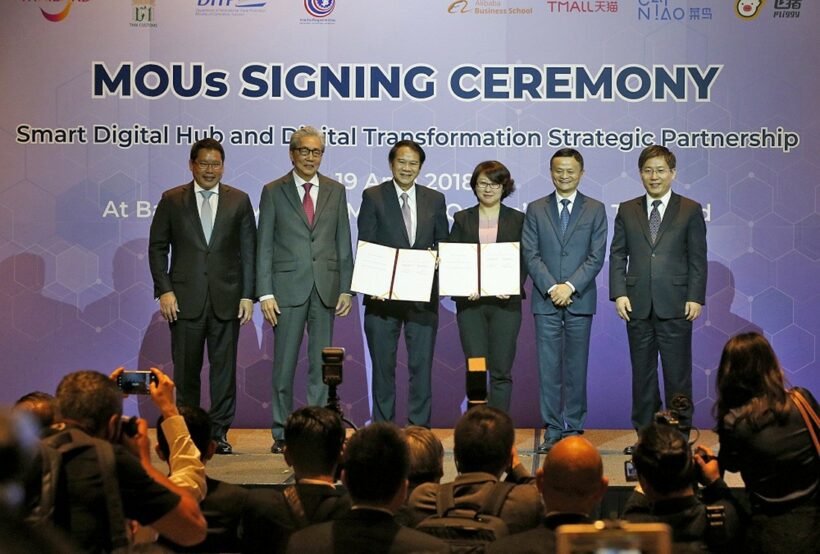 ORIGINAL STORY: The Nation


Read more headlines, reports & breaking news in Thailand. Or catch up on your Thailand news.
Tourist arrivals up, but Chinese down. April 2019 tourist numbers.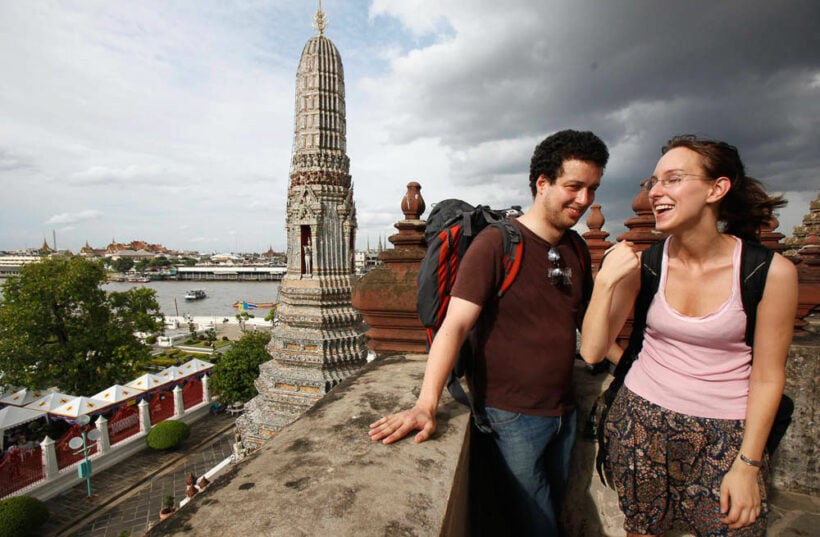 The Thai sports and tourism ministry reports that Thailand saw a 3.31% rise in total tourist arrivals in April compared to a year earlier, after a 0.69% decline in March.
3.2 million tourists in April spent about 164 billion baht ($5.15 billion), which is up 3.9% from the month of April in 2018.
But visitors from China, Thailand's biggest feeder market for tourists, dropped 8.89% in April from a year earlier. This, after falling 1.87% in March.
Foreign tourist receipts account for about 12% of Thailand's gross domestic product.
SOURCE: Reuters
Incomes on the rise for Thai expats

"The Thai economy has continued to see an upward trend in recent years, with a steady and sustained increase in overseas business…"
The pay and benefits packages of expats in Thailand has seen a major increase, with the overall package of an average overseas worker increasing by US$27,917, according to a new survey.
Lee Quane of ECA International said the MyExpatriate Market Pay report reflected Thai economic growth.
"The Thai economy has continued to see an upward trend in recent years, with a steady and sustained increase in overseas business, and consequently expatriate workers, to the nation."
"In the strengthened demand for expatriate-standard accommodation has, in turn, resulted in higher wages and benefits as increasing numbers of higher-skilled employees move to Thailand."
Elsewhere in Asia, expatriate pay packages in Singapore rose by US$13,163 in 2018 to US$236,258, including an average cash salary of US$90,170.
When considering the cost of an expatriate package, companies need to factor in three main elements: the cash salary, benefits – such as accommodation, international schools, utilities or cars – and tax.
To assist companies relocating staff with benchmarking their packages against the market, ECA conducts its annual MyExpatriate Market Pay Survey of pay levels for expatriates, including benefits, allowances, salary calculation methods and tax treatment.
Meanwhile, Japan is no longer the most expensive location in the world to send expatriates, after being overtaken in the rankings by the UK.
"Despite an increase of over US$30,000 to the average expatriate pay package from 2017, Japan has dropped back into second place in our rankings after overtaking the UK in 2017. Although sending a mid-level overseas employee to Japan would now amount to US$386,451, the cost is still US$35,347 behind the total cost of sending an expatriate to the UK.
"Although the overall cost of the pay package for an expatriate in Japan increased by an average of 8.5 per cent in 2018, Japan would most likely have remained at the top of the rankings if not for the significant rise in accommodation costs in the UK last year," added Quane.
The pay and benefits package of an expatriate living and working in China saw a significant rebound last year, after falling in 2017. The average package is now valued at US$310,204 – an increase of over US$33,000. This pushes China up one place in the rankings to the third position.
Quane said: "Expatriates in China have seen a big jump after a bad year in 2017, which saw the value of the average package drop in all areas. The Chinese yuan experienced a better year in 2018 due to a stronger economy and currency, and has resulted in a considerable improvement in the pay package for overseas workers in China."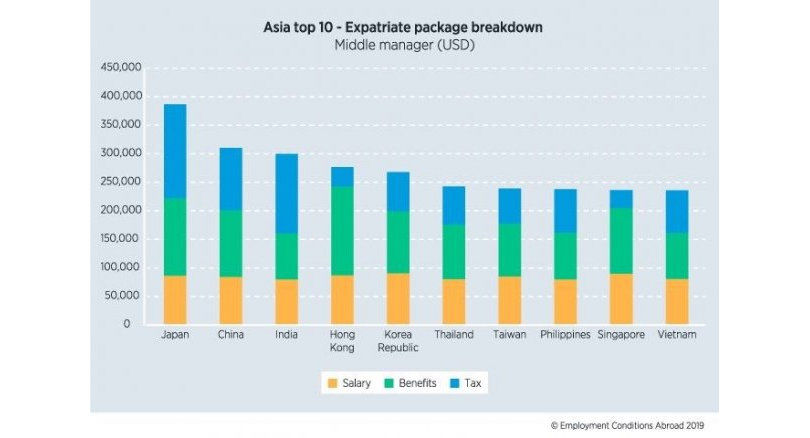 SOURCE: The Nation
80 year old Malaysian tourist dies during Thai massage in Songkhla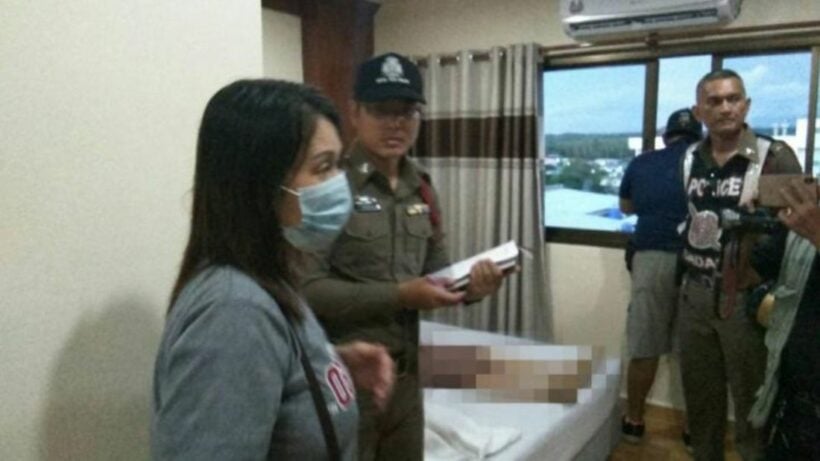 PHOTO: Thai Rath
A tourist has died during a 'traditional Thai' massage in a hotel in Sadao, in the southern province of Songkhla, just across the border from Malaysia.
Pol Lt Thanatsak of the Sadao police found the 80 year old Malaysian man dead in his hotel room. He was laying on his bed and clothed in a t-shirt and brown shorts. Staff at the hotel said that he had checked in and ordered a Thai massage in his room.
But they say the masseuse had only just started when the went into shock and died soon after. Police found no suspicious circumstances and speculate the death was caused by old age and pre-existing medical issues.
An autopsy is underway at the Padang Besar Hospital to determine the cause of death. The man's relatives have been informed.
SOURCE: Thai Rath