Day Two – Top of the Gulf Regatta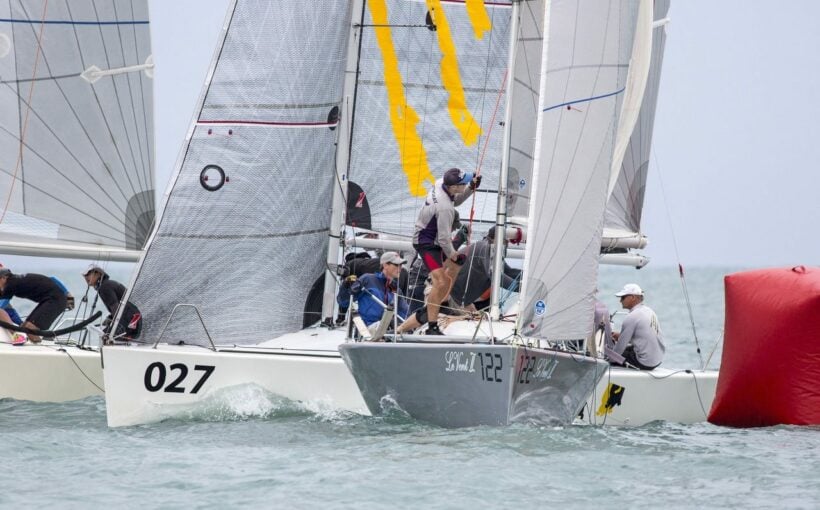 PHOTOS: Guy Nowell
What a difference a day makes. Yesterday's grey skies and consistent rain was replaced with hope this morning as blue skies hinted of a better day to come. A full fleet of boats headed out to their respective start lines as 120+ Optimists and more than 70 in the Single-Handed Monohull Dinghy and Double-Handed Monohull Dinghy classes started their series while the keelboat and multihull classes entered their second day and the IOM RC Yachts and Kiteboard classes finished their two-day series.
On the keelboat and multihull course a 90 degree wind shift put pay to the first race as the Race Officer was forced to abandon the race. After a storm, followed by lake-like conditions, the series got back on track and the classes were set off on a long round-the-islands course with winds topping out at 18 knots, while the Platus were set two windward/leewards.
Thai youngster and former World Optimist Champion (2010), Noppakao Poonpat, is helming the Thai TP52, THA72, and showed her smarts today extending the team's lead in IRC 1 with a comfortable win on corrected time, opening up a two point gap in the series over Li Hongquan's all-Chinese crew on Ark 323.
Another bullet for David Dimmock's Loco in IRC 2 sees them extend their lead, however, a second for Gary Baguley's team on El Coyote keeps them in the running, while David Bell's Magic slips down the leaderboard following a fifth place in today's race. A third place for Fujin today sees them move up the standings and are now tied in third at the half way point of their series.
It was a long day on-the-water for the cruising boats and all change on the results sheet. Tim McMahon's SailQuest Hi Jinks were third across the line but with handicaps applied took the win. Yesterday's winner and early series leader, Le Vent, had to settle for third today while George Foose's Dream slipped into second.
Tables were also turned in the Ocean Multihull class as the pocket rocket Edenko zipped around the islands in a little under two hours to secure a handicap win and line honours double, while defending champion Sonic placed second.
In the Platu class, two windward/leewards today saw the class complete three races at the halfway point of their series. In the first race it was the defending champion, Team Viewpoint, that showed their pedigree finishing 16 seconds ahead of yesterday's leader, Pine-Pacific. Sistership, Pim, skippered by Totsapon Mahanich, placed third.
As the wind dropped out in the second race today, Race Officer Simon James had to shorten course, and it was Chris Way and his crew on Easy Tiger III that capitalised putting their first win on the scoreboard. Team Viewpoint and Pine-Pacific dropped down to fifth and sixth respectively while Doolalli, skippered by Colin Simonds, placed second (just two seconds behind Easy Tiger III) ahead of Joel Tay's Le Vent in third. Only 12 seconds separated the top three finishers.
The Kiteboard classes finished their series today and despite having to cancel the first day of racing, today they enjoyed some fast rides off Ocean Marina Yacht Club's North shore.
Thailand dominated the Formula Kite Men with Rachan Taktin in first, Chanon Phrakaew placing second and Teerawat Sudoumkaew third. In the Men TT:R Slalom division, five-time Asian champion, Narapichit Pudla (THA) was undefeated and took a comfortable series win ahead of Thai compatriot Sarun Rupchom while a string of third place finishes for Belgian Sylvian Seynaeve gave him third overall. In the Men Thai B TT:R Slalom (open to Thai nationals only) Pichit Poolsaguan ran away with the title. Siri Parksiri claimed second and Chairat Dangdeemark rounded out the podium, while in the Women TT:R Slalom division it was Nichanan Rudtheng (THA) who secured the win by a single point from Ploipaphat Kosila (THA) in second and Siriporn Bootsarakomvisithi and Pannipa Kaewto tied in third.
Racing continues tomorrow for the keelboats, multihulls, dinghy and Optimist classes off Pattaya.
Keep in contact with The Thaiger by following our
Facebook page
.
Arrival projections for Thai tourism downgraded for 2019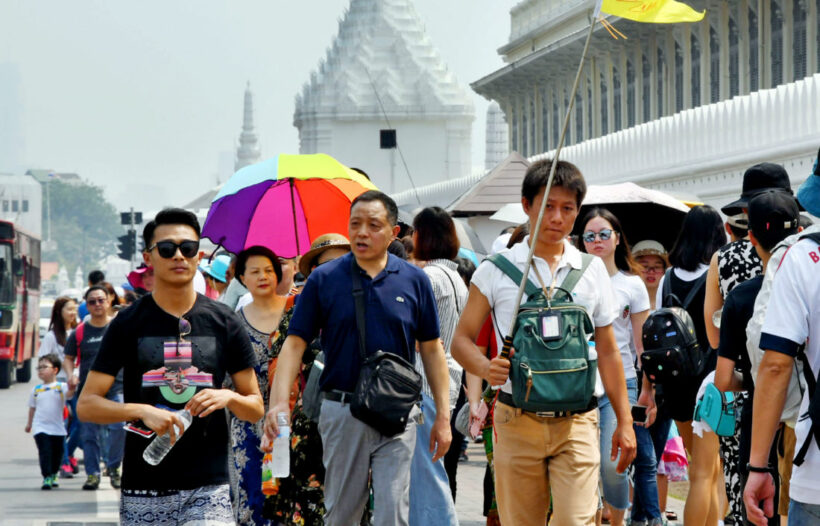 Thailand's Tourism and Sports Minister Phiphat Ratchakitprakarn has downgraded the forecast for foreign arrivals this year to a range of 39-39.8 million. This is down from the upbeat projections at the start of the year that 40.2 million tourists would arrive in the Land of Smiles.
Thai tourism for the first half of 2019 grew only 1.4%, less than expected, prompting the new Minister to admit that the target of over 40 million would not be met.
Although some netizens have characterised the slight reduction in tourist arrivals, especially in some of the traditional 'hot spots', and specifically in the months of April and May, to a 'collapse' or major reversal of fortune for Thai tourism, the numbers still show an upward trajectory for the year.
The Thailand Tourism Intelligence Centre says 23.1 million foreign tourists visited the Kingdom between January and the end of August this year, up nearly 2% compared to the same period last year. The big mover is Indian tourists, up 24% year on year.
The minister, whose proposal to provide incentive to Chinese and Indian tourists with visa-free entry, says he will continue to chat about about the "security issues" raised with related state agencies.
His proposal, rebuffed last week by foreign minister Don Pramudwinai and deputy PM Prawit Wongsuwan, was rejected at last Tuesday's Cabinet meeting. But the Cabinet did extend the current 2,000 baht visa-on-arrival fee waiver to the end of April next year.
Apart from India and China, the following countries are also on the list of visa-on-arrival fee waivers – Bulgaria, Bhutan, Cyprus, Ethiopia, Fiji, Georgia, Kazakhstan, Malta, Mexico, Nauru, Papua New Guinea, Romania, Russia, Saudi Arabia, Taiwan, Uzbekistan and Vanuatu.
Keep in contact with The Thaiger by following our
Facebook page
.
John Legend & Chrissy Teigen check out the tastes at a Korat Market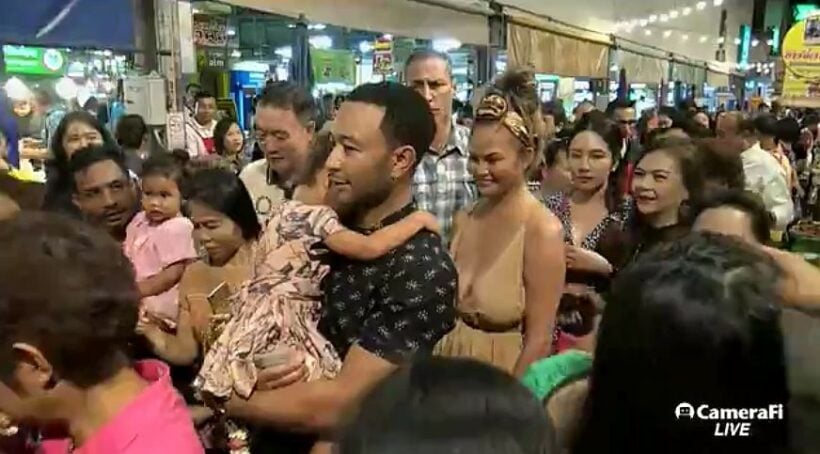 American music legend, John Legend, and his Thai-American wife Chrissy Teigen headed to a Nakhon Ratchasima food market only to be surrounded by locals trying to get a quick selfie.
The army of fans surround the musician, his wife and daughter to follow them around the market in the 25 minute Facebook post. It was smiles all around but as the video wears on so does the patience of the American singer whose only protection appears to be a plain-shirt body-guard who is at least 40 centimetres taller than everyone around him (he doesn't stand out at all).
A Thai policemen comes to their rescue and helps escort them somewhere a bit quieter.
Legend's model wife Chrissy Teigen is seen almost wearing her dress as any number of wardrobe malfunctions appear moments away from happening throughout the video.
The family were reported to have visited a number of famous Korat landmarks during their visit to the area.
Legend performed in Bangkok in March 2018 this year as part of his Darkness and Light tour.
Keep in contact with The Thaiger by following our
Facebook page
.
Bars and clubs in Thailand open until 4.00am? Not everyone is in favour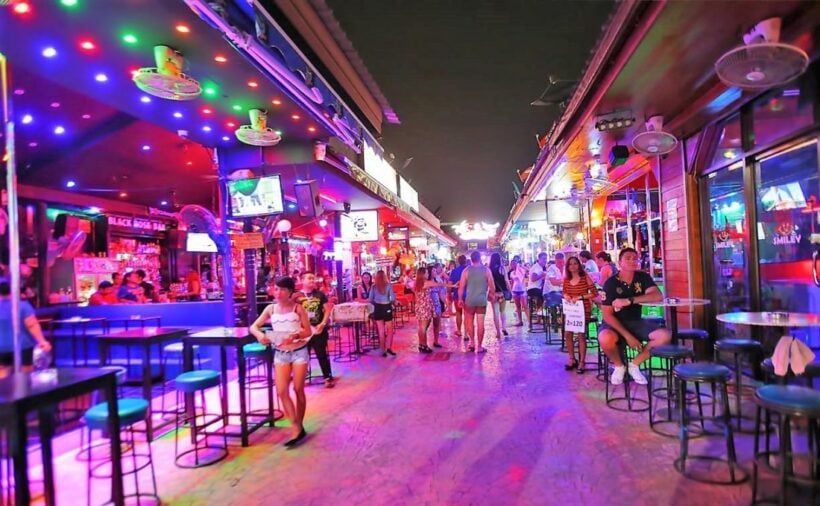 PHOTO: Hotels.com
Some academics oppose the Tourism and Sports Minister's idea to allow entertainment venues to remain open until 4.00am.
Udomsak Saengow of the Centre for Alcohol Studies is one of those suggesting that more research is needed before such a move.
"Civic groups have worked hard to limit access to alcohol and they succeeded in lobbying for shortening the closing times from 4am to 2am. When opening times are extended, drinking hours are also extended. The more people drink, the less they can control themselves."
But Tourism and Sports Minister Phiphat Ratchakitprakarn argues that extended opening hours would boost the economy and the Tourism Authority of Thailand (TAT) agrees.
TAT governor Yuthasak Supasorn says extending opening times would increase spending, particularly when some foreign visitors find that a closing time of 2.00am is too early. He also stresses that the new opening hours would not apply everywhere.
"The 4am closing time would be restricted to destinations which mainly cater to foreign visitors."
But coordinator of Alcohol Watch Network, Chuwit Chantaros, disagrees that the move would help the economy, arguing that it may lead to an increase in injuries or deaths among drunk tourists. Such an increase would only end up costing businesses.
"We have research findings showing that we lose 2 baht for every one baht we gain because of property losses as well as deaths and injuries which cause further material losses. If the operating hours are extended, more losses are anticipated."
But Weerawich Kruasombat, head of the Patong entertainment business operators' union, is in favour of the move.
"For years, we have been pushing for extended closing times in the Patong and Bang La areas. These districts currently generate 20-30 million baht in income per night and the extra two hours will boost income by 30%-40%."
The debate rages on, with interested parties in the relevant tourist areas planning to meet with the TAT to discuss the matter further.
SOURCE: Bangkok Post
Keep in contact with The Thaiger by following our
Facebook page
.