Violent tuk-tuk driver faces charges over incident at Chiang Mai airport – VIDEO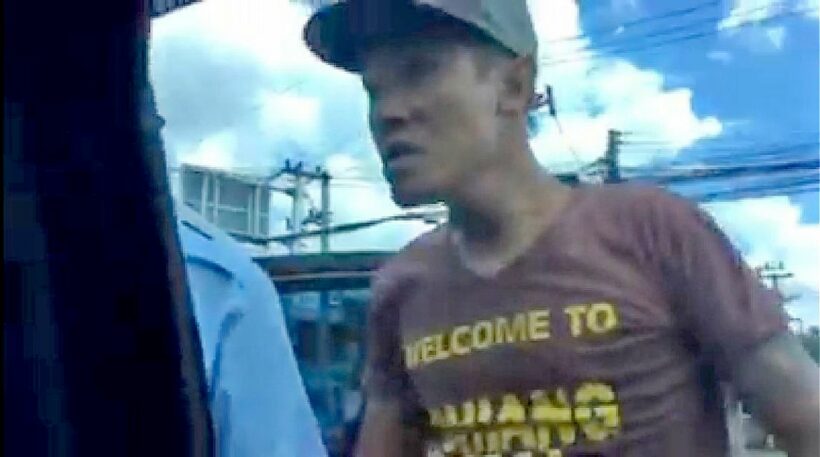 A tuk-tuk driver who led a blockade of a Grab taxi at Chiang Mai International Airport on Monday has no public-transport driving licence and will face several charges following the incident, which was exposed by a foreign visitor.
The Chiang Mai Land Transport Office and the Chiang Mai police head office met today to plan legal actions after @Winston Vaduz posted a video clip on the Chiang Mai CM108 Facebook page to expose the incident at the airport.
The tourist made the post on Monday under the topic "Welcome to Chiang Mai?"
The clip showed six male and female tuk-tuk drivers surrounding and kicking a private car, forcing a man and a woman – both foreigner visitors – to leave the vehicle. The couple eventually decided to walk out of the airport.
In the clip, a man was seen pulling the car's driver out of his seat and kicking him once. The assailant then walked to his tuk-tuk, grabbed a stick and returned to intimidate the car driver further.
Pol Colonel Piyaphan Pattarapongsin, deputy Chiang Mai police chief, said the aggressor who attacked the Grab driver in the clip had been identified as 37 year old Rungruj Jinaruan.
Piyaphan said police had summoned Rungruj to face charges of causing a public disturbance, carrying a weapon in public and intimidating others. Police will ask public prosecutors to charge the man in court.
He added that Rungroj had been arrested in August on similar charges, and he had at the time been found to be driving the tuk-tuk without a public-transport driving licence.
Phannee Pumphan, chief Chiang Mai land transport officer, said the owner of the tuk-tuk that was rented to Rungroj would also face a fine of 2,000 baht for allowing a person without such a licence to drive his public-transport vehicle.
Phannee said Rungroj will also face a charge of driving a public-transport vehicle without a proper driving licence. She added that the driver of the Grab car involved in Tuesday's fracas had been informed that he was being fined 2,000 baht for using a private car for public-transport purposes.
He will also be subject to an attitude-adjustment session about traffic laws, so that he does not violate the law again, the official said.
รวบแล้ว โชเฟอร์ตุ๊กตุ๊กหัวร้อนขู่ทำร้ายคนขับ Grab Car ในคลิป "Welcome to Chiang Mai" ตำรวจจัดหนักหลายข้อหา!! ** ฟังเสียง นายรุ่งรุจ ผู้ต้องหา **หลังจากกลายเป็นประเด็นร้อนในสังคม กรณีที่ชาวต่างชาติโพสต์คลิปคนขับตุ๊กตุ๊กเชียงใหม่ทั้งชายและหญิงรวม 6 คนรุมล้อมบังคับให้ผู้โดยสารต่างชาติลงจากรถแกร็บคาร์ด้วยอารมณ์โกรธแค้นที่เข้าไปรับผู้โดยสารบริเวณสถานีขนส่งเชียงใหม่ โดยโชเฟอร์ตุ๊กตุ๊กหนึ่งในนั้นที่สวมเสื้อยืด Welcome to Chiang Mai ได้แสดงพฤติกรรมข่มขู่ ฉุดกระชากและยังคว้าท่อนเหล็กออกมาทำท่าจะทุบรถและทำร้าย จนผู้โดยสารต่างชาติต้องยอมลงจากรถเพื่อไม่ให้เหตุการณ์บานปลาย ทำให้เกิดกระแสวิจารณ์อย่างหนักจากพฤติกรรมที่ทำเสื่อมเสียภาพลักษณ์เมืองท่องเที่ยว และขอให้เจ้าหน้าที่ที่เกี่ยวข้องจัดการขั้นเด็ดขาด ล่าสุด ตำรวจ ภ.จว.เชียงใหม่ ตำรวจท่องเที่ยว และตำรวจ สภ.แม่ปิง เจ้าของท้องที่เกิดเหตุ ได้คุมตัว นายรุ่งรุจ หรือ บอล จินาเรือง อายุ 37 ปี เฟอร์ตุ๊กตุ๊กในคลิปมาทำการสอบสวน หลังจากจับกุมตัวได้ที่บ้านพักเมื่อเช้าวันนี้ ซึ่งทาง พ.ต.อ.ปิยะพันธ์ ภัทรพงษ์สินธ์ รองผู้บังคับการตำรวจภูธรจังหวัดเชียงใหม่ เปิดเผยว่าว่า ได้สั่งการให้พนักงานสอบสวนดำเนินคดีทุกข้อหาที่ปรากฏ ทั้งข่มขู่, ทำร้ายร้างกาย, พกพาอาวุธในที่สาธารณะ, ประพฤติตนวุ่นวายในที่สาธารณะ, เป็นผู้ให้บริการขนส่งสาธารณะแต่งกายไม่เรียบร้อย รวมทั้งข้อหาขับรถสาธารณะโดยไม่ได้รับอนุญาต (ไม่มีใบขับบี่รถสาธารณะ) โดยข้อหาทั้งหมดนี้ไม่ให้เปรียบเทียบปรับที่โรงพัก แต่ให้ส่งฟ้องต่อศาลจังหวัดเชียงใหม่ให้ศาลพิจารณาโทษ นอกจากนี้ยังพบว่า ผู้ต้องหารายนี้ ในปี 2559 เคยมีพฤติกรรมลักษณะคล้ายกันบนท้องถนนจนถูกจับกุมดำเนินคดี และทำให้ถูกเพิกถอนใบอนุญาตขับขี่สาธารณะ แต่ก็ยังขับอยู่มาถึงปัจจุบัน

Posted by เรื่องเด่นเย็นนี้ ช่อง3 on Tuesday, October 2, 2018
Keep in contact with The Thaiger by following our
Facebook page
.


Can't get enough Thaiger? Try Thaiger Radio @ 102.75FM with music, weather, traffic, news & local programming or view some Thailand Top 10s lists.

Read more headlines, reports & breaking news in Chiang Mai. Or catch up on your Thailand news.

Earthquake could hit Chiang Mai and Chiang Rai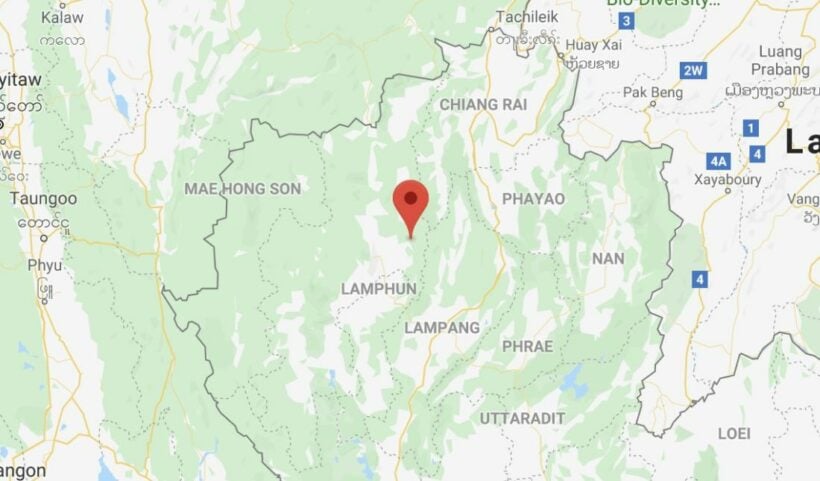 A magnitude 4.1 tremor shook seven districts of Chiang Mai and Chiang Rai on Friday night, prompting the Department of Mineral Resources to warn that the two northern provinces could face a magnitude 5 earthquake within ten years.
The prediction is based on analysis of movements in the Mae Tha fault lines, including the 5.1 ML quake in December 2006, centred under the Mae Rim district of Chiang Mai.
Geological studies in Ban Pong Samakkhi, Chiang Mai, indicate that the area experienced a 5.9 ML quake about 2,000 years ago.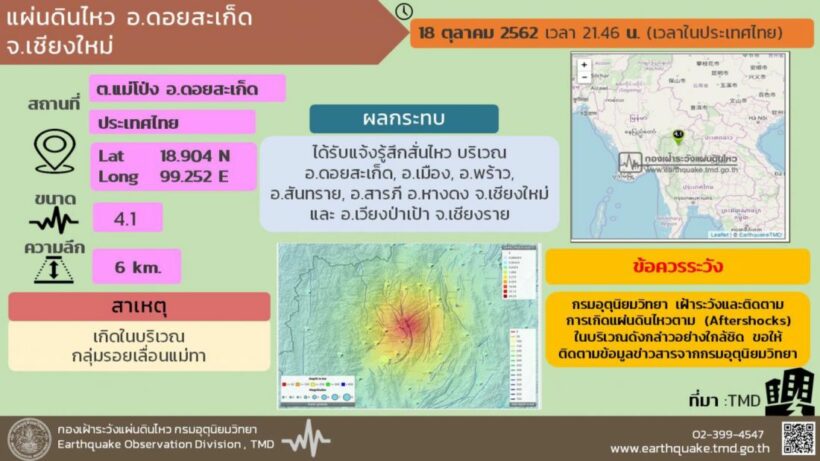 Photo : earthquake.tmd.go.th
Friday's temblor occurred at 9:46 pm, with its epicentre about six kilometres below the surface in Doi Saked district.
The tremor was felt in the Muang, Prao, San Sai, Doi Saket and Hang Dong districts of Chiang Mai and Wiang Papao district of Chiang Rai, though there have been no reports of casualties or property damage.
SOURCE: thaipbsworld.com
Keep in contact with The Thaiger by following our
Facebook page
.
Jump in national park visitor numbers as 'winter' arrives in northern Thailand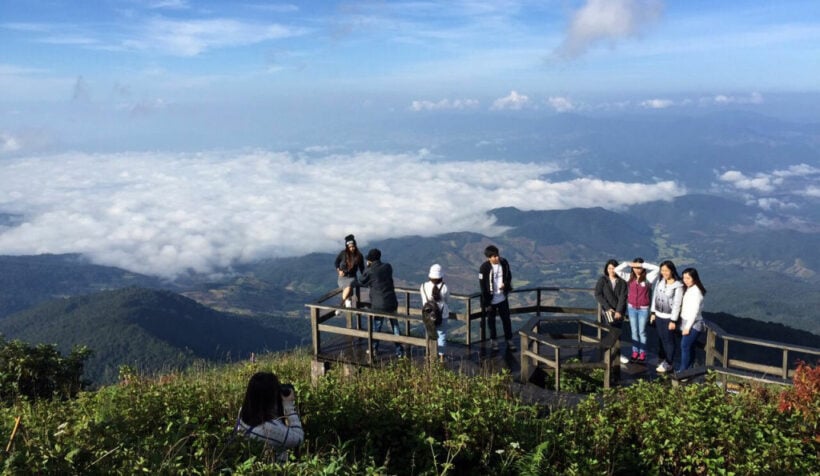 As northern Thailand moves into the 'cold season' (well, cold for Thailand) and temperatures drop, national park officials are reporting an increase in visitor numbers. Whilst the temperature is cooling down on the local northern mountain tops, the ground level temperatures are still around 30 (forecast below). But later in December the temperatures sometime reach as low as zero for places like Doi Inthanon.
The Bangkok Post is reporting that Kritsayam Khongsatri, Head of Doi Inthanon National Park in Chiang Mai says the park welcomed 21,994 visitors over the recent long weekend, over 7,000 a day.
Kritsayam says most of the visitors are Thais who enjoy camping in the colder weather, with average temperatures at the summit of Doi Inthanon, Thailand's highest mountain, being just 5-11 degrees Celsius.
Khao Yai National Park, north east of Bangkok, has also seen a significant increase in visitor numbers, with wild elephants coming out from the jungle to feel the warmth of the sun as temperatures dropped to below 20 Celsius yesterday.
"Visitors to the park are being asked to refrain from using car horns, or bright lights such as flashing cameras and full beam headlights to avoid disturbing the resident elephants."
Winter in northern Thailand typically sees a dip in temperatures and a decline in rainfall coupled with strengthening winds from the north.
SOURCE: Bangkok Post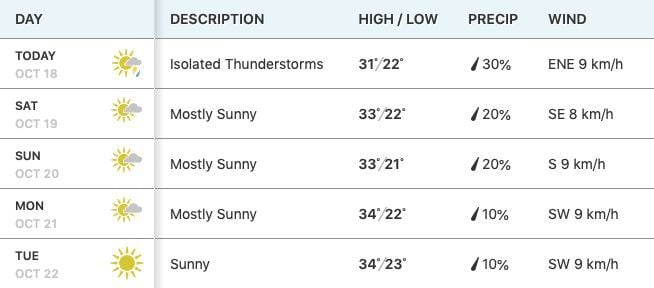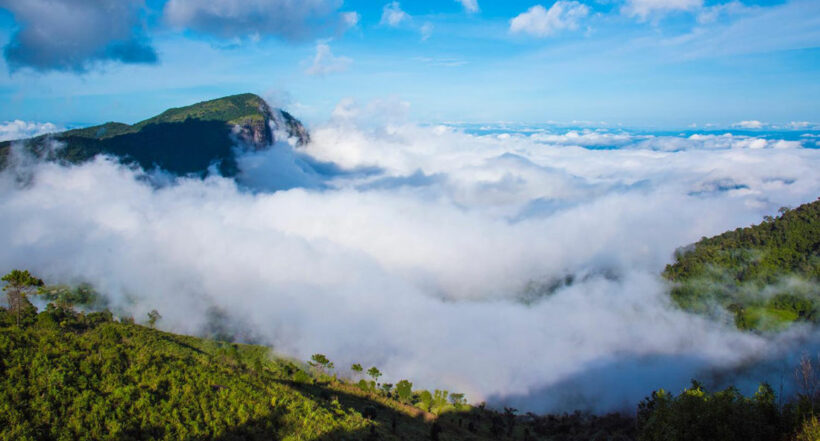 Keep in contact with The Thaiger by following our
Facebook page
.
Hostage drama in Chiang Mai – Man holds seven 7-Eleven employees hostage.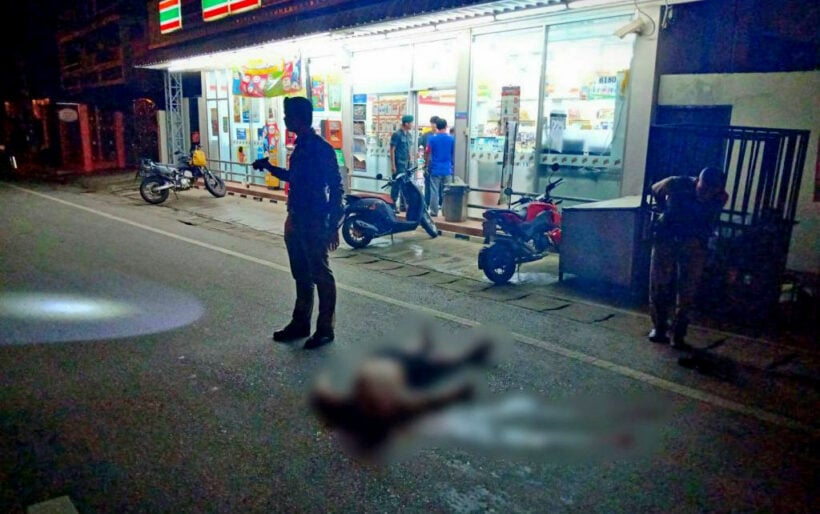 PHOTO: Chiang Mai City Life
A former Thai soldier has killed himself following a stand-off with police in Chiang Mai where he had taken seven 7-Eleven employees hostage. Eyewitnesses told Chiang Mai Citylife that a man with a gun arrived at the 7-Eleven in Mae Rim district on Chotana Road at around 5am yesterday and took one of the employees hostage.
The sergeant, who is described in reports as being "frantic and depressed", demanded that staff in the 7-Eleven live-stream the event on LINE, which they did.
Local police were called and were attempting to negotiate with the man when he shot himself in the head. Sergeant Punghong was rushed to Nakhon Ping Hospital where he later died from his injuries three hours later.
The dead man has been named as Sgt. Phongphan Kunhong, a 37 year old former soldier from Pha Mueang Force in the Chiang Rai district.
The soldier's superior confirmed to police that the man had been suffering from a depressive disorder. He died after several attempts to save him.
SOURCE: Chiang Mai City Life
Keep in contact with The Thaiger by following our
Facebook page
.