Gunshots fired at Surachat Hakparn's car were no joke – VIDEO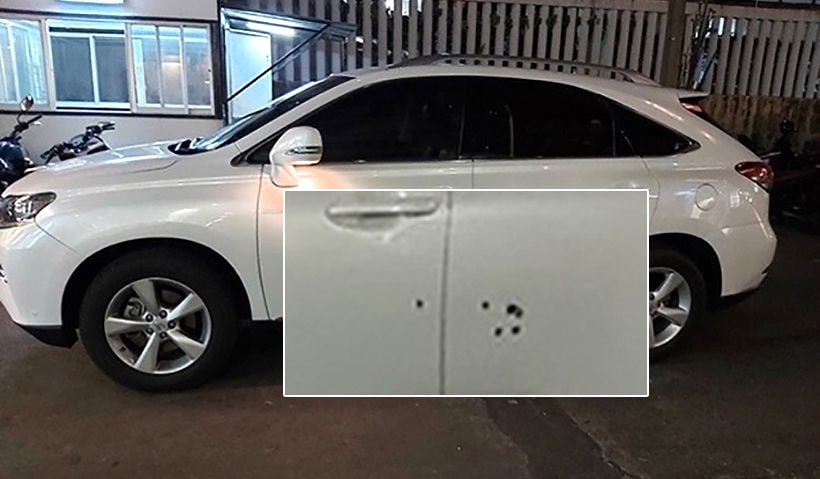 "Surachat says he was certain the shots had been intended to kill him."
Seven shots have been fired into the side of a car of former immigration police chief Surachet Hakparn's wife. The former high profile poster boy for the government's immigration policy, and championed by the deputy PM Prawit Wongsuwan, was in a restaurant in Bangkok's Bang Rak district when the shots were fired.
The shooting was reported to Bang Rak police around 9.30pm. Surachat told police he had driven the car to the venue.
The white Lexus SUV, belonging to the ex-police officer's wife, was parked outside the Surawong Sarika car park. Seven bullet holes were found in the doors on the left side of the vehicle. The driver of the motorcycle was wearing a cream jacket, long jeans and white canvas trainers. The pillion passenger was similarly dressed but with a blue jacket. Both had full-face helmets.
Pol Lt Gen Surachat Hakparn, aka. Big Joke, wasn't in the car at the time of the shooting. Some reports say that he had been attending a business meeting in a nearby restaurant, others say he was having a massage.
Now acting as an advisor to the Thai PM's Office, Surachat says he was certain the shots had been intended to kill him. But he maintained he had no ongoing conflicts with anyone.
Pol Lt Gen Surachet rose rapidly through the police ranks during the five-year rule of the military due to his close ties with Deputy PM Prawit Wongsuwan.
He was chief of the Police Immigration Bureau until last year, when he was unceremoniously shunted sideways into a civilian position and adviser at the PM's Office. The reason for his abrupt, and mysterious, fall from grace has never been explained and has not been discussed by the man concerned.
Deputy national police chief Wirachai Songmetta says forensic experts are examining the bullets extracted from the car doors, to determine what type of firearm was used, and checking CCTV around the car park area to log the comings and goings.
Witnesses claim a person on a motorcycle had fired the shots. Surachet is also assisting police with the enquiries.
SOURCE: Bangkok Post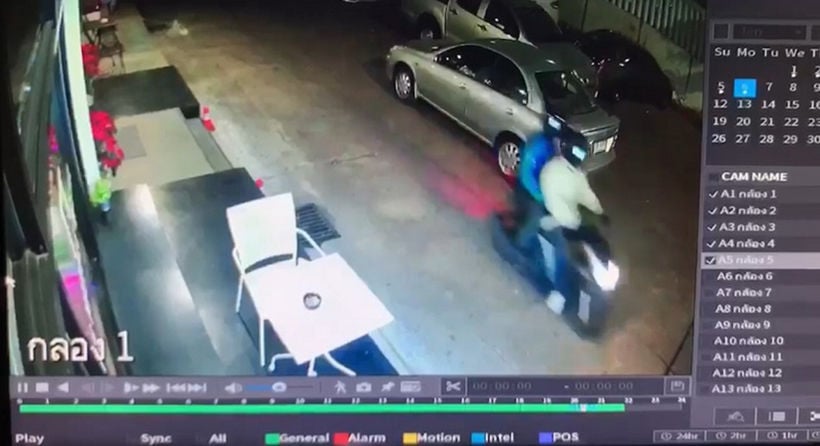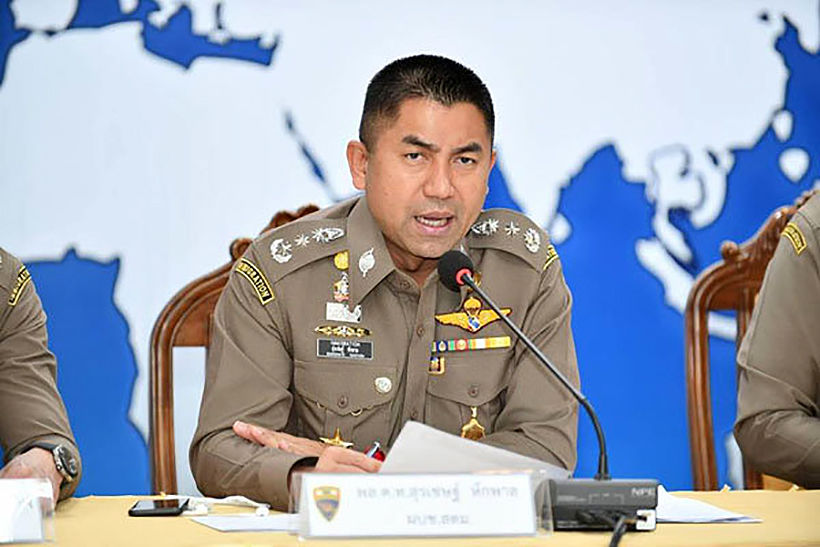 Keep in contact with The Thaiger by following our
Facebook page
.
The rise of the e-bicycle in Thailand, a bit of motorised assistance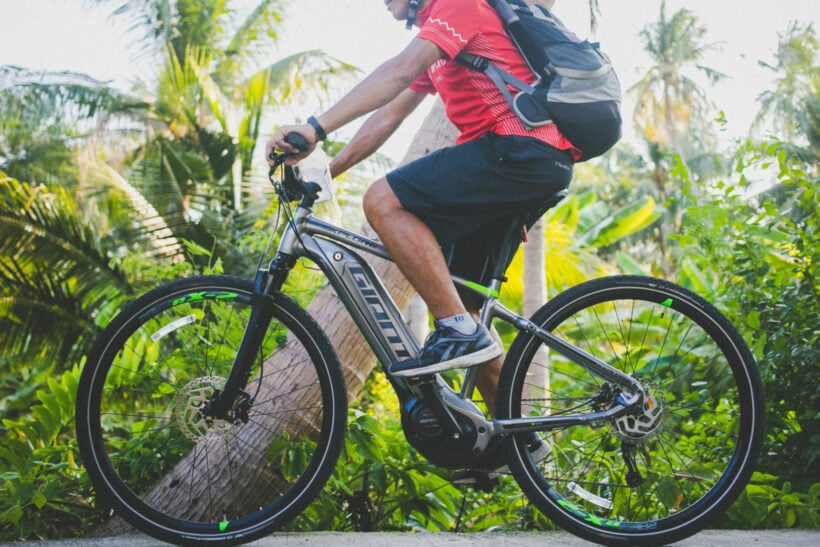 by Nicole Kash
Cycling tours offer a unique way to explore Thailand. Faster than walking but slower than driving, cycling tours cover plenty of ground while allowing cyclists to immerse themselves in the sights, smells, and culture of Thailand without the boundary of a car window.
Cycling tours can cover up to a heart-pumping 150 kilometre a day. Though exciting for many, some find longer distances daunting, especially newer cyclists or those out of practice. This is where the e-bike has begun filling a unique gap in Thailand's adventure tourism industry. Thanks to e-bikes, longer distance day tours and challenging multi-day cycling tours are no longer reserved for fitness fanatics. 
Popular in the US and Europe, the e-bike has made its way to Thailand is now thriving within the Kingdom's tourism industry. These motorised bicycles offer the option to assist cyclists with pedaling, which is especially useful for long distances and tough uphill climbs. Even with the help of the motor, cyclists still get plenty of exercise, as the pedal-assist system requires the rider to put some work in.
Unlike a scooter or motorbike, an e-bike does not run without the pedaling effort of the rider. They feature rechargeable batteries and an and off switch, allowing cyclists to challenge themselves as much as they'd like and get a little extra help when needed. 
The option of swapping our traditional bikes for e-bikes on cycling tours offer more tourists the opportunity to join in on cycling tours than ever before, growing the number of potential clients for Thai adventure tourism companies while fostering a climate of inclusivity.
Looking to join in on the fun? Here's a look into a few of the single-day and multi-day bicycle tours with e-bike options offered by Bangkok based SpiceRoads Cycling! 
Road Cycling Bangkok to Phuket (10 days)
Starting in bustling Bangkok and ending in along Phuket's sparkling coastline, this 10-day bicycle tour with e-bike options is the perfect mix of must-see sites and tucked away local spots all on smooth roads. Pedalling toward the scenic south, ride beyond the city lights and explore rural Thailand's rich culture and welcoming villages while making stops at the east and west coast's local beach spots along the way.
Rolling hills, golden sunsets, a real taste of local life, and of course serene sea views await you! This trip is fully supported with an air-conditioned van and riders can take a break and cool off while still enjoying the same views as the rest of the group. 
Phuket Highlights (½ day) 
Take a break from beach life to explore Phuket's unique and often overlooked old town on this ½ day bicycle tour with e-bike options. We start on the town's peripheral, exploring Koh Sirey's community of sea gypsies and on to see and smell the fresh catch of the day as locals bid for the best deals at the fishing port.
Then we head downtown to admire Phuket Old Town's Sino-Portuguese architecture, Jui Tui Shrine museum, and unique shops by bike. This leisurely 27 kilometre tour ends with a drive to stunning Khao Khad viewpoint for a scenic sea view and bird's eye view over where we have ridden. 
Kanchanaburi Explorer (3 days) 
Immerse yourself in Kanchanaburi's natural beauty and historic sites on this 3 day bicycle tour with e-bike options. Cycle along country roads and through local villages, enjoying mountain views and the thrill off jungle clad and dirt trails along the way.
Then explore off the bike, boarding a local train for a stunning train ride on Death Railway, visiting the historic and dark Hellfire Pass, and taking an optional boat trip to visit a Mon village. A diverse itinerary combining Kanchanburi's stunning natural sites with stops at historical must-sees on a mix of tarmac and dirt trails assures you will never get bored on this 102 kilometre bicycle tour!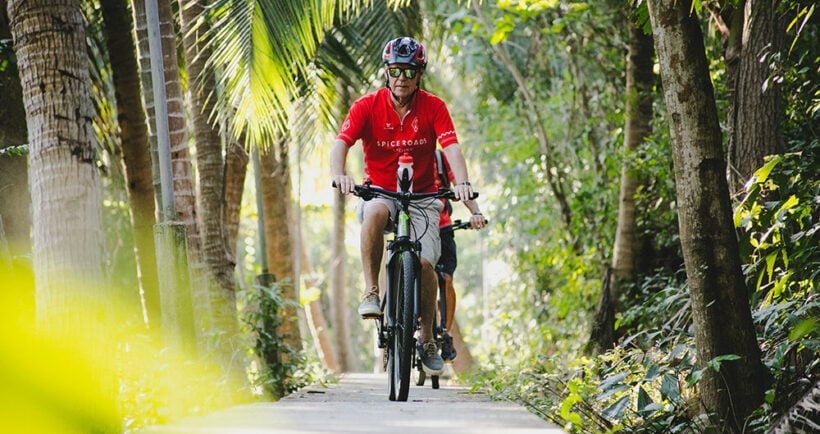 To find out more, and see more tours from the Spice Roads team, click HERE.
Keep in contact with The Thaiger by following our
Facebook page
.
Deputy transport minister says Thai Airways must increase revenue, cut costs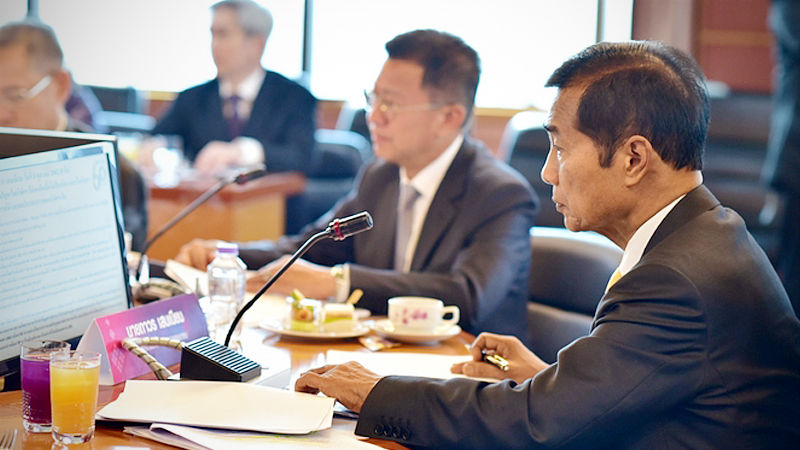 Thai Airways International is in the process of slashing costs and restructuring. Deputy Transport Minister Thaworn Senneam discussed Thailand's open sky policy and stressed the importance of increasing revenue and reducing expenditure to turn the airline around and make it sustainable.
Thaworn, along with the assistant secretary at the Ministry of Transport and other officials visited Thai Airways' HQ to evaluate the current progress.
Thaworn looked at operational problems faced by the country's legacy airline in improving its financial results and restoring its place as one of the world's leading airlines. He followed up on the ministry's announced policies, such as a turnaround plan and business plan, acquisition of 38 aircraft, company management and structure, the proposed U-Tapao aircraft maintenance centre, and plans to boost revenue and operating results. New policies were also presented, such as human resource management, managing company property to maximise best-use, and improving sales and marketing between the national carrier and its budget offshoot, Thai Smile.
Thai Airways president Sumeth Damrongchaitham said the carrier is acting on the policies issued by the Transport Minister to resolve financial losses and achieve longstanding profitability. He said progress is being made on some of the projects.
Thai Airways is now going through a revaluation of its plan to acquire 38 aircraft by 2026. The board of directors need a plan to acquire aircraft to replace 17 planes that will be decommissioned, but the plan must be suitable for the current financial situation and altered conditions. Management will study aircraft types and present the results to the board in February. The company will present information on the number of aircraft, acquisition methods and investment sources for consideration of the board at their meeting in March. The plan is intended to help the company to grow and not be a financial burden on the government. It will be presented to the Ministry of Transport by March 31.
Meanwhile, negotiations are still ongoing on between Thai Airways and Rolls Royce: THAI is seeking compensation from Rolls Royce for a period in which its aircraft were not operational as they were awaiting spare parts, resulting in damages and lost business.
The company is working to increase revenue according to the Middle Turnaround Plan (2020-24), through "innovation and digital technology, a sales development plan and boosting ancillary revenue to improve online sales".
SOURCE: The Nation
Keep in contact with The Thaiger by following our
Facebook page
.
Nonthaburi beggar exposed, drives a big SUV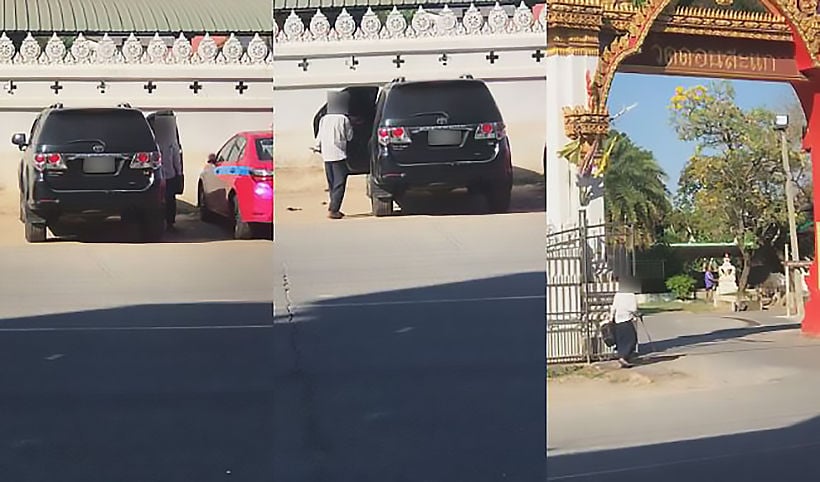 Beggars and the homeless remain a major issue in Thailand, especially in larger cities and tourist areas, and many choose to help, but their kindness is sometimes exploited.
Facebook user "Chaluta Joy" posted photos on Monday of a beggar, who's been seen asking for money in different villages and markets in the central province of Nonthaburi, stepping out of a shiny new Black Toyota Fortuner parked in front of the Don Sa Kae Temple in Bangyai District.
The vehicle has a Bangkok license plate. The man is seen looking in the rear-view mirror, apparently to ensure he still looks a beggar. He places some items into the car before leaving with a bag and walking cane, heading to a nearby village.
Netizens have mixed opinions on the matter, some saying they now wonder if they should continue to give money to beggars, others opining that what he is doing is "better than committing crimes", and some even think that the man might be an undercover policeman.
Chaluta captioned her post "What are you doing uncle? I've learned my lesson on giving people money. Uncle also goes to the Bang Bua Thong Market. Sorry uncle, I can't see this alone".
SOURCE: Thai Residents
Keep in contact with The Thaiger by following our
Facebook page
.