Thailand and South Korea partner on development of electric buses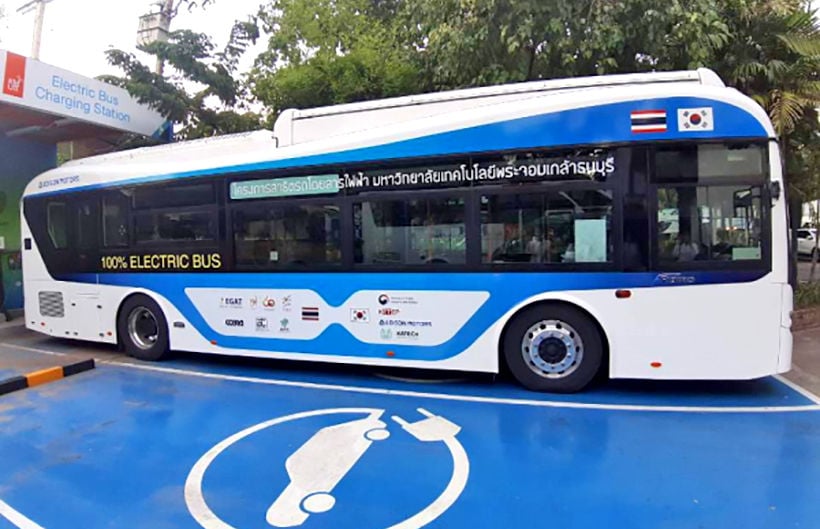 Original story by Shin Ji-hye
An all-electric bus sits on the campus at King Mongkut's University of Technology in Thonburi, Bangkok. The electric bus is a joint project between Korea and Thailand, led mainly by Korean automaker Edison Motors, which currently provides public transport services with eco-friendly buses at Namsan in Seoul and on Jeju Island.
The project involves 11 organisations from both sides, including Korea's Industry Ministry and Korean Energy Technology Evaluation and Planning. The Thai side includes the Bangkok Mass Transit Authority, the Electricity Generating Authority of Thailand and King Mongkut's University of Technology Thonburi, where the bus is being tested.
Kitchanon Ruangjirakit, a lecturer at King Mongkut's University of Technology Thonburi, says they are testing if the all-electric bus is suitable for the hot climate and traffic congestion of places like Bangkok.
"We are jointly working on traffic data collection, standards, energy consumption and battery capacity with Edison's electric bus,."
They plan to share the results of their research with the Bangkok Mass Transit Authority and the Ministry of Transport there, so the government can use the information in its future electric bus purchases.
When the systems have all been fully tested, the bus will be able to run 200 kilometres on a single charge. It uses an LG Chem battery.
The project, however, is only for research and not for commercial use at this stage. If Edison wants to produce electric buses in Bangkok, it has to take part in a bidding process. The Thai government plans to bid on 35 electric buses in the near future. Edison is willing to join the bidding, according to the government official.
Narit Therdsteerasukdi, deputy secretary-general of the Thailand Board of Investment, says Thailand is in the beginning stage of the EV industry and there is a long way to go.
"Thailand is the biggest exporter of cars (as an assembler) in ASEAN. We have 1,000 local parts suppliers. We are ready for the next step of the automotive industry. The Thai government intends to encourage its agencies to use electric vehicles in the future to create demand."
"Some companies like Samsung, LG, Posco and Hanwha have invested in Thailand for more than 30 years. We hope more Korean investors are coming in the near future."
"We are also trying hard to attract Korean battery makers, LG Chem and Samsung SDI, because we would like to build a whole supply chain of electric vehicles in Thailand. Not only car assembly, but we also want to build key parts of EVs like battery and motors."
SOURCE: The Nation | The Korea Herald
Keep in contact with The Thaiger by following our
Facebook page
.
World's largest trading bloc to be concluded by the end of the year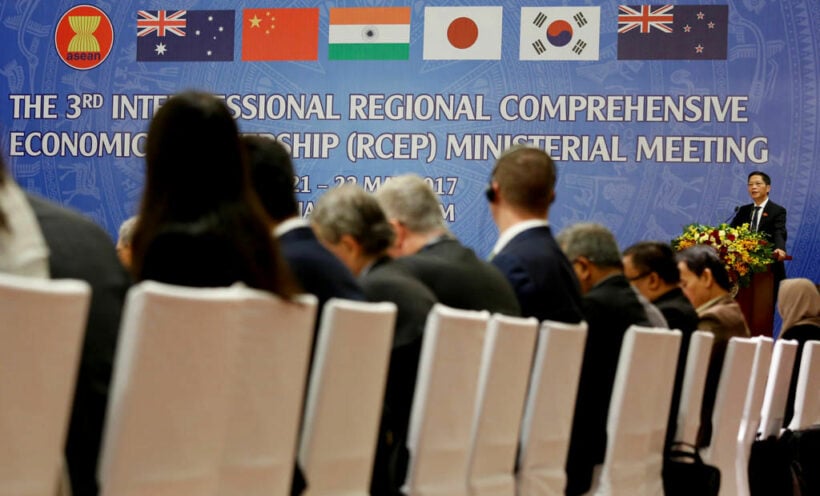 The next negotiating round for the formation of RCEP will be held in Da Nang, Viet Nam on September 19-28 . RCEP is the Regional Comprehensive Economic Partnership, and when negotiated and signed, will become the world's largest and most powerful trading bloc.
RCEP includes all ASEAN economies, plus Australia, China, India, Japan, New Zealand and South Korea.
Economic ministers from countries involved last gathered in Bangkok on September 8 determined to conclude the world's largest trading bloc by the end of the year.
After seven years, negotiations have reached a critical milestone as the ministers are resolved to address the outstanding issues and conclude the pact.
"Negotiators should exercise maximum flexibility to close the negotiations," said Secretary-General of ASEAN Dato Lim Jock Hoi.
Given today's developments, concluding RCEP negotiations this year would provide the much-needed stability and certainty to benefit regional supply chains as well as the global markets for trade and investment.  Dato Lim said that failure to do so will undermine the region's trade and investment potential, putting market integration at risk.
Once concluded, RCEP would create a market including 3.5 billion people accounting for about 30% of all global trade.
SOURCE: asean.org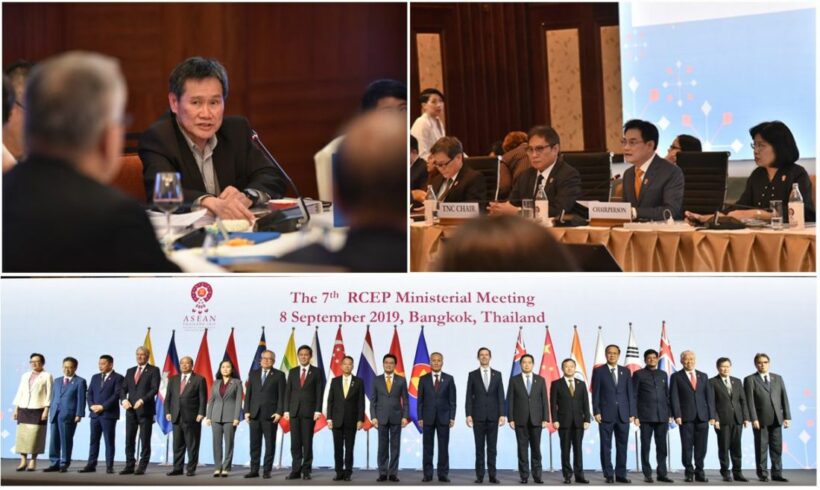 Keep in contact with The Thaiger by following our
Facebook page
.
Thailand industrial property a winner as US-China trade war drags on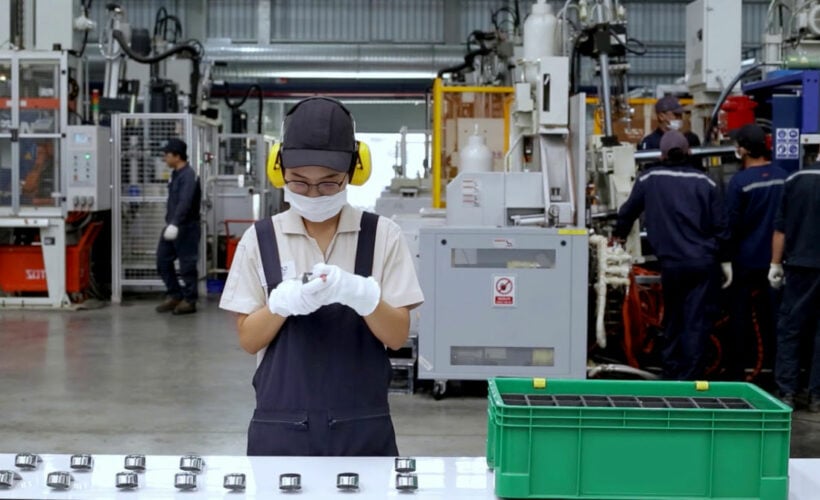 Amongst all the bad economic news, Thailand's industrial property sector is profiting from the protracted US-China trade war, as mainland Chinese manufacturers shift production to ASEAN countries in an attempt to avoid escalating tariffs.
Chinese foreign direct investment into the south east Asia sector rose last year by 31.7% to USD 233 million, after declining by 15.7% in 2016-17, according to Bank of Thailand data. In the same period, total FDI into Thailand skyrocketed by 130.5% year on year. Chinese investment accounted for 4.3% of total FDI last year and 7.6% in 2016-17, according to CBRE.
FDI into Thailand's manufacturing sector was increasing before the trade war too, and is now seeing increased participation from China.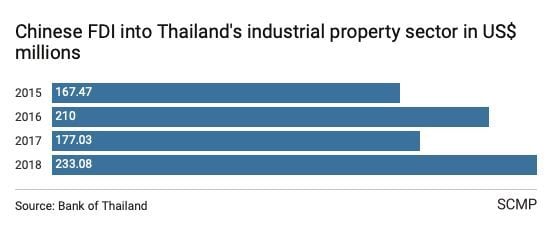 Last year, sales of serviced industrial land plots – privately owned industrial estates – by major developers in Thailand increased by 50% year on year. One park, specifically developed for Chinese manufacturers by Thai industrial estates provider Amata, accounted for 15% of the total sales in 2018.
CBRE also says China could be in line to take over from Japan, which has been the largest source of investment into Thailand since the late 1980s. Total FDI into Thailand last year amounted to USD 235 billion, with Japan contributing USD 86.6 billion and China US D4.9 billion, so there's still a long way to go before Chinese investment outstrips Japan.
Keep in contact with The Thaiger by following our
Facebook page
.
The Thai charm-offensive on the South Korean President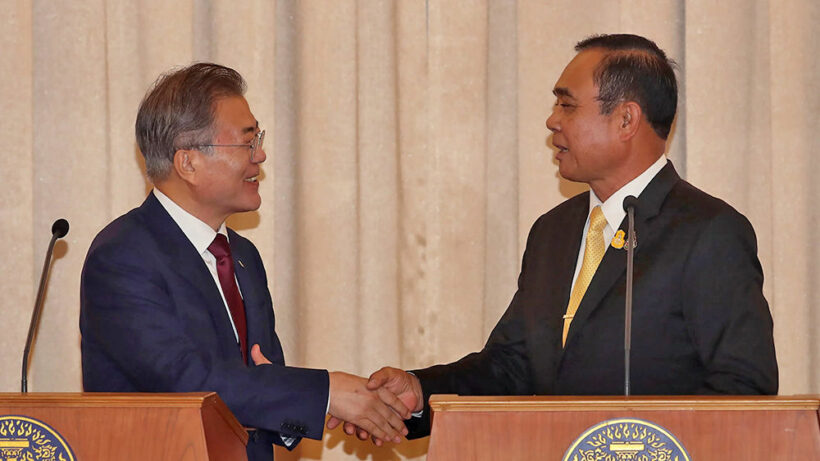 Thai PM Prayut Chan-o-cha is inviting South Korean investors to increase their investment and trade with Thailand. The PM says Cabinet will consider offering incentives for South Korean businesses to invest in the country. South Korean President Moon Jae-in capped off an official two day visit to the Kingdom yesterday.
The Thailand-Korea Business Forum was held yesterday in Bangkok with President Moon in attendance along with economic teams from Thailand and South Korea and representatives of 500 private companies.
Speaking at the forum the Thai PM spoke about Thailand 4.0 – the transformation of the country's economic structure from an agriculture-based economy into a value or digital-based economy. Also about the Eastern Economic Corridor (EEC) project that was attracting investment from around the world.
According to the Bangkok Post, 400 South Korean companies have invested in Thailand with the trade value between Thailand and South Korea of USD 14-15 billion (428-459 billion baht).
Prayut also spoke about how Thailand could continue to learn from South Korea as they had been able to turn their country from agricultural economy into a manufacturing superpower over a number of decades.
Speaking at the forum President Moon said Thailand is one of the most important trading partners for his government's New Southern Policy which has been successful in broadening partnerships with south east Asian nations and India. President Moon mentioned specific industries where he saw greater economic partnerships and trade in the future – automation, smart automotive technologies, energy, digital technology – that would assist Thailand to achieve its 4.0 goals.
PM Prayut met with President Moon Jae-in at Government House yesterday morning with the two leaders pledging to strengthen the strategic partnership between the two Asian economies.
Keep in contact with The Thaiger by following our
Facebook page
.