Thailand and South Korea partner on development of electric buses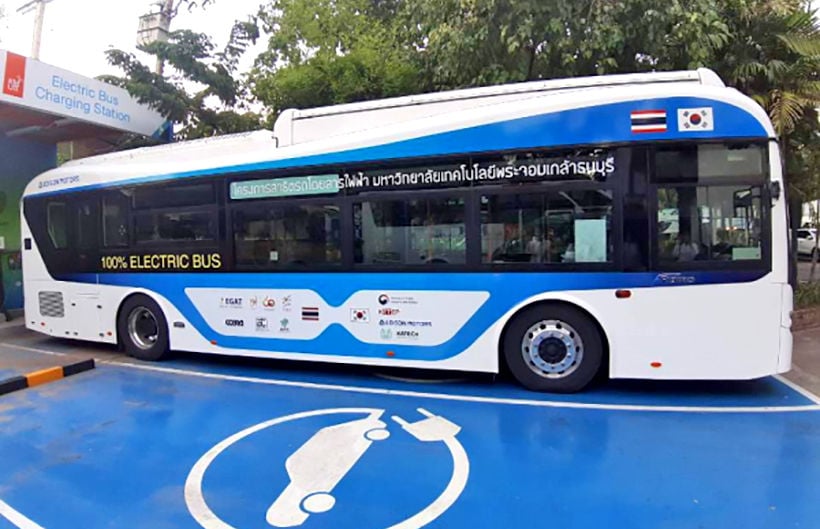 Original story by Shin Ji-hye
An all-electric bus sits on the campus at King Mongkut's University of Technology in Thonburi, Bangkok. The electric bus is a joint project between Korea and Thailand, led mainly by Korean automaker Edison Motors, which currently provides public transport services with eco-friendly buses at Namsan in Seoul and on Jeju Island.
The project involves 11 organisations from both sides, including Korea's Industry Ministry and Korean Energy Technology Evaluation and Planning. The Thai side includes the Bangkok Mass Transit Authority, the Electricity Generating Authority of Thailand and King Mongkut's University of Technology Thonburi, where the bus is being tested.
Kitchanon Ruangjirakit, a lecturer at King Mongkut's University of Technology Thonburi, says they are testing if the all-electric bus is suitable for the hot climate and traffic congestion of places like Bangkok.
"We are jointly working on traffic data collection, standards, energy consumption and battery capacity with Edison's electric bus,."
They plan to share the results of their research with the Bangkok Mass Transit Authority and the Ministry of Transport there, so the government can use the information in its future electric bus purchases.
When the systems have all been fully tested, the bus will be able to run 200 kilometres on a single charge. It uses an LG Chem battery.
The project, however, is only for research and not for commercial use at this stage. If Edison wants to produce electric buses in Bangkok, it has to take part in a bidding process. The Thai government plans to bid on 35 electric buses in the near future. Edison is willing to join the bidding, according to the government official.
Narit Therdsteerasukdi, deputy secretary-general of the Thailand Board of Investment, says Thailand is in the beginning stage of the EV industry and there is a long way to go.
"Thailand is the biggest exporter of cars (as an assembler) in ASEAN. We have 1,000 local parts suppliers. We are ready for the next step of the automotive industry. The Thai government intends to encourage its agencies to use electric vehicles in the future to create demand."
"Some companies like Samsung, LG, Posco and Hanwha have invested in Thailand for more than 30 years. We hope more Korean investors are coming in the near future."
"We are also trying hard to attract Korean battery makers, LG Chem and Samsung SDI, because we would like to build a whole supply chain of electric vehicles in Thailand. Not only car assembly, but we also want to build key parts of EVs like battery and motors."
SOURCE: The Nation | The Korea Herald
Keep in contact with The Thaiger by following our
Facebook page
.
Thailand scores highest for mask-wearing in survey of ASEAN nations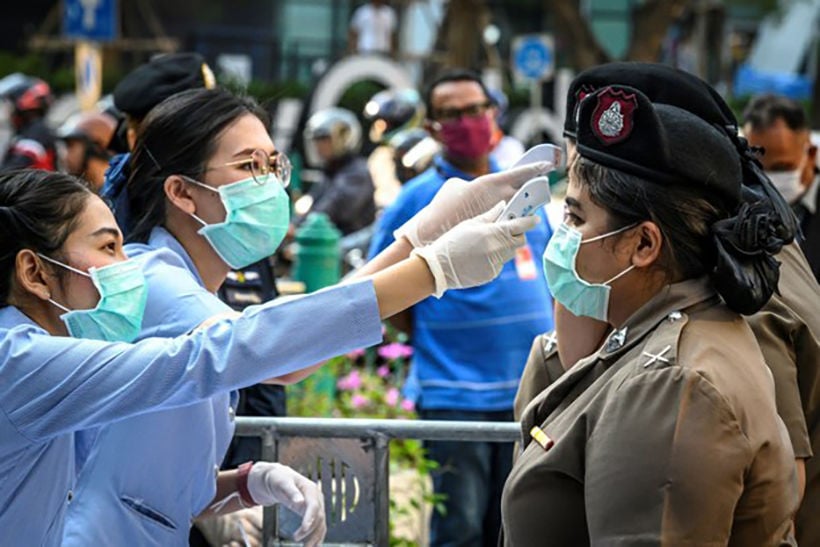 A survey carried out by internet-based market research firm YouGov reveals that Thais are the most likely to wear face masks and to use hand sanitiser. Khaosod English reports that the survey examined the habits of citizens from 6 ASEAN member-states and found that 95% of Thais always wear a face mask in public.
(It's currently still law to wear a face-mask in public as part of the emergency decree)
Vietnamese citizens were a close second at 94%, followed by the Philippines (93%), Malaysia (89%), and Indonesia (87%). Singapore came in last with just 66% of people saying they always wear a face mask in public. Those surveyed were chosen based on age, income, education level and gender to ensure a wide representation for each country.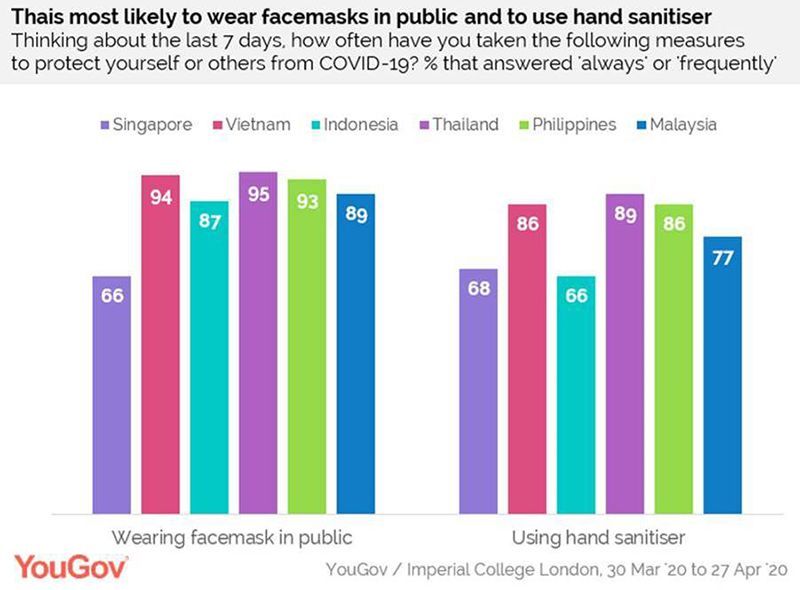 YouGov/Imperial College London
The Covid-19 outbreak has led to more people wearing face masks, particularly in countries where it is now mandatory to do so while in public. While there was a degree of panic-buying of surgical masks in the early days of the pandemic, many Thai fashion brands are now producing their own, along with creative individuals who started making masks to alleviate the initial shortage.
The owner of the I'm Not A Morning Person fashion label, 28 year old Jarauyporn Khamwan started by using leftover material to make satin masks which she sold for 290 baht. She believes masks have the potential to become a fashion accessory, particularly if wearing them remains a permanent requirement.
Overall, the wearing of face masks is far more prevalent in Asian culture, although things are slowly changing in some Western countries as a result of the Covid-19 pandemic. Across the 6 ASEAN members surveyed, 86% of respondents say they always wear a face mask in public. By contrast, 48% of people in the US do, followed by 44% in France. In the UK, just 15% of respondents say they always wear a face mask when leaving home.
SOURCE: Khaosod English
Keep in contact with The Thaiger by following our
Facebook page
.
Cambodia discharges last Covid-19 patient, no new cases in a month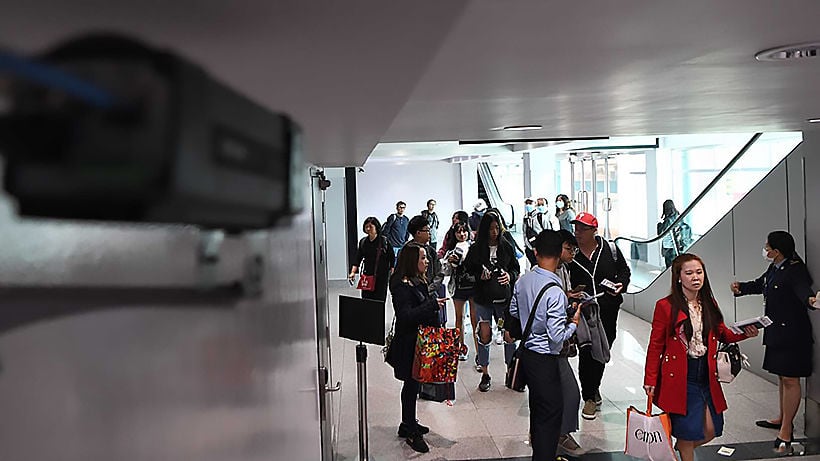 Thailand's neighbour Cambodia has had no new Covid-19 cases for a month and its last patient has recovered and left hospital, leaving the country with 0 cases. But no easing of restrictions related to the virus, including school closures and border entry checks and quarantines, was mentioned in the statement from the Cambodian Ministry of Health. Cambodia's last reported new case was on April 12. A total of 14,684 tests have been done since January, according to the ministry.
A 36 year old woman from Cambodia's northwestern province of Banteay Meanchey was released from the Khmer Soviet Friendship Hospital in Phnom Penh, and was presented to the media in a livestream yesterday, thanking the health authorities.
Cambodia reported a total of 122 cases of the virus and no deaths from since the disease emerged in China and began spreading around the world, infecting more than 4.6 million and killing about 311,000 since January.
Cambodia's Health Minister urged people to stay vigilant and take precautions such as not gathering in large groups.
"We think that most of the cases, generally, are imported, so we must be careful with all checkpoints at the border, at airports, at ports, at land checkpoints."
"People who travel from abroad must have a certificate confirming that they don't have COVID-19. Only then would we allow them in, and once they are in, they will be quarantined for another 14 days."
Cambodia has fared better than most of its neighbours and other ASEAN nations. By comparison, as of today, Singapore has reported 27,635 cases and 22 deaths; Malaysia has reported 6,872 cases and 113 deaths; Indonesia 17,025 cases and 1,089 deaths, the Philippines 12,305 cases and 817 deaths; Thailand 3,025 cases and 56 deaths; Vietnam 318 cases and no deaths, Brunei 141 cases and 1 death, and Laos has reported 19 cases with no deaths.
SOURCE: Reuters | worldometers.info
Keep in contact with The Thaiger by following our
Facebook page
.
Coronavirus pandemic reaches 4 million people infected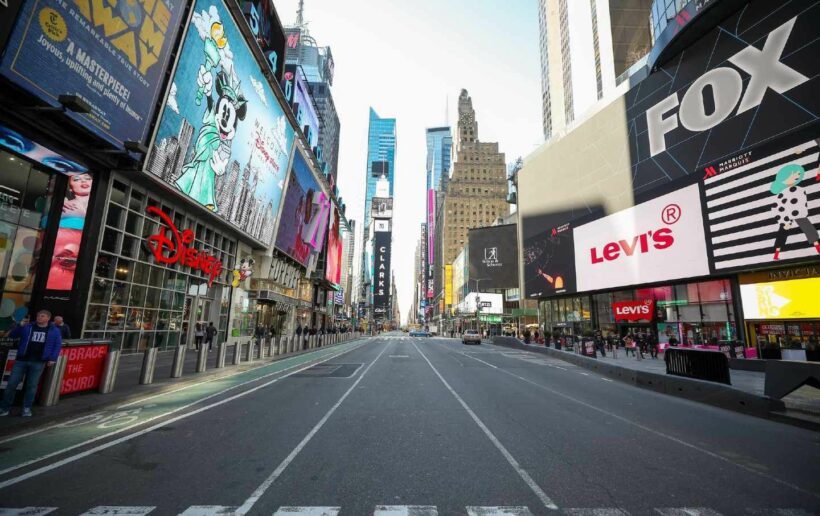 Across the world some 4,100,000+ people are now infected with Covid-19. The actual number is much higher but, for lack of testing and diagnosis in some countries, we may never know the exact number. Still the statistics, as varied and unreliable as they may be, still provide some general trends and provide scientists with valuable data.
There has never been a world viral pandemic that has been so numerically tracked and so widely reported.
The US has a total of 1,347,309 confirmed cases of Covid-19, adding around 30,000 new cases every day over the past month. And whilst the 'curve' started flattening at the start of April, the rise has been consistent, for the past month. There's now been over 80,000 deaths attributed to Covid-19 with an average of 2,000 deaths per day, also being consistent during the past month.
Beyond the situation in the US, the countries worst hit by Covid-19 are in Europe – the UK (31,587 deaths), Italy (30,395 deaths), Spain (26,478 deaths) and France (26,310 deaths).
Statistically, the countries with the highest death rates have been San Marino, a microstate in northern Italy, with 1,208 deaths per 1 million population, Belgium (740 deaths per 1M), Spain (566 deaths per 1M), Italy (503 deaths per 1M) and the UK (465 deaths per 1M). The US death rate is 242 deaths per 1M.
In south east Asia both the rates of reported infections and death rates have been relatively low. Across the entire 10 countries of ASEAN, the average infection rate has been much lower than in, for example, some of the worst hit European countries (around 5,000 people infected per 1 million population). Singapore, with its high number of infections compared to its tiny population, is leading the infection rate (3,839 people per 1M), some 18 times higher than the next country, Malaysia (204 people per 1M), and 90 times higher than Thailand.
Singapore's testing rate has also been the highest in the region with around 30,000 people tested per 1 million people, 4 times higher than Malaysia and 9 times higher than Thailand. The US testing rate is around 27,000 per 1 million people.
• Singapore – 22.460 total infections and 20 deaths
(Mostly from a sudden spike around the start of April in its migrant worker population. The death rate has also been extremely low)
• Indonesia – 13,645 and 959
(Regional health NGOs are sure that the infected numbers are much higher in the archipelago)
• Philippines – 10,610 and 704
(Also has the highest death rate amongst the SE Asian nations although still extremely low compared with the European death rates)
• Malaysia – 6,589 and 108
• Thailand – 3,004 and 56
(The daily infection rate is now in single digits for the past two weeks)
• Vietnam – 288 and 0
• Myanmar – 178 and 6
(Myanmar also has the lowest testing rate of any of the reporting ASEAN countries)
• Cambodia – 122 and 0
• Laos – 19 and 0
Brunei has reported no Covid-19 cases.
All the statistics are from the worldometers.info website.
Keep in contact with The Thaiger by following our
Facebook page
.