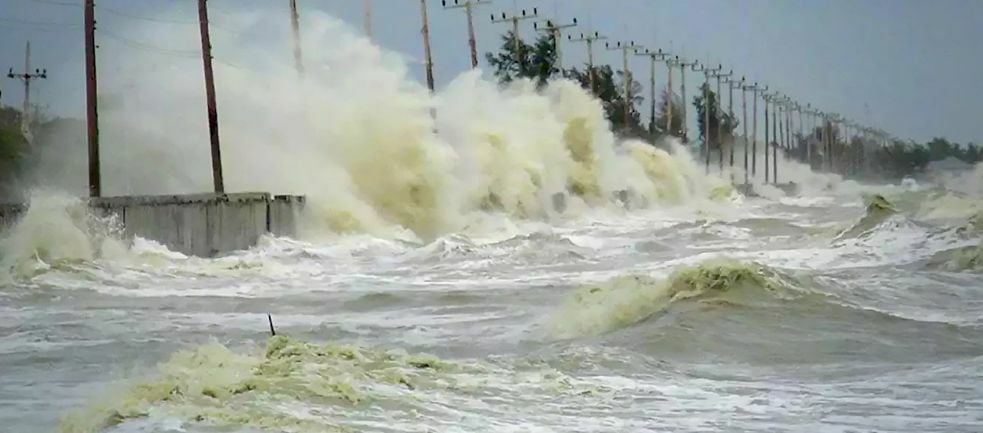 Large waves are continuing to wreak havoc on boats in Thailand's waters.
The country's Marine Department warned boat operators to be extra cautious after a fishing trawler sank in South Thailand on Saturday night.
The trawler sank in the Gulf of Thailand about 18.2 nautical miles off the coast of Pak Phanang district in Nakhon Si Thammarat province.
Fortunately, marine police were able to rescue the trawler's five crew members, safely bringing them back to the shore.
The marine department warned boat operators to follow the latest weather updates, be extra cautious in stormy weather, and consider staying ashore until conditions improve.
The department ordered its Nakhon Si Thammarat office to salvage the wreckage as soon as possible as it presents a navigation hazard to other boats, Nation Thailand reported.
The Thai Meteorological Department predicted on Saturday that the northeast monsoon over the Gulf and South Thailand would weaken from Monday to Saturday. It predicted that a low-pressure cell over the lower South China Sea would approach mainland Southeast Asia. Waves in the Gulf are expected to rise to 2-3 metres, and isolated heavy rains are expected in South Thailand.
On the same day the fishing trawler sank, another boat sank in Krabi province, also in South Thailand. The long-tail boat, which belonged to a Thai tour guide, was carrying two foreign tourists. Luckily, nearby boats and national park officials were able to rescue them just in time.
The ship's captain had brought the tourists to behold the beauty of Koh Hong island, located between Krabi's coast and Koh Yao Noi island in the Andaman sea. The long-tail battled with strong waves in the open sea and water quickly filled up the boat, which began to sink in between Koh Hong island and Laem Hang Nak cape in Krabi.
Two local fishing boats managed to attach a rope to the half-submerged long-tail boat and pull it back to shore at Krabi's Ao Tha Lane Pier. With assistance from national park officials, the tour guide and foreign passengers were brought back to safety.