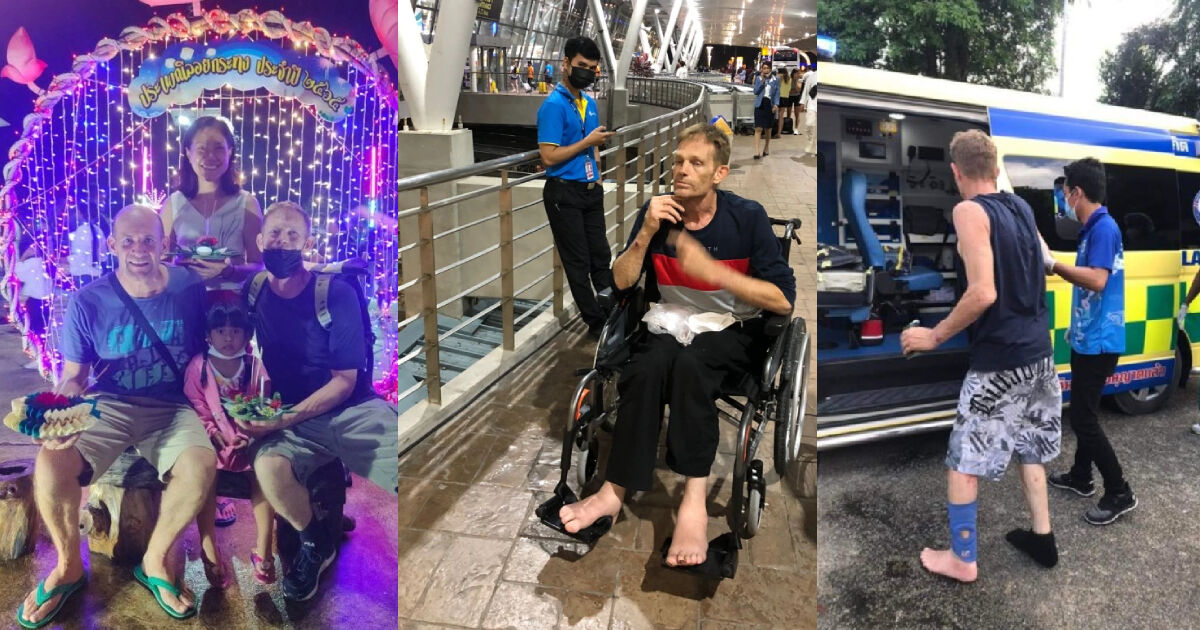 A British man claims he was tortured by Thai police for seven days straight in Phuket, southern Thailand when his holiday abroad went gravely wrong. British authorities have launched an investigation into the alleged abuse, reports FirstPost.
He allegedly sustained broken ribs, bruised limbs, septic infections, swollen wrists, and lost four teeth in the ordeal.
The victim, 51 year old Carl Gentry-Evans from Southampton in England, says he is now homeless as a result of losing everything including his ability to work.
He says it all started when local criminals drugged and robbed him in Patong.
Carl said he was delirious for 48 hours after his drink was spiked. When he came around, he noticed bizarre purchases on his credit cards and realised the gang had drained his accounts of everything he was worth, amounting to £6,800 (276,770 baht).
The British holidaymaker made his way back to his accommodation, where the police were waiting to intercept him and take him away.
On his way to jail, four police officers beat him with metal poles and the head officer repeatedly punched him in the face, said Carl.
Before Carl even reached the police station in Phuket, he had reportedly lost some teeth and sustained black eyes at the hands of the police.
Police detained Carl under cocaine charges…
"I immediately asked to do a test to prove I had no cocaine in my system or my possession. They refused and threw me into a tiny cell full of faeces and old waste."
The police denied him food and water and left him in the dirty cell all night.
Carl says police laughed at him when he requested they contact the British embassy to help him attain medical help.
Lost about what to do, Carl got hold of a lighter and set a pile of rubbish on fire, trying to catch someone's attention outside the cell to come and help him.
But the fire spurred seven officers to burst into Carl's cell and allegedly chain him up, put him in tight handcuffs that cut off his circulation and beat him.
"They continued to beat me for about five hours. The torture and humiliation was horrific."
Carl suffered diarrhea as a result of the relentless beatings which he says was embarrassing.
"I was left there chained up all bloodied and cut up with my feet submerged in the faeces causing them to go rotten."
He suffered septic infections in his feet causing them to swell up.
Carl said he was terrified they were going to kill him. The torture continued for seven days, claimed Carl.
After a week, police let Carl call his sister in New Zealand who sent him £800 so he could be immediately released.
With nothing left at all, a friend gave Carl some clothes to wear. Bravely, he reported his seven days of hell at a different police station.
Injured Carl was treated in hospital before his sister booked him a flight to Birmingham in England.
However, doctors in the UK told Carl it will take two months to recover. There is no way he can return to his labour-heavy job in passive fire protection until he gets better.
Carl says he is now homeless as a result of his painful and traumatising experience in Thailand.
"I still can't see out of my right eye that was gouged by a policeman and is still infected."
"My face is so battered that I can't eat. Out in public I am so paranoid, I'm a nervous wreck. I am jumpy as soon as a shadow is near me. I need help."
A spokesperson for the UK's Foreign, Commonwealth and Development Office said investigations into the alleged torture are ongoing.
Carl said he wants the Thai police to be held accountable.