Hotting up in northern Thailand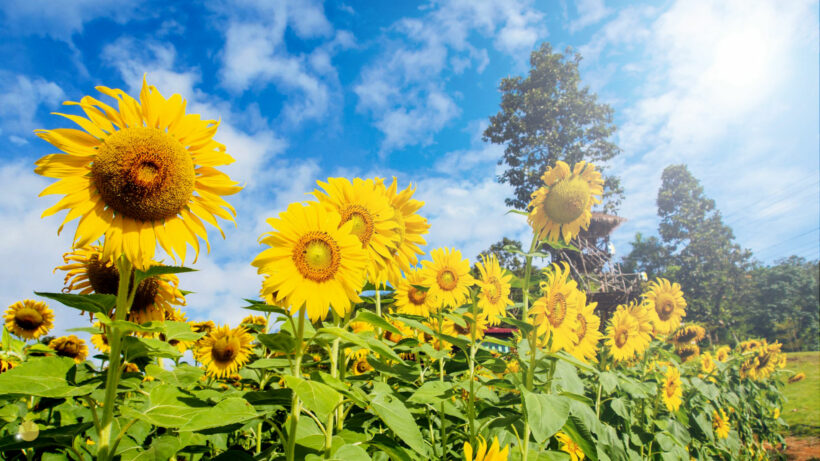 Hot, damn hot! The Thailand Meteorological Department says that a "thermal low" currently covers upper Thailand, while westerly winds prevail over the region, making the weather hot to very hot in some parts of the North, the Northeast, the Central and the East regions. Unpredictable weather and hotter days are normal for this time of the year leading up to Songkran.
"The weak westerly winds prevailing across the South and the Gulf will bring isolated rains in the South. From March 12-16, another high pressure from China will extend to upper Thailand and the South China Sea while the southeasterly winds bring moisture from the South China Sea to the Northeast, the East, the Central and the lower North."
The TMD is forecasting thunderstorms, lightning with gusty winds and hail for upper Thailand.
The weather forecast for the next 24 hours…
Bangkok and surrounding areas: Hot weather during the day and very hot in some areas; temperature lows of 25-27 degrees, highs of 35-40 degrees C.
Northern region: Partly cloudy with hot weather during the day and very hot in some areas; temperature lows of 17-27 degrees and highs of 36-41 degrees C.
Northeastern region: Partly cloudy with hot weather during the day and very hot in some areas; temperature lows of 20-24 degrees and highs of 39-41 degrees C.
Central region: Partly cloudy with hot weather during the day and very hot in some areas; temperature lows of 23-26 degrees, highs of 39-41 degrees C.
Eastern region: Partly cloudy with hot weather during the day and very hot in some areas; lows of 24-27 degrees, highs of 33-40 degree C; waves under a metre high.
Southern region (east coast): Partly cloudy with isolated thundershowers; temperature lows of 23-26 degrees, highs of 32-38 degrees C; waves under a metre high.
Southern region (west coast): Partly cloudy with isolated rains in some areas; temperature lows of 22-26 degrees, highs of 34-37 degree Celsius; waves under a metre high.
Keep in contact with The Thaiger by following our
Facebook page
.
Village headman fires 8 bullets into an officer at a check point in northern Thailand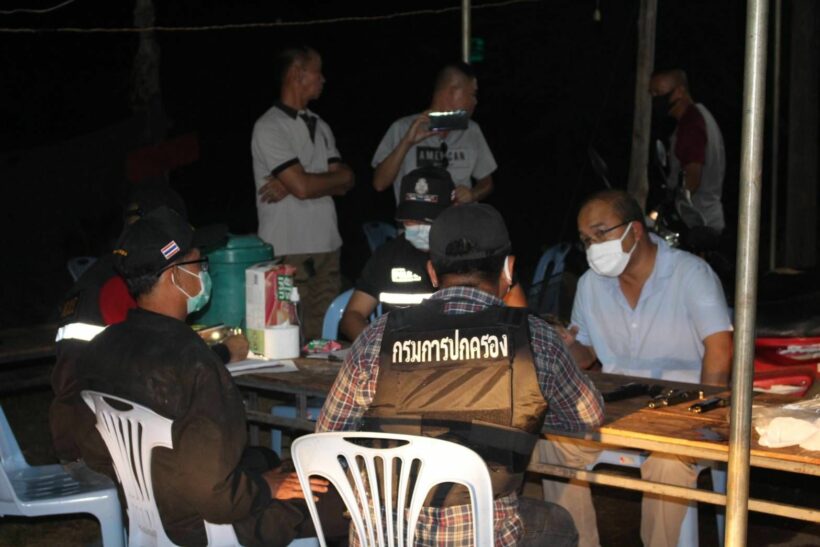 A 'Phu Yai Barn' or village headman in Phayao province, just south of Chiang Rai, got into a row with other local officials last night, allegedly ending in a shootout, seriously injuring a local official at a checkpoint.
Last night at 8pm local police were informed of the shooting incident at Ban Na Nun Community Checkpoint Village No 2. They went to investigate the crime scene and found 56 year old Winai Wongyai, the local headman of Moo 2, surrendering himself to police.
The victim was identified as 52 year old Phrom Chumyen who was taken to a hospital by his relatives before the police arrived. His current condition is not known.
Winai reportedly confessed that he and Phrom, along with 8 other local officials, were tasked to look after the Ban Na Num community checkpoint following the state of emergency decree. Phrom, who is a member of the Subdistrict Administration Organisation, reportedly started taking photos of the checkpoint to show everyone that the headman was incompetent in his job.
This escalated quickly to a furious argument between the two. Winai got extremely angry and pulled out his 9mm CZ compact handgun and allegedly shot him 8 times in the side of his body.
29 year old Weerakorn Chumyen, son of Phrom who witnessed the incident, said that after Winai shot his father, he aimed the gun at him and told police he had to run quickly to save his own life.
52 year old Peng Chumyen, another witness, says that the two had a long aggressive argument.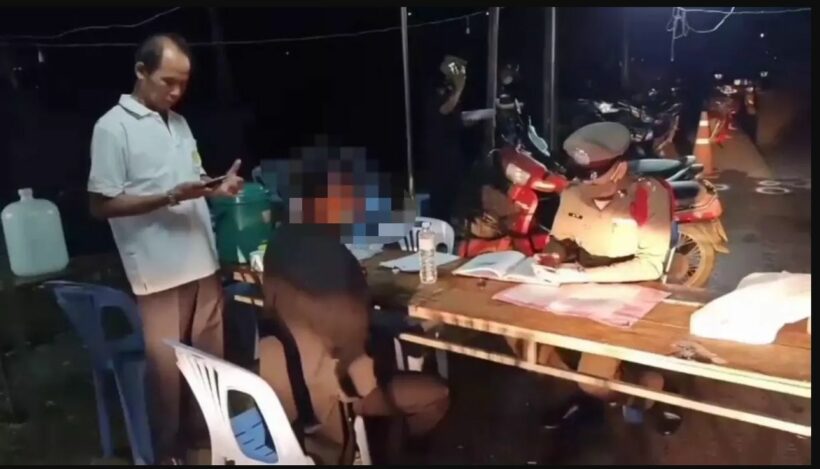 Major General Thammasak Pinthong, from Pha Phor subdistrict police, Phayao Province is now investigating the incident personally.
Just yesterday another shooting incident involving a village headman took place in Surat Thani. Read about that HERE.
SOURCE: The Nation
Keep in contact with The Thaiger by following our
Facebook page
.
Thailand's "Wild Boar" vows to save his province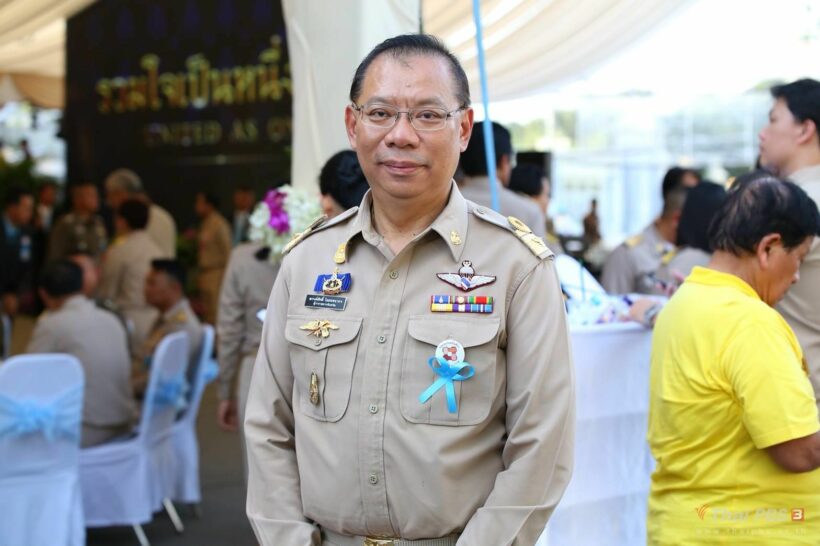 The northern province of Lampang been hit by Covid-19, despite the best efforts of its famous governor, Narongsak Osotthanakorn. Who? Narongsak was the face of the rescue mission to retrieve the 13 young men from the Tham Luang cave two years ago and was the Chiang Rai governor at the time.
"When I heard of the first Covid-19 infection in my province, I almost cried."
The event made national news and has inspired a popular NOVA documentary now being produced by Netflix called Thai Cave Rescue which will include interviews with the boys and their coach. Here's a short from the recent film 'The Cave'…
Narongsak masterfully demonstrated his ability to lead and coordinate the team that saved the boys and their coach, and locals in Lampang were hoping his expertise could protect them from the growing threat of the coronavirus. Until Tuesday of last week, Lampang seemed in the clear. It remained one of the 15 provinces still Covid-19 free.
Narongsak, ever the man of logistics, began preparing since the original outbreaks in Wuhan, China had come to light.
At a recent press conference, he said he was worried that the virus might also spread to Thailand.
"I began talking to people and hospitals to take preventive measures, resources and more."
"The Boar" rallied his province together in preparation of the coming threat of pandemic even before Thailand suffered the first case. When it was discovered that many struggling from Covid-19 required ventilators, he issued a count be made, discovering there were only 40 in the province and he swiftly ordered 30 more as a precaution.
"I have also procured 300 personal protection kits for those who may be exposed to the virus as part of their work," he added.
He also examined hospitals' negative pressure rooms, where infectious patients can be isolated, to determine if Lampang could treat infected patients while not spreading it to others in the facility.
"There were just 10 negative-pressure rooms in the province. But with adjustments made to ICU beds, Lampang now has the capacity to handle up to about 400 patients who may contract Covid-19."
The Wild Boar hoped that all his preparation would not be needed, however that hope was shattered with the discovery that a woman returned from Bangkok to her home province carrying the virus. The woman, a vendor at a busy Bangkok market, developed symptoms of a sore throat and headache on March 17. Three days later, she flew from Bangkok to Chiang Rai, before taking a van to her hometown in Lampang's Ngao district.
She isolated herself on the second floor of the family home, allowing only her mother to bring her food. Her self quarentine attempts failed when her mother ended up catching the virus and then passing it on to an elderly relative.
"We have closed off their village to prevent any further spread."
While admitting it was hard to accept the contagion had reached Lampang despite the tireless work of officials and strong cooperation from locals, the governor said he took comfort in the fact that the source was not a local resident.
"Had it been a local resident, that would have suggested that stringent measures already in place are inadequate. But as the infectious case came from Bangkok, I am convinced that our hard work in the past few months was not completely wasted."
Narongsak is now rallying his officials and locals to contain and manage the situation.
"Our goal now is to make sure that the number of Covid-19 cases in Lampang does not increase."
SOURCE: Urisara Kowitdamrong Thai PBS World 
Keep in contact with The Thaiger by following our
Facebook page
.
Chiang Mai firefighters chased up a tree by wild elephants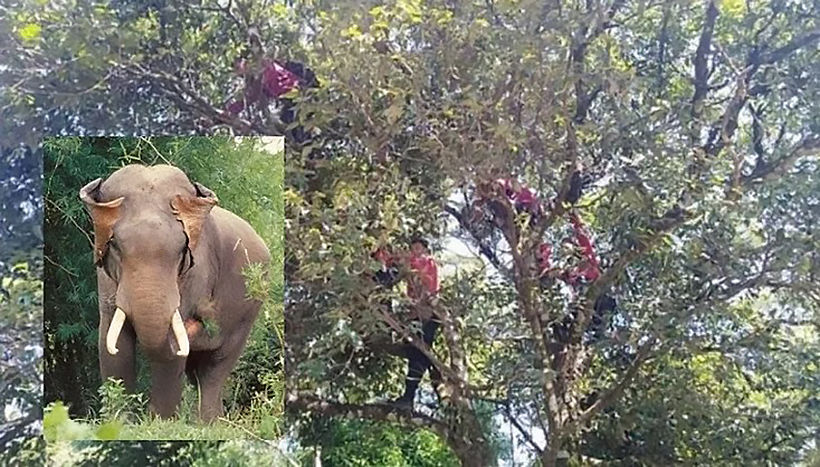 Firefighters in Thailand's North were chased up a tree by a herd of elephants yesterday. The group were on patrol searching for fires in Chiang Mai province's Omkoi district.
The men told reporters they were patrolling for fires when they ran across a small herd of wild elephants. Fearing for their safety, the fled up a nearby tree and stayed there until the elephants went their way.
Located in the south of Chiang Mai Province, Omkoi is the home of the Omkoi Wildlife Sanctuary, which has a number of rare and endangered species including wild Asian elephants. But stumbling across wild elephants in the park is uncommon as it has a small population.
The firefighters were in the area as part of efforts to fight and spot forest fires burning across the province. Many villagers start fires to improve annual mushroom harvests and prepare land for planting new crops.
In another story, two men have been arrested in relation to fires that have caused widespread damage in Chiang Mai's Doi Suthep-Pui National Park. The two are alleged to have started a fire in a forest area in Ban Thung Pong Tai, in Hang Dong District.
The men admitted to starting the fire but claimed "that they were only trying to create a fire protection line", fighting fire with fire and providing protection from other fires in the park, but their fire got out of control. They face criminal charges.
In Chiang Mai's Mae Chaem district, a major source of corn crops, the district chief ordered an investigation after reports of a fire in the Pa Baan Tuan area. Officials arrived to find a man standing in the area with a lighter in his hand (doh!).
The man was taken into custody, and told authorities he was taking a shortcut home when he saw a pile of leaves and branches. He says he decided to get rid of them by lighting a fire which got out of hand.
The was taken into custody where he will have time to reflect on much better excuses in the future.
SOURCE: Chiang Rai Times
Keep in contact with The Thaiger by following our
Facebook page
.