Survey says: Thai taxi users disagree with fare hike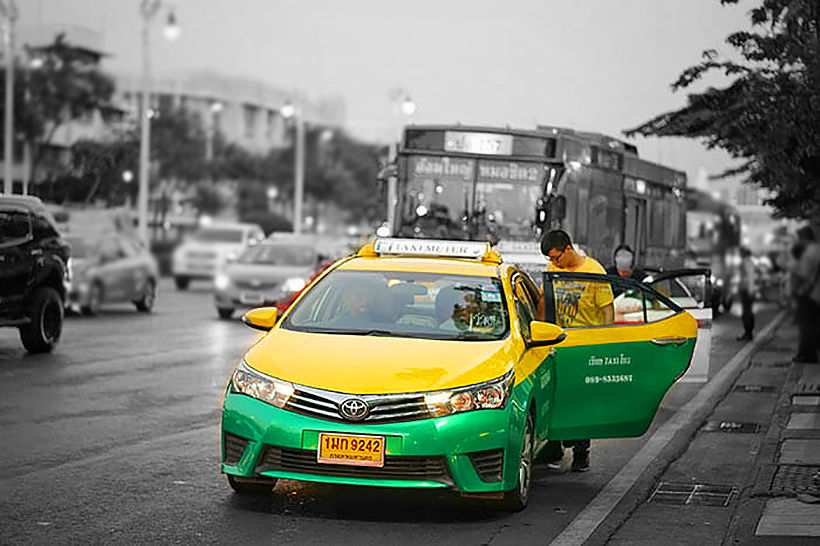 "35% agree with the fare hike, reasoning that it could reduce the problem of taxi drivers refusing customers."
A Nida Poll reports that 81% of respondents are unhappy with the new taxi fares that will raise the immobile rate (sitting in the traffic) from 2 baht per minute to 3 baht per minute.
The poll reveals the results of a survey on "Transport Minister Gives Green Light for Taxi Fare Increase". The survey was taken on August 8-9 from 1,505 residents of Bangkok and surrounding suburbs.
According to the poll, 62.5% of participants disagreed with the raising of the taxi fare from the second to the 10th kilometre from 6-6.5 baht per km, arguing that the old rate was already high, the prices of NGV/gasoline had not gone up substantially, and the service quality did not merit the hike.
Of the respondents, 35% say they agreed with the fare hike, reasoning that it could reduce the problem of taxi drivers refusing customers, while 2.5%t answered "do not know/are not sure".
The great majority who disagreed with the immobile rate hike argued that driving in a traffic jam was inevitable and should be considered a part of the service. However, 18% of respondents backed the raise, citing the same reasons, while 1% were unsure.
The poll also explored public opinions on the hike in the airport taxi surcharge from 50 to 70 baht for small vehicles and 90 baht for larger vehicles. Some 76% disagreed with the raise, saying airport taxis had already monopolised the service and passengers were not allowed to call taxis from outside the airport.
Around 22% agreed with the raise, saying it was reasonable and affordable for most airport users.
SOURCE: The Nation
Want more from the Thaiger family?
📱 Download our app on Android or iOS for instant updates on your mobile
📧 Subscribe to our daily email newsletter
👍 Like/Follow us on Facebook
🔔 Subscribe to or Join our YouTube channel for daily video updates
Monday Covid UPDATE: 1,630 new cases and 22 deaths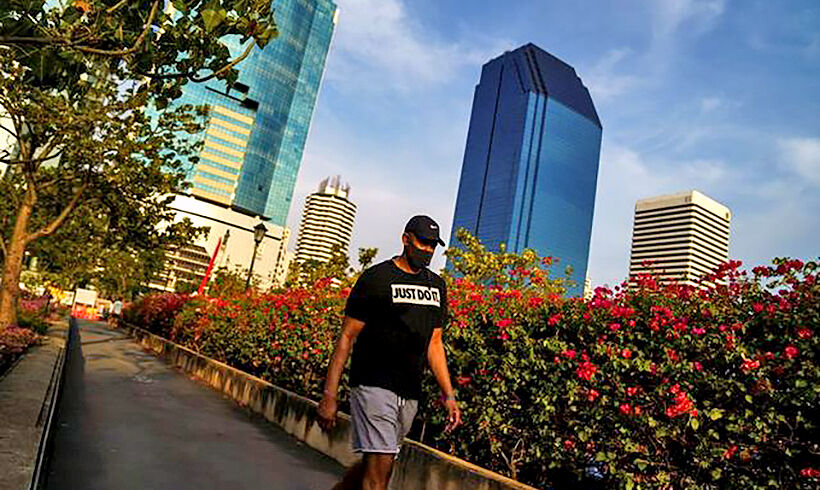 Monday's totals have been announced for Covid-19 infections and new deaths over the past 24 hours. The Thai public health ministry reports 22 deaths and 1,630 infections.
• The only 5 imported Covid-19 cases yesterday were from neighbouring countries, Cambodia, Malaysia and Myanmar. Authorities say that patrols will have to be stepped up at this time to control the illegal border crossings.
All 5 people caught were Thais who were were trying to cross back into Thailand without going through the border checkpoints. They've all been admitted to state hospitals.
• 100+ African gemstone traders have tested positive for Covid-19 over the last 4 days in Chanthaburi, east of Bangkok. Authorities have confirmed that none were detected with the African or Indian variants of Covid-19.
The 109 traders tested positive between May 6 – 9.
• 63 new cases of Covid-19 have been announced in Chon Buri today (including Pattaya), a drop from totals reported over the past week. There's also been 1 additional death reported. 1,507 people remain in medical care for the virus in the province.
• Meanwhile all public service and government offices, including Thai immigration, are closed for Monday. But it's not a public holiday. Today is the Royal Ploughing Ceremony which is a traditional ceremony to forecast the season's rice and wet season crops. His Majesty the King usually presides over the annual event at the royal parade grounds of Sanam Luang.
Want more from the Thaiger family?
📱 Download our app on Android or iOS for instant updates on your mobile
📧 Subscribe to our daily email newsletter
👍 Like/Follow us on Facebook
🔔 Subscribe to or Join our YouTube channel for daily video updates
9 student nurses experience side effects from Sinovac vaccine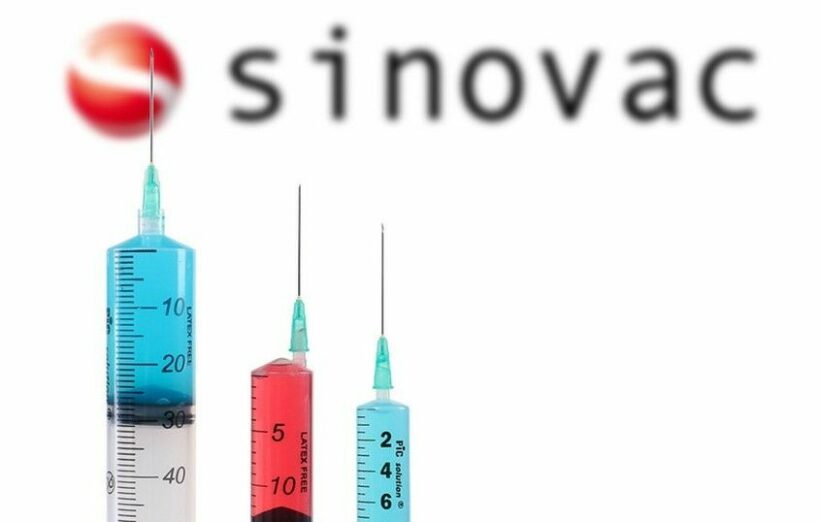 After receiving the Sinovac vaccine, 9 student nurses at Thammasat University have complained of side effect according to the Facebook page of the Student Organization of Thammasat University. After 88 student nurses received the Chinese-made vaccine on April 23 and May 5, 2 experienced minor side effects of a little pain in the arm they were vaccinated in, while 7 felt substantial reactions including chest pain, muscle pain, dizziness, fatigue, breathing problems, numbness, and facial tics.
One case of severe side effects was a female nursing student with an underlying allergy who felt fatigued immediately after receiving the jab. she felt better an hour later, but was placed under observation. 2 days later she briefly felt that her legs and hands were numb but soon felt better. Later that evening, symptoms strengthened, with eye and facial spasms, dizziness, fatigue, and weakness in her hands.
She visited a doctor twice for the side effects and the first time was given sleeping pills and vitamin B, but the second time after a blood test, doctors concluded that the symptoms were unrelated to the Sinovac vaccine. She had been previously prescribed Clonazepam, and that prescription was changed to Pyridostigmine.
The remaining more severe side effect sufferers were as follows:
One male nursing student found he had difficulty breathing and dizziness for 3 days after receiving his jab.
A female nursing student reported that just 30 minutes after receiving the injection she felt shortness of breath and the next day had some numbness in her body.
14 hours after receiving the jab, a female nursing student said that she felt side effects of fatigued and had trouble breathing and had to use pillows to help her breathing difficulties.
Another female student felt muscle pain and dizziness the next day after receiving the vaccine.
A female student ended up receiving Vitamin B and Amitriptyline from a doctor for her side effects. She reported to initially feel something in her arm and hand where she was injected, and then numbness in her left leg and in her fingertips on both hands.
For the 3 days following her inoculation, the last female nursing student had side effects of chest pains and shortness of breath.
SOURCE: Thai PBS World
Want more from the Thaiger family?
📱 Download our app on Android or iOS for instant updates on your mobile
📧 Subscribe to our daily email newsletter
👍 Like/Follow us on Facebook
🔔 Subscribe to or Join our YouTube channel for daily video updates
Sunday Covid UPDATE: 17 more deaths, 2,101 covid infections, provincial totals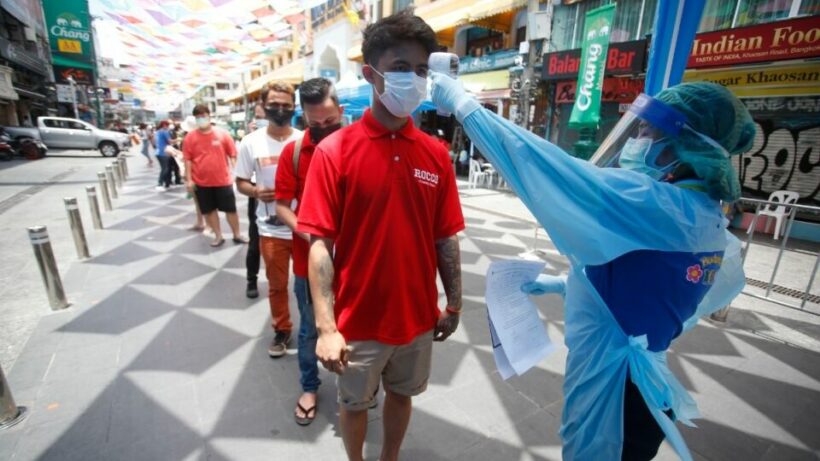 For Sunday, the numbers for new infections and Covid-related deaths from Bangkok and the Thai provinces over the past 24 hours were announced early this morning. There has been 17 deaths and 2,101 new cases announced by the CCSA.
Thailand has now reached 83,375 total cases since January 2020 and 399 deaths. Out of the 17 deaths, 8 were male and 9 female. One of them was a foreigner. The average age of the deaths was 68 years old.
Bangkok, again, is leading the way with new infections with 980 registered in the past 24 hours, mostly in 4 key clusters of low-income housing communities.
Here are all the provincial totals…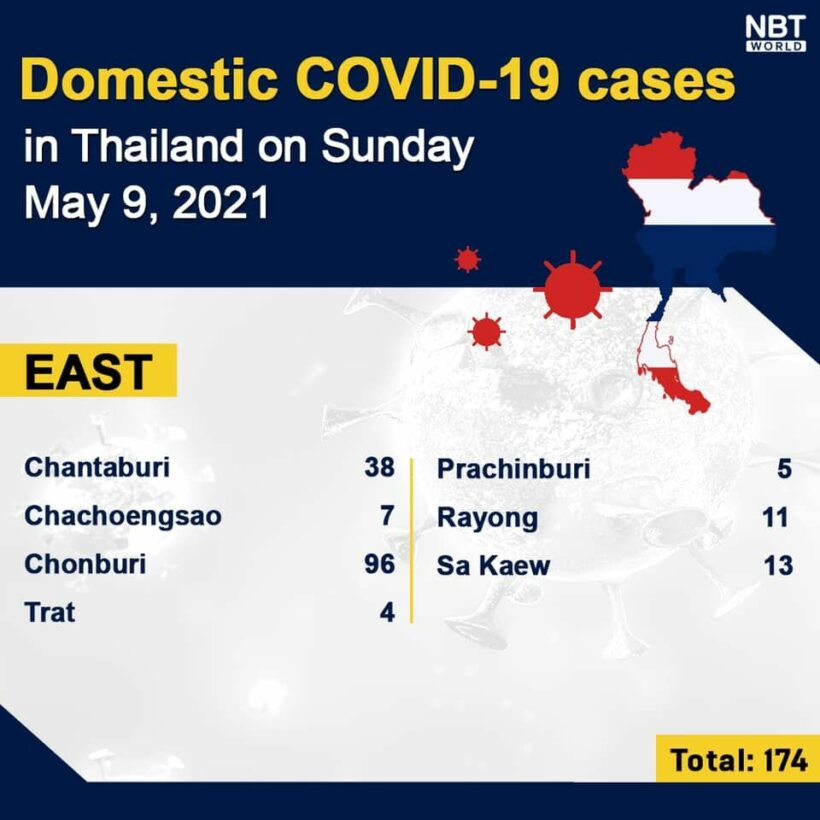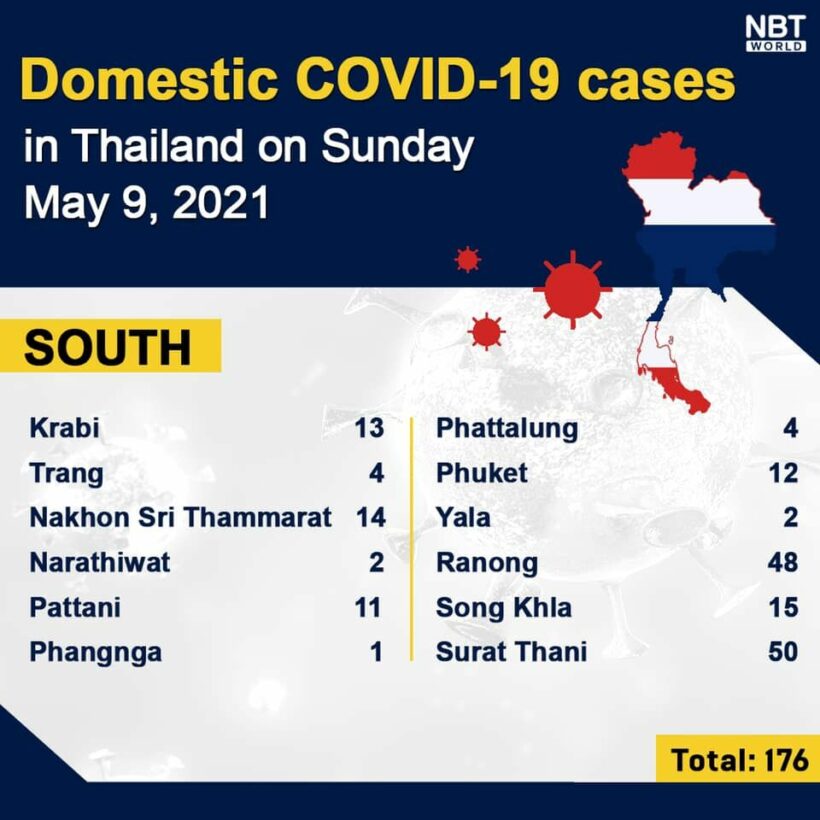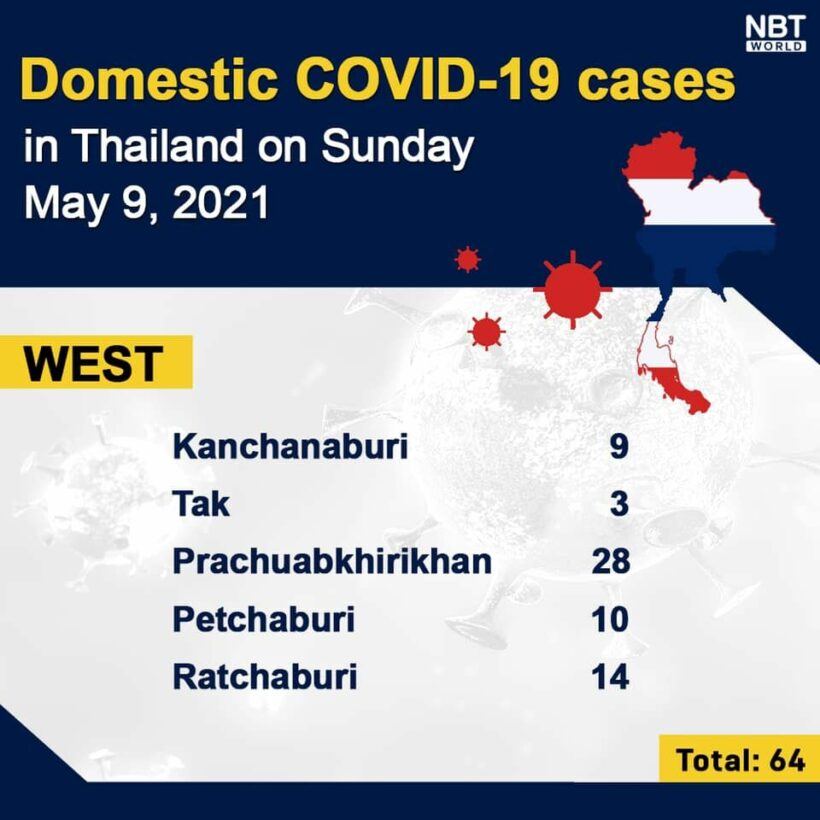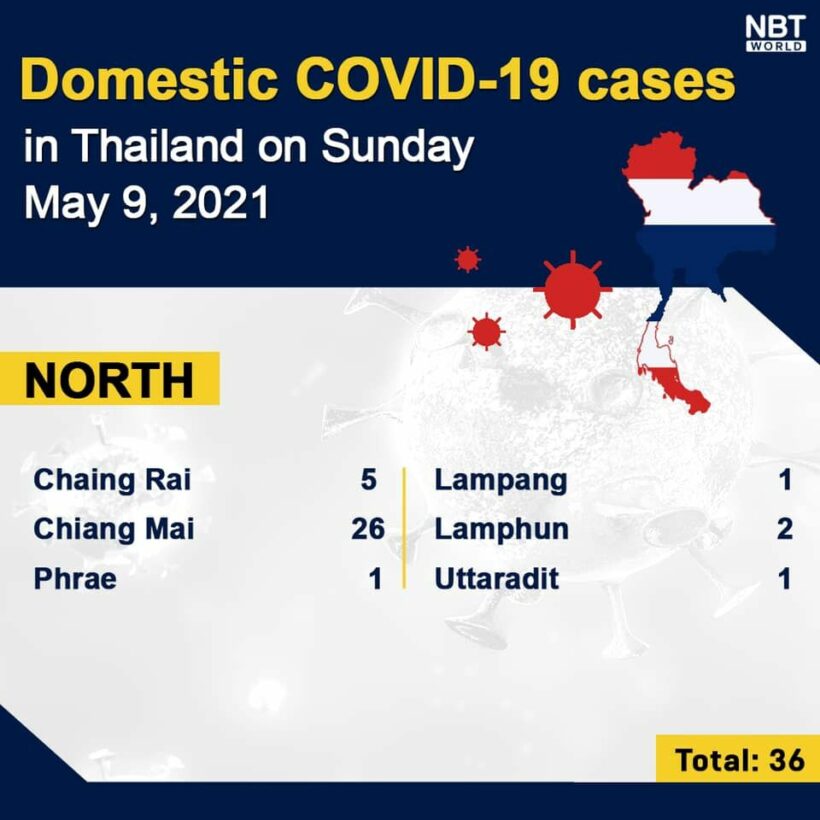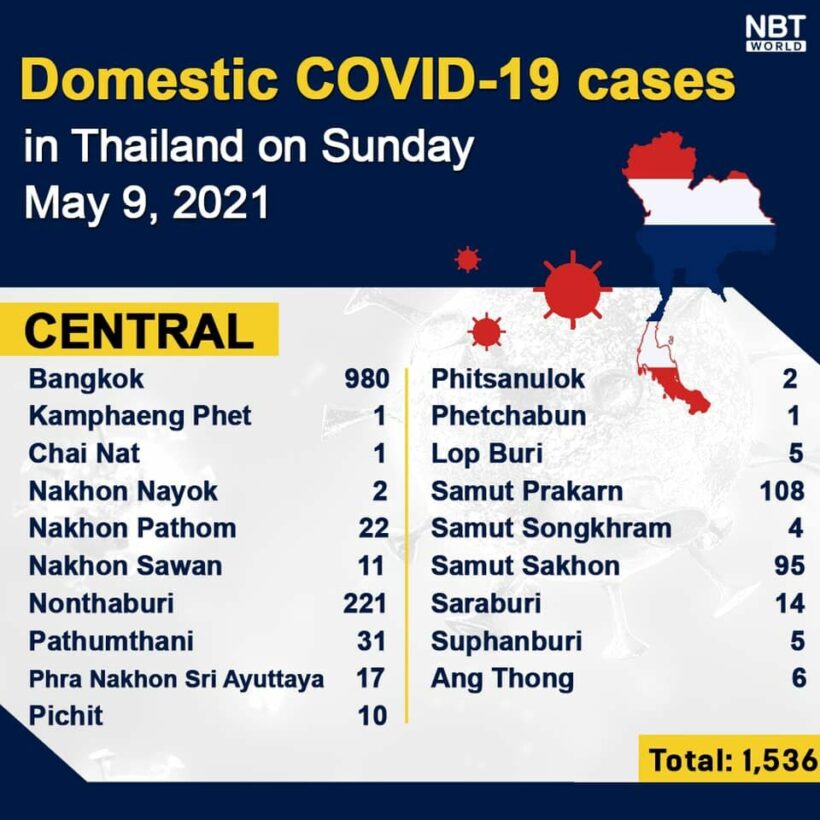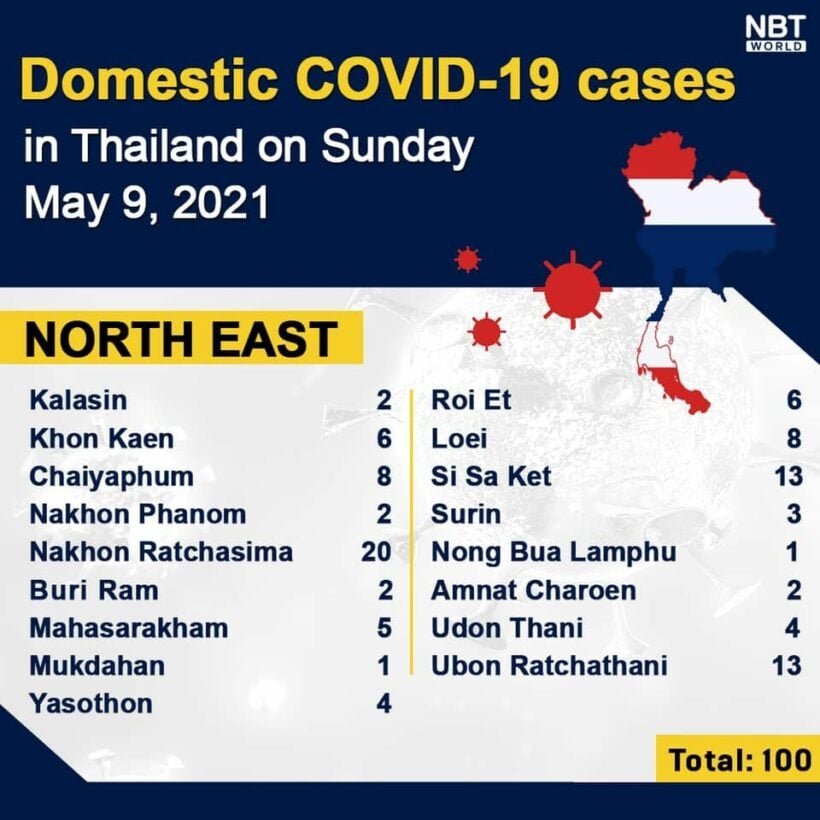 • Meanwhile, Thai restauranteurs are pleading with PM Prayut Chan-o-cha to ease the Covid-19 restrictions, especially the ban on dine-in services in dark red zone provinces.
• On the aviation front, the third wave of Covid-19 around the country is forecast to show a drop in air travel by 38% for this financial year, according to the Aeronautical Radio of Thailand.
They expect the air traffic in Thailand to remain subdued until at least September this year. Aerothai's executive VP for operations, said the number of local flights had been stable for the first half of April but it plummeted dramatically in the second half.
Want more from the Thaiger family?
📱 Download our app on Android or iOS for instant updates on your mobile
📧 Subscribe to our daily email newsletter
👍 Like/Follow us on Facebook
🔔 Subscribe to or Join our YouTube channel for daily video updates