Indonesian submarine confirmed in 3 pieces at 800m depth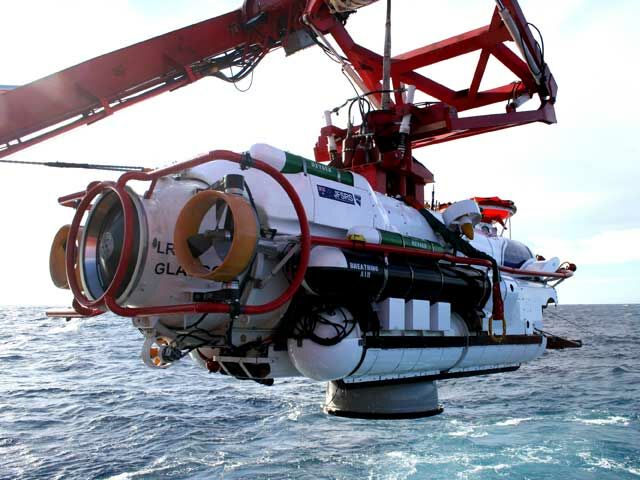 In a follow-up to our previous story this morning, Indonesian authorities have now stated officially that the missing submarine has been found and it is safe to assume all 53 crew members have died. Earlier in the day, debris from the submarine such as a bottle of lubricant and a torpedo protection device, as well as an oil slick, were located in what was believed to be where the ship went missing. Authorities now confirm the ship itself has been found deep in that location.
After search and rescue authorities received signals from more than 800 metres deep, a Singaporean underwater submarine rescue vehicle was dispatched to that treacherous depth. Visual confirmation was made, as all hope of finding the Indonesian submarine intact and with survivors were extinguished. The submarine was designed to operate in waters around 300 metres deep with a maximum depth of 500 metres.
The pressure at 800 metres would mean the sub likely would not remain intact, but would break apart, which explains the items found nearby. The navy reported finding fragments of the Indonesian submarine, as well as an anchor and a safety suit and other items from inside the sub.
The Navy Chief of staff later confirmed that parts of submarine KRI Nanggala 402 had been found broken into 3 pieces. People had gathered and prayed for the safe return of the Indonesian submarine and its crew, which disappeared during a live torpedo training exercise on Wednesday. Unfortunately, this story has no happy ending.
SOURCE: Bangkok News
Want more from the Thaiger family?
📱 Download our app on Android or iOS for instant updates on your mobile
📧 Subscribe to our daily email newsletter
👍 Like/Follow us on Facebook
🔔 Subscribe to or Join our YouTube channel for daily video updates
Covid-19 Indonesia: Indian variant, reused swabs, holiday travel ban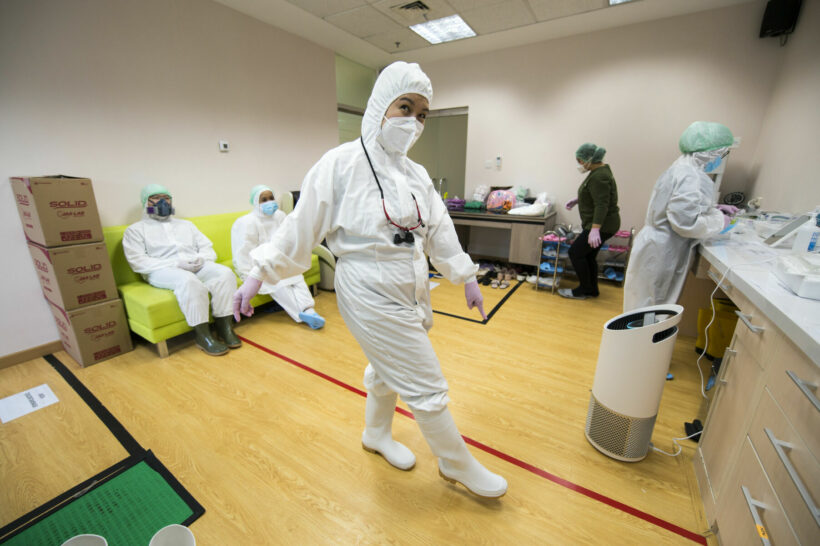 Indonesia is experiencing an average of 5,000 new Covid-19 cases each day over the past week, and the Indian variant has now arrived as well. The Health Ministry confirmed this week that 2 patients had been infected by what has been identified as the B.1.617 variant of the Coronavirus, commonly known as the more contagious Indian strain. Indonesia is often somewhat of a sleeping giant as Asia's third (and the world's fourth) most populous nation but trailing India and China by about 1 billion people each. The country has seen 1.7 million Coronavirus infections and 46,496 fatalities due to Covid-19.
A recent scandal broke at Indonesia's Medan Airport in North Sumatra as the employees at the state-owned Kimia Farma pharmaceutical company are accused of rinsing cotton swabs with alcohol and then repackaging them to be used for Covid-19 nasal swabs. Police suspect more than 9,000 people may have used these recycled swab kits which were sold to thousands of travellers.
The 5 employees have been fired for violating the health laws and consumer protection act, and the company may face civil lawsuits, especially if Covid-19 is spread through Indonesia because of the incident. Police are investigating if 1 employee built a new home using 1.8 billion Indonesian rupiahs (nearly 4 million baht) from the scam's profits. 2 lawyers who may have used the swabs are already gathering victims for a class-action lawsuit seeking 1 billion rupiahs (about 2.2 million baht) per passenger.
Meanwhile, Indonesia faces a similar situation that caused Covid-19 outbreaks in Cambodia, Thailand, and Sri Lanka when people travelled on holiday and family visits for New Year's holiday last month. Ramadan is coming to a close and millions of people traditionally travel to their hometowns to be with family for the Eid al-Fitr celebration. It is a Mudik holiday, which is one where people who have migrated away from their families return home to be together.
Indonesia banned all domestic travel between May 6 to May 17, but despite the Covid-19 spread, 7% of Indonesians, about 18 million people, said they were still planning on travelling for the holiday. The ban is more than just a cancellation of flights, train, buses, and ferries. It is a wide-sweeping edict that includes public and private journeys, so even motorcycles, personal cars, and private boats are forbidden to travel.
4,000 security personnel will be deployed to metropolitan Jakarta to enforce the restriction. 11,500 military personnel and 90,000 police officers are expected to be posted around the country, with about 155,000 people in total working to enforce the travel restriction.
The Indonesian government hopes that it can avoid further outbreaks for the country that already has the highest number of Covid-19 cases in Southeast Asia.
Read about the current Covid-19 situation in countries around South and Southeast Asia: Cambodia, India, Indonesia, The Maldives, Nepal, Sri Lanka and Thailand.
SOURCE: The Guardian and CNN
Want more from the Thaiger family?
📱 Download our app on Android or iOS for instant updates on your mobile
📧 Subscribe to our daily email newsletter
👍 Like/Follow us on Facebook
🔔 Subscribe to or Join our YouTube channel for daily video updates
All hopes dashed as Indonesian submarine found, 53 people presumed dead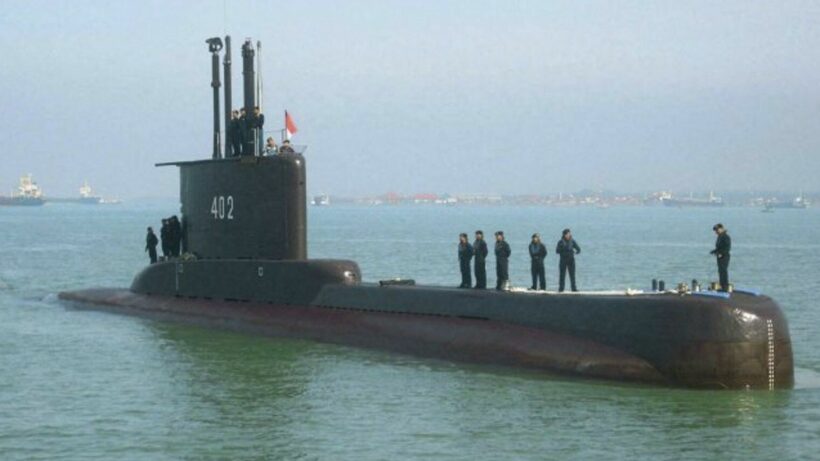 All hopes are being dashed as officials say they have found debris from a missing Indonesian submarine, signaling that there are no survivors. 53 people were on the German-made KRI Nanggala-402 submarine when it lost contact during a torpedo military exercise in the Bali Strait early last Wednesday morning.
Yesterday, searchers announced they had found oil and some debris in an area which led them to suspect it was from the missing submarine. The items located included a bottle of lubricant and a torpedo protection device. Indonesian Air Marshall Hadi Tjahjanto says the items "would normally not leave the submarine".
"The objects found near the last location of the submarine are believed to be parts of the submarine. These objects would have never got out of the submarine unless there was pressure."
A navy chief also confirmed the sad news by saying that search teams have moved from expecting to find a missing vessel to finding a sunken vessel. Yesterday, after officials reported zoning in on an area in which they believed the submarine was to be found, they also noted that it was the last day of oxygen supply on the submarine.
A scan detected the submarine to be at 850 metres deep, a depth that was well-beyond its survival limits as the vessel is designed to only withstand a depth of up to 500 metres. Officials say there was no explosion as it would have been heard by now along with evidence. Now, the sad news has shifted the search efforts to retrieving whatever debris and remains are left.
But some family members of the crew remain optimistic. Berda Asmara, the wife of the Second Sergeant Guntur Ari Prasetya, told Al Jazeera that she is still hopeful that her husband survived.
"Nothing is certain yet … The important thing is that we don't stop praying and hopefully everyone will come home safely and in good health."
It is not known whether anyone escaped the vessel before it dove below a safe depth, but authorities say it is unlikely. Although the cause of the sub's disappearance has not been determined, the navy says an electrical failure could have caused the submarine's emergency procedures to fail in helping it resurface. Indonesian navy's retired rear admiral Frans Wuwung, says he believes a blackout was likely.
"I hope my brothers will be found safe and well because they are professionals and they know what they are doing. But the ship can withstand a maximum depth of 300 metres, maybe 500. Any more than that and I don't dare comment. May God bless them. I am so sorry."
Frank Owen, of the Submarine Institute of Australia, told Al Jazeera that the submarine likely flooded as it is almost exclusively what causes a submarine to sink.
SOURCE: Al Jazeera
Want more from the Thaiger family?
📱 Download our app on Android or iOS for instant updates on your mobile
📧 Subscribe to our daily email newsletter
👍 Like/Follow us on Facebook
🔔 Subscribe to or Join our YouTube channel for daily video updates
Thailand and Bali race for Southeast Asia's 1st digital nomad visa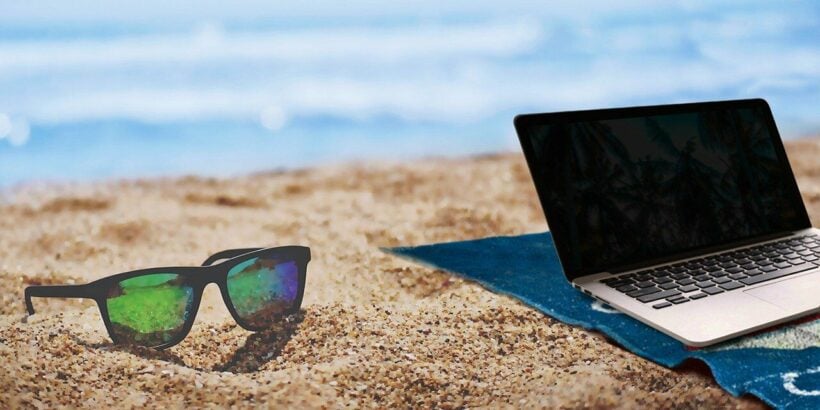 The popularity of the digital nomad lifestyle has been skyrocketing and with Covid-19 teaching many businesses that telecommuting works, it will only increase. Now, Thailand and Indonesia are in a slow-motion race to lure these lucrative travellers with the first digital nomad visa in Southeast Asia. Currently, many people work online from their beach houses and tropical Villas on Thai islands and in Bali – in fact, the islands are among the most popular destinations for digital nomads – except the vast majority are technically working illegally.
Notwithstanding the challenges of travel during the Covid-era, the digital nomad is the biggest workplace transformation in motion at the moment.
A digital nomad is someone that works remotely from anywhere in the world with an internet connection, untethered by a desk in an office and free to roam around the world. Freelancers often relocate from their expensive home country economies to countries that offer cheap subsistence, thus reaping the best of both worlds – their country's high salary and their host country's low cost of living.
It's been called the most lucrative and fastest-growing migrant worker trend of the digital era by Nikkei Asia. Unlike the past when travellers and backpackers could score local gigs in low paying jobs like farming or bartending, digital nomads earn strong salaries allowing them to live abroad nearly endlessly with more disposable income than the average backpacker.
Most digital nomads flock to Asia on visa waivers or tourist visas which generally do not allow any type of work. But last month Indonesian Tourist Minister Sandiaga Uno spoke kindly of a long-term Visa that allowed work, clearing a path for legalizing the digital nomad lifestyle.
The tourism minister came around to the idea when he himself became a digital nomad, taking holidays from his office in Jakarta to work from Bali and rejuvenate. But the current laws forbid foreigners from enjoying Bali in the same way. There are 57 foreign monitoring teams that are searching for digital nomads and busting them for violating Visa restrictions.
In Thailand, on the other hand, the Centre For Covid-19 Situation Administration approved a plan to give up to a 4 year visa to digital nomads and allow them to work legally. The scheme falls under the current Smart Visa program created to attract experts in science and tech fields as well as foreign money investors for things like real estate and startup companies.
The idea was to attract the best and the brightest in emerging fields and technologies to live and work in Thailand. But authorities have been stingy handing out the Smart Visas, with only 625 issued over the last 3 years. Still, the construct of the visa would be a perfect launching point to reimagine into an option for digital nomads, bursting the floodgates and allowing these desirable tourists to live and work legally in Thailand.
This alluring tourist demographic of a traveller who can afford to spend money in the local economy for long periods of time is drawing pandering attention from many countries. Barbados, Dubai, and Estonia have visa offerings to allow digital nomads to work there legally. But Asia has not caught on to the trend yet, with freelance online work generally being illegal. Until Thailand or Indonesia or both enact these plans they've been kicking around, digital nomad work doesn't qualify for a work visa and doing any form of labour without the proper visa is forbidden.
While both Thailand and Indonesia are slowly coming around to the idea and opportunity of welcoming digital nomads legally in their countries, no concrete policy or time frame have been announced or approved and either country. It remains to be seen who will win the race for Southeast Asia's first digital nomad Mecca.
Watch our video about the challenges of digital nomads HERE.
SOURCE: South China Morning Post
Want more from the Thaiger family?
📱 Download our app on Android or iOS for instant updates on your mobile
📧 Subscribe to our daily email newsletter
👍 Like/Follow us on Facebook
🔔 Subscribe to or Join our YouTube channel for daily video updates