80% of Pattayans support monorail project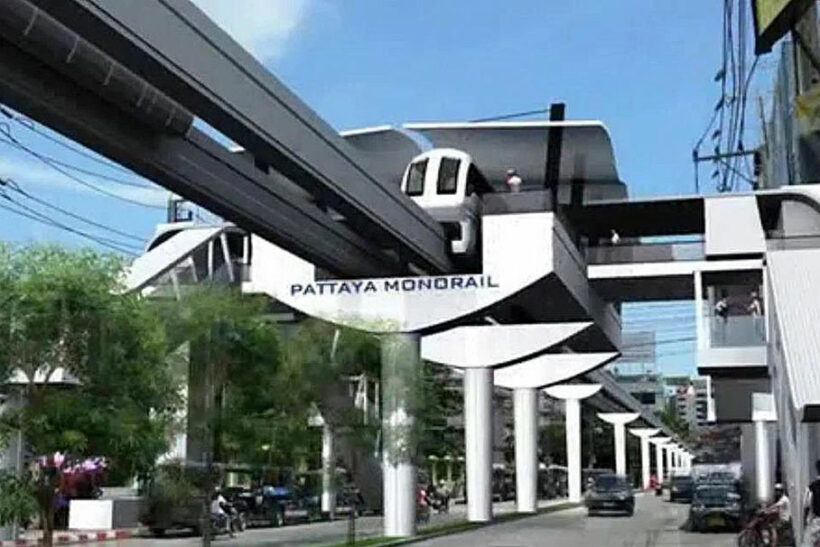 Authorities at a public hearing in Pattaya heard that 80% of local residents support plans to build a monorail to ease the resort town's appalling traffic and transport problems. The proposed monorail would meet the proposed High Speed train at the station to the east of Sukhumvit Road, then travel along the motorway and along Sukhumvit before heading toward the sea. It would be built along Sai 2 road and wind up at Bali Hai port.
There would be around 13 stations spaced 650-700 metres apart. Building would start in 2024. The latest hearing was the third of its kind and was intended to gauge public opinion and assess overall environmental impacts. A proponent of the monorail said 80% of Pattayans agree that the scheme is a good one and are in favour of proceeding.
City Hall deputy head Kiatsak Sriwongchai, who chaired the meeting, said that the massive growth of Pattaya as both a tourism and economic centre has brought dire traffic problems, highlighting the need for improved public transport and improved systems for private cars.
📱 Download our app on Android or iOS for instant updates on your mobile
📧 Subscribe to our daily email newsletter
👍 Like/Follow us on Facebook
🔔 Subscribe to or Join our YouTube channel for daily video updates
Owner of deadly pit bull threatens online commenters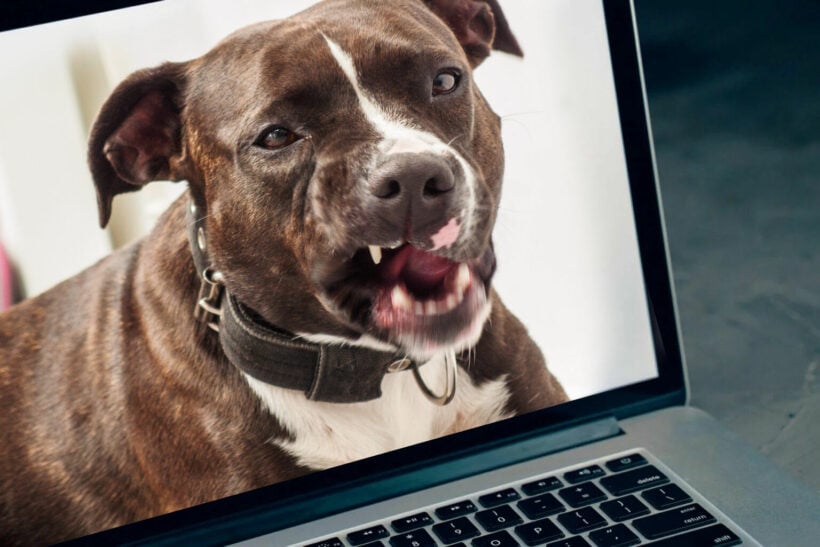 Things went from bad to worse to even worse in the story The Thaiger has been following of the man attacked by his pit bull outside Pattaya last week. After being rescued from the attack, the man died the next day from neck bites and loss of blood. Now his widow is lashing out at the wave of online attacks levied against the family and their treatment of the pit bull, threatening legal action using Thailand's strict computer crime and defamation laws.
After the story broke about the vicious pit bull attack, many people commented online, both with sympathy for the family's loss and with harsh criticism questioning if the dog's attack was a result of abuse or mistreatment. The story told to authorities and press was that the man and his dog Giant were sleeping at dawn when the pit bull woke and attacked suddenly, according to the man's son who witnessed the attack. It took 30 minutes to subdue the dog who later was still aggressive and had to be drugged and removed by the Chon Buri Pit Bull Club.
The man's funeral is ongoing now at Banglamung Temple for 5 days, after which he will be cremated in a ceremony on April 22. The family is in mourning, and his wife has made angry statements about online reaction with people making comments without knowledge and levying strong accusations about a man and dog she says was loved by the community.
"These people making false claims online – they were not at the incident, they have no inside knowledge. They did not know what happened. My husband loved the dog very much. He loved it more than me. Many people around my husband also loved him and Giant."
Thailand has very strong laws against libel, slander and defamation and posting online falls under the computer crimes act, carrying a punishment of up to 7 years in prison. If the widow does take legal action against people commenting online suggesting the pit bull was the victim of animal abuse or mistreatment without evidence of firsthand knowledge, the commenters could face a lengthy prison sentence.
Last year a hotel infamously prosecuted a reviewer on TripAdvisor on these same laws.
The Chon Buri Pit Bull Club took custody of the pit bull after the attack and has found a new home for Giant already in Nakhon Sawan in central Thailand. The pit bull will move to another province to an expert who works to train troubled animals, specifically pit bulls. The dog was examined by Chon Buri Pit Bull Club and was found to have no evidence of any physical abuse at all.
SOURCE: The Pattaya News
📱 Download our app on Android or iOS for instant updates on your mobile
📧 Subscribe to our daily email newsletter
👍 Like/Follow us on Facebook
🔔 Subscribe to or Join our YouTube channel for daily video updates
UPDATE: Owner attacked by pit bull dies of injuries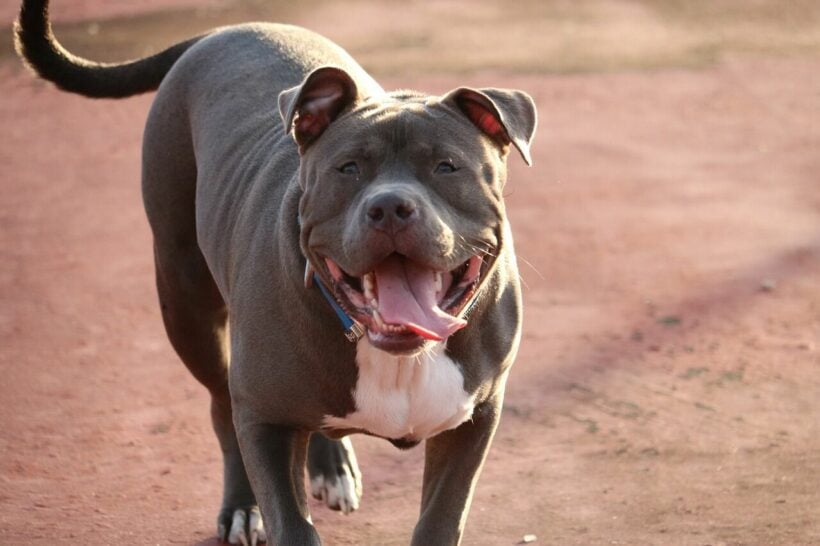 The owner, attacked by his pet pit bull in the Pattaya suburb of Bang Lamung yesterday, has died of the injuries sustained in the attack. The horrific incident which occurred in the early hours of yesterday morning had shocked the family, who had raised the now 2 year old dog Giant since he was only 3 months old.
Wisit Sanguan, the 56 year old victim had been sleeping with Giant when the pit bull suddenly woke and viciously attacked the sleeping man. Wisit was brought to the hospital with severe bleeding from bites on his neck and body, and today doctors at the local hospital in Pattaya pronounced him dead. The cause of death was listed as loss of blood due to severe wounds from the attack, his wife confirmed in a statement this morning.
The dog took over 30 minutes to subdue initially and remained aggressive after the event prompting the Chon Buri Pit Bull Club to put the dog to sleep with medication in order to chain him up and remove him from the premises. Giant remains in the custody of the club, who will cooperate with police officers to help determine the cause and any additional information regarding the deadly and shocking attack. No information has been released about the future of the attacking pit bull at this time.
SOURCE: The Pattaya News
📱 Download our app on Android or iOS for instant updates on your mobile
📧 Subscribe to our daily email newsletter
👍 Like/Follow us on Facebook
🔔 Subscribe to or Join our YouTube channel for daily video updates
Pattaya, Phuket and Hua Hin brace for increased restrictions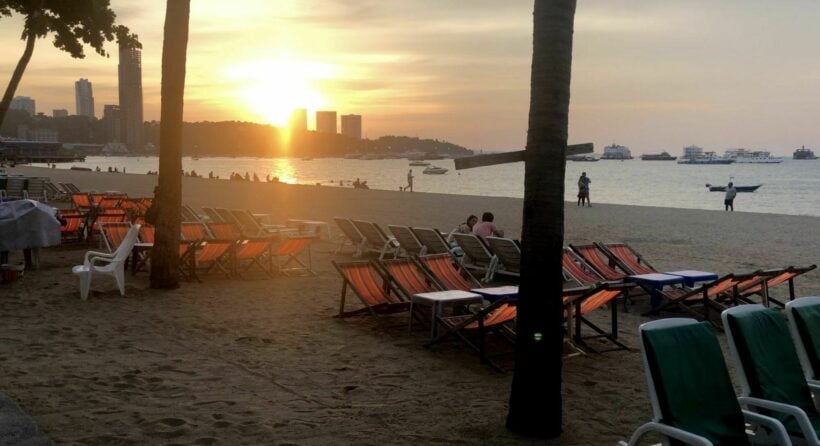 Three of Thailand's biggest expat areas are seeing sharp rises in new infections, partly from pre-Songkran traffic. The Songkran holidays, now officially over (but will see many people taking today off and making a weekend Songkran extension), and the government says they are expecting to see a rise in the cases numbers reported in the popular holiday locations.
Chon Buri Public Health office says they now have a total of 910 infections since April 1. They have 103 new cases in the past 24 hours. Most new cases are in Bang Lamung district which includes Pattaya City with 47, Siracha with 12) & Chon buri City with 8.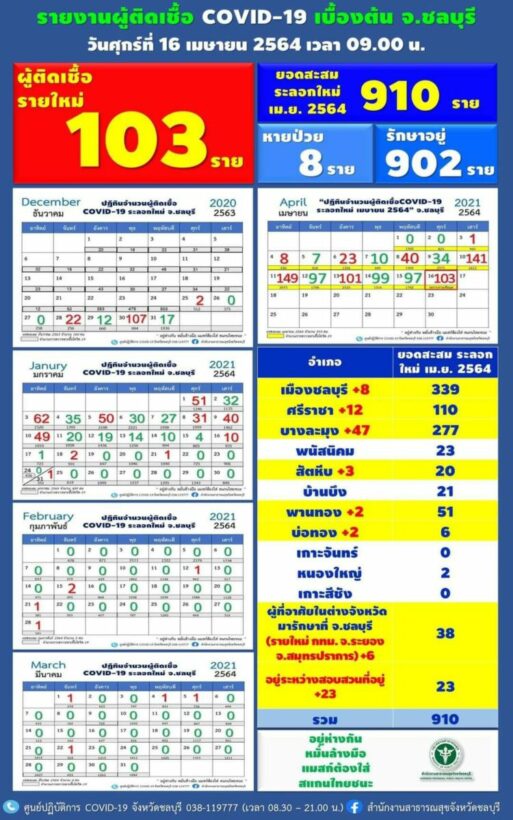 Meanwhile Phuket has a total of 142 infections recorded on the island with the Governor still insisting there will be no need for a lockdown. Here's a breakdown of the areas and the numbers of recorded infections so far (below).
Governor Narong announced that the Phuket Infectious Disease Control Committee won't be implementing an official lockdown, but will "strictly raise the intensity of public health measures to counter the spread of Covid-19″.
"Everyone should wear a face mask, maintain social distancing, wash their hands frequently and install the Mor Chana app (available for free from App Store and Google Play Store)."
A meeting of the CCSA, chaired by PM Prayut Chan-o-cha is expected to upgrade restrictions in red zone areas around the country, which includes Phuket and Pattaya. Read more about the latest red and orange zones HERE.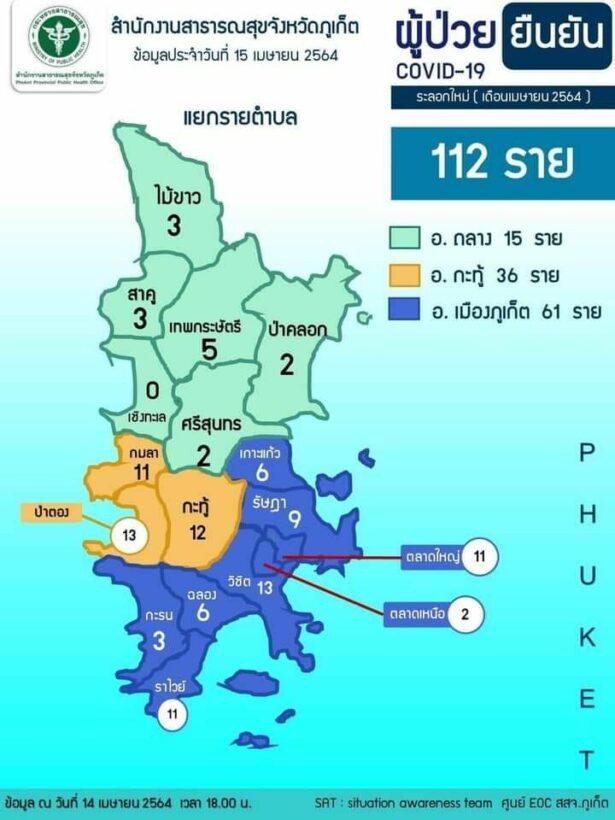 For Hua Hin expats, there's been 100 new Covid-19 infections announced in Prachuap Khiri Khan in the past 24 hours, 75 cases from Hua Hin. This takes the total in the province since April 1 to 625. Hua Hin accounts for nearly 90% of the district's total cases.
📱 Download our app on Android or iOS for instant updates on your mobile
📧 Subscribe to our daily email newsletter
👍 Like/Follow us on Facebook
🔔 Subscribe to or Join our YouTube channel for daily video updates