Vaccinated foreign tourists may be offered free flights to boost inter-provincial travel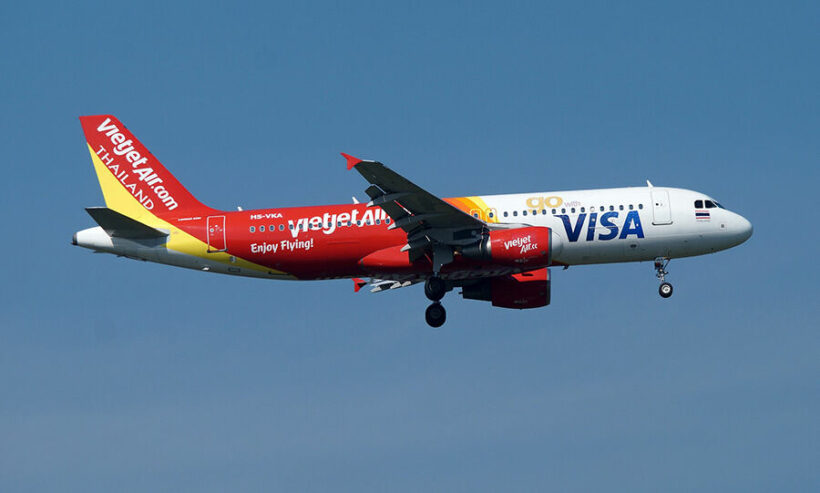 The Tourism and Sports Minister, Phiphat Ratchakitprakarn, says vaccinated foreign tourists may be offered free domestic flights during their holiday in order to boost inter-provincial travel. The proposal comes after the Civil Aviation Authority of Thailand called for 40,000 vaccine doses to protect airline employees.
"From July 1, inoculated tourists exempt from quarantine might be tempted to extend their stay here after spending 10 days in Phuket if we can provide them free or discounted air tickets to other provinces."
The Bangkok Post reports that Phiphat's ministry has been in talks with Bangkok Airways, owner of Samui airport, about how the proposal might benefit tourism in the area. Officials expect Phuket's "sandbox" model, which begins July 1, to bring around 100,000 foreigners to the southern island during its first 3 months. Phiphat says that, as the island's re-opening falls in the middle of the region's monsoon season, the offer of free domestic flights may appeal to tourists once they've completed their Phuket stay.
Santisuk Klongchaiya from Thai AirAsia says the carrier could offer discounted fares on domestic flights if tourists participating in the sandbox model are willing to travel.
"We may offer free or discounted tickets, but we have to ensure tourists are confident to travel."
Meanwhile, Woranate Laprabang from Thai Vietjet says the carrier has signed up to the International Air Transport Association travel pass project, which it expects to pilot on semi-commercial flights between Ho Chi Minh City and Bangkok in June.
Phiphat is also calling on hotels to introduce special packages for tourists who stay longer than 10 days in the Kingdom, adding that if the pairing with Samui works well for nearby communities such as Koh Tao and Koh Phangan, it could be extended to places like Pattaya, using U-tapao airport, and Chiang Mai.
The minister is ambitious with his figures, saying Thailand aims to welcome a further 6.4 million tourists in the last quarter of the year, once the sandbox model is extended to Krabi, Samui, Pattaya, Phang Nga and Chiang Mai. However, he says Bangkok must also be included.
"The six tourism provinces in the planned sandbox plus Bangkok generate 80% of tourism revenue. Bangkok should be the next destination added, with a goal to administer 20 million doses by September to ensure a safe re-opening for both tourists and local communities."
SOURCE: Bangkok Post
Keep in contact with Thaiger by following our Facebook page.
Never miss out on future posts by following Thaiger.
Investigations of Covid-19 infected elite rule-breakers demanded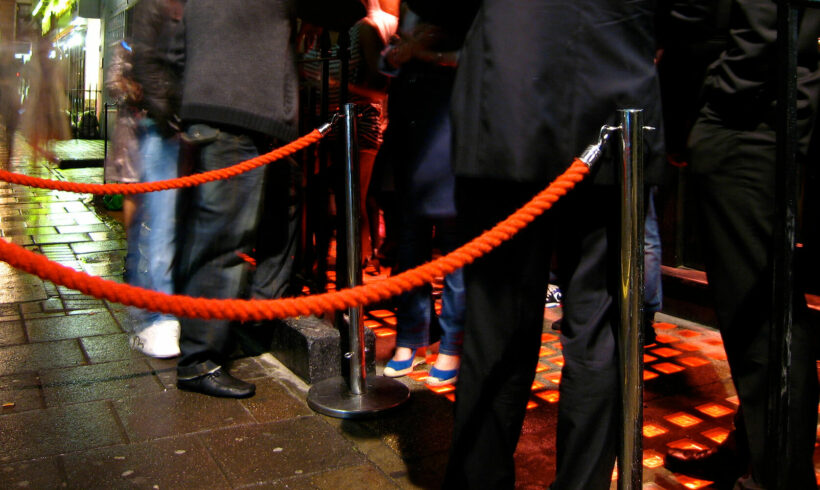 Investigations are being demanded by a corruption watchdog into Thai politicians infected with Covid-19 after allegedly attending venues in the Thong Lor entertainment venues in Bangkok that have now emerged as the ground zero for the Coronavirus third wave in the Kingdom.
The Anti-Corruption Organisation of Thailand are being asked to investigate the latest Covid-19 outbreak, noting in a Facebook post that the second wave was also linked to illegal activities, spreading through illegal migrants and other visiting gambling dens. This third wave is also angering those who see the wealthy elite and powerful politicians frequenting high-end bars and not following Covid-19 safety protocols.
Mana Nimitmongkol, secretary-general of ACT argues that the ministers visiting these clubs did not behave "ethically", and it's part of a larger problem. He is pushing for legal action against not only club owners, but against police, public health officials, and even the Bangkok Metropolitan Administration for failing to enforce laws to protect against Covid-19.
Investigations into whether the code of ethics had been violated were requested to be carried out by the National Anti-Corruption Commission, the Ombudsman and the committee on ethical standards.
As entertainment venues have been ordered closed for at least 2 weeks, Mana proposes that along with restrictions, a hotline to report rule-breakers should be set up, and all people should be held to the same standard without exception.
The president of the Rural Doctors Society agreed, saying that especially important is the need for Covid-19 infected public officials to disclose their personal timelines to reassure the public and assist in contract tracing. It is feared that little or no action will be taken to investigate and punish powerful rulebreakers.
One controversial infection was that of Transport Minister Saksayam Chidchob, rumoured to be infected from Thong Lor nightclubs, but later shown to be in another province at the time. The entertainment venue outbreak was not completely innocent though, as details emerged that the minister's infection was in fact passed to him via an aide who had frequented clubs in Thong Lor.
Chuvit Kamolvisit, a former massage parlour owner turned activist, has been outspoken on the issue, calling for investigations into high-society VIP clubs like Krystal Club and Emerald Club, who allegedly flaunted restrictions and ended up with dozens of Covid-19 infected staff members.
The Metropolitan Police Bureau chief had said that legal action was pending against these clubs for the virus spreading.
SOURCE: Bangkok Post
Keep in contact with Thaiger by following our Facebook page.
Never miss out on future posts by following Thaiger.
Thailand Covid UPDATE: 967 new infections announced Sunday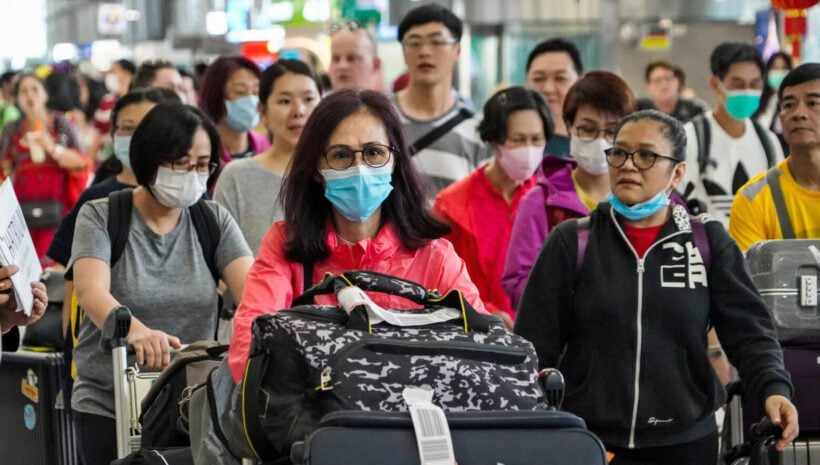 Thailand's CCSA have announced 967 new Covid-19 infections today during their daily briefings. The number is another day of gradual increases that has grown. Thailand's national total has now reached 32,625 total infections, of which 28,214 people have fully recovered. 4,314 people are currently under hospital supervision in Thailand following positive Covid tests.
9 new cases were revealed in Phuket today, but aren't included in today's national tally.
The CCSA also reported that 485,957 people have now received their first vaccine – 69,439 are now fully vaccinated. The daily average of new people being vaccinated over the past month has grown from around 10,000 people each day to 15,556 yesterday.
Around the world, both the daily infection rates and death rates from Covid-19 are increasing again after dipping at the start of 2021.
All the latest news from Thailand related to Covid-19 HERE.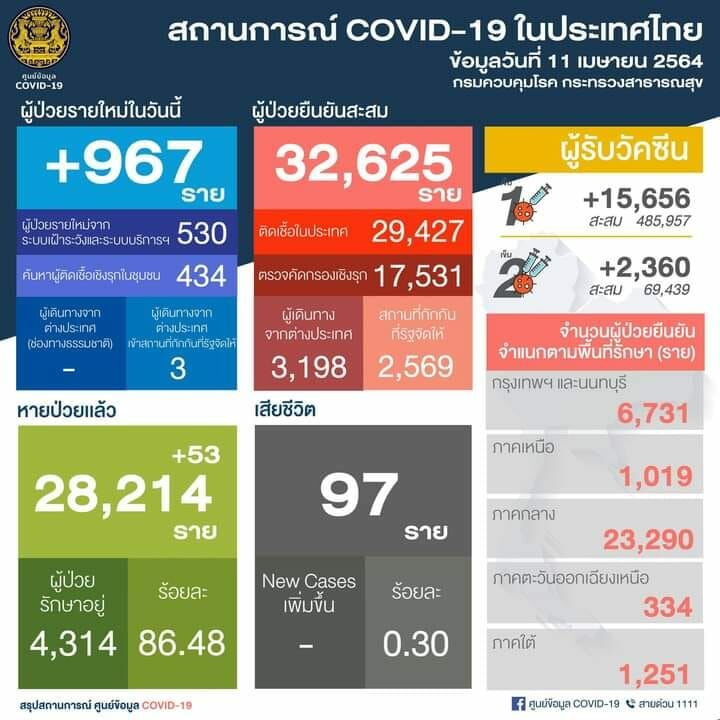 Total cases for Thailand from Worldometers.info…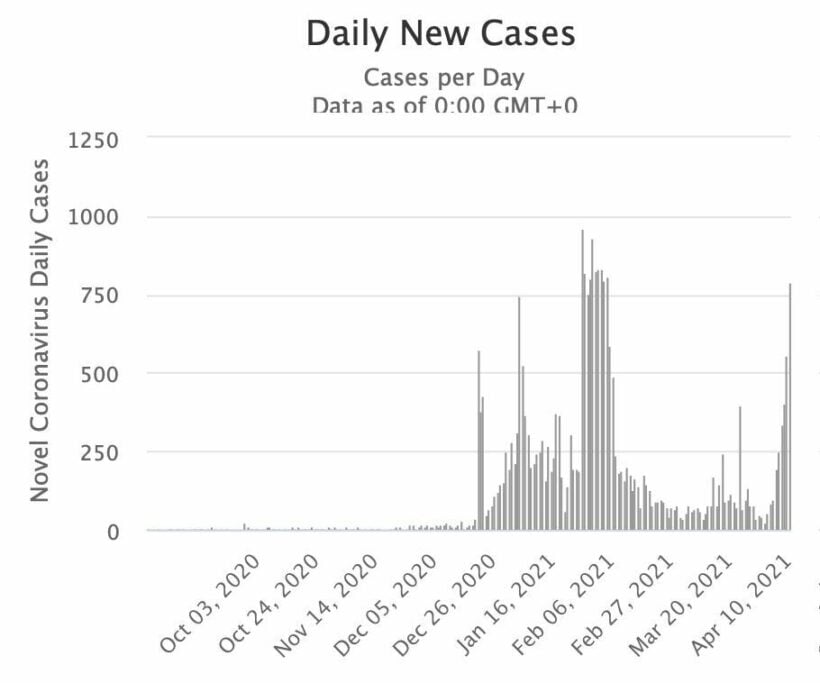 World totals as of Sunday, April 11 from Worldometers.info…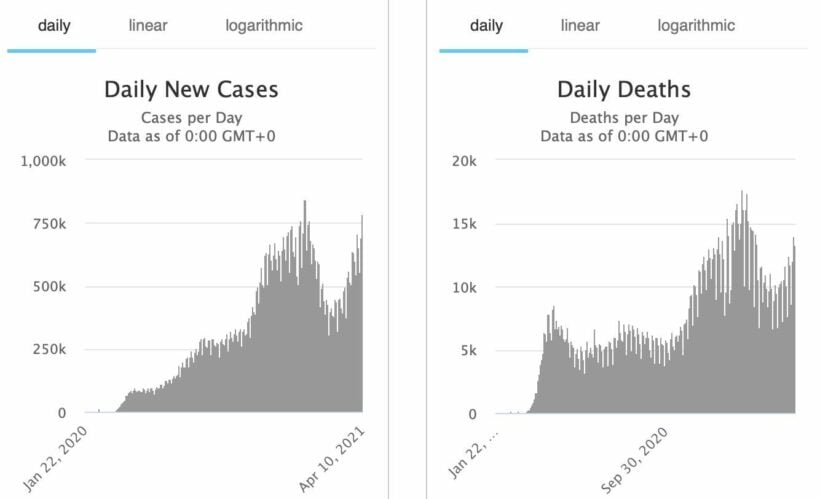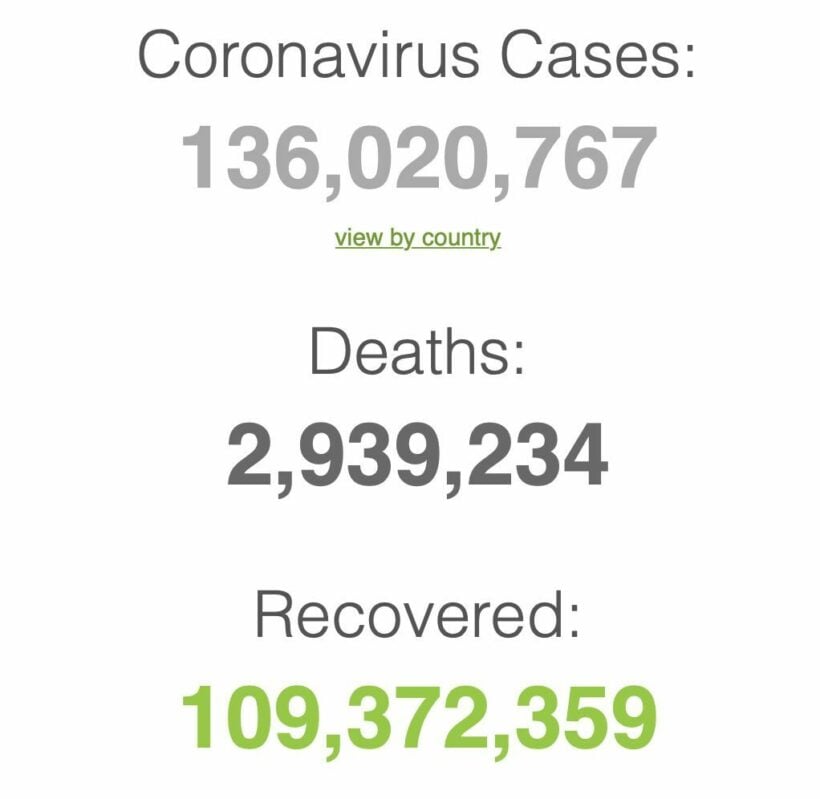 Keep in contact with Thaiger by following our Facebook page.
Never miss out on future posts by following Thaiger.
Pattaya police warn restaurants not to act like bars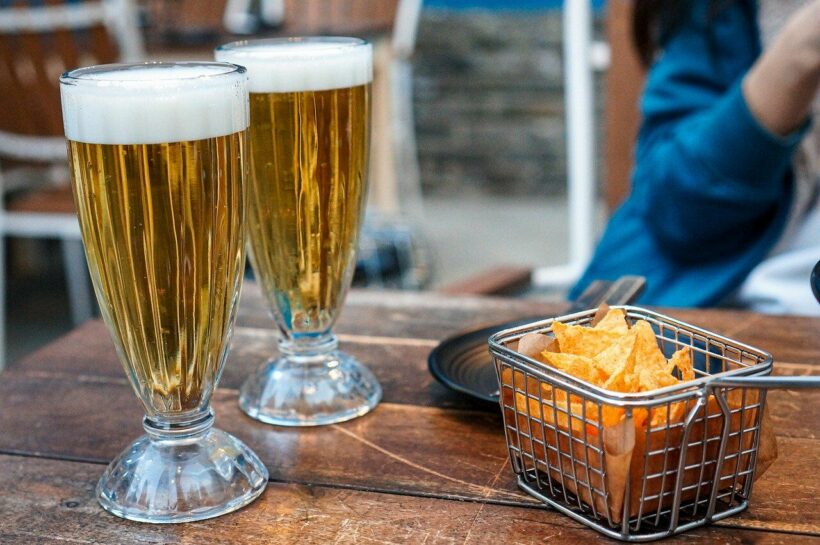 Following the closure of entertainment venues in 41 provinces for 2 weeks, Pattaya police warn that bars acting as restaurants and restaurants acting as bars would be punished. In Pattaya, police patrolled heavily to check in on venues and remind them of the penalties and fines for breaking shut-down rules. The current outbreak of Covid-19 throughout Thailand has been disproportionately spread by nightclubs and bars, including many pubs in Chon Buri and Bangkok. While the Centre for Covid-19 Situation Administration has called for a 2-week closure, the Chon Buri edict is open-dated, expected to be in effect until conditions improve. One warning Pattaya police stressed was that, while restaurants are allowed to stay open and sell alcohol, abusing that exception will be punished.
In previous entertainment venue shutdowns during the pandemic, many businesses took advantage of the restaurant loophole. As there's no exact wording in the law saying people have to order food and not only drinks, many restaurants served drinks and allowed dancing and socializing without any social distancing. Some bars were even seen hastily adding a quick food menu of easy snacks in an attempt to skirt the rules and operate as a restaurant serving alcohol. But this time Pattaya police warn that restaurants using these sneaky tricks won't be tolerated. Even businesses with multi licenses will need to take measures to make it clear they are not operating more like a bar as police will have the discretion to make judgement calls on venues.
The 2-week closure of entertainment venues went into effect yesterday and banquet halls, movie theatres, saunas and soapies are all closed. Restaurants are allowed to stay open, but with a 10 pm curfew on dine-in services. Takeaway food is allowed after 10 pm until 5 in the morning. Officials hope this shutdown on Covid-19 spreading entertainment venues will slow the outbreak enough to avoid the dreaded full lockdowns, travel restrictions, and domestic quarantines.
SOURCE: The Pattaya News
Keep in contact with Thaiger by following our Facebook page.
Never miss out on future posts by following Thaiger.