Phuket Sky Way cable car will provide tourists with a new view of the island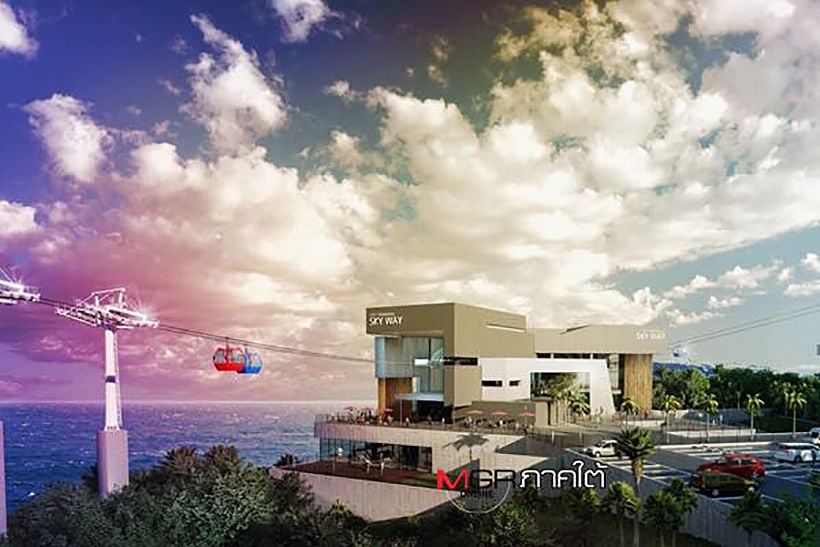 PHOTOS: Phuket People's Voice
The committee of economy development, bringing together both government and private sectors, has agreed to allow a cable car project on Phuket as the island's new landmark. It has been revealed that the cable car design is finished and the Environmental Impact Assessment will be commissioned soon. At the moment the working title for the project is The Phuket Sky Way.
The committee chaired by Phuket Vice Governor Wongsakorn Wongchukhan says that the cable car will be able to be constructed and operated as a new attraction in Phuket but it will "need to be legal in every respect".
JH Thailand Cable Car, the owners of the project, proposed the attraction to the committee to get government support.
JH Thailand Cable Car announced to the meeting that the cable car design is done and they will do the EIA soon. The group hasn't unveiled the location of the new attraction but they guaranteed that the view will be spectacular along the way. (The artists impressions provide a few clues).
The committee said that they support the project and can see that a cable car attraction will be another project to evolve tourism and the economy in Phuket.
"Phuket needs to have a man-made attraction to attract more tourist apart from the natural attractions such as beaches and islands."
They explained that the neighbouring countries also have cable car rides in some key tourist areas and they don't think the project will affect the environment.
In Phu Quoc, a Vietnamese island off the coast of Cambodia in the Gulf of Thailand, the investment into a spectacular cable car (the longest in the world) kick started the almost unknown island's tourism industry. Read about the highly successful Phu Quoc Cable Car HERE.
But the committee is stressing that the investor must follow strict guidelines "and listen to departments involved as well as people on the island".
The President of JH Thailand Cable Car, Achawin Seetabut, said after the meeting that the reason he decided to invest in Phuket is because Phuket is a "famous and charming island city". From his travel experience, he saw cable car projects in many countries which are popular among tourists and the market keeps growing, such as in Hong Kong, but Thailand still doesn't have a cable car.
"We are sure that cable car will be popular among tourists with the beautiful view of Phuket. The cable car will become the new landmark of Phuket too."
He said that after seeing that the committee agreed on the project, the company will continue with its EIA and public hearings. The location and route have been planned but there are still some processes to finalise the location. He also revealed that the highest point of this cable car should be about 82 metres and that it is a total of 3 kilometres long. Along the 3 kilometre route, people will be able to observe views across the island. There will be three stations along the way.
"The car and management is taken care by a French company, who are expert in cable cars to guarantee 100% safety."
SOURCE: Phuket People's Voice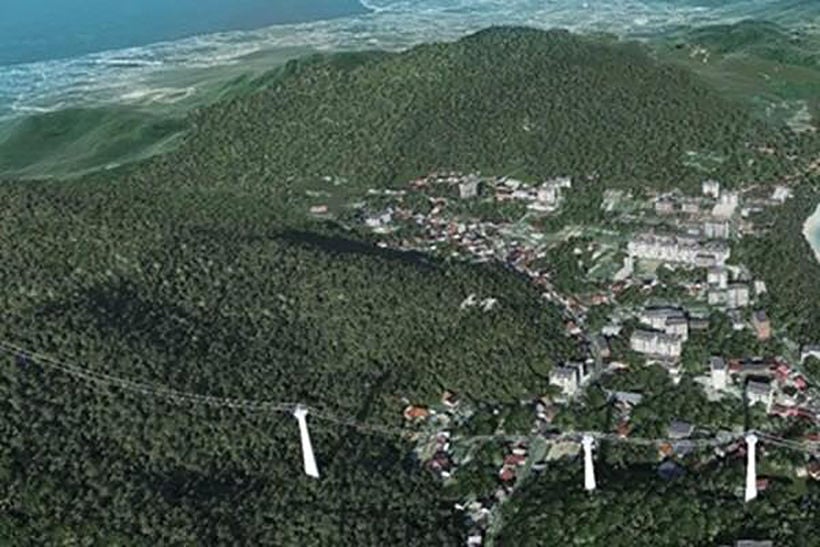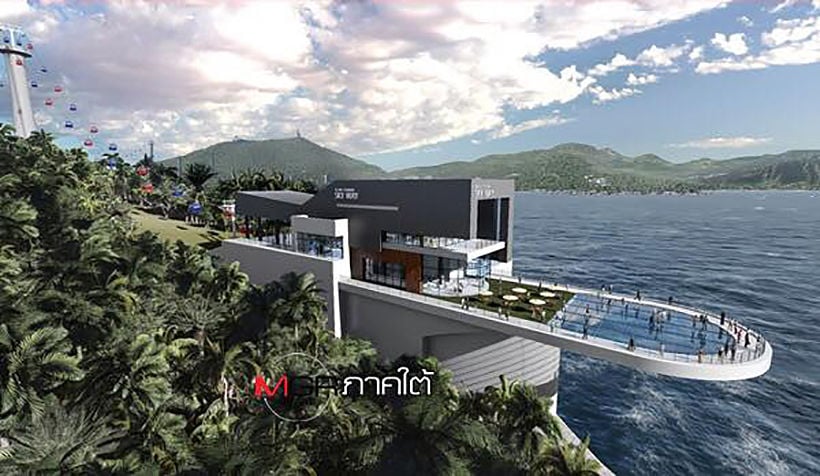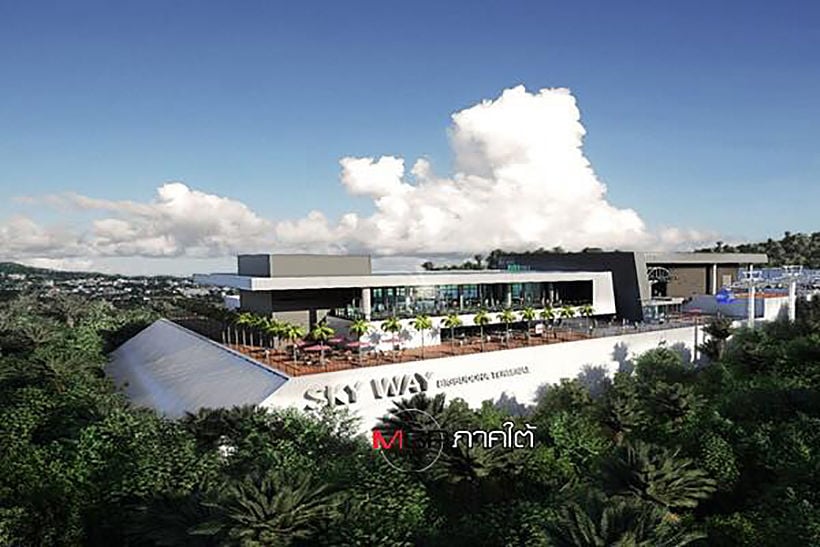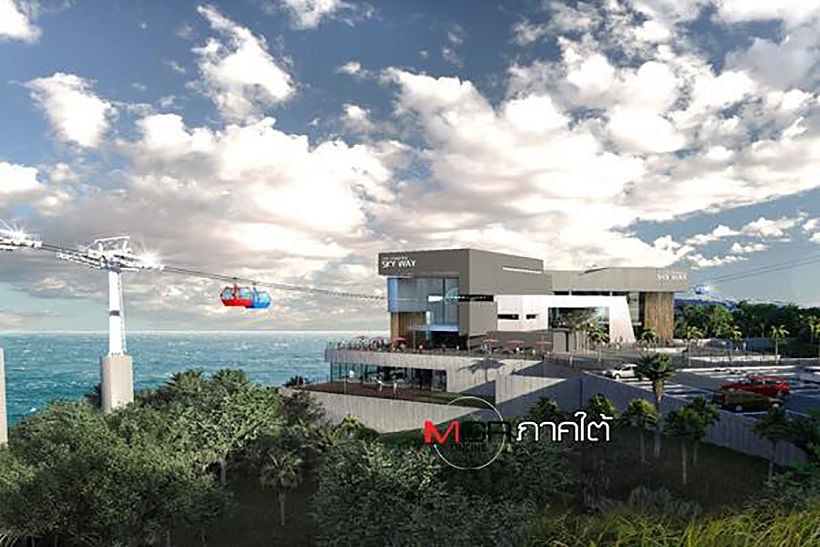 Keep in contact with The Thaiger by following our
Facebook page
.


Do you need help with your business? Are you searching for a new job? Or an employer looking to hire? Try JobCute today.

Read more headlines, reports & breaking news in Phuket. Or catch up on your Thailand news.

10 proven tips to sell your property quickly in Thailand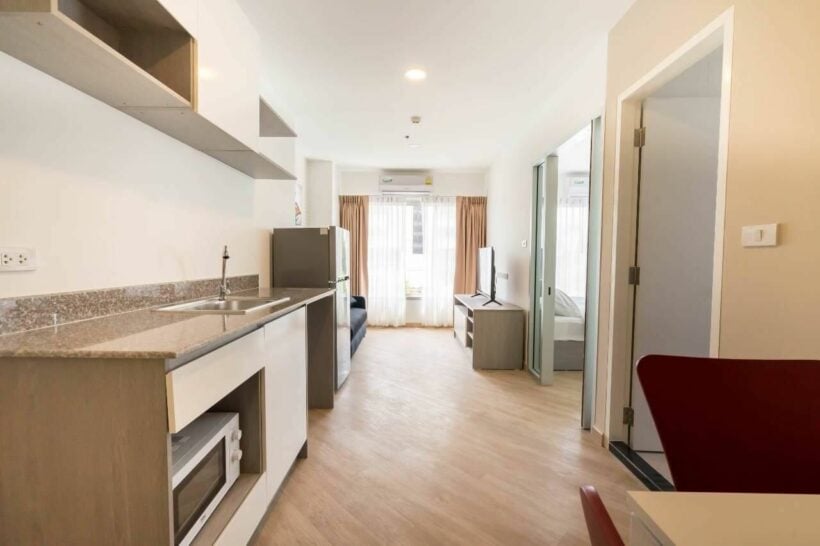 Selling property can be a headache, especially when you sell in an unfamiliar market like Thailand. However, it doesn't have to be like that. There are several fool-proof ways we have gathered from experienced agents at Fazwaz Property Group in Thailand to help you increase your viewings and sell your property faster.
1. Have the right attitude
Thailand is a buyer's market, not a seller's market. There's more supply than demand and buyers have plenty of choices when it comes to buying property. Consequently, properties that are overpriced are very hard to sell, said Bangkok-based property consultant Praveen PalSingh.
2. Be a detective and offer the right price
This is the most important point. Search around the property and see what prices per square meter other villas or condos in the building, or in that area, are selling for, said Bangkok property consultant, Anjana Arora.
You can look at online listings or use tools like interactive maps featured at Fazwaz.com to find the average price per sq m in your building or in your area.
"Make a property comparison on Fazwaz by circling other properties in the area to see what they are priced for and if your property is priced according to the market and location," added Hua Hin sales director Stephen Van der Merwe. For example, this is an interactive map showing condominiums in Asoke area, Bangkok where Fazwaz's head office is located.
3. List your property online
Sakunee Meethong from Hua Hin said it is a good idea to list your property on online property websites. These websites have a wider reach and provide more exposure than hanging a 'For Sale' sign in front of your house.
4. Use high-quality photos
Attractive photos attract clients. Ask yourself if you have updated and high-quality photos for your property, said Hua Hin sales director Stephen Van der Merwe. "If the property looks good online, it will attract more attention."
5. Make your offer stand out
The best way to sell a property fast is to set the price below the market price or "make the unit stand out from other similar units for sale," said Praveen PalSingh. This includes nicer views and better furniture and appliances, he said.
6. Highlight location
Don't forget to highlight the location and nearby amenities, advised Chayanin Chumphukham, who specializes in the Chiang Mai market. Nearby schools, universities, parks, restaurants, hospitals, shopping malls, 7-elevens, highways, as well as famous attractions are something you should add to the description.
7. Be flexible with viewing hours
Chayanin recommends sellers to offer flexible viewing hours, which can increase viewings and the chance of selling your property. It's a good idea to say yes to every showing request.
8. Work with experienced agents
You can sell your house faster if you work with more experienced agents. Luke Murray, a property consultant, encourages sellers to work with a real estate agent or company that knows how to market and target the right buyers. "Advice for homeowners would be to find an active agent that you trust and can work closely with. Choosing agents that work with larger companies often gives the unit more exposure," he added.
"Speak to your Fazwaz agent about exclusive listings – we offer excellent exposure to all of our exclusive listings. This strategy has proven to be effective at increasing viewings," added Hua Hin sales director Stephen Van der Merwe.
9. Reduce the price
Ultimately, the key factor to selling fast is the price. In markets that are very price sensitive, only projects that are popular and are in good locations still hold their prices. The rest needs to be competitively priced, said Pattaya Sales Director John Lees-Whitehead.
"We recommend that the owner reduces the asking price, this will automatically rank higher on our website and all of our marketing channels."
10. Be patient and honest
The Thai property market can be different from the market in your country and there is no magic trick, said Bangkok-based consultant Maxime Lienard. It is not unusual for property in Thailand to remain unsold for a year, depending on the market conditions. We don't have any control over the market, but you can control your property; he recommended sellers to be honest with their information, post flattering photos, fix any issues before potential clients point them out, and make the property ready to buy as soon as possible.
These are 10 tips real estate experts around Thailand want to tell you, so you can attract more potential buyers and sell your property in a short space of time when you list your property for sale.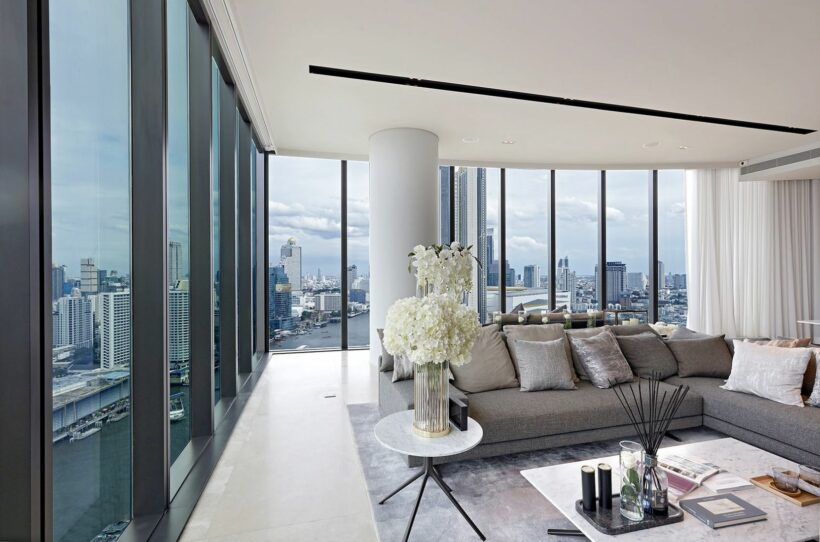 Keep in contact with The Thaiger by following our
Facebook page
.
Forecasts for Bangkok property 2020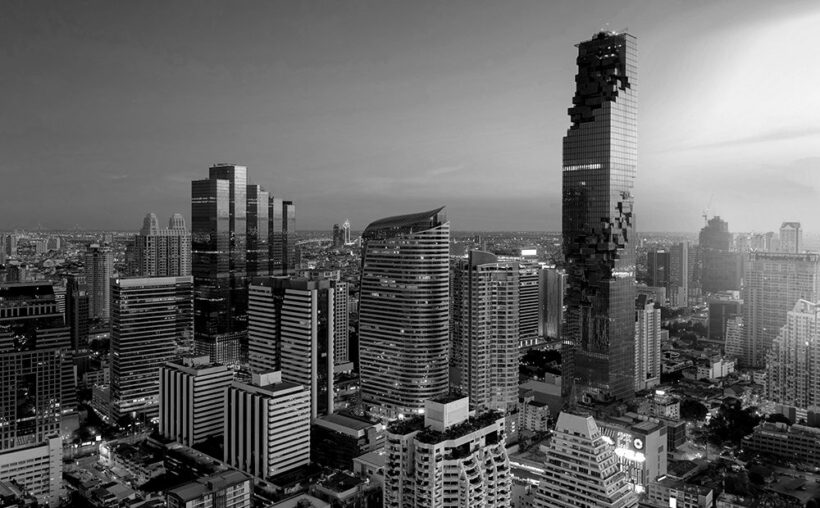 A supply influx of new office space is on the way while the overall retail industry faces low consumer confidence. But, in 2019, the number of Chinese tourists to Thailand has started recovering, says CBRE, an international property consultant.
Bangkok Office Market
The office market in Bangkok continues to perform strongly for this, but CBRE identifies challenges that are heading our way in the near future from the large amount of new supply. As of Q3 2019, over 125,000 square metres of new office space has been completed so far with another 70,000 square metres expected to come on line by the end of the year. But CBRE maintain that the increase in supply is still in line with a steady new take-up of 200,000 square metres per year.
But, they warn, a million square metres of office space is now under construction and scheduled to be completed over the next three years with majority of the new developments located along the mass transit lines. Co-working spaces have played a major role in becoming key source of office demand in the recent years.
Rents have continued to increase this year at the rate of 3-5% year on year since majority of the office buildings with high rental rates have been occupied. CBRE expects rents to continue to increase in the near future but at a slower pace.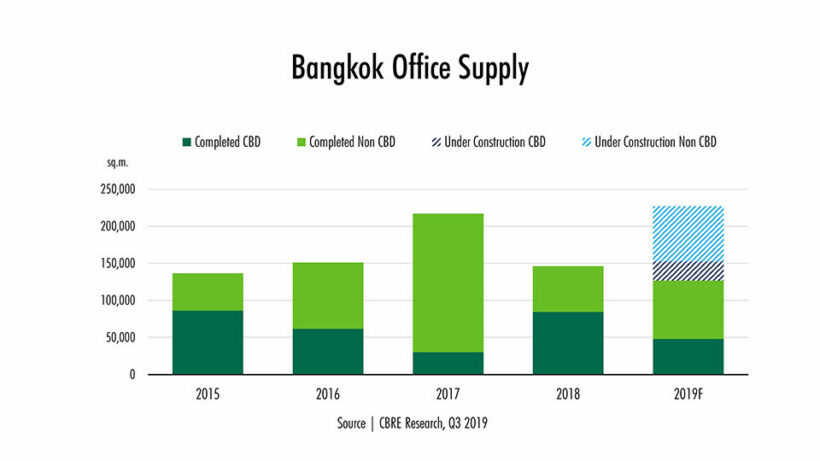 Bangkok Retail Market
Across the board, the Thai retail industry has remained stagnant this year as Thailand faces a period of low sentiment and a decrease in spending power. CBRE says this is due to the increase in household debt. The Consumer Confidence Index hit its lowest point in 39 months, dropping by 10% year on year. In addition, the household debt was reported to have broken a new record since 2017 at nearly 79% of total GDP.
In the second half of 2019, the government has launched new policies and campaigns to stimulate domestic spending including welfare cards, interest rate cut, and the "Chim-Shop-Chai" (Eat-Shop-Spend) scheme where the government gives away e-money and tax breaks for domestic travellers.
Bangkok's total retail supply, as of Q3 2019, was 7.8 million square metres, increasing by 4.39% year on year. Notable projects completed in this year include The Market Bangkok, Donki Mall, Samyan Mitrtown and Bangkok's first outlet mall, Central Village.
CBRE says that not only have offline retailers moved towards omni-channel retailing, many new online retailers have also been expanding into offline outlets in physical retail space as showrooms and 'click & collect' points.
"In order to survive in a market with a large number of future retail supply in the pipeline, retail developers will need to embrace the fast-moving technology and create new unique selling points for their retail centres."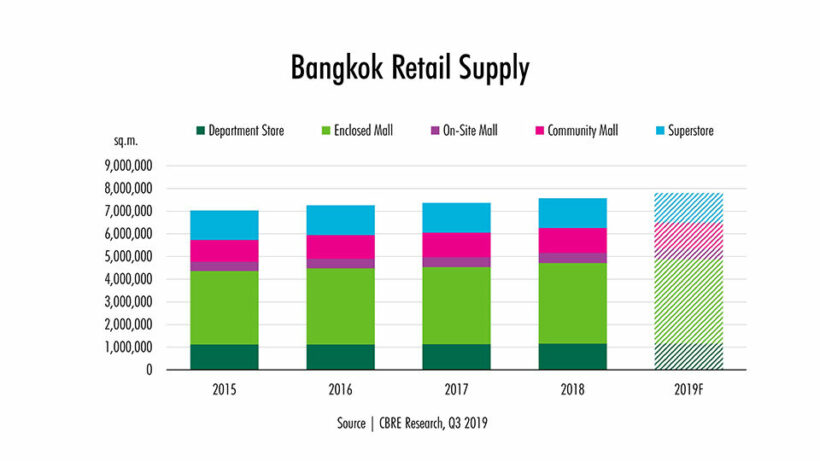 Bangkok Hotel Market
Thai tourism has shown that it is as strong and as resilient as ever. International tourist arrivals for the first nine months of 2019 have increased by 4.3% year on year, reaching 32.5 million. In Q3, the number of Chinese tourists, Thailand's biggest market feeder, has started to recover with a 17.3% year on year increase, rebounding from its drop last year.
Indian tourists have also shown promising increase, growing by 26.7% year on year. CBRE attributes much of the Indian success to the Visa-on-Arrival campaign and the addition of direct flights by low-cost carriers.
The average occupancy rate of downtown Bangkok hotels for the first nine months of the year, according to STR, was 77.8%, down by 2% when compared to last year.
But CBRE forecast that the Thai baht's appreciation will continue to be a key challenge to the tourism industry.
To search for the largest selection of properties around Thailand go to FazWaz.com
Keep in contact with The Thaiger by following our
Facebook page
.
Three massive condo developments along Phuket's up-market Layan Beach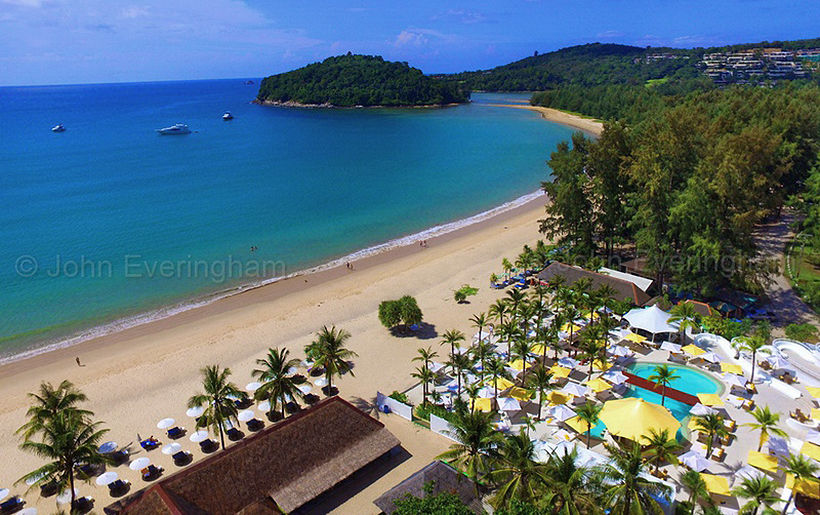 by Bill Barnett – c9hotelworks.com
Two new condo developments are going ahead in the Layan Beach area of Phuket's up-market west-coast beach strip. And there's another one underway next to the Dream Beach Club at the northern end of the Layan beach strip. All in all, another 1,200+ keys added to the available rooms along the Bang Tao/Layan Beach area.
On the northern side of Bangtao Beach, next to Maan Tawan and nearby Banyan Tree Phuket is the upcoming Sunshine Beach development. With a plan for 771 hotel and residences units on 12.6 rai, the high-density project is targeting Mainland Chinese buyers with pricing points reportedly starting from 4 million baht. Construction is expected to start in June of this year and complete in 2022.
From our discussion with sales staff the developer has claimed they have reached an agreement with the government for beach fronting facilities in the National Park strip in front of the project.
While in Layan next to Lotus Gardens is the upcoming 400 unit Layan Green Park. Pricing points run from 2.5 million baht. Unit configurations will range from studio, to one, two and three bedrooms. Guaranteed returns of 10% for a period of 10 years are being promoted.
Phuket's Layan area is seeing a surge in new real estate led projects and rising land values. At the same time as these two projects are underway, next to the Dream Beach is an oceanfront luxury project promoting sales of Grand Beach Villa and Ocean View Suites tagged as 'N5'. The developer of the project is VIP Thailand who have another project in Rawai.
Based on our research the primary source market tragets of these three projects are mainland Chinese and Russian buyers. Local concerns in the Cherngtalay area over mounting traffic, water shortages and strain on municipal infrastructure are becoming issues.
Traffic in and around the central Cherngtalay shopping district is becoming increasingly clogged with little hope for respite other than improved traffic management.
SOURCE: C9Hotelworks.com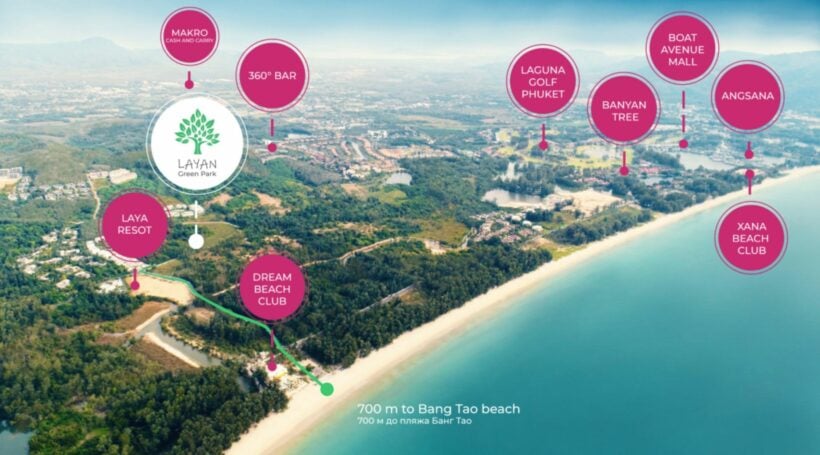 Keep in contact with The Thaiger by following our
Facebook page
.