Koh Samui is looking to the skies, an island tethered to an airline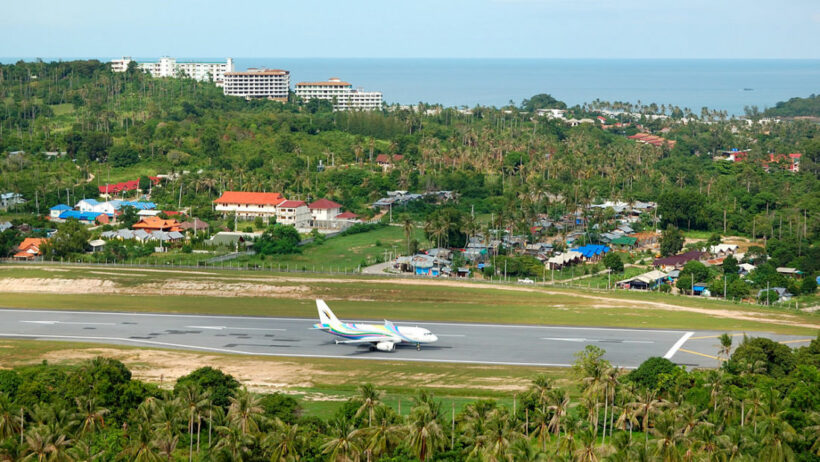 by Bill Barnett
"I'm looking to the sky to save me. Looking for a sign of life"
There is much to be said about the Thailand's phenomenal rise in tourism over the past decade and that trend has eclipsed the borders of the Kingdom into other Southeast Asian countries like Indonesia, Vietnam and the Philippines.
Fueled by a rising Asian consumer class, low-cost airlines (LCC) carriers have been the catalyst in much of this amazing storyline. Successful growth in rising destinations have prescribed to the adage "you can't stay there, if you can't get there."
Today, looking at the fallout from strong Thai baht, flatlining of Mainland Chinese tourists and the impact of an ongoing trade war, the country's airlines are undergoing a substantial stress test.
Thai Airways International's soaring second quarter losses this year were double those of the same period in 2018. There is now wide talk of that the government may have to financially bail-out the airline which is plagued by an aging fleet of aircraft and high-cost structure.
Making news yesterday is the boutique airline Bangkok Airways who posted a loss of 190 million baht in the first half of 2019. Since listing with the SET, the carrier has not ever registered a full year loss.
As Asia starts to reel in anticipation of a possible global recession, the headlines of listed companies connected to tourism and hotels is going to contain a good amount of red ink.
The conundrum that the airline is now facing is choosing a pathway of volume or yield. This of course will resonate highly with hotels who have the same issue in any downturn. Reportedly the 'cash cow' route between Bangkok and Koh Samui accounts for nearly half of the top line revenue for Bangkok Airways.
Over the past 12-18 months tourism to Koh Samui has been hit hard by the China slowdown. Looking into the data, the island is able to sustain a good pattern of growth by tapping into the Chinacation trend in recent years, not only through scheduled airlines, but a strong uptick in charter flights to the Mainland.
For now, that's all history as the airlines gamble on shifting to Mainland destinations like Guangzhou that has fallen afoul of a bigger picture. According to a report in the Bangkok Post the carrier is now promoting prices at 50% lower fares of 4000 baht. While this seems cheap, the low-season Phuket-Bangkok fares are now seen broadly at 1700 to 3000 baht. The question is, can or will Bangkok Airways sustain discounting against low-cost airlines that service other similar resort markets?
The answer, looking at the bigger picture that the airline has a virtual monopoly on its key trading route and operates a private airport, is no. Being a listed vehicle Bangkok Airways is likely to attempt to manage the crisis, but it would make no sense to discount their own bottom line driver.
This will give little comfort to Koh Samui's hotels whose fortunes are highly leveraged on the airline and without any master plan for development of a new airport, are simply going to have to wait this one out. There is pressure on supply growth though with new properties coming under Hyatt, Holiday Inn, ACCOR and the return of a TCC-owned hotel now branded to Melia's Sol moniker. Set to return will also be the Grand Centara.
As Asia starts to reel in anticipation of a possible global recession, the headlines of listed companies connected to tourism and hotels is going to contain a good amount of red ink. The symbiotic relationship between airlines and hotels is only growing more intense and both are joined at the hip.
Phuket is not immune from Bangkok Airways' dilemma, as the carrier has also drilled down the number of flights between the island and Bangkok, which is not a positive. Yet, in the bottle of the skies between legacy carriers and low-cost airlines, Phuket's access to the latter is a key rallying point.
For Koh Samui, the reality is Bangkok Airways post-Chinacation play is going to play heavily on the short to midtem future and, for now, hotels can only wait and perhaps hum along to the Foo Fighter's rock epic Learn to Fly, which contains the lyrics…
"I'm looking to the sky to save me. Looking for a sign of life"
Keep in contact with The Thaiger by following our
Facebook page
.
"Don't extend opening hours to 4am" – Tourist zones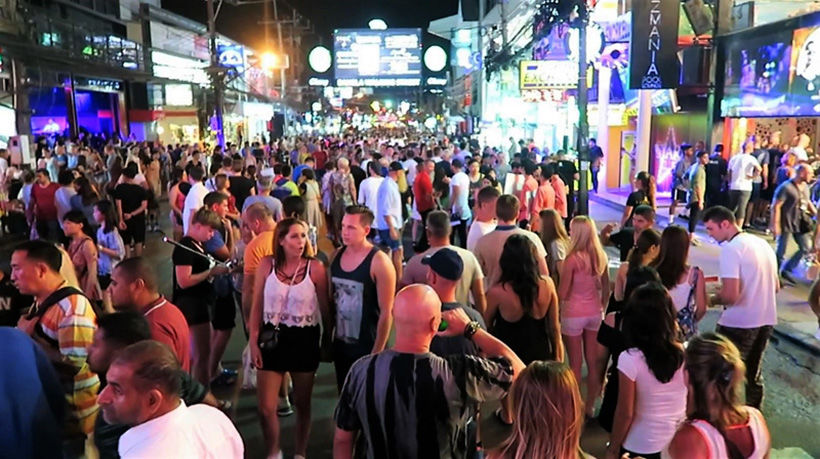 "Think again about extending pub opening hours to 4am in tourist areas".
That's the advice from Dr Mohamed Fahmy Tale, an advocate for alcohol control, directed to Thailand's tourism minister, Phiphat Ratchakitprakarn.
Manager Online says that he wants the government to focus more on safety rather than encouraging more drinking.
The Tourism and Sports Minister, Phiphat Ratchakitprakarn, had proposed an extension of official opening hours in tourism locations like Pattaya, Phuket, Chiang Mai and Koh Samui. He claimed that the tourism economy would be stimulated by as much as 25%, without providing any evidence to back his remarks.
(In reality many of the more popular venues are already open well past the 2am curfew with the 'co-operation' of local police and officials.)
But Dr Mohamed Fahmy Tale, who proposes measures to tackle Thailand's alcohol problems, disagrees.
In an opinion piece in Manager Dr Mohamed says that he was "shaking his head" when he read the proposals. He claims the proposal would "set Thailand tourism back and put it in the klong" (canal).
He said that tourists don't decide where to visit based on alcohol availability. He said that Thailand already has the moniker of the "Tourist Sex Capital" and there are far better ways to move forward and counter this perception rather than extending opening hours.
He said that Thailand has more than enough culture and environmental wonders like sea and mountains to take tourism in a new and more favourable direction and that the government should promote that.
He said that his surveys showed that safety is a tourist's number one priority and the government should focus on improving that too.
He urged a rethink saying that the minister's claims about closing times in Italy were broad brush remarks. Italy has a great deal of difference from one city to the next, he said and could not be compared to Thailand.
SOURCE: Manager Online
Keep in contact with The Thaiger by following our
Facebook page
.
"How did my son die in Thailand?" A British father seeks answers.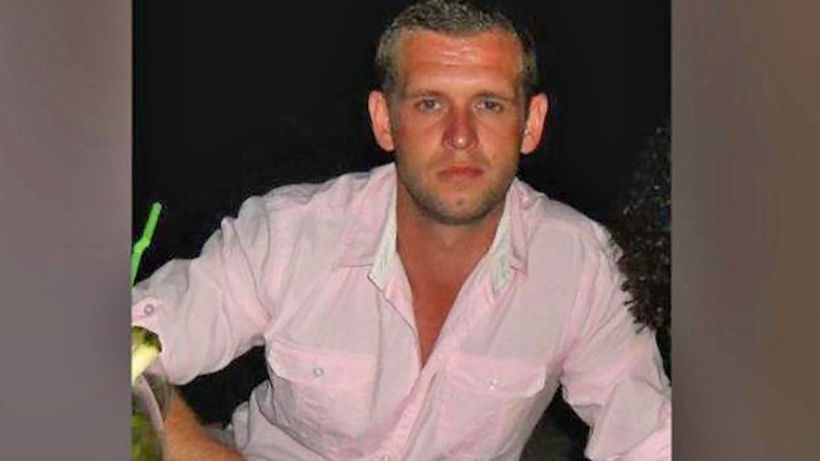 PHOTO: Facebook/David Cornock
The father of a 37 year old British man who died in mysterious circumstances in Koh Samui in May this year, has called in a former detective to sort out what happened. The British Foreign Office has already raised the case with both the Royal Thai Police and Interpol.
The body of 37 year old David Cornock, a Scottish engineer, was discovered by his American wife in their island bungalow on May 2.
David's 59 year old father, Mr. Cornock, is urging Thai police to investigate the unexplained death of of his son at his own home on Koh Samui. He claims that eight days transpired before a post mortem was held. At that stage it was determined that the cause of death could not be established "due to decomposition of the body".
David's father told the BBC, "As a family we have been left in the dark and David's death remains undetermined. We will never see our beloved son again and we never got the opportunity to say goodbye."
He was informed about the incident whilst attending a meeting in Aberdeen when his wife, Margaret called him.
When David's body was repatriated on May 17, Mr Cornock was contacted by an official who told him that he'd reviewed the death certificate and that the post mortem was not conducted until 8 days following David's death.
Since then the family have been seeking answers and the circumstances around their son's death. Amongst many other questions, they are trying to establish what investigations local officers conducted at the scene and what evidence they collected. At this stage there has been no response from the Royal Thai Police, excepting a copy of a document, in Thai, confirming that the hospital was unable to learn anything from the post mortem due to the eight days passing after David's death.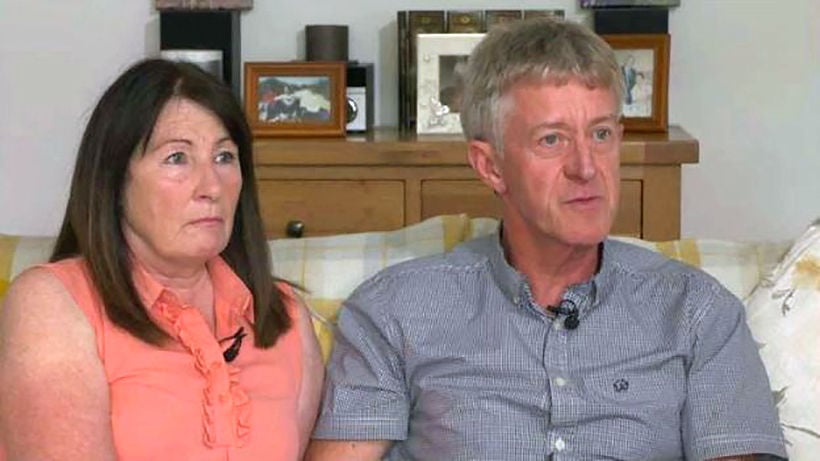 David's stepmother Margaret and David's father talking to the BBC about David's death
The father told the BBC, "He was a global traveller, entrepreneur, generous to a fault, trusting, loved a laugh and had a great sense of humour."
He said David met his American wife Grecelle Rivera while on business in the US and they married in Florida in July 2017. David had been married before and supported his former wife and child who lived in Brazil.
A former detective David Swindle, also co-founder of Justice Abroad, is reviewing any material they can get their hands to support investigations conducted by Koh Samui officials.
David says there must have been investigations conducted at the time which can provide more information. He says there has been a "shocking lack of transparency" over the case.
"Despite numerous requests for further information about the Thai Police investigation no case related documentation has been made available to David's family."
A British Foreign Office spokesman said that staff were providing "support to the family of a British man following his death in Thailand and liaise with the Thai authorities".
SOURCE: BBC News
Keep in contact with The Thaiger by following our
Facebook page
.
Defence team will seek royal pardon for Burmese pair facing death penalty over Koh Tao murders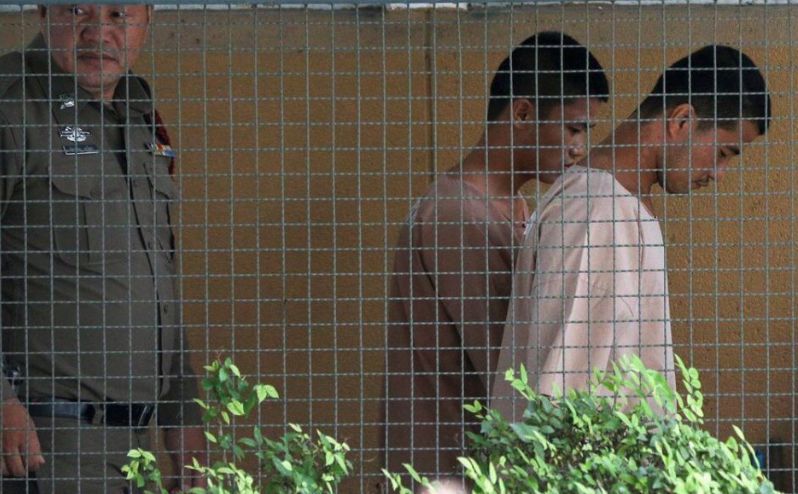 Yesterday the Thai Supreme Court decided to uphold the death sentences handed down previously to the two young Burmese men for the September 2014 murder of two British tourists on Koh Tao. The defence team says they will now seek a royal pardon for the pair in the next 60 days.
The defendants, now 26 year old, were escorted from Bang Kwang Central Prison to Nonthaburi Court to hear the verdict.
The verdict, which took nearly two hours to deliver, said this case has clear, credible and detailed evidence against the pair, including DNA matches, so "it is not convincing that the police will fabricate evidence to frame the pair as claimed".
Noting that the forensic evidence was carefully collected to prevent contamination and had been tested by a credible agency, and also that DNA tests were done on many Thais and foreigners in the vicinity, the court ruled that the defendants were not being targeted and found them guilty as charged.
The pair were escorted back to the Bang Kwang prison after hearing the verdict.
The Rakhine migrant workers were arrested nearly three weeks after British tourists 23 year old Hannah Witheridge and 24 year old David Miller were found bludgeoned to death on September 15, 2014. Autopsy results also showed that Witheridge had also been raped.
Although the suspects, facing charges of assault, murder, rape and theft as well as illegal entry into Thailand, reportedly confessed initially, they later retracted their confessions saying they had been tortured into doing so.
Zaw Lin and Wai Phyo were sentenced to death by the Koh Samui Provincial Court in December 2015, resulting in protests outside the Royal Thai Embassy in Myanmar. Later, in March 2017, the Court of Appeals Region 8 also upheld the pair's convictions. Their lawyer then appealed to the Supreme Court, alleging that the police had failed to carry out proper procedures in search for DNA evidence and had forced the pair to confess to the murders.
SOURCE: The Nation
Keep in contact with The Thaiger by following our
Facebook page
.