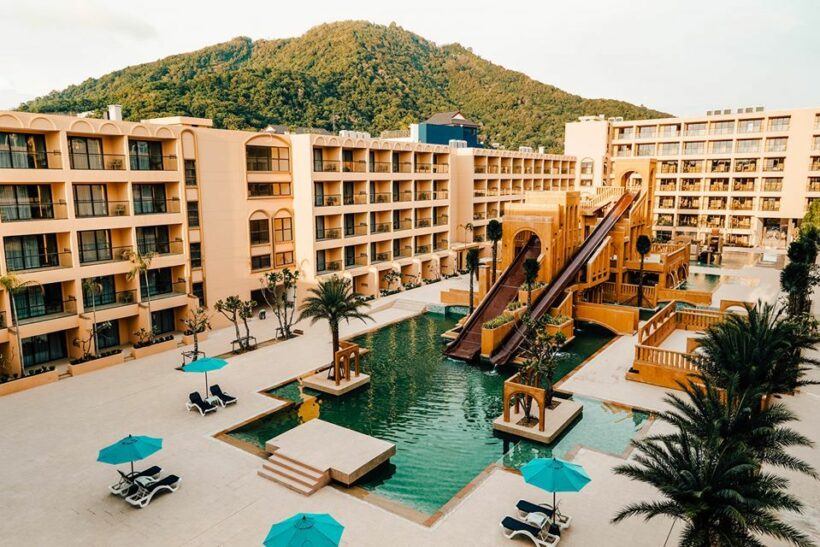 Kata Group, Phuket's oldest hotel group, is launching its eighth resort, the Pamookkoo Resort. The cost of the investment is 1.75 billion baht. The new resort is in the heart of Kata.
Kata Group opened its first hotel on Phuket 40 years ago and was a pioneer in attracting the early tourists to the island's southwest coast.
The new hotel will be managed by the son and heir to Kata Group's founder Pramook Achariyachai, and will focus on "fun-and-sun loving family groups", according to the press release. Pariyawit "Benz" Achariyachai says that all of the hotels by Kata Group have their own distinctions, and are trusted by existing and new customers.
Pamookkoo Resort will have 512 rooms, ranging from 32.8 square metres up to 77 square metres.
According to the media release, Pamookkoo will be a themed hotel, designed as an adventure into the past, with a "Mesopotamian concept and a décor of golden earth tones". The resort will target Thai and international visitors, from countries such as Scandinavia, Russia, China, and India.
Like other recent new and re-branded resorts in Phuket, the new hotel is aiming at family vacations with special facilities for kids.
The four-star resort, covering more than 16 rai in Kata, is set around a large pool with a four storey water slider. It has a playground for kids and the biggest "Kid's World" in Phuket, at 135 square metres, two storeys high, equipped with ball pools, colouring stations and a nap area. There is also three restaurants in the new hotel.
For corporate guests and events, the hotel offers new meeting rooms and facilities, function rooms of different sizes, the largest of which can sit over 1,000 people, one of the biggest MICE spaces in Kata.
The new resort has three restaurants and its gym provides features a wide variety of modern fitness equipment.
"We are truly confident that Phuket tourism will continue to significantly grow, with a consistent 70-90% occupancy rate for our properties throughout the year. There are other up-and-coming world-class destinations, and the improvements in infrastructure including the expansion of Phuket International Airport all make Phuket one of the greatest of international destinations."
Kata Group now has a total of eight hotels and resorts in operation. Beyond Resort Karon in Phuket and Beyond Resort Khao Lak in Phang Nga are both open to visitors over 18. Beyond Resort Krabi and Beyond Resort Kata, Phuket target family vacations.
Kata Group plans to further expand business on the Andaman coast, adding one or two new hotels within the next three to five years bringing the total accommodation to around 2,000 rooms.
You can find out more at their Facebook page HERE.