Phuket's media shuffles – the news leaders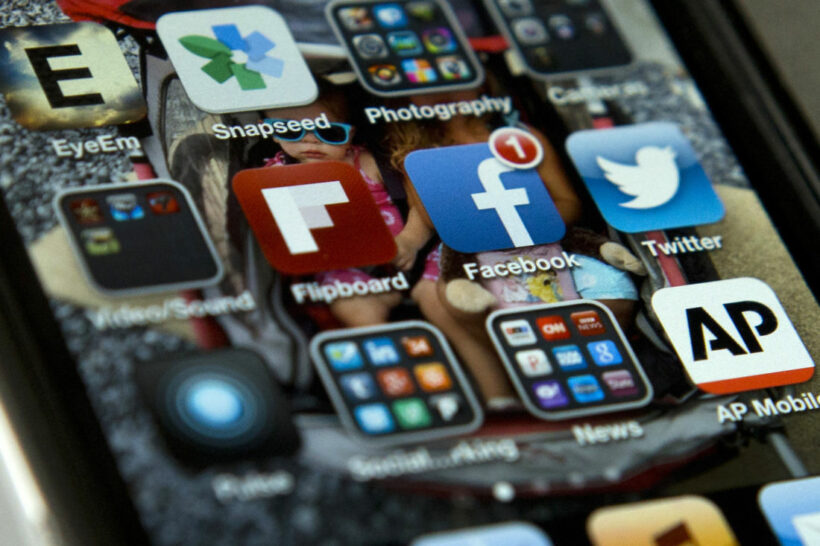 Phuket's media is going through a minor revolution. A lot of work is going into spreading local news for an island of some 450,000 locals and 12 million annual tourists (who are unlikely to read any local news media anyway).
Roll back 20 years and the local leader in the media was the Phuket Gazette which lasted as an English-speaking newspaper for 23 years, in the days when there were plenty of English-speaking readers living on the island. It ceased publication in May 2017 (The Thaiger bought Phuket Gazette's digital assets in July 2017).
As we enter the middle of 2019 the island's media is almost completely unrecognisable.
Most people, the vast majority, learn about what's happening around Phuket on social media now – when we say most we mean over 90%. Facebook is now leading the way in Thailand and Phuket as a key news source. It's NOW, it's mostly free, easy to access and just about every Thai, and foreigner, carries it around in their pocket.
Media is measured by 'reach' – eyeballs on stories. A more recent term for that is 'engagement' – people who click on or comment on a story. The numbers for Phuket's media speak for themselves, they're public and are easily checked on the internet (go to your 'Insights' page on Facebook and add any pages you want to compare). News websites are taking a second place now to social media on the island as a source of news. These figures are from the past seven days for Facebook engagement…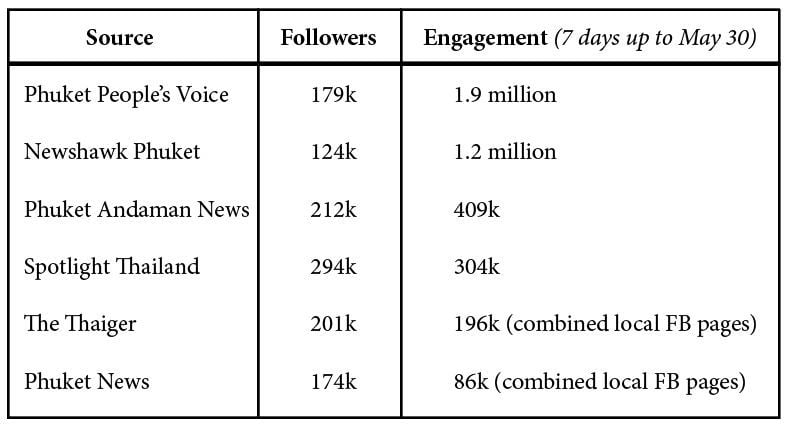 The reach-leaders, Newshawk Phuket and Phuket People's Voice, are also starting to add English versions of their Thai news posts which will further eat into the traffic of older island news businesses. But their leadership in readers is no surprise when most of the island's readers are Thai.
For website news there is also a good range of news sites – the two Phuket-based leaders are a long way in front of the others for monthly traffic.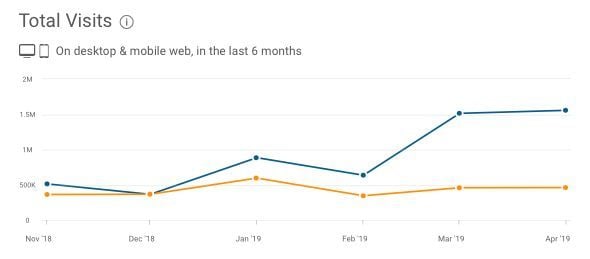 In April thethaiger.com reached 1.56 million users versus 463,000 for the island's second most popular news website
(similarweb.com stats are usually out by 10-20% but reflect trends and general traffic reliably. If you want to check any website's traffic just type in the web address. It only measures sites with more than 12,000 visits a month)
Of course there are still other news sources, principally the venerable The Phuket News which keeps pumping out 32 pages of recent news, stories and local ads every Friday – a remarkable achievement by any standard where weekly 'newspapers' are becoming a rare luxury in the modern media landscape.
Other social media portals like Instagram and Line also have their share of 'news' but it's tiny in comparison to Facebook in Thailand where the platforms are more about messaging and sharing photos. There is also a handful of radio and video news media on the island but their reach is extremely limited and the numbers not applicable in the wider picture.
When it comes to 'reach' and 'targeting' there is nothing that comes even close to online media, and the gap widens every month. Well, every week! That an advertiser can target their audience by age, location, interest, search-history and buying habits is astonishingly powerful. And it costs a fraction of what advertisers used to spend on 'traditional' media.
More importantly, Phuket's online media is completely measurable. For advertisers this means that they can measure the true performance and value of their ads.
Bottomline, Phuket's media landscape has matured remarkably in the past decade and more so in just the last 6 months. And it will continue to evolve. For Phuket readers, in Thai and English, the latest competition means new choices and news voices.
Next week we'll check out the leaders in the wider Thai media landscape where there's also been a lot of recent changes.
Weather warning for southern and eastern Thailand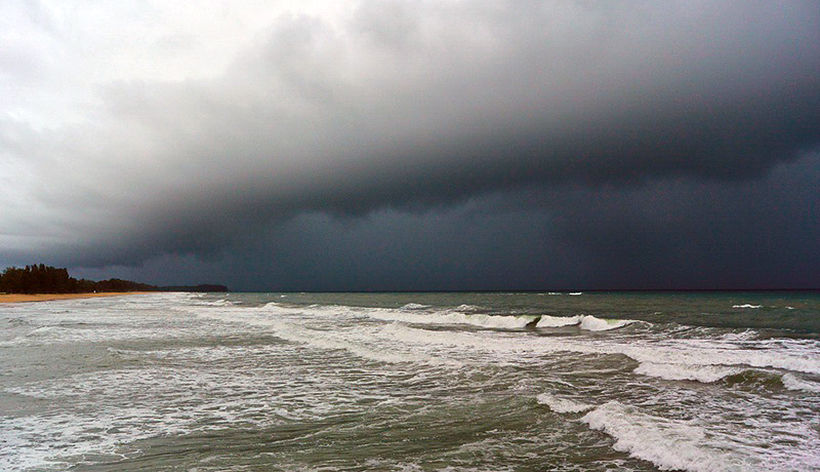 Five day forecasts for Phuket, Pattaya and Koh Samui below
The Thai Meteorological Department has issued a weather warning to alert people to approaching heavy rains and strong winds in the South.
The TMD predicts more rain from from today up to July 21 in the Southern and Eastern regions due to a tropical depression approaching westward from the Pacific, which is likely to gain strength and move through The Philippines into the northern South China Sea, and the strengthening southwest monsoon that prevails over the Andaman Sea and the Gulf of Thailand.
"Outbreaks of heavy rain are also possible for those areas. People should be aware of severe conditions that may cause flash floods and heavy water runoff."
The warning says that waves in the Andaman Sea are likely to be 2-3 metres high and, in the Gulf, about 2 metres high. In storm areas, they will reach 3 metres.
The affected areas listed by the TMD are Nakhon Nayok, Chachoengsao, Chon Buri, Rayong, Chanthaburi and Trat in the East, Chumphon, Surat Thani, Nakhon Si Thammarat and Phatthalung in the South's east coast, Ranong, Phang Nga, Phuket, Krabi, Trang and Satun in the west coast.

Phuket's five day forecast

Pattaya's five day forecast

Koh Samui's five day forecast
Phantom V wins Multihull Solutions Regatta in Phuket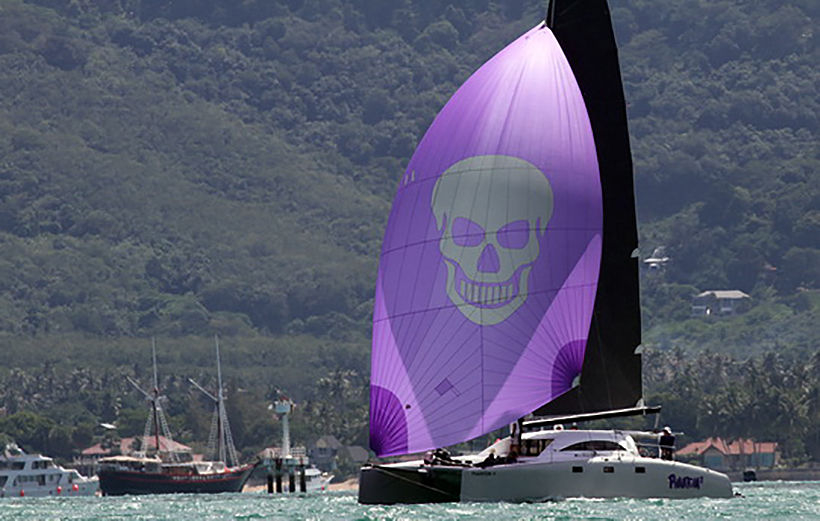 PHOTOS: Phuket Yacht Club
The 2019 Multihull Solutions Regatta has been run and won after the final day of excellent racing conditions off southern Phuket.
The Stealth catamaran Phantom V with its boat builders Alan Carwardine and Roger Diggleman on board, as well as owner Andrew Hurford, won the Racing Multihull Division of the 2019 Multihull Solutions Regatta. Its four first-place finishes, while never finishing lower than third, helped Phantom V clinch the title.
Warwick Downes' Bonza (the old Fugazi) flew around the course all regatta earning line honours on most of its races but had to settle for second overall though it did win two races during the event.
On the final day, Dan Fidock's new Fugazi (a Bakewell White 10.5) shed its teething problems as it romped through the water like a bat out of hell earning line honours (and second overall) in race one crossing the finish line in 1:35:29 after it sailed out around Koh Bon and then Koh Loh before turning for home at the Phuket deep port safe water mark. It also won race two on the day for the Racing Multis, a three-lap windward-leeward giving the boat its first victory of the regatta.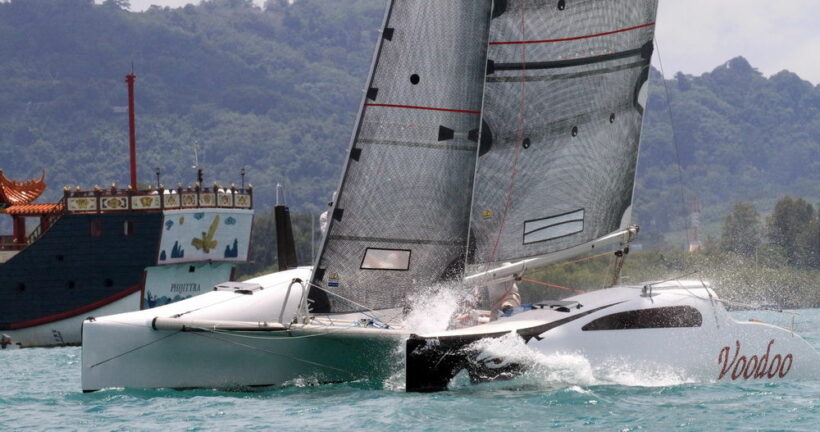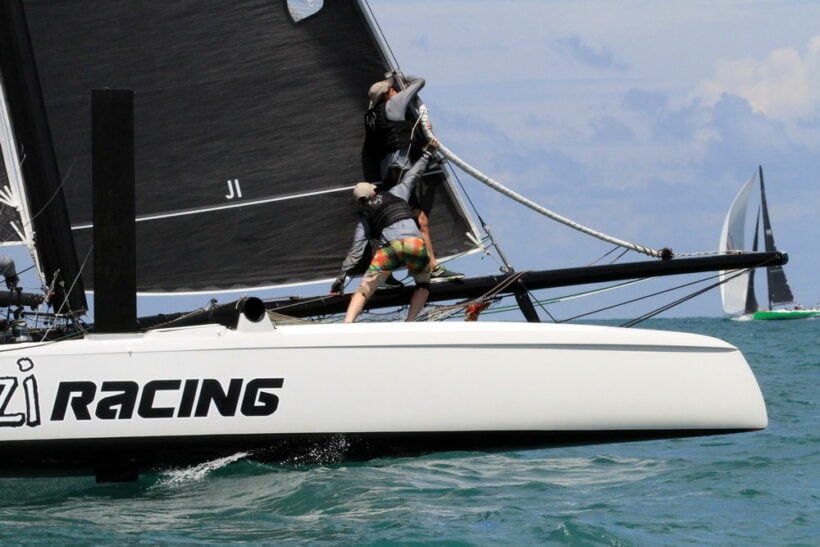 Glyn Rowlands' Twister 2 who featured three generations on board finished fourth and if not for a FPSA on race three might have even placed higher. Dirk Weiblen's No Fear came last in the five-boat division but a combination of DNSs and DNFs saw it only start three of the seven races held in the Racing Multis.
The Firefly division was a Battle Royale from the get-go between arch-rivals Twin Sharks and Voodoo as only a point separated them going into the final day of racing. And fittingly, it was all decided on the last race when Twin Sharks managed to push Voodoo into fourth place with a port vs starboard incident on the downward leg of the last lap enabling Twin Sharks to move into second place in the race and grab the title.
George Eddings' Blue Noze was in the midst of it all throughout the regatta winning one race and taking third overall. Rau Waldron's Surf Patrol finished the regatta with a strong performance winning the last race but placed fourth overall, followed by Marc Chapus and his crew on Moto Inzi, who never really did get over their teething problems finishing last in the majority of the races.
Zam Bevan's ShoVel won all its races in the Cruising Multihull division but its sole competitor Bill Kane's The Sting was granted "the perseverance trophy" for its "never say die" attitude during the event.
The 2020 Multihull Solutions Regatta will be held from July 10-13. Contact title sponsor Andrew de Bruin at andrew@multihullsolutions.asia if interested in chartering a multihull.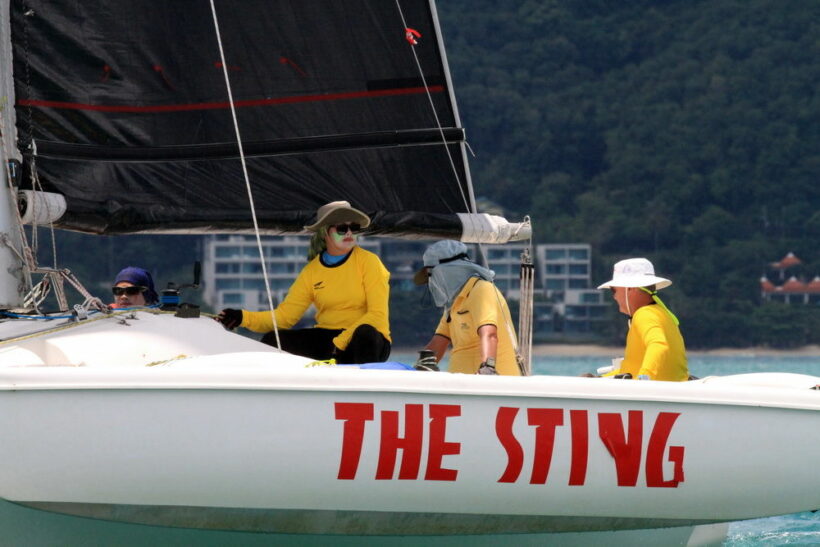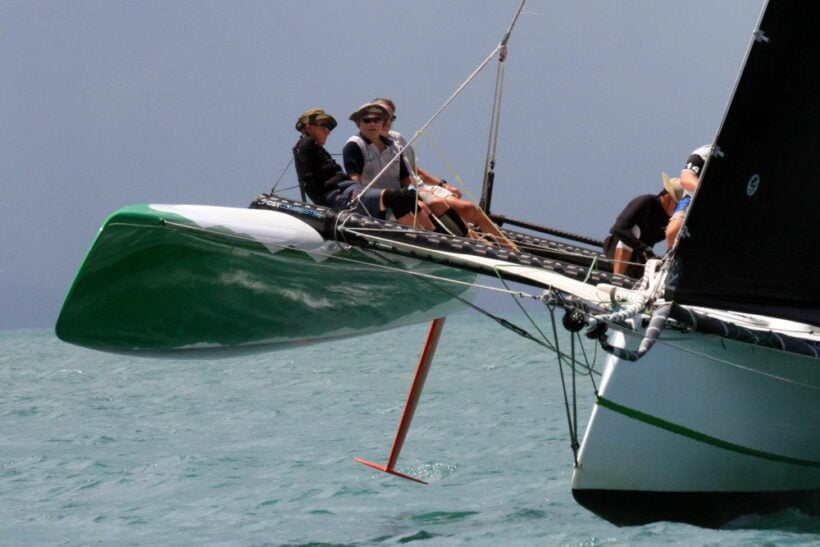 Investigation continues into electrocuted student at public park in Phuket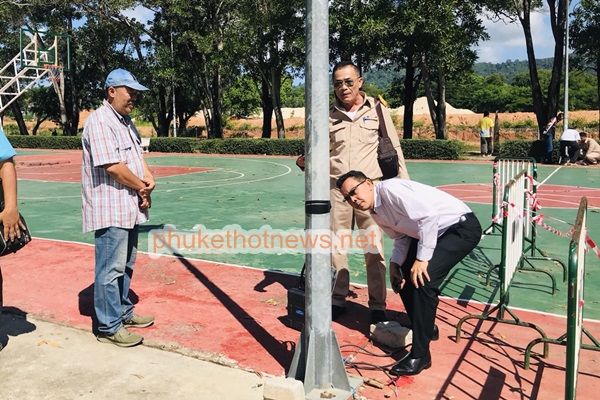 PHOTOS: Phuket Hot News
Forensic police, along with the experts from the Phuket Provincial Electricity Authority office, investigated the basketball field in Suan Luang Park following the tragic death of an 18 year old Thai-Egyptian student of Prince of Songkhla University, Kahled 'Nikki' Nour, on July 13. He was electrocuted after touching a lamp post next to the basketball court.
Nikki was laying down near the lamp post at the basketball field before he got electrocuted while his friend, Cherdsak 'Enzo' Vaiano, was also shocked but survived and is now recovering at Phuket International Hospital.
Chaiyot Panyawai, a former Phuket senator and a relative of Nikki, along with other relatives, witnessed the representatives of the PEA and the outsourced company, responsible for the lamp post, gathering evidence with the police at the park.
Officials noted there was a wire repair earlier and some wires remained exposed and merely covered with black tape. They explained that they will file a full report to the police.
Meanwhile, Chaiyot said the people involved must be very careful of the lamp posts, not only in the area of Phuket Municipality, but everywhere around Phuket. The local official of each area must check their public lamp posts often.
Also, he mentioned that witnesses at the scene told him that CPR didn't work while they called the ambulance. It took about 30 minutes for the ambulance to arrive which was too late for Nikki. He called for an adjustment to emergency response by placing ambulances at different exercising spots, such as Suan Luang and Sapan Hin Park, to provide faster response for this kind of unexpected incident.
He said that there are a few things that he still doubts about the incident. There was an official telling him that there were some insects creating a hive inside the pole causing the leak, but what he saw was that the joint of the wire touched the post from the inside.
Also, he mentioned that the junction of the ground wire was obviously loose and the ground wire was "below standard". He believes that the tragic incident was caused by negligence but there would be an investigation to see who is responsible.
After the incident, the Phuket Municipality provided support to the family for the funeral but the compensation hasn't been discussed because the family and relatives have yet to hear about the official cause of death.