Songkran, Thailand's wettest holiday, dampened by Covid-19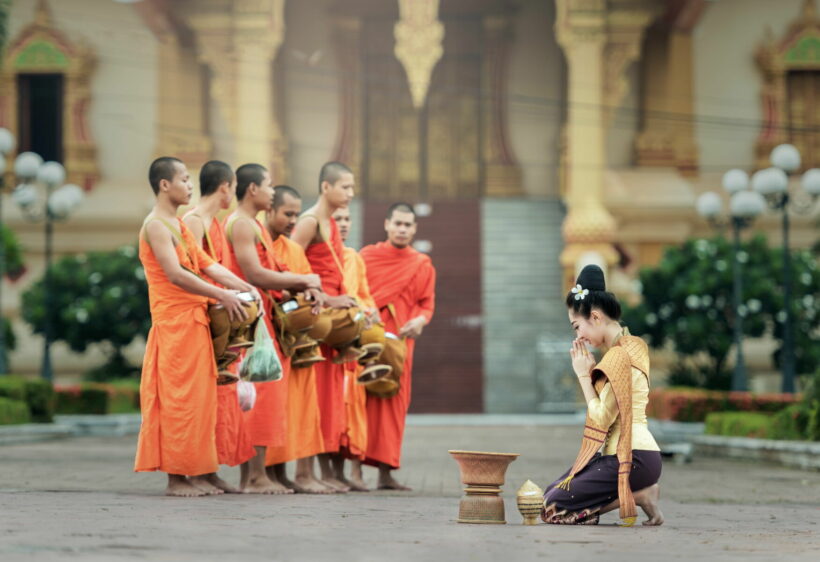 Holiday spending during Songkran, the one time when "raining on one's parade" is a plus, is projected to be the lowest in 9 years at about 113 billion baht, down 17% from 2019 with people still facing concerns over the Covid-19 pandemic. The tourism industry has been hoping for a big boost from the celebration, but it is seeming less likely. A poll by the University of the Thai Chamber of Commerce of 1,256 people in the last week of March predicts a less enthusiastic Songkran festival again this year, according to the UTCC president.
"The lower spending means the Songkran festival will not be as vibrant as usual, though it's unlikely to be gloomy either,"
Covid-19 is to blame for the dampening of the spirit of the usually soaking-wet Songkran holiday, with many people feeling nervous about the health of their bodies and bank accounts. Fears after the massive outbreak in Samut Sakhon and around Bangkok, in Bang Khae and Pathum Thani, may keep Songkran celebrations local and in-home, driving down holiday spending significantly. The damage to the Thai economy without signs of any immediate relief also has people watching their budgets more closely.
The UTCC poll found that more frugal activities were among the most popular during a Covid-19 Songkran, especially since the government is currently banning water fights and splashing again this year and strictly regulating holiday events to prevent a coronavirus outbreak. Making merit tops the list of activities, followed by eating and celebrating at home. The third most popular is "rod nam dam hua," a traditional ceremony where the younger generation pours jasmine water on the hands of elders and parents to receive blessings and to wish the elders good health.
Only about 22% of those polled said they will increase their spending this year, while 43% say they will spend about the same and nearly 35% will tighten their budget and reduce expenses this Songkran due to Covid-19. 26% of respondents plan on staying home, while 10% will travel to their home province. 15% have other inter-province travel plans and 39% plan to stay within their current province. Chon Buri, Prachuap Khiri Khan and Trat are among the most popular holiday destinations. 10% have not made any plans yet.
Those who are planning to do any tourist travel are not likely to spend big either. 44% are planning only a single-day trip, not a longer, less thrifty holiday. Travellers to tourist destinations are expected to spend an average of 5,180 baht.
SOURCE: Bangkok Post
Keep in contact with Thaiger by following our Facebook page.
Never miss out on future posts by following Thaiger.
Songkran activities cancelled in Ayutthaya due to Covid-19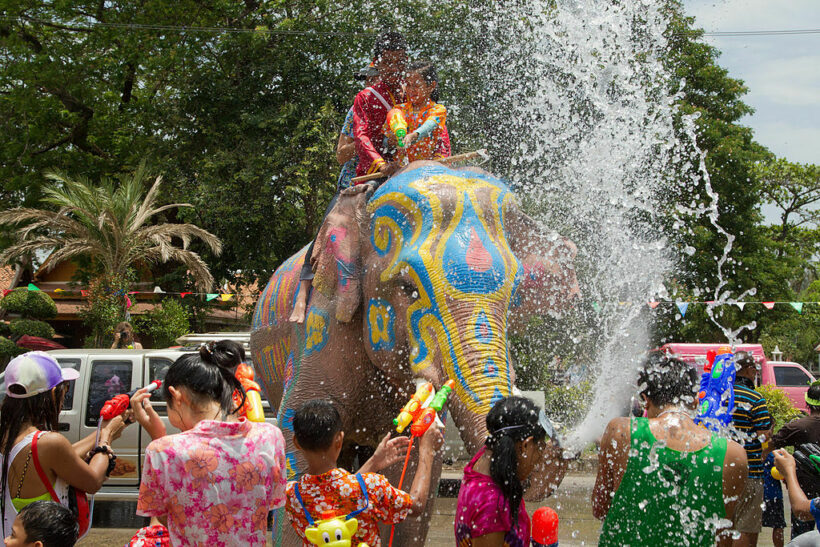 After the recent outbreak of Covid-19 across Thailand, in a large part due to entertainment activities, Thailand's former capital city of Ayutthaya has now officially cancelled all Songkran festival activities for the upcoming holiday. All events previously planned to mark the Thai New Year's holiday between April 13 and 15 have now been called off. An urgent declaration by the provincial governor today informed the public of the decision. Many people across the country are cancelling Songkran events or any observance of the holiday at all.
The decision by the province's Songkran committee and the Tourism Authority of Thailand's Ayutthaya office was directed especially at tourists who may be planning to travel to the area for traditional festivities. Complex and ornate events had been planned, scheduled to be held on Si Sanphet road, with the sudden cancellation announcement abruptly ending the preparations for holiday merriment.
TAT and the local government agreed that the cancellation was necessary to prevent the possible spread of the Covid-19 pandemic, especially in light of the current outbreak across Thailand. In Ayutthaya, 86 people have been infected with 21 new cases diagnosed yesterday. In an effort to slow the spread of Covid-19, the Ayutthaya Hospital issued a statement limiting visits for hospital patients. The hospital encourages people to do video calls with their relatives as the hospital will only allow one relative to spend time with each patient. This overall situation led to the official decision to call off all Songkran festivities.
SOURCE: Bangkok Post
Keep in contact with Thaiger by following our Facebook page.
Never miss out on future posts by following Thaiger.
Many Thais 'skipping' Songkran due to the recent clusters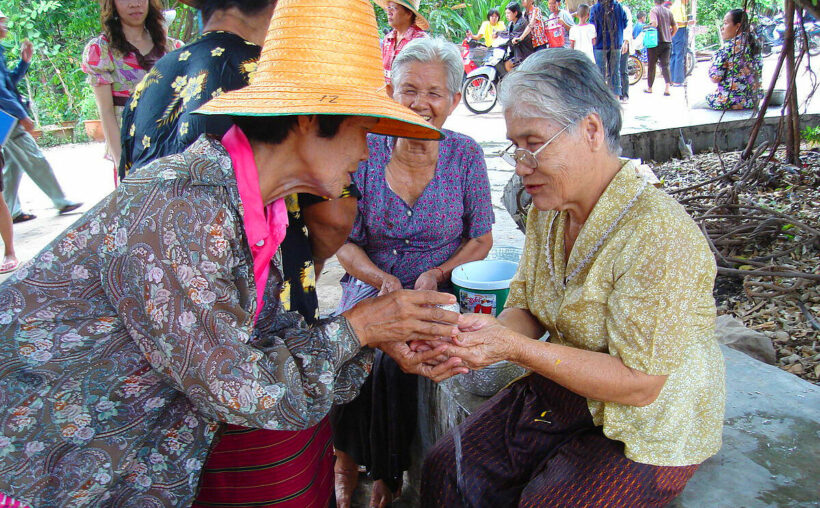 It's Songkran, but not as we know it. This weekend Thais start to head back home for this year's extended national holiday. Last year the celebrations were cancelled altogether, amid Thailand's initial lockdowns. So this year, partly aided by the mid week dates of Songkran, the government added extra days, that are topped and tailed by weekends. So, many Thais have fernangled a 10 day break, or even longer, this year.
But this year's Songkran was already hobbled by a risk-averse government that banned water splashing, banned Songkran events and parties and urged people to continue to take precautions during the holiday. So it was going to be a more traditional, and less overly festive, Songkran this year.
That was until recent weeks when small clusters broke out, focussed around Bangkok's nightlife venues. The quick spread of what Thai virologists confirmed as the more contagious B117 variant, aka. UK variant, of Covid-19 from these venues, suddenly made the 2021 Songkran a potential super-spreader event. Songkran is the busiest time for Thais to travel each year.
A recent Suan Dusit poll shows that 43.9% say they won't get involved in local Songkran activities this year, or aren't certain. 1,324 people were surveyed between April 3 – April 9 in the poll.
In other responses, 64.8% say they would perform the traditional Songkran ceremony for senior in their family, 63.3% say they will stay home and spend the time with their family; 53.7% will make merit by giving alms to monks; 52.5% would wash their own Buddha statues, 37.6% will observe Thai traditions, according to Bangkok Post.
SOURCE: Suan Dusit Poll | Bangkok Post
Keep in contact with Thaiger by following our Facebook page.
Never miss out on future posts by following Thaiger.
Songkran fully cancelled in Bangkok amid Covid-19 outbreaks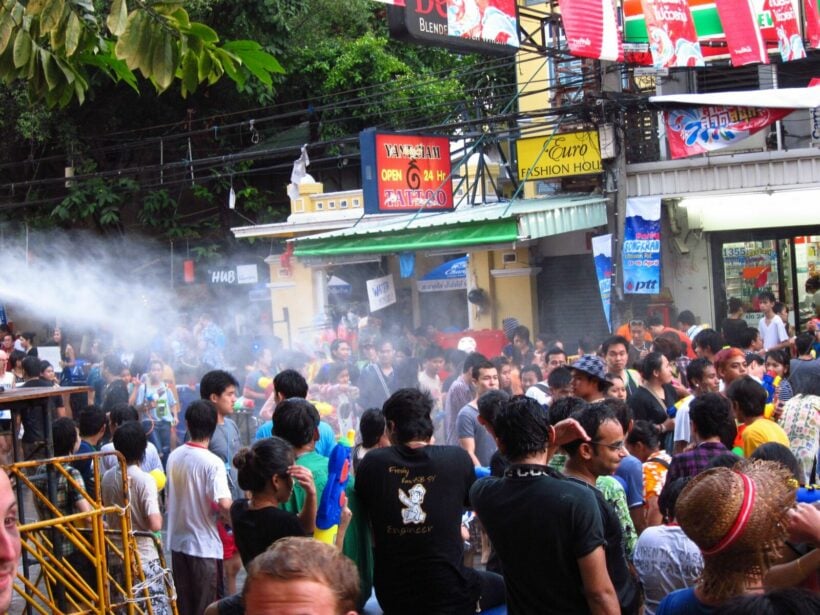 All Songkran festival activities throughout every district of the Bangkok province have been officially cancelled to prevent more outbreaks of Covid-19. The Bangkok Metropolitan Administration announced this difficult decision today in light of a rise in Coronavirus infection clusters around the country. Many of these outbreaks have been directly linked to entertainment venues, nightclubs and bars, including in Bangkok's Thong Lor and Ekkamai areas. These venues are easy targets for Covid-19 spread as they often don't follow mask-wearing and social distancing measures, and many are poorly ventilated, making a fertile breeding ground for transmission.
Deputy Governor Kriangyos Sudlabha announced the closure of all entertainment venues on Bangkok nightlife hub Khaosan Road before Songkran from April 7 to 12. Free Covid-19 testing will also be provided to all merchants in the Khaosan area.
"The Songkran activities at Lan Khon Meuang Plaza in Phra Nakhon district will be cancelled. These include an alms-giving ceremony and pouring water on the Buddha image and elders as blessings. Furthermore, activities scheduled to be held in other districts by the district office will also be cancelled. As for public and private organisations which cannot cancel their planned Songkran festivities, the BMA urges them to employ strict measures to prevent the spread of Covid-19."
Iconic massive public Songkran water fights in Bangkok and throughout Thailand, where thousands usually fill the streets and joyously spray each other with water to celebrate, are definitely out. But the new announcement curbs a lot of more traditional and calm activities from taking place in large public gathering areas. The deputy governor advises for traditional ceremonies to be performed at home, rather than at temples or public locations.
"During the Songkran festival, we advise people to perform the ceremony of pouring water on Buddha images and elders at home and avoid going out to crowded areas. If you have to travel, make sure to wear a face mask at all times, maintain at least a one-metre distance from others and wash your hands regularly with soap and water or alcohol hand sanitiser."
SOURCE: The Nation Thailand
Keep in contact with Thaiger by following our Facebook page.
Never miss out on future posts by following Thaiger.