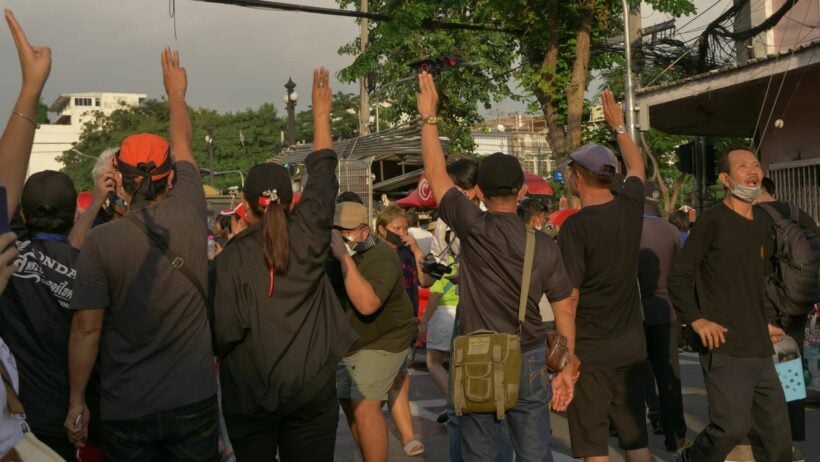 Thailand's pro-democracy activists have rejected the government's suggestion of a reconciliation committee, saying it is merely aimed at keeping PM Prayut Chan-o-cha in power. The Khana Ratsadon 2563 (People's Movement) group say the ongoing political conflict cannot be resolved as long as the current PM remains in power. They claim his position is illegitimate and has been from the start, as they double down on calls for his resignation. They have also repeated their other demands, namely for a re-write of the constitution and reform of the revered Monarchy.
Natchanon Phairot agrees, saying his group, the United Front of Thammasat and Demonstration, also rejects the idea of a reconciliation panel, adding that anti-government activists will not surrender. He says the PM's resignation would be a good starting point for re-drafting the constitution.
(The Thai prime minister, under the 2017 Charter, could be nominated by a joint sitting of the parliament – elected MPs and the hand-picked Senate IF one party didn't win over 50% of the vote. In the case of the March 2019 election no party was able to get over the 50% mark for votes so the PM was selected by the joint sitting, virtually guaranteeing General Prayut's appointment. Prayut Chan-o-cha didn't stand for election as an MP and was not elected to the position of prime minister by Thai voters)
Adding to the calls for the PM's resignation, protest leader Jatupat Boonpattarasaksa says if the current administration retains its grip on power, attempts to end the political unrest will get nowhere. He points out that the more protesters feel their demands are being ignored, the more the protests will grow.
"We want changes and we will stick to a non-violent approach. We don't know when the government will step down, but we'll continue our fight."
Meanwhile, the Bangkok Post reports that Sutin Klungsang from the opposition Pheu Thai Party, has changed his stance on the proposed reconciliation panel, saying that if the government initiates an attempt at unity, his party would be willing to participate. He is calling on officials to work more closely with civil groups, in order to reach a resolution. He wouldn't be drawn on the protesters' 3 key demands, but says that all issues, including controversial subjects (code for 'reform of the Monarchy'), should be up for discussion.
SOURCE: Bangkok Post