Hundreds of Burmese refugees flee to Thailand, risking arrest and deportation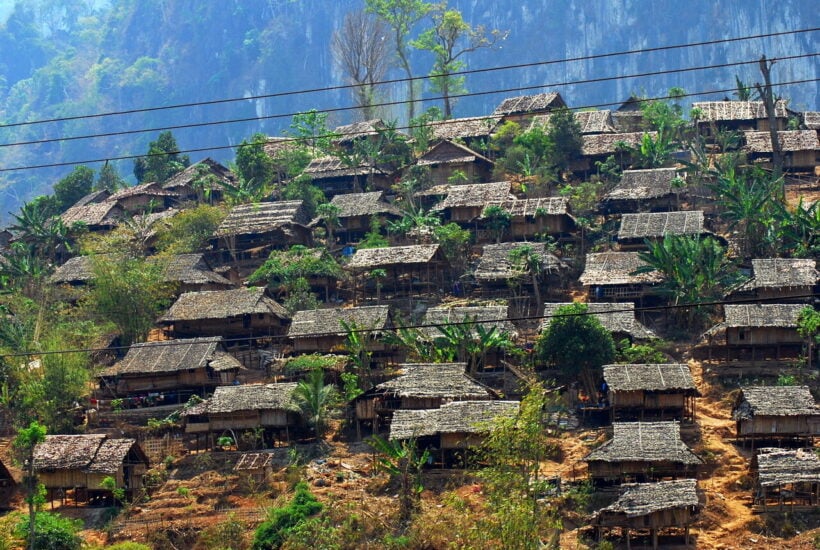 Hundreds of Burmese refugees are fleeing to Thailand in a risky bid to escape the Myanmar army, which seized government in a coup de etat on February 1. The Royal Thai Army has set up temporary camps to deal with the massive influx of immigrants, but since Thailand is not a signatory to the 1951 UN Refugee Convention, the immigrants are subject to being arrested and sent back home.
Burmese asylum seekers are joining members of the ethnic Karen group by attempting to take refuge in a hilly border region featuring the Song Kalia River, which separates the 2 countries. The head of the foreign affairs department of the Karen National Union, Padoh Saw Taw Nee, told DW that there are now over 2,000 refugees in the camps by the border.
"Most of them are young people. There are a few doctors; the others are journalists, lawyers, lawmakers and also people who have abandoned the police and military."
He told DW that troops from Myanmar were trying to enter the camp where civil disobedience movement members were staying. The rebel army initially stopped about 200 soldiers and 8 trucks from entering, but 5 hours later more soldiers arrived, demanding to enter. He says they eventually left without a fight, but says preparations for the worst are being made.
"We made it clear to them that there would be a battle if they came in. We will launch negotiations and meet the Thai authorities, the UN Refugee Agency and the ICRC because the KNU will not be able cope on its own for very long."
In Thailand, preparations are underway for an influx of refugees from Myanmar. At the Tao Tahn temple in Sangkhlaburi, which is about 300 kilometres (180 miles) northwest of Bangkok, there are stacks of plastic plates and cutlery piling up in the prayer room.
But, the Thai government is trying to stop the flow of refugees by keeping the roughly 2,000 kilometre border with Myanmar closed, as it was shut due to Covid-19 measures. Such moves to keep refugees from entering Thailand has some criticising the government for not helping its neighbours who are facing a potentially dangerous situation. Bill Frelick, the refugee and migrants rights director at Human Rights Watch, says Thai authorities should let the refugees come.
"The Thai government should immediately allow all asylum seekers fleeing the violent crackdown in Myanmar access to desperately needed protection."
Thai authorities announced to the media that football stadiums, schools and other sites had been converted to welcome refugees from Myanmar, but those refugees remain unprotected from authorities arresting them and deporting them. The military government, which took power in a coup in 2014, has said it would change Thailand's asylum policies, but that has yet to happen.
SOURCE: DW
Keep in contact with Thaiger by following our Facebook page.
Never miss out on future posts by following Thaiger.
More bitter clashes yesterday in Myanmar with the toll rising to 618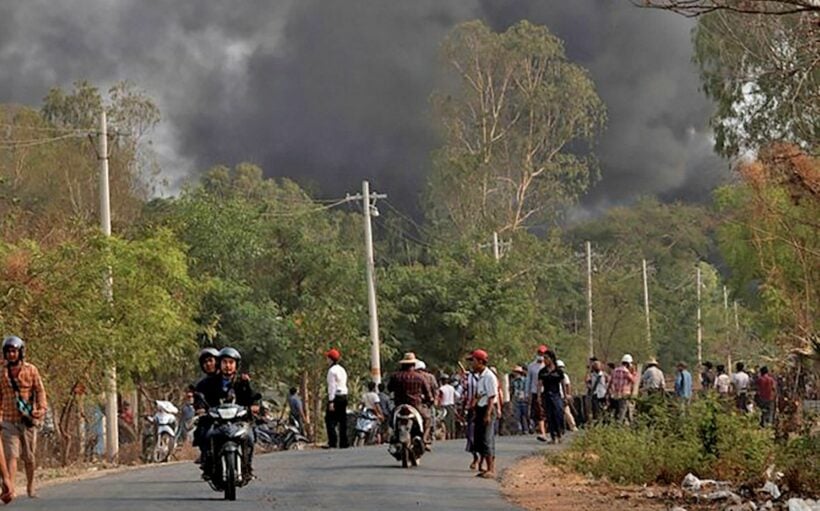 "618 Burmese civilians, including 48 children, have been killed by the army and their security forces since the February 1 coup."
The Assistance Association for Political Prisoners reports that Burmese soldiers have killed 80 civilian protesters near Yangon, Myanmar's largest city. Myanmar Now reports the number as 82…
"The junta's armed forces crushed a key protest stronghold in Bago's Ma Ga Dit road in a pre-dawn attack…. Soldiers have been stationed at the Zeyar Muni pagoda compound in the town and have taken dead bodies inside…. "There could be at least 57 dead bodies inside the pagoda compound as well as three bodies at a local morgue and one that was cremated immediately".
Witnesses say troops used rifle grenades against protesters in Bago.
"A leader of the protest column in Bago said no one could go outside as soldiers were shooting at anybody they saw on the streets," according to Myanmar Now.
The reporting of numbers of civilian deaths has become more complicated since the Army chiefs ordered a switch off of communications and internet, throttling the communications between people and groups inside the country. The story of the 82 people massacred in Bago took more than 24 hours to emerge.
Another Bago resident told AFP that Army officials wouldn't allow rescue workers near the bodies.
"They piled up all the dead bodies, loaded them into their army truck and drove it away," he told AFP.
Footage from Al Jazeera here…
Yesterday, in Tamu, Sagaing Region, in far northwest Myanmar, locals ambushed Burmese security forces with home-made rifles as they tried to enter the town to confront protesters. At least 3 soldiers and one local resident were killed in that clash.
Meanwhile, forces calling themselves the 'Three Brotherhood Alliance' of ethnic armed organisations attacked a police station yesterday, 25 kilometres outside of Lashio, deep in the northern Shan State near the Chinese border, resulting in the death of many police. Myanmar Now reports that 8 police were killed in the attack, including the police chief.
Troops from the Arakan Army , the ethnic Kokang Myanmar National Democratic Alliance Army, and the Ta'ang National Liberation Army were involved in the strike, according to local residents.
The Brotherhood Alliance is also a part of the Federal Political Negotiation and Consultative Committee led by the United Wa State Army, an organisation trying to unite Myanmar's disparate ethnic groups against the Burmese army.
In another update, according to AFP, 19 people were reported to have been sentenced to death for killing an associate of an army captain near Yangon, the first sentences of that nature announced on military-owned TV outlets. Only 2 of the sentenced are currently in custody, the others were sentenced in absentia.
SOURCES: AFP | Myanmar Now
Keep in contact with Thaiger by following our Facebook page.
Never miss out on future posts by following Thaiger.
UN special envoy in Thailand to meet Foreign Minister about Myanmar crisis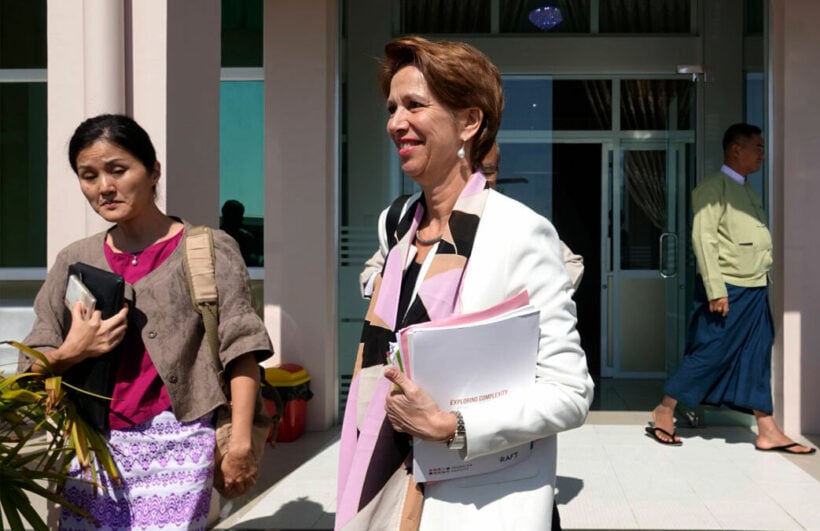 The UN's special envoy on Myanmar is meeting with Thai Foreign Minister Don Pramudwinai in ongoing diplomatic efforts to find a peaceful solution for the humanitarian crisis in Myanmar.
But Thai officials have put her quarantine ahead of the needs of the Burmese people with Christine Schraner Burgener, who arrived in Bangkok yesterday, having to spend 7 days in ASQ before meeting in person with FM Don. The special envoy received 2 doses of Covid vaccine before her departure to Thailand.
She is visiting Thailand as part of a quick (well, not so quick with the imposed 7 day delay) diplomatic tour around ASEAN nations to "explore possible solutions" to the continuing carnage in Myanmar brought about by the Tatmadaw following a military coup on February 1. Nearly 600 civilians have been killed by gangs of soldiers under orders to crackdown on protesters who insist on a return of the civilian Aung San Suu Kyi government.
In the November general election in Myanmar, the military backed parties only gained 17% of the total vote. Military chiefs say that there was "voting irregularities" despite Myanmar's independent election commission claiming the vote was "free and fair".
Christine Schraner Burgener, a former Swiss ambassador to Thailand, has served as the special envoy on Myanmar for 3 years. Her specific mandate from the UN is to "support the reform, reconciliation and democratisation processes in Myanmar, as well as to address violence in Rakhine State and Rohingya displaced persons".
Thailand's government whilst calling for a peaceful resolution has held back from more forceful language over the violence in the neighbouring country. The government has also come under fire from NGOs stationed on the border, monitoring the flow of refugees crossing from Myanmar, who claim the government has been doing little to help and, in some cases, just turning the refugees back and refusing them entry.
According to Thai PBS World, Thailand's Foreign Ministry says that Thailand is "deeply concerned".
"We are committed to cooperating and engaging constructively with the international community, including through the UN and ASEAN, in order to find a peaceful solution for Myanmar and its people. We hope that this visit to the region by the Special Envoy can contribute towards possible solutions."
AFP quoted UN spokesman Stephane Dujarric as saying that the junta in Myanmar has not yet given Burgener a "green light" to visit the country..
With the backing of the UN Security Council, Christine Schraner Burgener says she wants to visit detained civilian leaders, mostly from the NLD ruling party (before February 1, including the Myanmar President Wint Myint and Aung San Suu Kyi.
SOURCES: Thai PBS World | AFP
Keep in contact with Thaiger by following our Facebook page.
Never miss out on future posts by following Thaiger.
Burmese refugees are being aided, PM Prayut assures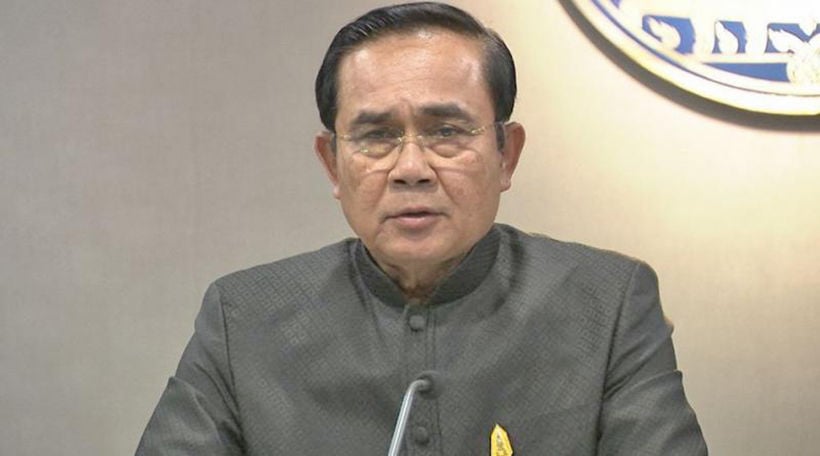 Burmese refugees along the Thai-Myanmar border are being provided with humanitarian assistance according to a statement by PM Prayut Chan-o-cha yesterday. PM Prayut spoke about the growing crisis at Government House Wednesday after a cabinet meeting. He said that the two countries, since they are neighbouring, need to be in agreement and work together and Thailand can't take sharp independent action. He believes the problem must be addressed diplomatically.
The remarks come in defence of growing concern that the Thai government is not doing enough to help Burmese refugees affected by the military crackdown. PM Prayut pointed out that there's already a government body in place designed to address and handle issues along the border, called the Thai-Myanmar Township Border Committee.
"It doesn't mean we don't care when speaking in terms of humanitarian affairs because it is about human lives. The government has suggested guidelines to solve [the crisis] via the Ministry of Foreign Affairs and ASEAN which will have a meeting shortly. We must solve the problem systematically. Because our two countries are next to each other, we can't take decisions by ourselves. As for violence, we disagree [with it]."
The Immigration Bureau Chief estimates there are about 2,000 Burmese refugees currently in the Mae Hong Son province. Several Burmese refugees have even been treated within Thailand after being injured fighting inside the Myanmar border.
The issue is exacerbated by a dual crisis with the crackdown on protests following the Burmese coup and the expanding outbreak of Covid-19 transmission. Government officials are calling for cooperation along the border and in both countries to try to resolve the refugee crisis as well as contain Covid-19 outbreaks, which are currently on the rise again.
Six more checkpoints have been reopened in the meantime along the Thai-Burmese border since March. 46 of the 97 border openings are currently open with checkpoints in operation..
SOURCE: Bangkok Post
Keep in contact with Thaiger by following our Facebook page.
Never miss out on future posts by following Thaiger.