White caps & tight racing – Day two of the Multihull Solutions Regatta in Phuket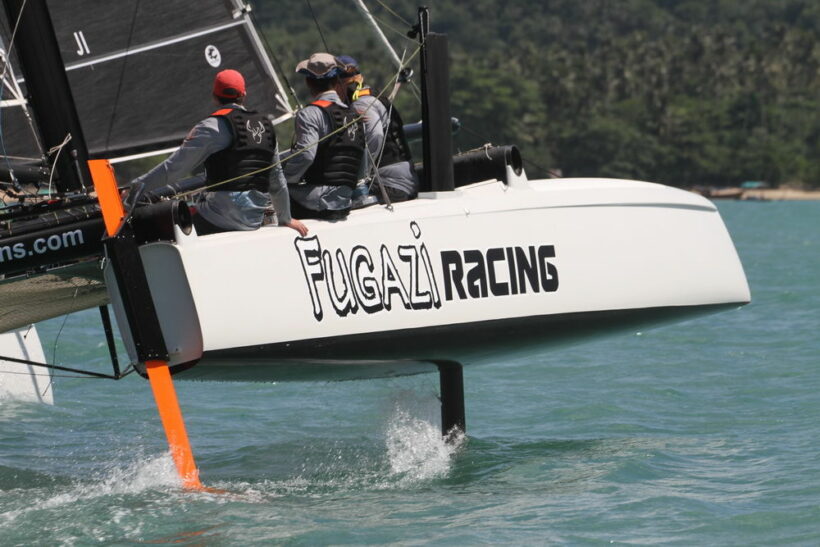 PHOTOS: Phuket Yacht Club
The racing multihull boats sailed two races on Sunday – the second day of racing in the annual Multihull Solutions Regatta off Chalong Bay in Phuket.
The first race was a three-lap windward-leeward in Chalong Bay and the second a longer course out to the safe water mark just before Cape Panwa.
Whitecaps and winds gusting to the mid-teens greeted sailors as they lined up for day two of the 2019 Multihull Solutions Regatta.
Andrew Hurford's Phantom V and Warwick Downes' Bonza flipped positions on the day with Phantom V winning race one and Bonza coming second, only to see Bonza stretch its legs flying through the water to seize race two with Phantom placing second.
Glwyn Rowlands' Twister 2 with two third-place finishes on the day consolidated its hold on third place in the division. Dan Fidock and his crew on Fugazi are still developing their new boat, and had some good thru-the-water speed, but had a bit of trouble with their halyard locks. They sit fourth in the division with fifteen points.
Dirk Weiblen's No Fear, unfortunately, had trouble early in race one and had to withdraw from racing for the day.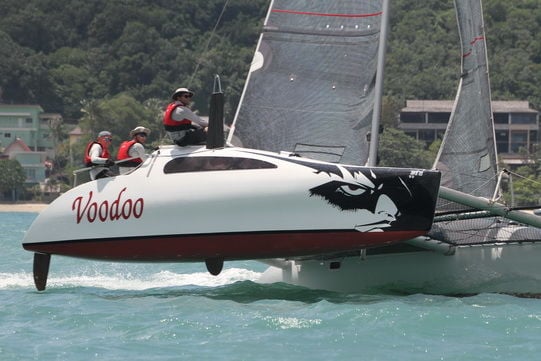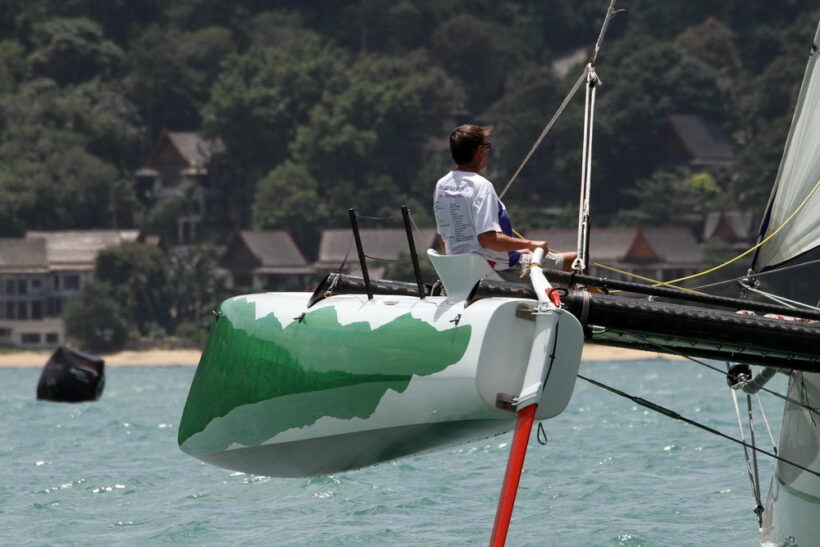 There were three races for the Fireflies on the day: the first, a three-lap windward-leeward course; the second a two-lap windward-leeward course and the third being a triangle course in Chalong Bay.
For the last five years, this division has seen a heated rivalry between John Newnham's Twin Sharks and Hans Rahmann's Voodoo on the water, which is only matched by the camaraderie the boats share off the water. They have reigned dominant in this division for some time and today was no different.
A rare poor drop by Twin Sharks on the leeward side of the first mark allowed Voodoo to push through and claim the first race, and from there on in it seemed as if the boats were joined at the hip with only a couple boat lengths marking the distance between the two at each rounding.
George Eddings' Blue Nose suffered some bad luck when they preferred spinnaker went down in the third race and they dropped from first place to last quickly.
The Fireflies, which were designed by Phuketian Mar Pescott and built by Phuketian Mark Horwood have been a mainstay of the regatta since day one.
After two days of racing featuring six races with one drop, Voodoo sits atop the Firefly leaderboard with seven points with Twin Sharks only one point back with eight points. Blue Noze, Ray Waldron's Surf Patrol and Marc Chapus' Moto Inzi follow in that order with 15, 17, and 22 points, respectively.
Zam Bevan's Sho,Vel has won all five races in the two-boat Cruising Multihull Class as today it beat Bill Kane's The Sting in both the windward-leeward race it sailed as well as the race around Koh Lon.
Again, kudos go out to Simon James and his crew for great course management on the water and a big thank you to Captain Brent McInnes of the Phuket Cruising Yacht Club for providing the photography boat.
Rehearsals continue for the grand Royal Barge Procession in Bangkok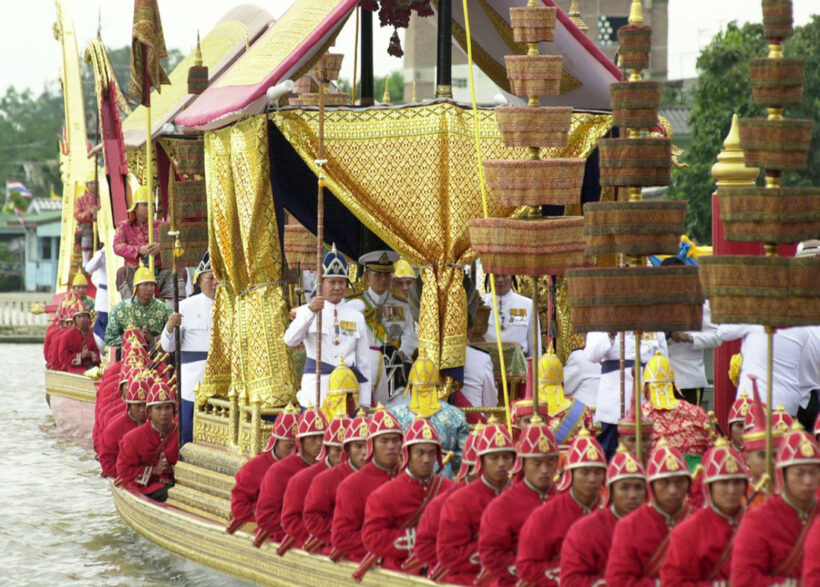 The next rehearsals for the Royal Barge Procession, the final event of the Coronation of His Majesty King Maha Vajiralongkorn (Rama X) in 2019, will be held on August 22 and 29, September 3, 10, 17, 23, and 27 and October 3, 7, and 10. The full-dress rehearsals are being held be on October 17 and 21.
The Royal Barge Procession will take place on Thursday, 24 October along the Chao Phraya River in Bangkok.
Habitat Group honoured with ten awards at 2019 PropertyGuru Thailand Property Awards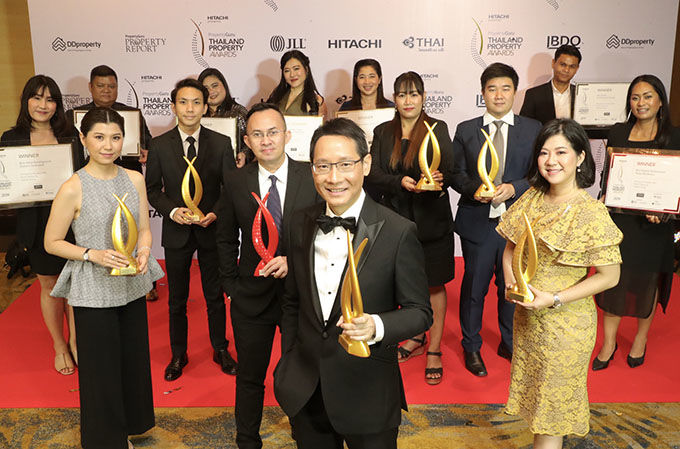 PHOTO: Winners, the Habitat Group lead by CEO, Mr. Chanin Vanijwongse 
Thailand's premium property-for-investment developer, Habitat Group, has received high acclaim at the 2019 PropertyGuru Thailand Property Awards being honoured with ten awards, including the highly coveted Best Boutique Developer.
In addition, Habitat Group's flagship Walden brand and its expertise in developing properties for investment were recognised with multiple awards in the development and design categories.
Walden Sukumvit 39, a low-rise modern luxury condominium in the heart of Bangkok's CBD, was recognised with Best High End Condo Development (Bangkok), Best High End Condo Architectural Design (Bangkok) and Best High End Condo Interior Design (Bangkok) awards.
Ramada by Wyndham Mira North Pattaya, a luxurious five-star resort-type condominium in North Pattaya, was announced Best Hotel Development (Eastern Seaboard), Best Hotel Residence, Best Hotel Interior Design, Best Hotel Architectural Design, Best Hotel Landscape Architectural Design and Best Digital Performance Hotel Residence.
Habitat Group's Chief Executive Officer, Mr. Chanin Vanijwongse said, "It's an honour to be recognised as Thailand's Best Boutique Developer and to have received ten awards for the company and two of our premium developments at the PropertyGuru Thailand Property Awards 2019. These awards further cement our position as the leading property-for-investment developer in the country.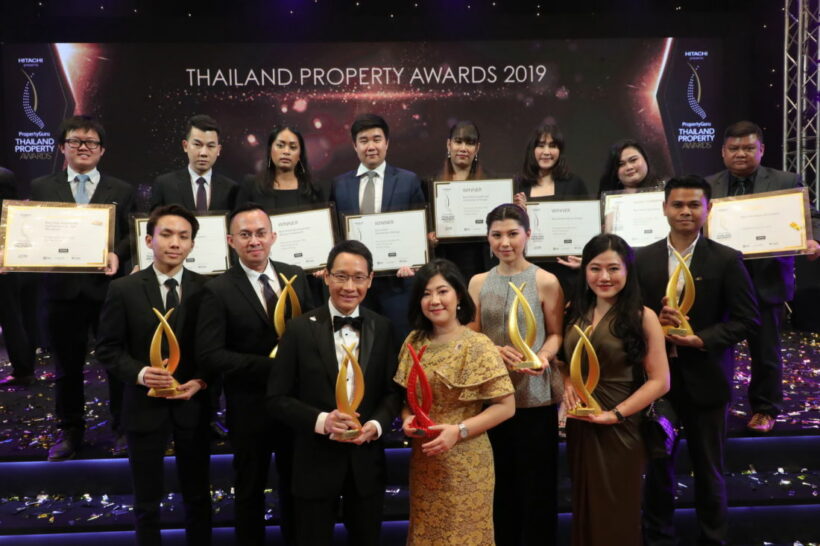 You've read the social media, now watch the TM30 debate in Bangkok – VIDEO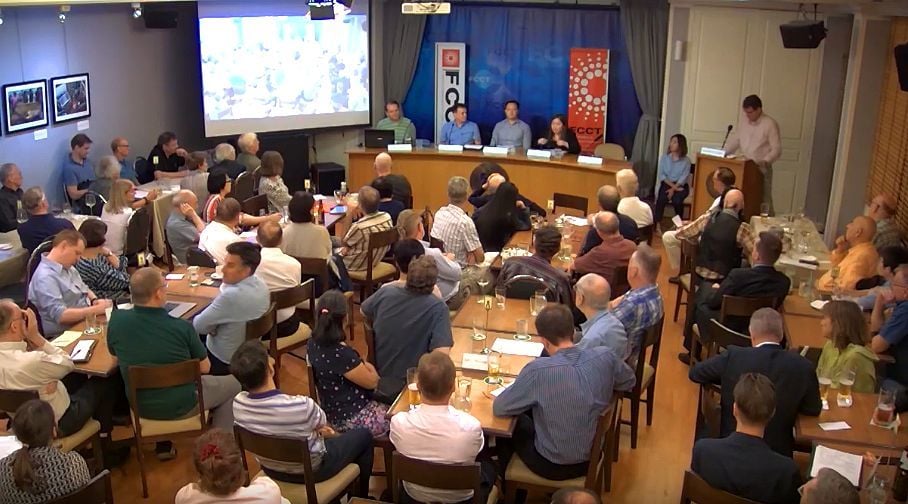 A panel of Thai and foreign experts and commentators came together yesterday to discuss the enforcement of immigration rules, government policies and concerns, and recent shifts in official procedures and attitudes. They attempted to clarify the TM30 reporting process, analyse its impact and discuss the future of this unpopular law. The speakers were…
• Pol. Maj. Gen. Patipat Suban Na Ayudhya, Commander of Immigration Division
• Pol. Maj. Teerapong Jaiareerob, Inspector of Sub-Division 2, Immigration Division 1
• Pol.Col. Thatchapong Sarawannangkul, Superintendent of Sub-Division 2, Immigration Division 1
• Penrurk Phetmani, immigration lawyer with Tilleke and Gibbins International
• Chris Larkin, director of the Australian Chamber of Commerce and a member of AustCham's Advocacy subcommittee where he works on customs alliance and immigration issues
• Sebastian Brousseau, lawyer and managing director of Isaan Lawyers, specialist in immigration issues and leading member of advocacy group reform-thai-immigration.com
• Richard Barrow, blogger and long-time Bangkok resident