Samui's Banyan Tree Hotel acts to protect sea turtle nest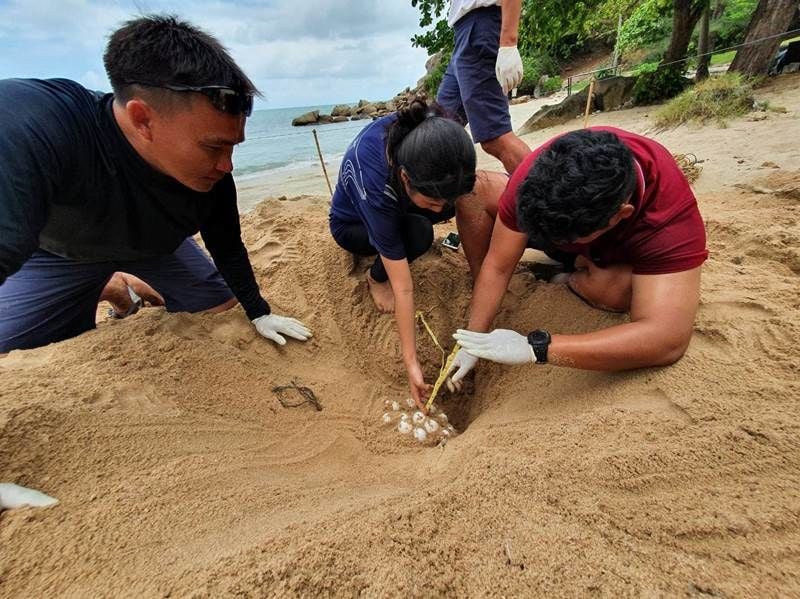 Khun Veeraphat, a waiter at Sands beachfront restaurant on Koh Samui, made a startling discovery on February 13 when he spotted what appeared to be tracks coming from the sea. CCTV footage at Banyan Tree Samui clearly showed a giant sea turtle laying eggs on the beach the night before, then returning to the water. The luxury hotel, located on the southeast tip of the island, immediately contacted the local Department of Marine and Coastal Resources, who arrived and uncovered two nests containing around 100 eggs belonging to a green sea turtle.
Then, on February 24, the mother turtle returned and laid a second clutch, this time numbering 141 eggs. This nest, however, was too close to the shoreline and so it was carefully dug up and relocated it on higher sands.
Such a discovery on Koh Samui is rare; green turtles (Chelonia mydas) tend to lay their eggs on remote shores in the Andaman Sea – not at busy tourist resorts in the Gulf of Thailand.
However, this mother turtle was in luck, because not only does Banyan Tree Samui employ a CSR (corporate social responsibility) team headed by a marine biologist, Thepsuda Loyjiw, but the resort was singled out last year by global watchdog EarthCheck as meeting the highest standards for environmentalism in the country.
The resort built an enclosure to keep the nest safe from monitor lizards and any other would-be predators. In the days that followed, the fenced-off pen became adopted by guests as a protected site.
"We were very excited to find the clutch of eggs, but quickly realized that this was a precarious situation," said Thepsuda. "Luckily, the Banyan Tree beach is situated in a private cove so tourists and vendors are not constantly walking by. The most immediate danger was the tide, but the turtle had fortunately buried her first clutch above the high-tide line. The second nest was too close to the shore so we carefully dug it up and moved it higher. The next danger was the monitor lizards who prey on turtle eggs. We had to ward off a large local lizard who had the nest in his sights."
Green sea turtles generally weigh between 110 and 180 kg and measure about one meter in length. The gestation period for eggs is between 45 and 60 days, meaning that this clutch should hatch between March 28 and April 12, which is the day before Thai New Year (Songkran).
"In this day and age when we hear so much about endangered marine life, it's a fantastic feeling for all of us at the resort to feel we are giving something back," said Banyan Tree Samui General Manager Remko Kroesen.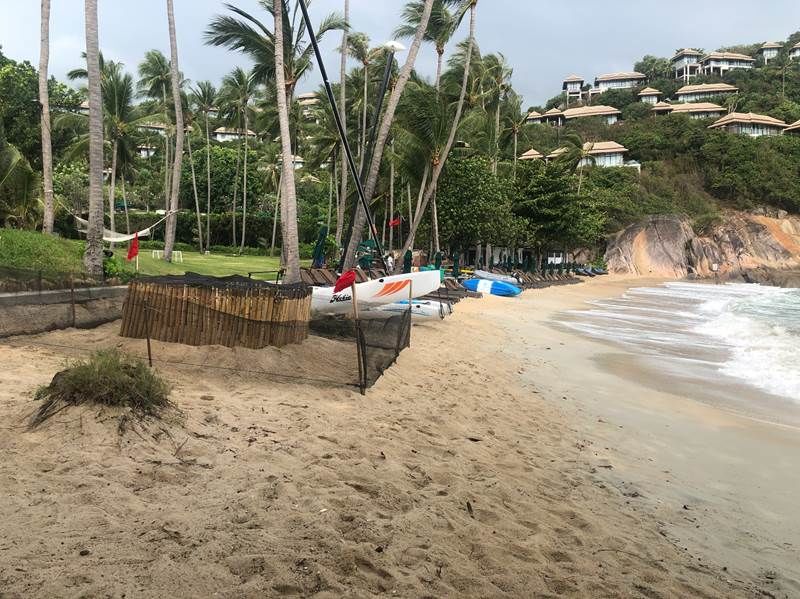 Keep in contact with The Thaiger by following our
Facebook page
.
Thailand's reservoirs and dams reaching critically low levels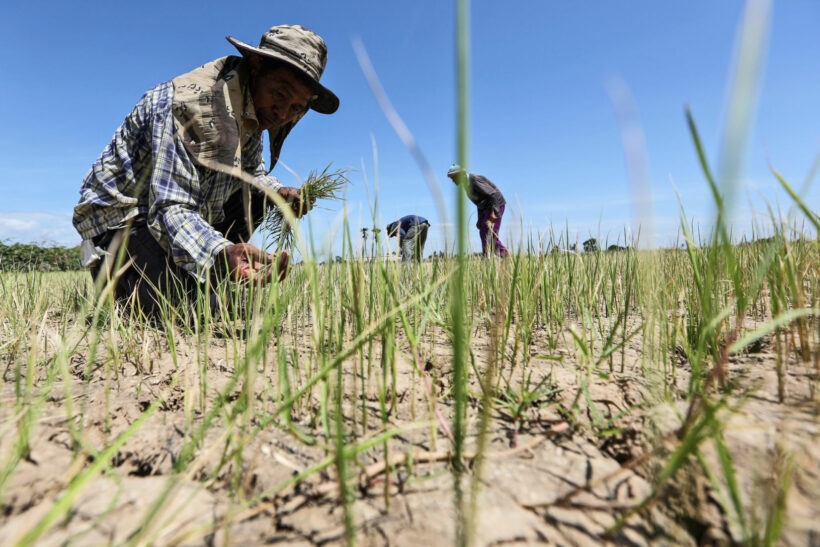 The start of the annual wet season isn't far away, maybe this month, but Thailand's water sources are running on empty.
The Department of Disaster Prevention and Mitigation reported today, that Thailand has seen a large drop of useable water in dams and reservoirs by an average of 30% of their capacity, due to the lack of rain in the first three months of the year.
"21 dams in provinces of Lampang, Tak, Uttaradit, Chiang Mai, Uthai Thani, Chaiyaphum, Khon Kaen, Nakhon Ratchasima, Udon Thani, Buriram, Suphan Buri, Lop Buri, Chachoengsao, Nakhon Nayok, Chonburi and Rayong have reported critically low water levels. Meanwhile, 187 reservoirs nationwide also reported water levels at below 30% including 50 reservoirs in the North, 100 in the Northeast, 33 in Central and four in the South."
"It is expected that 6,065 villages in 139 districts and 714 subdistricts are currently being affected by the drought."
So far there have been reports that 23 provinces declared as drought areas requiring emergency financial support by the Ministry of Finance. These provinces include Phayao, Nan, Chiang Rai, Uttaradit, Sukhothai, Phetchaboon, Uthai Thani, Nongkhai, Nakhon Sawan, Beung Kan, Sakon Nakhon, Nakhon Phanom, Kalasin, Mahasarakham, Nakhon Ratchasima, Buriram, Chaiyaphum, Sisaket, Chainat, Kanjanaburi, Suphanburi, Chachoengsao, and Prachinburi.
Phuket reservoirs are also at critically low levels, only surviving because of the drop in tourists to the island since January.
Songkran, the Thai New Year, on April 13, is usually the annual celebration of the end of the country's hot season and the start of the annual wet season. The formal celebrations for Songkran have been postponed by the Thai government.
SOURCE: The Nation
Keep in contact with The Thaiger by following our
Facebook page
.
Chiang Mai chokes as fires rage in the north of Thailand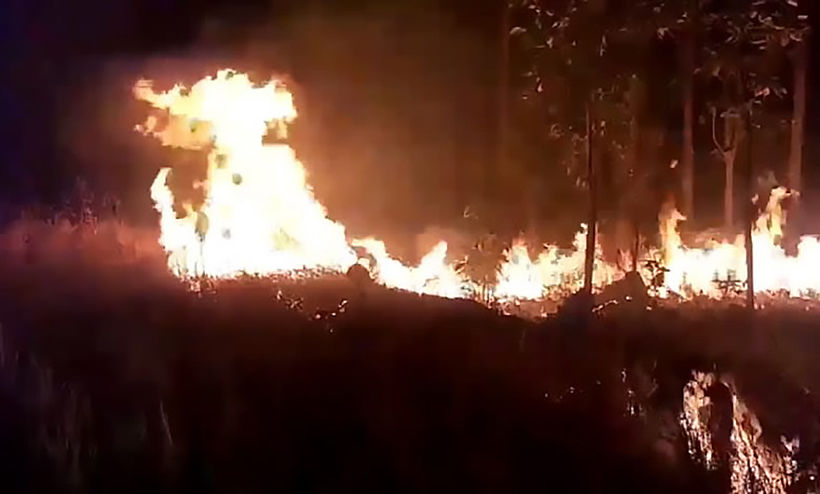 Northern Thailand is choking under a toxic shroud and it's not getting any better. Air pollution across the upper North remains "at critical levels," in many areas, including some of the main population centres. Authorities are monitoring almost 400 active hotspots in Chiang Mai alone yesterday.
The air quality didn't improve this morning, with IQAir recording "very unhealthy" air quality and hazardous PM2.5 dust levels at around 200 in parts of Chiang Mai and up to 270 around Chiang Rai today (below).
Thailand's official safe level is 50: the World Health Organisation sets it at 25. Though it's improved somewhat during the day, Chiang Mai once again rated world's worst for air quality.
According a 2019 report, PM2.5 caused 23,800 premature deaths in Thailand in 2017.
Government spokeswoman Narumon Pinyosinwat says fires have definitely affected air quality, with 17 provinces in the North reporting an increase in levels of PM2.5 pollutants yesterday. Only two, Nakhon Sawan and Uthai Thani in the north-east reported PM2.5 readings below the Pollution Control Department's "safe" threshold.
Chiang Dao district in Chiang Mai reported the highest PM2.5 reading in the North yesterday at 360.
Narumon says the worsening pollution is due to a combination of factors which include arson, drought and wind patterns which trap pollutants right over Thailand. Others say agribusiness, with its annual plantation field burnings, continues to exacerbate the problem.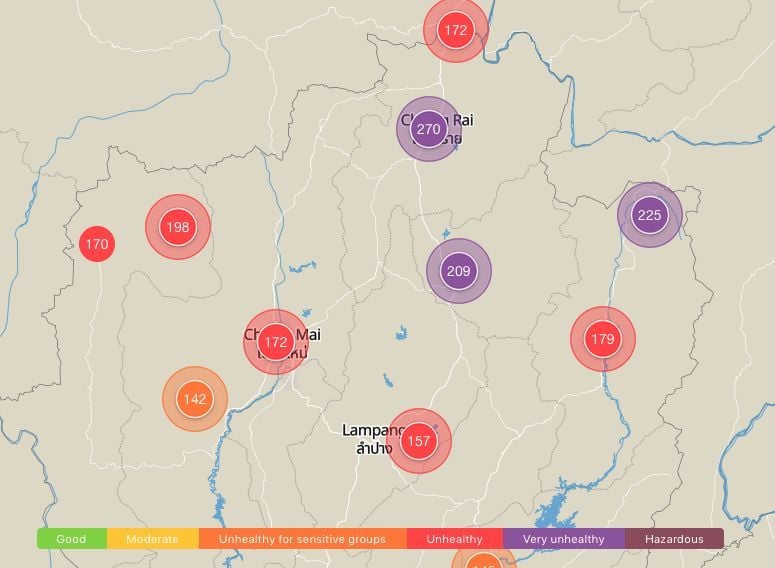 According to satellite data, on Saturday there were 3,809 hotspots in Thailand, 5,061 in Laos and 10,061 in Myanmar. As of yesterday, 398 hotspots, nearly 10% of the country's total, were found in Chiang Mai.
Most of the blazes were related to a continuing bushfire in Doi Suthep-Pui National Park, which suddenly raged out of control late on Saturday after burning for about a week.
SOURCE: Bangkok Post
Keep in contact with The Thaiger by following our
Facebook page
.
Potential catastrophe facing Thailand's elephant camps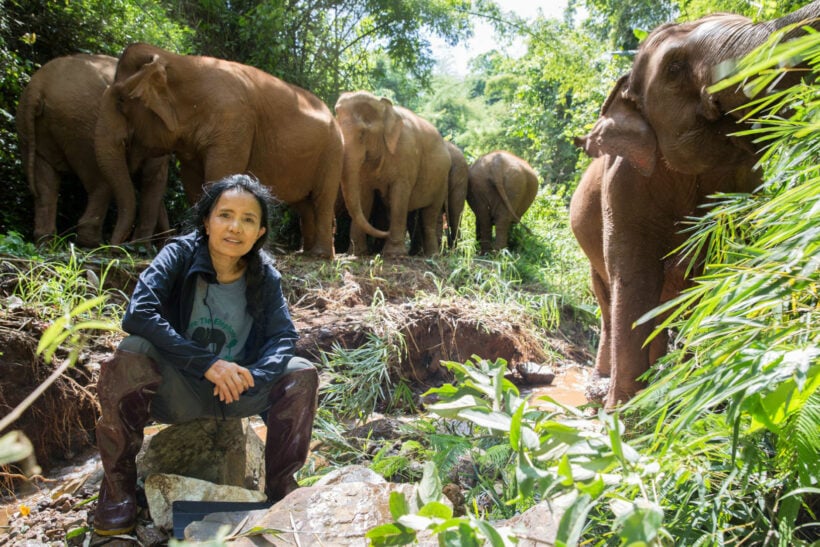 Elephant Nature Park in Chiang Mai, along with many other camps in Thailand, have been forced to close their doors due to the current Coronavirus situation in Thailand. Apart from resulting in hardship for the elephants, it will seriously hurt Thailand's tourism industry in the future if no support is forthcoming soon.
And whilst we're hunkering down in our homes waiting for the virus crisis to pass, what becomes of the elephants?
Saengduean "Lek" Chailert, owner of Elephant Nature Park and founder of Save Elephant Foundation, believes many of the closures will be permanent.
"I have been to visit many of the camps and the situation is very serious."
"The elephants have been chained up since the tourists stopped coming. They are very stressed and upset. Some have started to attack each other from being chained up all day and several have bite wounds as they are fighting over food. The pregnant elephants are also stressed and not doing well at all."
What does that mean for the future?
"If there is no support forthcoming to keep them safe, the elephants will either starve to death or may be put onto the streets to beg. Alternatively, some may be sold to zoos and some may be returned to the logging business (which officially banned the use of elephants in 1989). It's a very bleak outlook unless some financial help is received immediately."
At Elephant Nature Park, which houses more than 3000 animals, many disabled or emotionally unstable, a frantic fund-raising effort is underway for food and medical needs. Some of the elephants need intensive, regular veterinary care.
Lek thanked donors on her Facebook page saying…
"I have been in touch with more than 30 elephant camp owners to help them find a way out. My ability to help these animals is an extension of your generosity, I cannot do it without your help. There is no amount too big or too small to impact the lives of these animals. 100% of each donation is tax deductible and goes directly to Elephant Nature Park. I will share these donations with elephants in other camps as appropriate."
HOW TO DONATE
TRUNKS UP is a certified supporting organisation which is currently MATCHING all donations, dollar for dollar, up to US$45,000. Donations can be made via the site.
Where the money will go…
US$30 will feed an elephant for a day
US$20 will feed a dog or cat for one week
US$10 will feed a pig, cow or buffalo for one week
US$8 will feed a monkey for one week
US$5 will feed a rabbit for one week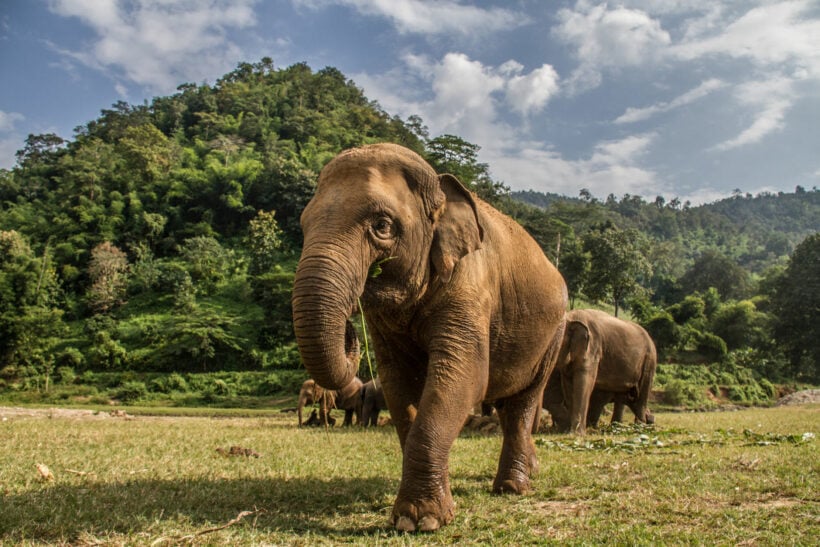 Keep in contact with The Thaiger by following our
Facebook page
.