Rare giant manta ray sighted off Phang Nga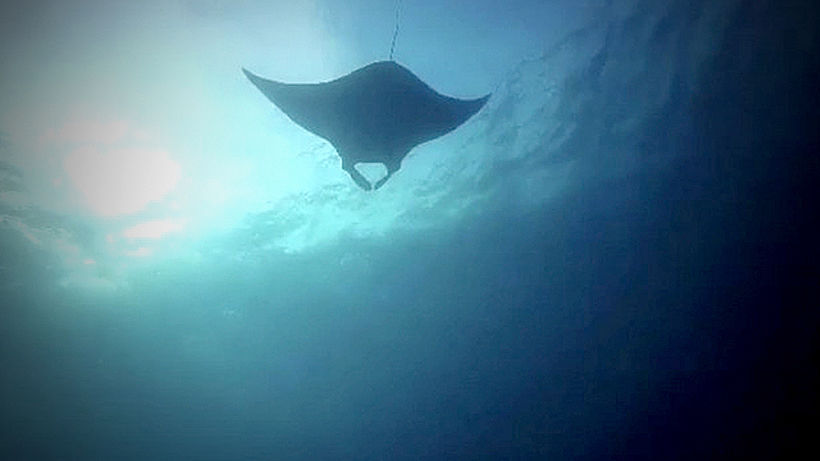 "We rarely see manta rays of this size around here, and I'm so glad to have seen one."
A rare five metres wide giant manta ray has been spotted near Koh Ta Chai, north of the Similan Islands group, off Phang Nga province. The photos came from Somporn Kaewmaneechote, a diving instructor with Sea Turtle Diver Company.
Somporn said the ray was spotted yesterday morning (November 10) while he was taking a group of divers to explore the underwater landscape near Koh Ta Chai at a depth of around 26 meters, according to The Nation.
"When we were coming back up to the depth of 18 metres, we saw a giant manta ray about four or five metres wide passing in front of us, giving us an opportunity to snap a photo of it."
Ruamsin Manajongprasert, Head of Similan Islands National Park, said that Koh Ta Chai has been closed to tourists since 2016 to rehabilitate the ecosystem after the high volume of tourist boats had damaged the coral reef around the island.
"The reef has now begun to heal itself."
"Local citizens have been cleaning the beach, which helps reduce the deaths of sea animals caused by eating marine debris."
Koh Ta Chai was reopened earlier this year, and there have been report of rare sea animal sightings including dolphins, whale sharks, shark rays and manta rays.
SOURCE: The Nation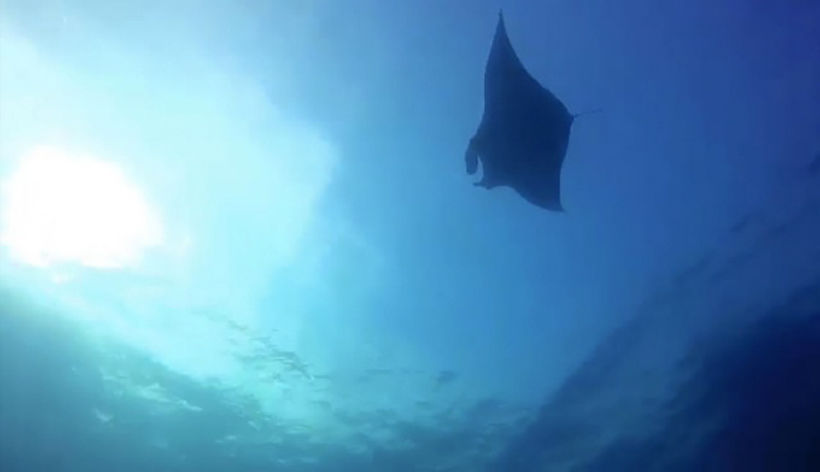 Keep in contact with The Thaiger by following our
Facebook page
.
Activists want Thailand to lead total ban on wildlife trade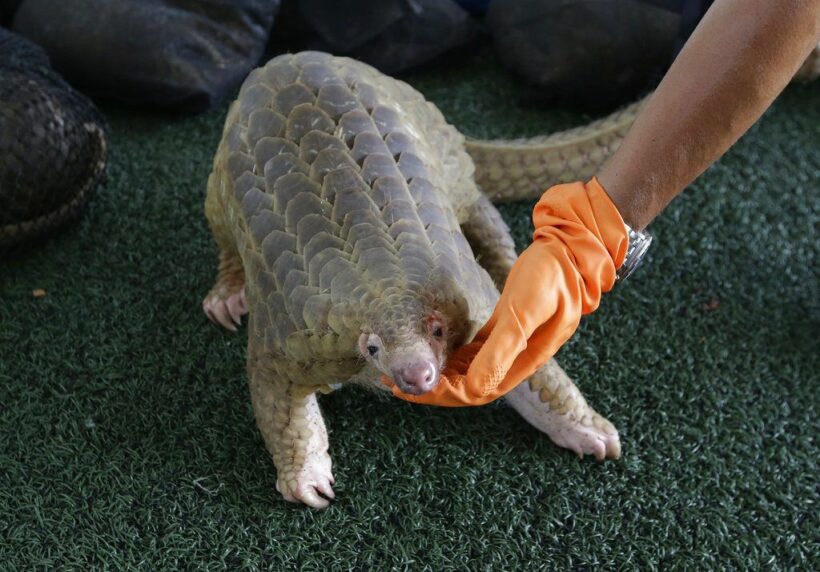 With the Covid-19 pandemic continuing to sweep the globe and the World Health Organisation saying 75% of all emerging infectious diseases are zoonotic, campaigners against wildlife crime say Thailand could become a global leader in helping to prevent pandemics by cracking down on poaching and ceasing to be a gateway for illegal wildlife trade. Activists believe this could help stop animal-to-human disease transmission, saying data show that the majority of emerging diseases usually originate from wet markets – where wild animals are caged and sold for food.
At a press conference yesterday to launch the global campaign "Endpandemics", Steven Galster, the founder of nonprofit group Freeland, which campaigns against animal and human trafficking, called on the government to take more aggressive actions to ban the wild animal commercial trade. Freeland started "Endpandemics" in April when the Covid-19 pandemic exploded globally.
Galster says the nation could return to its top place in the regional fight against the illegal wildlife trade under the framework of the ASEAN Wildlife Enforcement Network. He called Thailand's response to the Covid-19 outbreak "exemplary, resulting in some of the lowest numbers of cases and deaths in the world."
But, he says, Thailand has left a door open for a new viral bomb to explode on its own doorstep; the illegal wildlife trade. He says there needs to be strong efforts from all stakeholders, especially law enforcement, to ban it entirely.
He believes Thailand should close its gates to wildlife traders and lead other countries by example to follow the WHO "One Health" approach that involves protecting not only people but wild animals and ecosystems.
"A new vaccine will not work against a new outbreak strain. A true, sustainable vaccine will address the root causes of these outbreaks but there needs to be a new approach not only for the protection of people but of wildlife and natural ecosystems as well. Thailand can be that global leader by becoming the first country in the world to ban all commercial trade in wild animals. "
Despite its efforts to control wildlife crime, Thailand is widely known as a regional hub for wildlife crime due to its geographic location and transport system linking it to neighboring countries. Tonnes of African ivory, rhino horn, pangolins, and their scales, snakes, tiger cubs, and all manner of wildlife and wildlife products are confiscated at Thai airports annually. The final destination of these items is usually China.
Many anti-wildlife trafficking experts say the Covid-19 pandemic has helped stop the illegal wildlife trade; China has closed its wildlife markets and banned the trade, with some exceptions.
But the order to close the markets will likely be eased as the outbreak fades.
SOURCE: Bangkok Post
Keep in contact with The Thaiger by following our
Facebook page
.
Chiang Mai-Chiang Rai highway closed by flooding again – VIDEO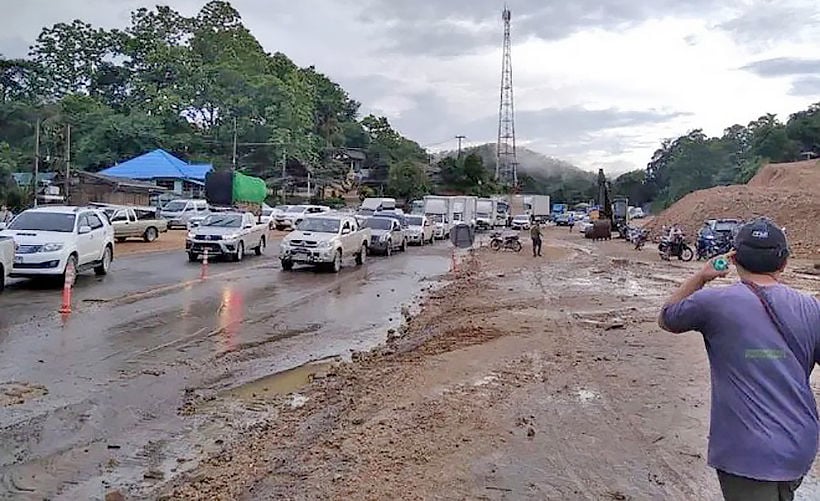 There seems no end in sight for the construction of the Chiang Mai-Chiang Rai highway as yet another night of severe rains caused massive flooding in the Doi Saket district. The bypass and the road were underwater, creating a traffic pandemonium. The police came to the scene and began suggesting alternative routes. As the waters subsided the road was opened again, but police urged motorists to drive carefully and stay alert to avoid accidents, as the road was covered with mud and "extremely slippery".
Less than 2 weeks ago, torrential rains washed away sections of the road and a bridge under construction in the same district, forcing drivers to find alternate routes. Police and officials inspected the damaged sections from kilometre markers 32 to 36 on the highway. An information post was established at the entrance to the Mae Kuang Udom Thara dam, where police and volunteers advised motorists travelling from Chiang Mai to use alternative routes via Phrao district in Chiang Mai and Wiang Pia Pao district in Chiang Rai.
Chiang Mai's governor says he's asked the Highway Department and its contractor to speed up repairs after the flooding as the route's bridge was damaged in 3 sections.
Motorists are greatly concerned about the road's paving-especially as the rainy season brings heavy traffic due to the many traffic incidents. Such travellers are demanding the road to be completed as soon as possible.
Authorities have yet to respond with any suggestions as to how to hasten the construction.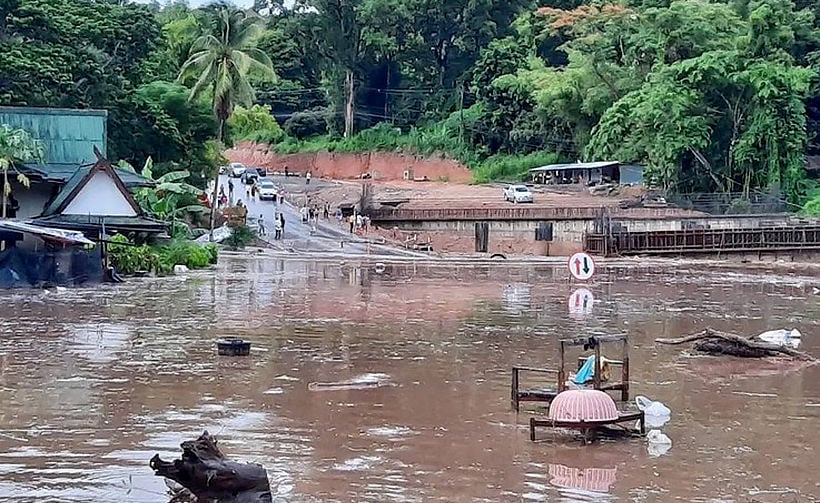 SOURCES: Chiang Rai Times | CityNews | TV5
Keep in contact with The Thaiger by following our
Facebook page
.
Government defends "monkey business" after PETA call for boycott on Thai coconut products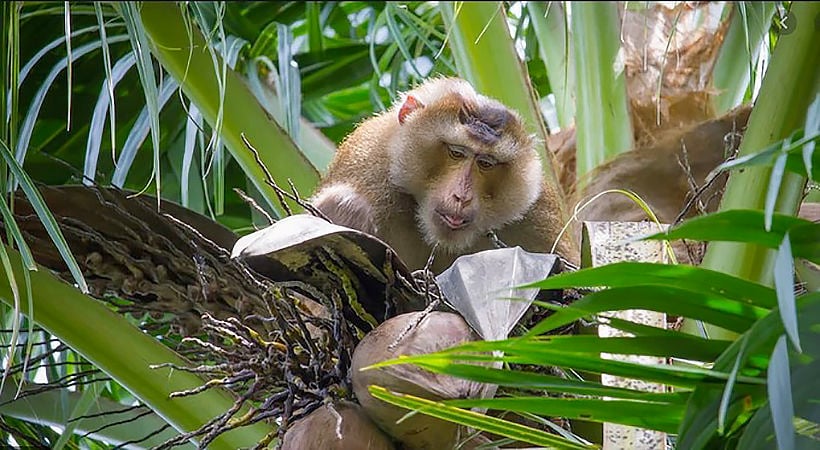 People for the Ethical Treatment of Animals, the US-based animal rights group, is no stranger to controversy and has been accused of double standards in the past. Now it faces accusations of "cultural racism" after its open call to ban all Thai coconut products because some of the coconuts may have been harvested by monkeys. In a statement issued this morning…

"PETA hopes that at today's meeting, Thai Minister of Commerce Jurin Laksanawisit and the coconut industry will stop lying to the public and acknowledge the industry's exploitation of monkeys. Our documentation is clear and unequivocal: Monkeys are kept chained, caged, and isolated for life simply because the industry won't expend funds to mechanise coconut picking as other countries have done.
"These animals, some of whom were seized from their natural habitat as babies, cannot play or be with their families: They are denied freedom and any semblance of a natural life, and the industry's training methods are harsh and psychologically damaging. Forcing monkeys to pick coconuts must be relegated to the history books, and now is the time for the government and the coconut industry in Thailand to realize that using and abusing monkeys is no longer an option."
But in a Facebook post today, the secretary-general of the Kla Party asked about the difference between using monkeys to pick coconuts in Thailand and the use of pigs to search for truffles in Europe. He said that the use of monkeys and pigs are two different cultures and both are respectable, and that in Thailand, monkeys and men work together to pick coconuts, with the animals properly trained at special schools. In the West, he said, pigs have been used for generations to find truffles, an expensive delicacy.
"PETA's concern over animal cruelty is understandable, but its campaign for countries to ban coconut products from Thailand is cruel and an insult to our culture. Nowadays, one should respect racial and cultural diversity."
TV celebrity Narakorn Tiyanont is calling on PETA to look at the way Western farmers raise geese to make foie gras, or goose liver, a delicacy in French cuisine. She says the geese are force-fed using metal tubes to fatten the liver. She also cited the brutal treatment of cows in the dairy industry.
A Former Prachuap Khiri Khan MP candidate says the accusation of monkey abuse might have an ulterior motive to ban Thai products…
"In the past, Thai rice farmers used water buffaloes in paddy fields and foreigners never banned Thai rice."
In a statement to Thai PBS World, PETA senior vice president Jason Baker confirmed their findings of cruel treatment of monkeys in the harvesting of coconuts in Thailand.
"When the government tries to explain away extreme cruelty to monkeys, it only makes the public angrier. The world doesn't want to see these animals being deprived of their natural lives and exploited by the coconut industry. The government can lead the industry to operate humanely, with an animal-free method, which the rest of the region has already adopted, or it can be responsible for the industry's downfall, because the writing is on the wall."
"Increasing numbers of consumers are speaking with their wallets, and retailers are listening. Our investigator was told repeatedly that these monkeys are taken from their families in nature, kept chained-up, abusively trained and forced to climb trees. They should be with their families, not enslaved."
SOURCE: Thai PBS World | Chiang Mai One
Keep in contact with The Thaiger by following our
Facebook page
.