Government's economic stimulus package generates over 10 billion baht so far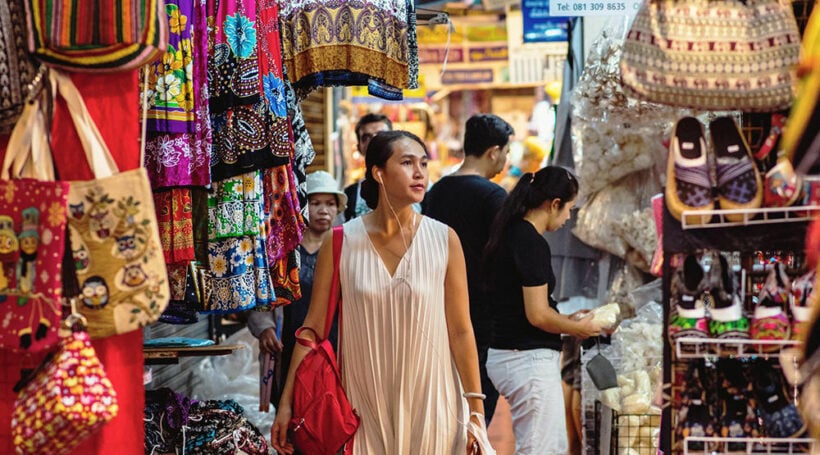 PHOTO: Fodors Travel Guide
The Thai government's campaign to stimulate domestic tourism – the Chim Shop Chai campaign – has generated over 10 billion baht so far.
The Nation reports that transactions carried out through the g-Wallet app have generated 225 million baht in the Yala province alone. The southern province now ranks 10th highest for spending during the campaign.
Users had to register they participation in the campaign online to receive an e-wallet of discounts and cash rebates when they travelled outside their province.
A government minister says the campaign has generated sales growth of at least 30% for businesses and up to 100% in some areas. He adds that the campaign has been proven boost for some smaller enterprises, putting more cash into circulation and stimulating the local economies.
13 million people signed up to participate in the scheme so far, with the campaign also helping to get more Thai people using cashless payment systems to prepare the country for the digital economy as a whole.
It also encourages families to travel and holiday within Thailand, spreading more wealth to local businesses. The campaign's impact is expected to become more pronounced towards the end of the year, during the peak tourism period.
The Deputy Director General of the Comptroller General's Department, Wirawan Payanoi, says users should continue to top up their g-Wallet balance after using the app for purchases in order to receive the 15% cashback promised by the government as a reward for spending 30,000 baht, or 20% cashback for spending over 30,000 – 50,000 baht. Cashback amounts are limited to 4,500 baht and 4,00 baht per person respectively and are only available until December 31.
Wirawan adds that organisations such as the Tourism Authority of Thailand and Krungthai Bank are expected to introduce additional tourism stimulus campaigns for the remainder of 2019.
SOURCE: National News Bureau of Thailand
Keep in contact with The Thaiger by following our
Facebook page
.
Government wants to extend 'Eat, Spend, Shop' economic stimulus plan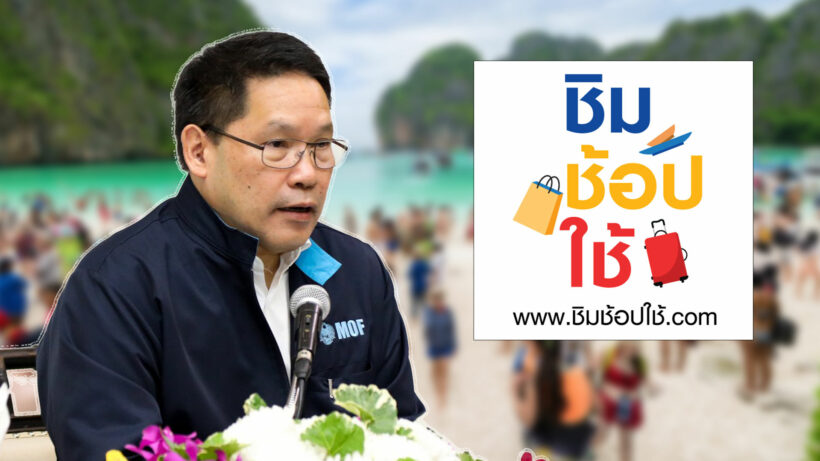 The government is seeking to extend the deadline for its economic stimulus package, "Eat, Spend, Shop" (Chim Shop Chai) to January 31.
The Nation reports that the Finance Ministry is planning to ask Cabinet today to agree to an extension from the original deadline of December 31, in order to provide a further boost to spending and the economy over the New Year celebrations.
Finance Minister Uttama Savanayana says there will be no cash giveaway in phase 3 of the scheme, which is expected to attract a further two million subscribers.
"In phase 3, the scheme will not give away cash of 1,000 baht as in the first two phases. Instead, we will stimulate e-money spending in the Second Wallet via the Pao Tang app that users have to top up themselves and spend to receive cash-back rewards. For a spending of less than 30,000 baht, users will be eligible to receive 15% cash back, while the portion exceeding 30,000 baht will be rewarded with 20% cash back.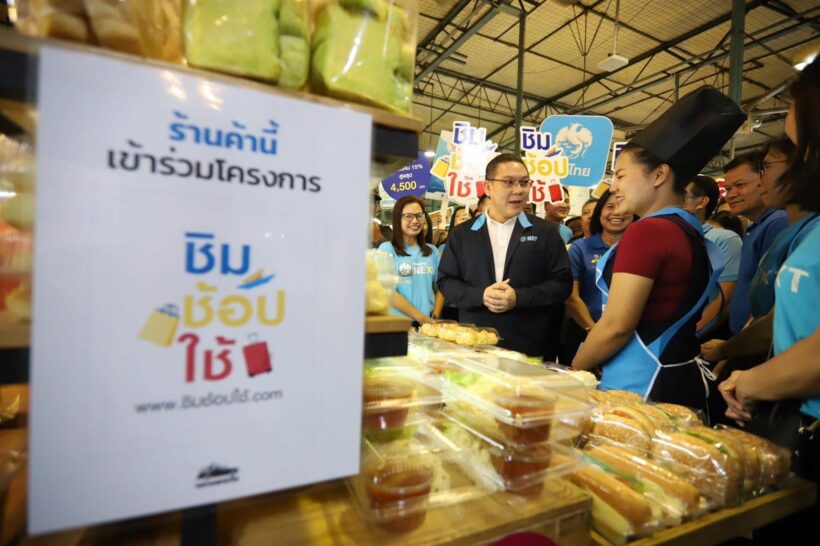 "The Finance Ministry and Krungthai Bank will seek partnerships with more retailers and hotels to register for phase 3 of the scheme to further stimulate Second Wallet spending, which now stands at 700 million baht, while First Wallet spending (which has giveaway cash of 1,000 baht) stands at 13 billion baht."
SOURCE: nationthailand.com
Keep in contact with The Thaiger by following our
Facebook page
.
A restart for resumption of Thai-EU trade talks scheduled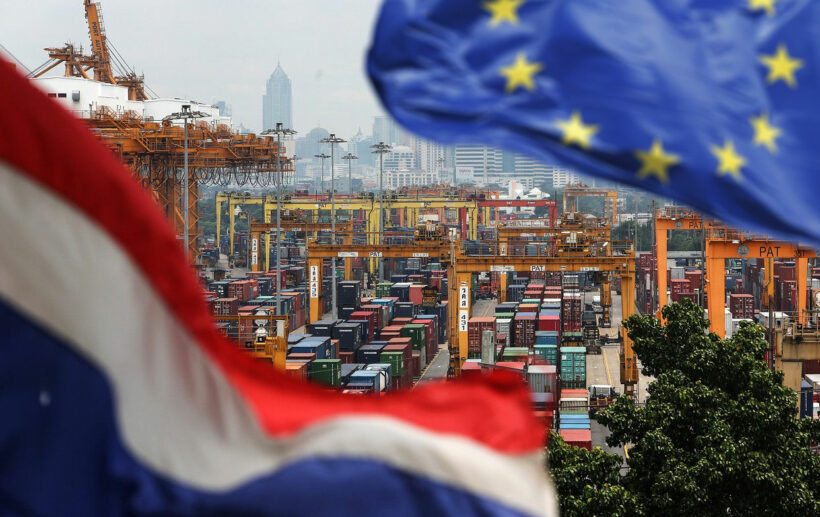 MONTAGE: The Thaiger
Free trade talks between the EU and Thailand are about to start again after years in the wilderness following the 2014 military coup, and years of protracted negotiations before stretching back to 2005.
The Thai Commerce Ministry is now preparing to resume free-trade talks with the European Union.
The director-general of the Department of Trade Negotiations, Auramon Supthaweethum, says a summary of opinions from all the Thai players would be submitted to a committee on international economic policy chaired by deputy PM Somkid Jatusripitak.
Auramon said many parties support the resumption of trade talks, but concerns were expressed over the possible influx into Thailand of products such as wine and liquor on a zero% tariff. Currently there is a 60% tariff on wine imports into Thailand. Some parties believe access to cheaper wine and liquor would have an adverse impact on public health.
The European Free Trade Association, which represents Iceland, Liechtenstein, Norway and Switzerland, has yet to be consulted as to whether it wishes to resume talks with Thailand. Independent talks with Turkey are also scheduled.
Seven European states established the EFTA in 1960 to promote free trade and economic integration, but Britain, Austria, Denmark and Portugal subsequently opted to join the parallel but competing European Union.
SOURCE: The Nation
Keep in contact with The Thaiger by following our
Facebook page
.
Thailand's 'economic condition index' expected to decline in Q3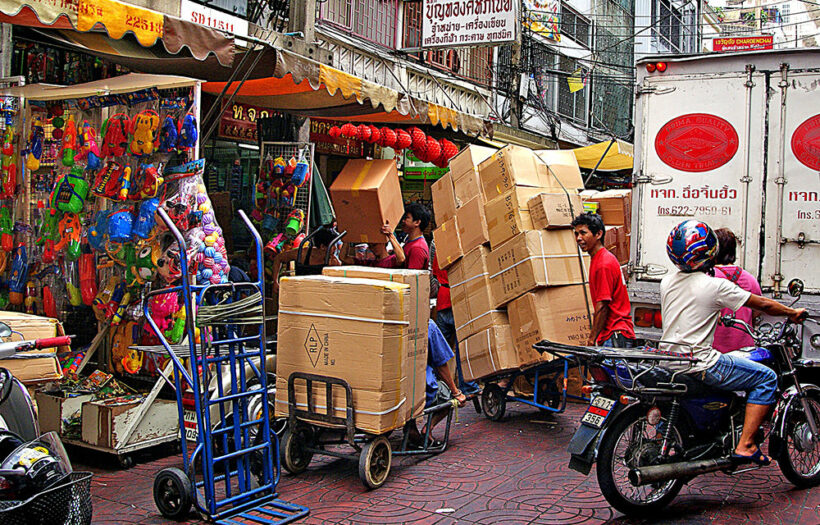 PHOTO: Culture Trip
Thailand's household economic condition index is likely to drop further due to the ongoing global economic slowdown. Another drop would make it the third this year, measured in quarters. The slowdown is impacting the domestic economy and employment, according to the Kasikorn Thai research centre.
Thai PBS reports that the latest ECI report indicates that a survey of economic conditions in October showed signs of increased layoffs, compared to the last survey in July, particularly in the manufacturing and services sector.
"The ECI for the last quarter of this year remains fragile and susceptible to further decline, despite the Government's efforts to implement stimulus packages."
Meanwhile, about 60% of retail business operators (life-style products and consumer products) in Bangkok and surrounding provinces report poor sales this year, compared to last year's performance, and 65% were not sure if or when their businesses will recover, according to the Kasikorn Thai research centre report.
"Uncertainty in the retail sector reflects its concern over future economic conditions and the purchasing power of consumers."
Amidst stagnant consumer purchasing power and continuing pressure on retail businesses, the Kasikorn Thai research centre predicted retail business next year might grow between 2.7%-3%, compared to this year's 3.1%.
SOURCE: Thai PBS World
Keep in contact with The Thaiger by following our
Facebook page
.