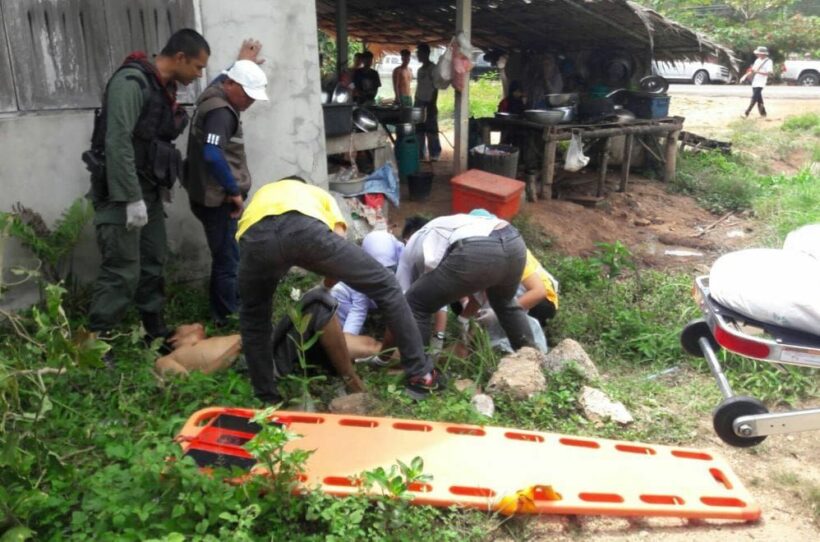 A clash with kratom drug smugglers by Thailand 's Songhkla border has left 1 Malaysian cop killed and 1 injured. The clash happened at around 2am this mornign as a Malaysian policeman came up on 13 men acting suspiciously near the border on the Malaysian side, which is opposite of Sadao district.
Gunshots were exchanged and 2 Thai smugglers were arrested with 3 other Thais wounded. The wounded Thais attempted to cross the border but were caught and sent to Hat Yai hospital for treatment. 54 year old Baharudin bi Pramli, was shot and killed whils 39 year old Norihan A/L Tari was wounded.
The kratom smugglers were believed to be both Malaysian and Thai nationals. Kratom, is a mild narcotic, which has been categorised as an illegal drug in Thailand. 1 of the injured men was taken to the area, as police say he was well enough to identify the scene of the clash and the gang's escape route. Across the border, Malaysian police reportedly arrested 2 Thai smugglers. One was 38 year old Sahamadyusob Talah from tambon Ban Khuan of Muang district, while the other was unnamed.
Recently, a Burmese man was busted with 20 kilograms of kratom after he illegally crossed a natural border into Thailand in the southern Muang district in Prachuap Khiri Khan. Border patrol police and administrative officials were patrolling Ban Hup Phueng, a village near the natural pass on the Myanmar border, after Thailand authorities sealed the border earlier due to an outbreak of Covid in Myanmar. Such arrests of illegal border crossing have been more prevalent in recent months as the province has stepped up surveillance of the border due to the Covid-10 pandemic.
Just last weekend, a Burmese refugee contracted Covid after sneaking across the border to visit his native country and upon coming back, he tested positive for the virus, causing officials to lockdown the refugee camp in Tak province.
SOURCE: Bangkok Post