Prasitthichai speaks to the Thai media, "killings were unintentional"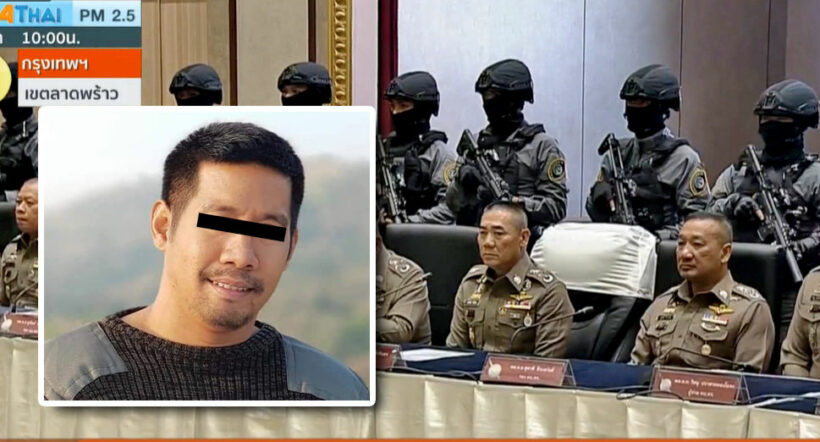 In a bizarre sequence of events, Thai media were able to directly question the suspect, who has allegedly confessed, of the cold-blooded murders of three, whilst injuring four others, on January 9 at a Lop Buri gold shop.
School principal Prasitthichai "Golf" Khaokaew is reported to have told police that he robbed the gold shop because he had financial problems and that the shooting of a female employee and a two year old were unintentional. They both died as a result of their wounds, along with a shopping centre security guard who was shot when the gunman was fleeing the scene of the crime.
Prasitthichai spoke to the media via telephone, at a media presser this morning at the Royal Thai Police headquarters in Bangkok. The media event was hosted by the national police chief, Pol Gen Chakthip Chaijinda. The assembled police chiefs were flanked by members of the special forces Hanuman assault team who arrested the suspect yesterday.
Prasitthichai told the assembled media that had to open fire because he "wanted to cause panic and clear the way as he approached the shop". He says he'd planned the robbery only 3 days earlier.
• He claimed that the shooting of the female employee was accidental claiming his glove got stuck in the pistol trigger when he tried to remove it, and his pistol accidentally discharged two shots.
• He claimed that he didn't see the 2 year old boy when he tried to shoot at a security guard. The wounded guard staggered out of the building and subsequently died on the road.
• He claimed he bought the gun's silencer from a friend on the Internet.
• Prasitthichai offered an apology, especially to the family of the 2 year old boy, "Title".
He told the assembled media that he was going to surrender to police tomorrow (January 24) but ended up being arrested by the Special Forces Hanuman Division whilst driving his car yesterday. Meanwhile police recovered stolen gold ornaments from the man's parents' house last night with the gold stuffed into steel tube rafter inside the roof. Police are also still searching for the silencer.
Thai PBS World have published some excerpts from the bizarre exchange between the reporters and the suspect on speaker-phone.
Q: Why did you have to shoot to kill the victims?
Prasitthichai: I only meant to shoot to frighten people.
Q: Did you plan the robbery in advance?
Prasitthichai: I thought about it for a few days.
Q: Why did you shoot at the gold–shop attendant again?
Prasitthichai: When I was on top of the counter and had my gun trained at the woman by hand-glove got tangled with the trigger. I tried to pull it off and caused the gun to fire twice.
Q: Why did you shoot 2 year old Titan?
Prasitthichai: I did not see him. I shot at the security guard to frighten him. The child could have been hit by the ricochet. I didn't mean to shoot at the child.
Q: Don't you have any sense of remorse? You still lived your normal life after what you had done.
Prasitthichai: I do regret. I saw news about what happened to the child and regret what I have done.
Q: How could you return to your normal life after what happened?
Prasitthichai: I tried to live a normal life and did not think about escaping. But deep down I regret what I did.
Q: If you wanted to frighten people, why didn't you just fire warning shots?
Prasitthichai: I did fire two shots at the gold show-case and didn't expect the bullets to hit the attendant. And then when I saw two customers (who were also shot) I just lost my mind. I want to say I am sorry and ask for pardon.
Q: What do you want to say to the families of the victims?
Prasitthichai: I want to say I am sorry, especially to the family of Titan and those of other victims. I am sorry and I want to ask for their mercy.
Q: Why did you use silencer and where did you get it from?
Prasitthichai: I bought it from someone my junior I know on the internet. I used it because I didn't want to frighten people with loud noises.
Q: Did you think of giving yourself up?
Prasitthichai: I did think about surrendering but didn't consult with anyone. I did everything by myself. My intention was to give myself up after January 24.
Q: Why January 24?
Prasitthichai: I had an assignment with students at my school that I needed to finish first.
Q: Was your first shot intentional or accidental?
Prasitthichai: It was intentional. I wanted to frighten people, to prevent people from getting near. But it ended up hitting Titan
Q: There was rumour that you committed the crime because you wanted to die, a daredevil act.
Prasitthichai: No. I did it because of my personal problems. I have to excuse myself now.
SOURCE: Thai PBS World
Keep in contact with The Thaiger by following our
Facebook page
.
Lop Buri gold shop gunman pleads guilty to all nine charges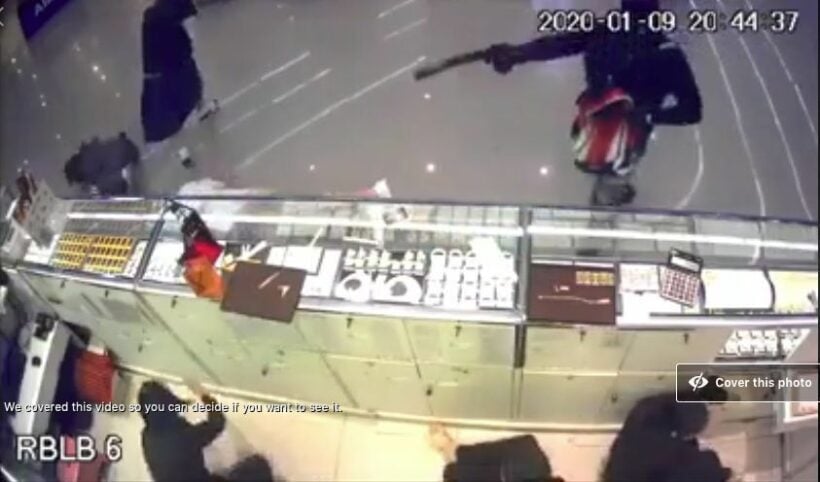 The school principal, who gunned down three people, including a 2 year old boy, and injured four others during a robbery in Lop Buri province on January 9, has pleaded guilty to all charges.
38 year old Prasitthichai Khaokaew, stormed into the Robinsons shopping centre and strode up to the Aurora Gold Shop brandishing a pistol and silencer and calmly shot at staff and customers. He was wearing a military-style combat uniform and bike helmet and escaped on a 110cc motorbike after shooting a security guard as he fled the crime scene.
The three people killed were the security guard, Mr. Thirachat Nimma, an employee of the gold shop, Ms. Thidarat Thongthip and the young boy, Panuwit Wongyu. The gunman escaped with 33 gold necklaces valued around 665,000 baht. These items were recovered the day after the man's arrest at his parent's home.
The gunman was identified as the principal of a Sing Buri public school and arrested on January 21. Prasitthichai was yesterday indicted on nine charges, including pre-mediated murder, attempted murder and robbery to illegal possession of firearms and carrying firearms in public without permission.
The shootings and murders shocked Thai society.
Prasitthichai was escorted from prison to the Criminal Court in Bangkok yesterday morning to hear the nine charges filed against him. He pleaded guilty to all nine charges. The first hearing is scheduled for March 23.
SOURCE: Thai PBS World
Keep in contact with The Thaiger by following our
Facebook page
.
Deputy village chief in trouble over racy Facebook photos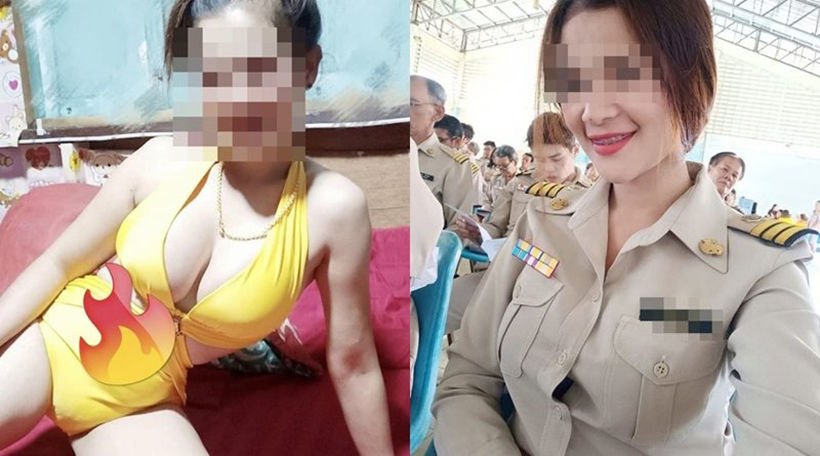 What was she thinking?! A deputy village chief in the central province of Ang Thong has found herself in hot water after her sexy Facebook photos were shared online yesterday, Khao Sod reports.
"I think what she did was a disgrace for our religious and community leaders, who must take action against her," wrote one Facebook busybody member, who posted two photos of the woman, one in an official uniform, the other in a swimsuit.
Pattama Nuamjit, the village chief, says she's received numerous phone calls from local residents who "demand the deputy face disciplinary action." Pattama says a report will be sent to the district chief for further consideration.
SOURCE: Thai Residents
Keep in contact with The Thaiger by following our
Facebook page
.
2 crushed as truck overturns in Suphan Buri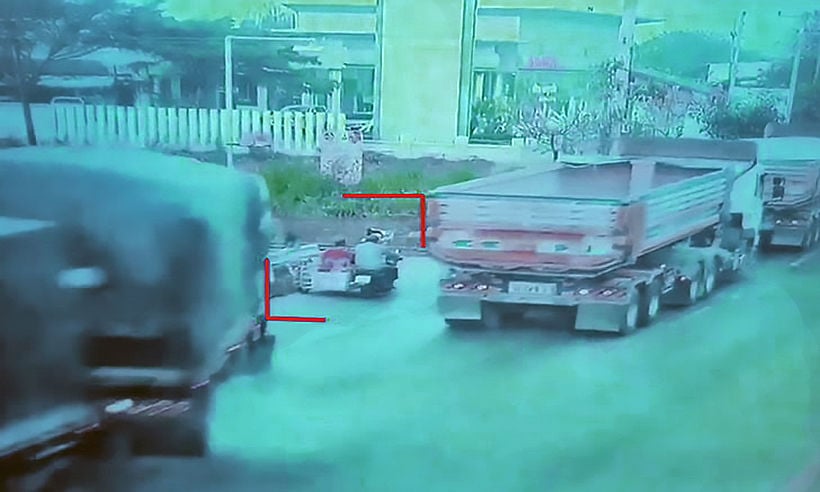 Two men were crushed to death when tractor-trailer truck overturned in Suphanburi province in central Thailand yesterday. Horrific CCTV footage showed the moment the truck, carrying animal feed, overturned, crushing the two, who were travelling on a motorcycle with a sidecar.
The deceased were identified as 64 year old Montha and 56 year old Phra Manop, a monk at the nearby Wat Nong Wan Priang temple. They were returning to the temple on Route 321 after the monk completed his alms.
The driver of the truck, 29 year old Chainarong, was taken to hospital.
Police and rescue services used two cranes to lift the overturned truck. Rescue services had the grisly job of removing the victims' bodies, which had suffered horrendous injuries.
Sanook reports that Chainarong was trying to avoid a collision after another truck in front braked suddenly, but lost control, resulting in the deaths of the two victims. Local media say the location is an accident blackspot.
WARNING: This video may be disturbing to some viewers; discretion is advised.
Click HERE to watch the video of the incident.
Facebook page
.