Norwegian out on bail following death of British man at Centara Grand Resort in Phuket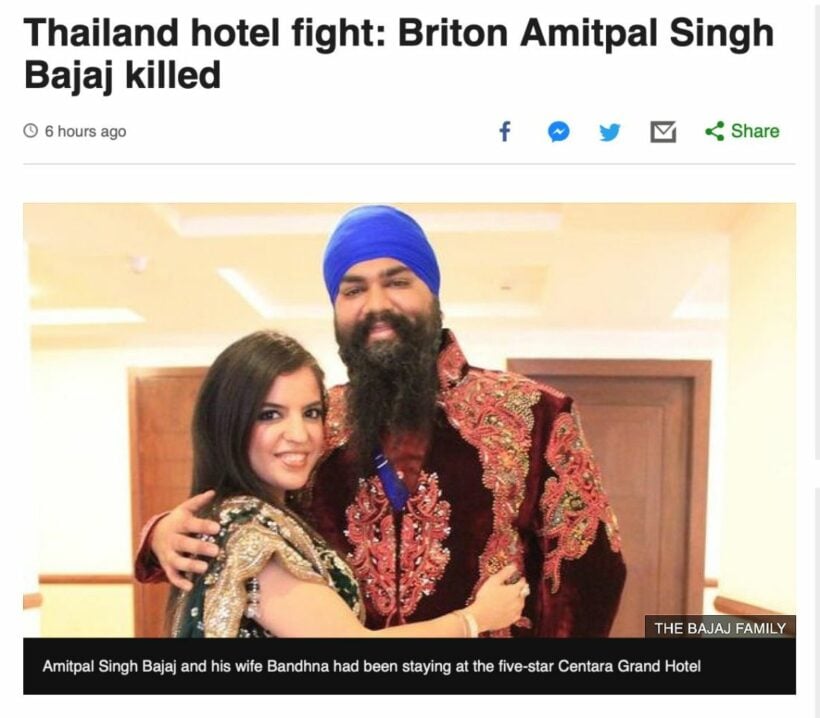 SCREENSHOT: bbc.com
The bbc.com are reporting that a British man died at the Centara Grand Hotel in Phuket in a fight after telling another guest to "keep the noise down" as his wife and son tried to sleep, according to the man's family.
The details in the BBC report conflict with earlier local reports out of Phuket.
The BBC report says that 34 year old Amitpal Singh Bajaj from the UK complained about noise from the next room at the five-star Centara Grand Hotel on Karon beachfront in Phuket.
The man's family claims that another man forced his way into their room via the balcony early on Wednesday, August 21. The family claims that the man strangled Mr Bajaj.
In a statement Amitpal's 34 year old wife Bandhna Kaur Bajaj described to police how the attacker "barged" into their room naked and attacked her husband.
"My husband sacrificed his life to save my son's life and mine. He will always be our hero."
"My husband tried to block the man and move me and my son away. As the man was kicking, punching and just, beating him up, my husband told me to please leave and save our son," according to the BBC report.
The rendering of the report from the BBC is quite different from Phuket's local news reports.
In Phuket reports it stated that a fight started at 4am, when the British man Amitpal Singh Bajaj confronted Norwegian Roger Bullman over the amount of noise coming from his room.
"Mr Bullman was drunk, and security had already visited his room twice to ask him to keep the noise down. When Mr Bajaj confronted him, he stabbed Mr Bullman in the shoulder with a steak knife.
Mr Bullman, trained in martial arts, then got the British man in a choke hold and maintained his grip on him. He says he did not mean to kill him, and did not think he had."
The BBC report says that Mrs Bajaj grabbed the couple's 2 year old son and fled the hotel room to look for help. She says she ran down a staircase and hid under a tree with her son in her arms while calling the reception from her mobile to tell them what had happened.
"I asked the reception to please make sure someone attends to my husband… "please give him some medical help, I'm very scared, I've escaped", according to the BBC report.
"I could still hear the attacker screaming. I didn't want to be attacked."
Mr Amitpal was taken to Patong Hospital where he was pronounced dead.
The Norwegian Foreign Ministry has confirmed that a Norwegian citizen has been arrested in Thailand and is being provided consular assistance.
According to Phuket News, Karon police said that "Mr Bullman had been released on bail posted at the court, but was unable to confirm how much bail was posted at. Reports in the Norwegian media said that bail was posted at about 200,000 baht."
Keep in contact with The Thaiger by following our
Facebook page
.
Woman charged after abandoning cats at Wat Pho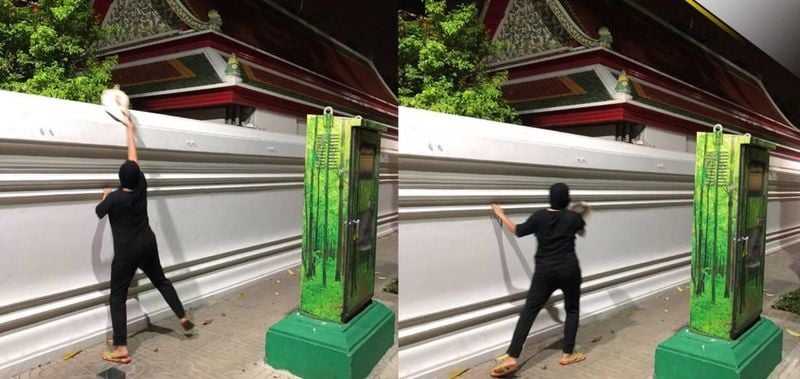 A Bangkok woman has been fined after she tossed five bags, each containing a cat, over a wall and into Wat Pho on Sunday evening. Maybe she thought she was doing a good deed by dumping the cats off at the Bangkok temple, but she was dressed like a common thief working at night. Videos show her dressed in all black with a black ski mask, according to Nation Thailand.
The woman tossed the cats at various spots along the temple's wall, got in a pickup truck and drove off. Police tracked the truck's license plate which was shown in the video and the woman admitted to police that she dumped the cats because she is allergic to them.
The Nation did not report the woman's name, but did say that abandoning the cats violates the Cruelty Prevention and Welfare Animal Act.
Good news is Wat Pho, the temple known for the giant reclining Buddha, is taking care of the five cats, but they've said they'd rather not take in any more animals. They've asked the public, instead of dumping unwanted animals, take them to a shelter.
Thailand now has severe penalties for animal cruelty.
SOURCE: Nation Thailand
Keep in contact with The Thaiger by following our
Facebook page
.
Number of curfew arrests drops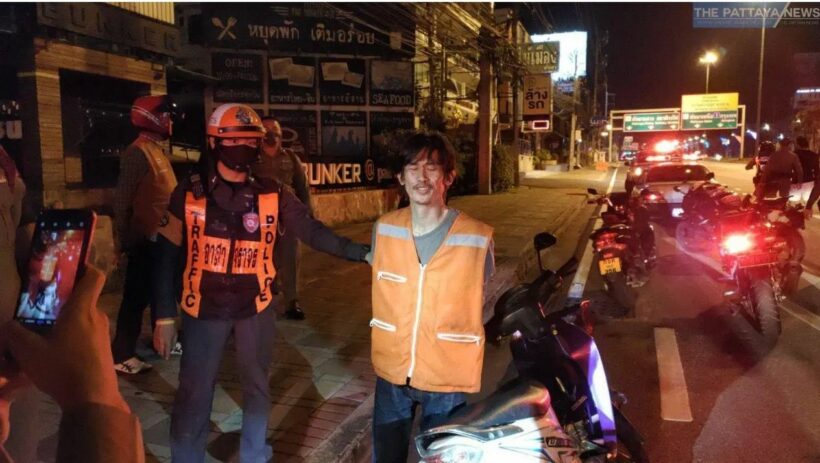 Quite a few people have stayed out late, rebelling against the nation wide curfew that requires people to be at home from 11pm to 4am. More than 200 people were arrested during 'no go' hours from late Sunday to early Monday this week. But the nightly number of curfew arrests has dropped over the past month.
Earlier this month, Thai media reported 710 arrested in 1 night for breaking curfew. At that point, the curfew was 10pm to 4am. It was recently shortened an hour, starting at 11 pm. From late Sunday to early Monday, police stopped more than 22,000 people across Thailand for allegedly breaking the curfew but only 232 were arrested, Thai media reports. Many of them had valid reasons for being out late, such as driving home from work.
Many have been arrested since the curfew was put in place. Since prisons are overcrowded, some curfew violators are now sending people to temples to volunteer at soup kitchens. Some people have been clearly violating the curfew by throwing parties, or even speeding through curfew checkpoints.
But some people are out late because they have nowhere else to go. After a homeless man was arrested for violating curfew and ordered to stay home, the Human Right Watch raised the question "How can people stay home if they are homeless?"
The curfew will probably be in place for another month, but it will probably be shortened another hour, starting at midnight instead of 11pm.
SOURCES: Thai Residents | Thai Residents | Bangkok Post
Keep in contact with The Thaiger by following our
Facebook page
.
Evidence mounts against "bleach mum"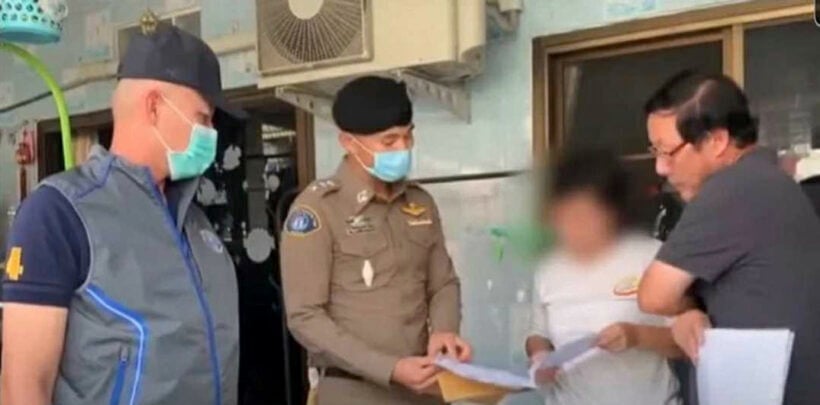 Officers of the Crime Suppression Division say text messages on the popular Line application show that a woman accused of forcing her two year old "son" to swallow bleach isn't the boy's biological mother. This evidence, together with DNA test results expected next week, may lead to human trafficking charges being pressed against the woman as well.
A Line chat history between 29 year old Nittha Wongwan and the biological mother of a 4 year old girl adopted by Nittha (before she fell ill and died with similar symptoms to the boy's) disproves her claim, according to police.
The boy was rescued and placed in a shelter for children in Pathum Thani, just north of Bangkok, after he was treated at Thammasat University Hospital, where doctors alerted police to the suspected child abuse. Authorities say Nittha, who was arrested last week, revealed in the chat that she is not the boy's biological mother. Nittha has admitted to online fraud but denied a charge of attempted murder.
Nittha stands accused of deliberately making the boy ill to swindle donations from sympathetic viewers of her online videos. A check of her financial history found more than 20 million baht in several bank accounts, contradicting her claim of financial difficulties and an impoverished lifestyle. Investigators are tracking where the money came from and how it was spent.
'Munchausen syndrome by proxy' is a mental health problem in which a caregiver makes up or causes an illness or injury in a person under his or her care, such as a child, an elderly adult, or a person who has a disability. Because vulnerable people are the victims, MSBP is a form of child or elder abuse – Wikipedia.
Police are also checking whether she obtained life insurance policies for the children, which could be treated as a motive. They have already questioned the real mother of the 4 year old girl.
In 2018 Nittha was sentenced to 3 years in prison in a fraud case involving online product sales.
Police are now searching for evidence to prove how the chemical found by doctors actually got into the boy's body, and a similar probe is being conducted into the case of the dead girl.
SOURCE: Bangkok Post
Keep in contact with The Thaiger by following our
Facebook page
.