Phuket
Technology
Huawei technology working with the 'smart city' project in Phuket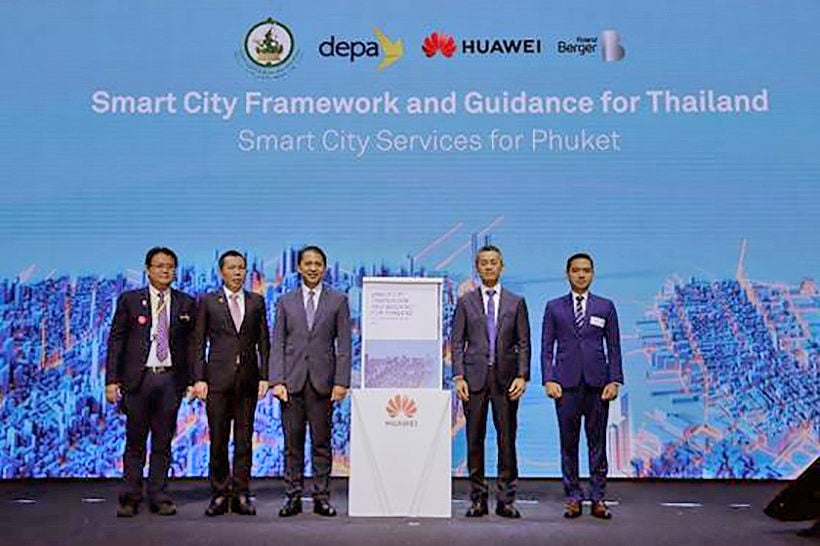 Huawei Technologies impressed participants at this week's ASEAN Smart Cities Network Conference & Exhibition in Bangkok with its white paper on smart city development in Phuket.
The paper aims to drive Thailand 4.0 initiatives to pave the way for major digital and infrastructure development in Phuket, one of Thailand's pilot smart cities, and to provide insights and guidance on an integrated framework needed for a successful and sustainable urban transformation.
Inspired by Thailand 4.0 economic development program launched in 2016, the paper focuses on a practical ideas that helps empower Phuket communities for digital future.
Huawei conducted an assessment and case studies on the services and utilities required for a fully-developed smart city. The resulting white provides comprehensive insights into action plans to transform Phuket into a smart city by 2020.
The services include smart energy and utilities, smart mobility, smart environment, smart living and smart economy while the enablers are smart governance, smart infrastructure and smart people.
In his opening address, Digital Economy Promotion Agency (Depa)'s president Dr. Nuttapon Nimmanpatcharin noted that thanks to the support from the National Smart City Committee and organizations from both public and private sectors, the smart city developments have already begun in 6 prioritized cities: Phuket, Chiang Mai, Khon Kaen and 3 EEC provinces.
"As one of our pilot cities, Phuket needs a clear development plan and a sustainable management model in order to fully transform into a smart city in 2020, this white paper will surely help facilitate smart city project for Phuket and other smart city candidates as well."
Chanchai Tanatkatrakul, Principal, Roland Berger Thailand added: "We looked at global best practices and analysed local issues and requirements to develop this Smart City Framework for Phuket. Talking to various stakeholders helped us tailor our recommendations that can address the needs of Phuket and its people very well:"
Deng Feng, Managing Director of Huawei Thailand agreed, saying: "At Huawei, we promote industry development at all levels. As Thailand embarks on the journey to become one of the first countries in the region to develop a smart city scheme, we will provide practical recommendations and solutions to ensure a smooth and complete city development for Phuket and the rest of Thailand."
SOURCE: The Nation