Mother, pregnant woman among 5 arrested for drugs in Songkhla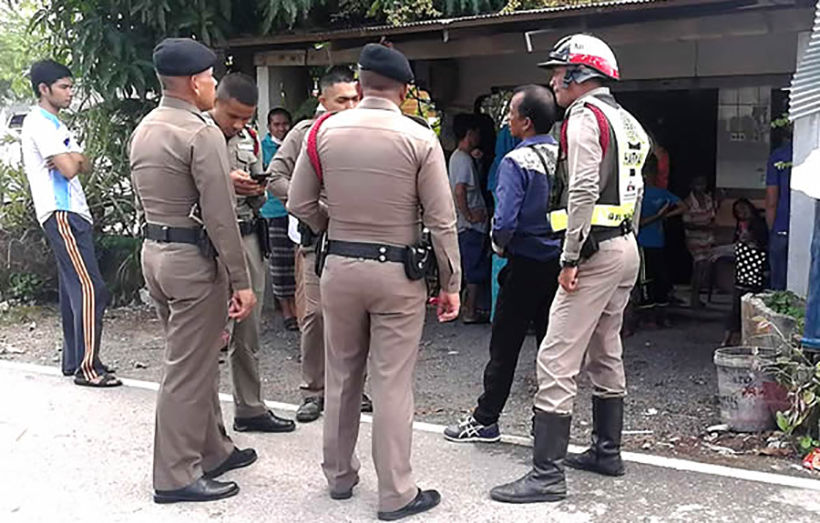 A young woman carrying a baby and a pregnant woman were among 5 people caught using drugs in a raid at a rented house in Songkhla's Thepha district. Local officials and volunteers surrounded the house after receiving a tip that people were using the property to take drugs and sell methamphetamine pills ("yaba") and crystal methamphetamine ("ya ice") to young people in the community.
In addition to the 5 arrests, authorities seized methamphetamine pills, crystal methamphetamine and drug paraphernalia. The 5 were the house's owner, 26 year old Pailin Saengthawee; 24 year old Rohanee Tiewlor; 23 year old Hafeesha Musoyaena; 26 year old Natthanicha Ongyim, and a teenage boy whose name was withheld.
Pailin was holding her 5 month old baby in her lap when she was arrested. It was learned that her husband is serving a 9 month jail term in another drug case. The husband of Rohanee, who is 8 months pregnant, is also serving a 1 year prison term for a drug conviction. Officials say all confessed to using drugs at the house regularly. They were handed over to Thepha police for further legal action.
SOURCE: Bangkok Post
Keep in contact with The Thaiger by following our Facebook page.
Never miss out on future posts by following The Thaiger.
Pattaya police raid nightclub suspected of presenting pornographic shows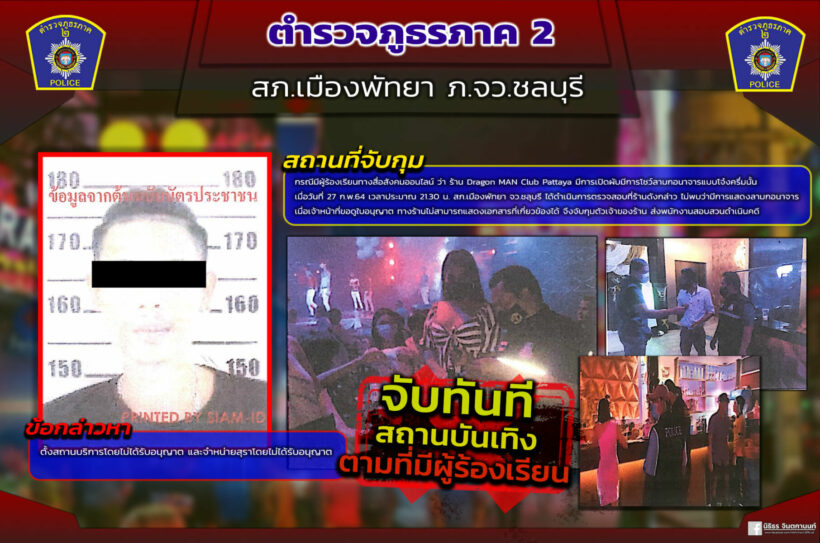 Pattaya City Police inspected a nightclub after reports that the venue was hosting pornographic shows on the weekends. Although the nightclub, Dragon Man Club, wasn't presenting a sexually explicit show when officers came by, the owner was arrested for operating an entertainment business and selling alcohol without the proper permit.
Police say a tip was made through social media from an anonymous source. Officers asked the nightclub owner for the venue's license, but the owner did not have the document at the time. Police arrested the owner. The nightclub owner was not named in reports.
SOURCE: Pattaya News
Keep in contact with The Thaiger by following our Facebook page.
Never miss out on future posts by following The Thaiger.
Bangkok Military Court issues arrest warrant for medic accused of injecting troops with fake Covid-19 vaccine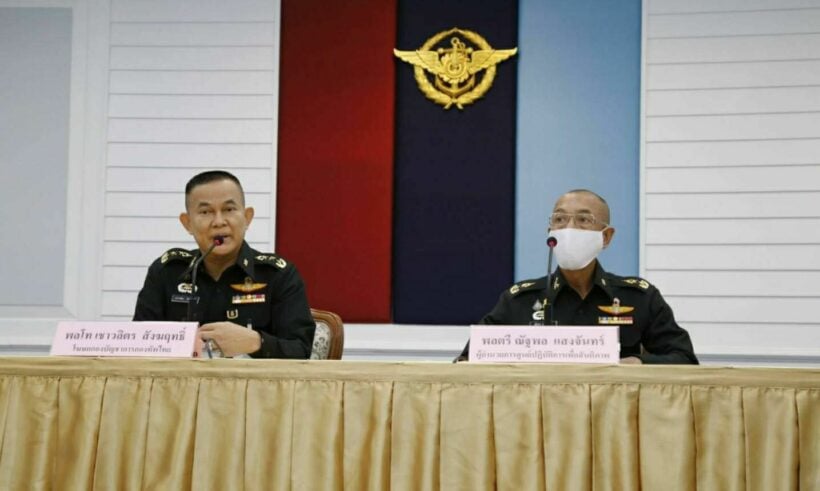 The Bangkok Military Court has issued an arrest warrant for a Royal Thai Army medic who is accused of injecting troops with a fake Covid-19 vaccine. He reportedly made more than 100,000 baht by charging troops, who were on a United Nations mission, 500 baht each for a tetanus vaccine and a fake Covid-19 vaccine, which an internal army investigation determined was just saline solution.
The Thai Army held a press conference after the medic's fake vaccine scam made headlines, saying the incident had tarnished the army's image. The field medic, who was also a lieutenant, injected more than 250 Thai troops stationed in South Sudan on a UN peacekeeping mission with the fake vaccine, claiming it was the head doctor's order, Army Army spokesperson Santipong Thammapiya confirmed. He says the medic was in the Thai-South Sudan Horizontal Military Engineering Company.
"This incident affects the image of the Thai Armed Forces and Thailand in the United Nations mission. It is a serious disciplinary offence and also violates ethical standards as the wrongdoer is a doctor."
The medic injected troops with a legitimate vaccine for tetanus as well as a saline solution shot he claimed was a Covid-19 vaccine. He charged 500 baht for the vaccine package, adding up to more than 100,000 baht, according to a UN investigation.
The medic had been sent back to Thailand. The Bangkok Military Court has now issued a warrant for his arrest. Previous reports said the medic's license was revoked, but a recent report by Nation Thailand says the Medical Council is considering whether to revoke his doctor's license.
SOURCE: Nation Thailand
Keep in contact with The Thaiger by following our Facebook page.
Never miss out on future posts by following The Thaiger.
Gunman kills mayoral candidate, injures 4 other municipal candidates at funeral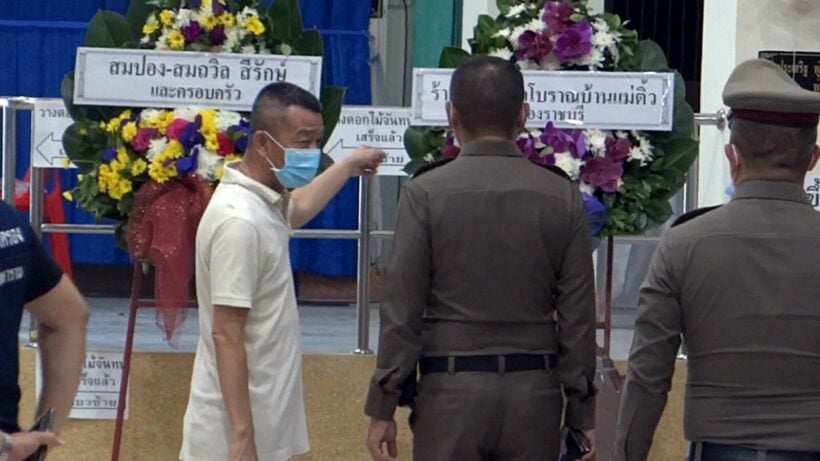 A gunman shot and killed a woman running for mayor and wounded 4 others at a funeral in Ratchaburi, a province west of Bangkok near the Myanmar border. Police say they suspect the shooting was politically motivated. Out of the 4 people injured, 3 were running in the March 28 municipal election while another was the kamnan, a government official of a tambon, which is a sub district.
The gunman is still at large, but police say they suspect the shooter is Wanchart Niamraksa, a member of the Ratchaburi provincial administration organisation.
The gunman opened fire just as the kamnan of tambon Don Sai, Yingpan Kanket, was lighting candles and incense sticks under a Buddha image to start the ceremony, witnesses say. Shots were fired from behind the main Buddha image at the temple's open prayer hall, witnesses say.
Bullets hit 5 people, including Yingpan who is in critical condition. Varaporn Niamraksa, who was running for mayor of the municipality, was shot and died at the hospital. Nakhon Wanpen, Somthawil Srirat and Monthien Jaitham, who are all running for the municipal council of tambon Don Sai, were shot.
Police found 2 spent .22 cartridges and a 11mm spent shell at the scene. The suspect faces charges of murder, attempted murder, carrying firearms and ammunition without permission and carrying them in public without a proper reason.
SOURCES: Nation Thailand | Bangkok Post
Keep in contact with The Thaiger by following our Facebook page.
Never miss out on future posts by following The Thaiger.