Chonburi police arrest nine Chinese nationals for alleged amulet scam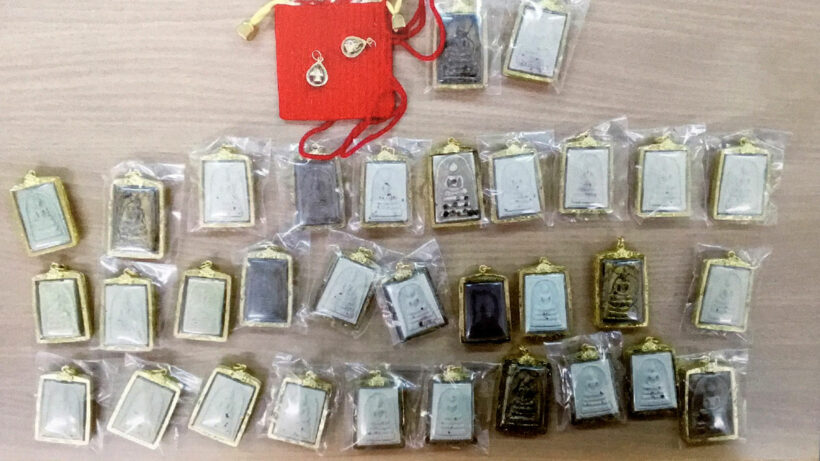 Police have arrested nine Chinese nationals in an investigation into alleged amulet fraud in Chonburi, eastern Thailand.
The Nation reports that the accused were running a shop at a Chonburi temple, where they sold fake amulets and Buddha images for prices that ranged from 1,000 baht to over 10,000 baht. They are accused of working with tour agents to target Chinese tourists and part them from their cash.
The suspects all entered Thailand on tourist visas and rented the store at the temple from December 6. Some of the men also pretended to be employed by the temple and would offer to help Chinese tourists take part in a religious ceremony if they paid a fee.
The chief of the Immigration Police says the men's actions have had a negative impact on Thailand's reputation. They have now been transferred to local police custody for processing.
This time last year a similar scam was uncovered by The Thaiger in Kathu, Phuket but little seems to have been done about it and the Chinese buses keep racking up each day – rinse and repeat.
Also read about the fake plastic amulets sold in Phuket HERE.
SOURCE: The Nation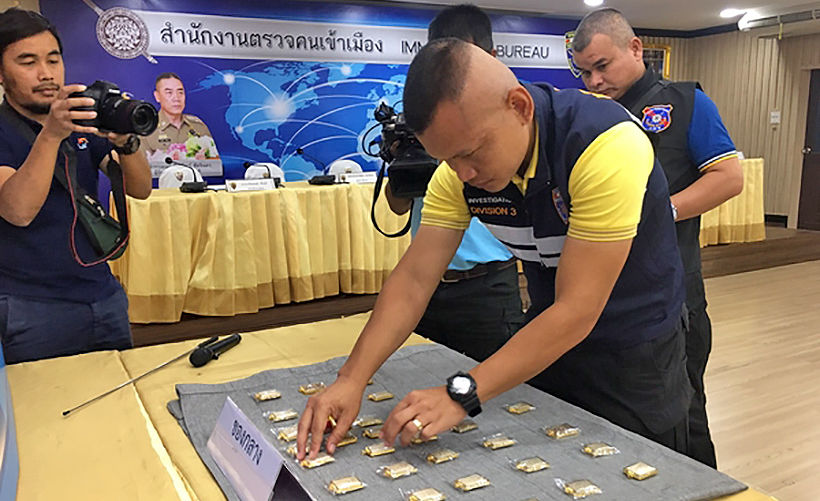 Keep in contact with The Thaiger by following our
Facebook page
.
Lone gunman tells police he killed to "spice up his boring life"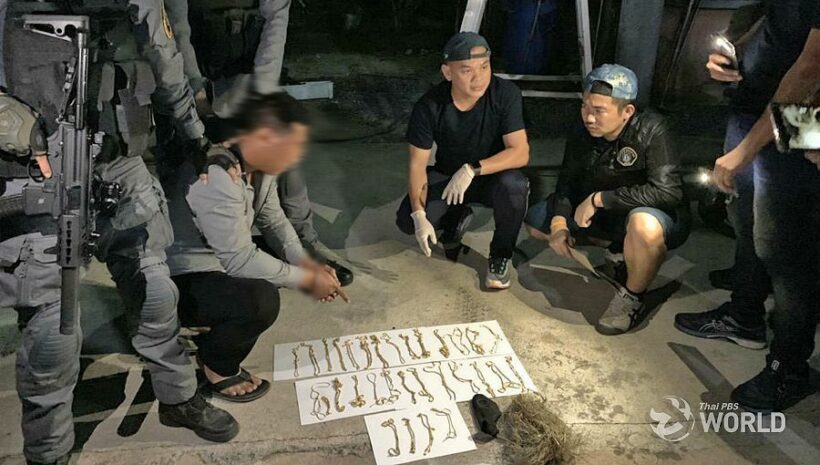 So how did Thai police track down and arrest the suspect, who has allegedly confessed, accused of a brutal and callous robbery and shooting which resulted in the death of three with four other injured? The suspect was arrested following an intensive 14 days of forensic investigation.
38 year old school principal, Prasitthichai Khaokaew, is now in custody, suspected of being the lone gunman in the gold shop murders. He was apprehended by the Crime Suppression Division's Hanuman special unit, following an extensive joint effort by police and forensic specialists who analysed hours of CCTV footage from the crime scene at Robinsons Shopping Mall in Lop Buri, and then tracking him along possible escape routes in the moments after the crime.
The man claimed he killed to "spice up his boring life", according to police sources speaking to Bangkok Post. He lives in Lop Buri and was arrested on his way to school yesterday morning, driving a black BMW Series 5, registered in Bangkok.
Informed police sources, speaking to Thai PBS, say that investigators studied the clothing of the assailant, noting things like the long-sleeved black sweater, grey patches on the shoulders, black sneakers and carry bag, all which provided clues about his unique taste in clothing. They analysed the man's stance and walk and concluded that he had surgery on his right knee.
Then concluded the gun could be a Czech made 9mm CZ SP75-01, fitted with a long silencer. Delving into the records they found it belonged to, and was registered to, a police officer. That police officer had since retired and was Prasitthichai's father.
CCTV footage followed the gunman on his escape after shooting dead a security guard on his way out of the Shopping Centre. He was riding a white and red Yamaha Fino motorcycle.
They tracked him past Wat Dong Noi, turning right in Motel 111 lane toward Ban Mai Khun Nuan and then turning right again through Tambon Tha Sala onto the Pahonyothin highway. According to investigators, he made a U-turn in front of Thai Rath Wittaya 1 School to turn into Chompon Road, turned left into Erawan Road before entering Lop Buri View housing estate. The suspect, Prasitthichai Khaokaew, has a house in that estate.
Prasitthichai Khaokaew is the Director of the Wat Pho Chai School in nearby Muang district of Sing Buri province, adjacent to Lop Buri province.
His arrest was carried out by the Hanuman police unit, set up by the Crime Suppression Division last November to replace its commando unit which has been transferred to His Majesty the King's Ratchawallop royal guard unit.
Police say they doubt the suspect "killed for the thrill" as he claimed, and will continue to question the man.
SOURCE: Thai PBS World | Bangkok Post
Keep in contact with The Thaiger by following our
Facebook page
.
Arrested Lop Buri murder suspect was a provincial headmaster

The director (headmaster) of a Sing Buri school is now in police custody as a suspect in the case of the lone of being the lone gunman in a gold shop robbery at the Robinson's Shopping Centre in Lop Buri province on January 9. Three people, including a two year old boy, were shot and killed, another four were injured as a result of the shooting.
The armed gunman, carrying a 9mm pistol and fitted with a silencer, escaped after his shooting rampage, with gold jewellery valued at 450,000 baht worth of (some media report higher amounts up to 680,000 baht).
The 38 year old suspect has been identified as Prasitthichai Khaokaew, and is currently in custody. Police allege the man has confessed to the crime.
Amnart Wicchayanuwat, secretary-general of the Office of Basic Education Commission, says they will set up a committee to consider dismissal of the school director if he is found guilty of the offences, as charged.
In the days after robbery, the Royal Thai Police issued a shoot-to-kill order and a bounty was offered for information leading to his apprehension. Over the weekend police reported that had been speaking to a suspect over the incident. It has not been confirmed if Prasitthichai Khaokaew was the man who police were questioning over the weekend.
SOURCE: Thai PBS World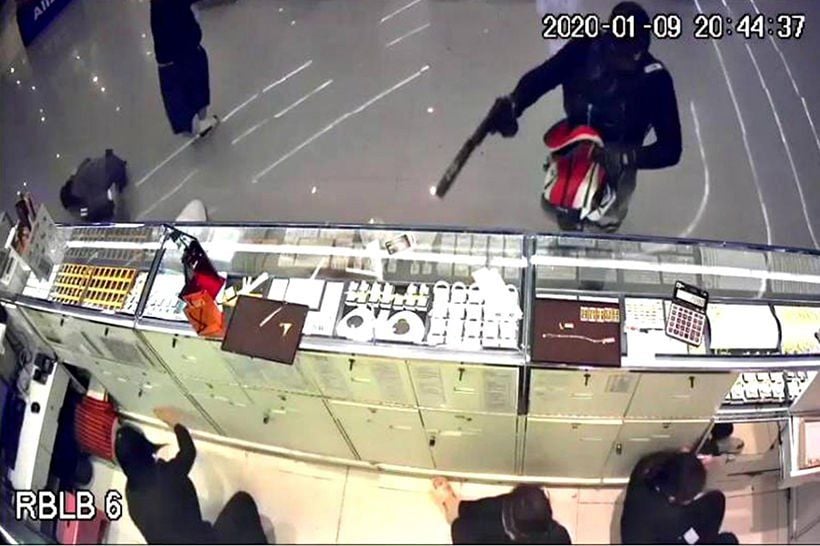 Keep in contact with The Thaiger by following our
Facebook page
.
School headmaster arrested and charged over the Lop Buri gold shop shootings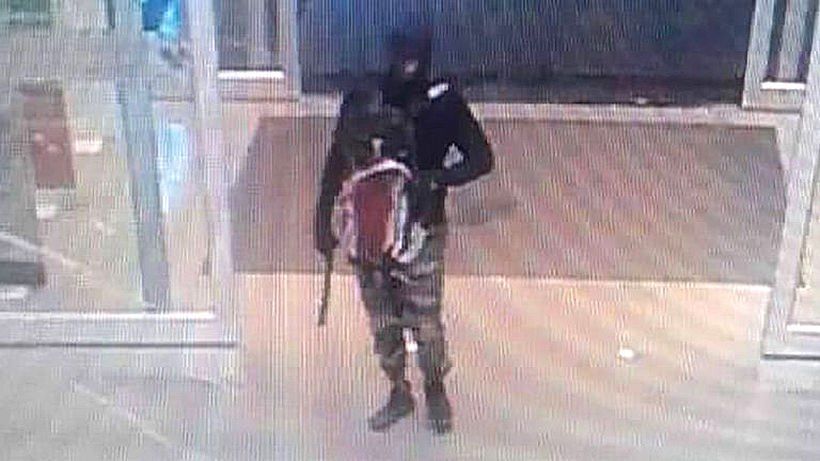 Police have arrested a man in conjunction with the Lopburi gold shop shootings on January 9. The man is a 38 years old school headmaster from Sing Buri, the adjoining province to the west of Lop Buri in central Thailand. Police report that he has confessed to the shooting of the customers and staff, resulting in three deaths, including a two year old boy, and four others.
The man's identity has been reported as Prasitichai Khaokaew in khaosod.co.th.
Police have not confirmed if he is the same man that they were interviewing late last week over the robbery.
The armed man walked into the Aurora gold shop inside the Robinsons Shopping mall on the Phahon Yothin Highway at 8.44pm on January 9, just before closing time. He strode in and started shooting at customers and staff. He then jumped on top of the glass counter, snatched three trays of gold necklaces valued around 450,000 baht, and then shot a security guard dead before fleeing on a Yamaha motorcycle.
The entire incident lasted around a minute.
Police suspected that the gold wasn't the target of the fatal heist due to the low amount of gold stolen and the brutality of the shootings.
More information about the arrest when it comes to hand.
Keep in contact with The Thaiger by following our
Facebook page
.