Is the Kathu Temple involved in a zero dollar Chinese tour scam?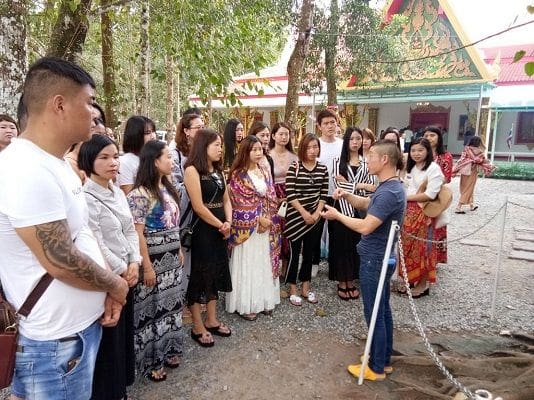 Hundreds of Chinese tour buses are clogging the tiny streets around 'old Kathu' on the northern side of Phra Phuket Kaew Road every day to drop the tourists off at the Kathu Temple. The temple now has a full commercial operation offering religious amulets, some of them selling for 20,000 baht and more.
Tourists are guided around some of the temple's displays and artefacts, and told stories about the displays, real or otherwise.
Spotlight Phuket, who went public with the story of police corruption in Patong last October, has described the commercial enterprise as a 'scam'.
Speaking to two people involved in the daily operations of the tours on site, they admitted that the temple was working in conjunction with a Chinese tour company.
The tourists are being told that the amulets will 'give them good luck'. We weren't able to get any proof of these claims.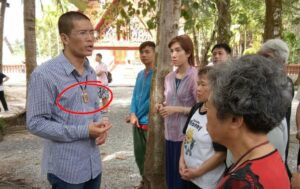 The temple's commercial activities are another example of innocent Chinese tourists being dropped off at various activities, not included in their original agenda, where they are 'encouraged' to purchase over-priced, gems, latex (rubber products), herbs and herbal products, dried fruits and, in this case, religious amulets.
The issue of a Buddhist community temple being involved in questionable commercial activities is now being investigated by concerned local officials and police. A translator who works with one of the Chinese tour companies visiting the temple, says that the bus companies are being offered around 50% of the sales made to their tour groups as an incentive to bring the bus groups to the temple.
In the meantime the buses are causing traffic problems with the small streets of the adjacent village completely unsuited to the large buses meandering through the roads to get to the Kathu Temple.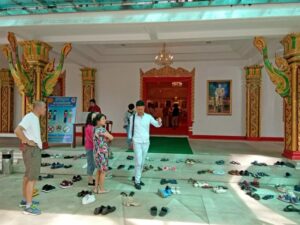 Read more headlines, reports & breaking news in Phuket. Or catch up on your Thailand news.
Two shot in Phuket Town beauty spa this morning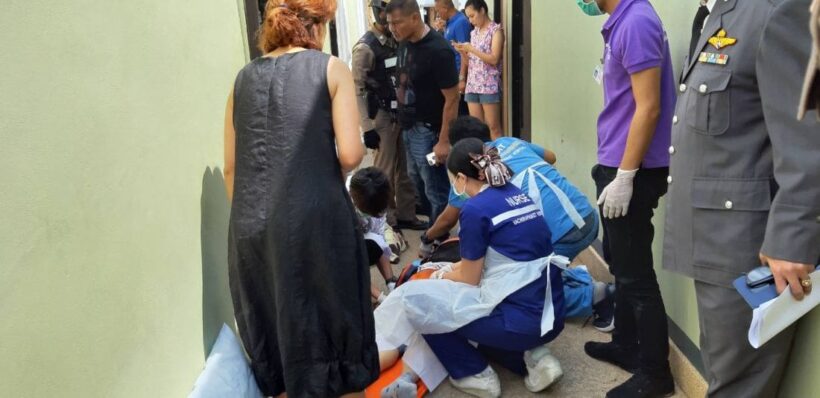 A South Korean man and Thai woman have been injured in spa shooting in Phuket Town.
The two sustained serious injuries from bullet wounds after having been shot at the spa in Wichit today.
Wichit Police reports that they was notified of an incident at 'The Beauty Spa' in Wichit at 10.30am this morning.
Police and emergency responders arrived at the scene to find two injuried from gun shots – a 74 year old South Korean man, Kwang Hee Kim, and father of Ms Eun Mi Kim, the owner of the Beauty Spa.
The other person injured was a 56 year old Thai woman named as Somsri Chuatonghua who is staff at the spa.
They were both taken to Vachira Phuket Hospital. The suspect, Somphon, a house-keeper at the spa, is currently being sought by police.
Two injured after stepping on suspected mines at a Krabi island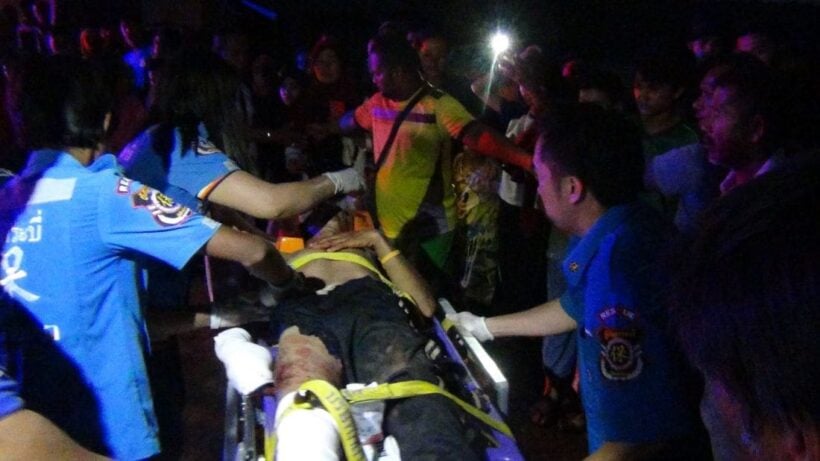 Two Thai men have sustained serious injuries after stepping on a mine at an island near Ao Nang, Krabi.
The Ao Nang Police were notified about the two men being injured from the incident in Ao Nang at 6pm last night.
35 year old Somchaai Longj sustained injuries on his legs, shoulder and a broken leg from the explosion and was taken to Krabi Hospital. The other injured person was 25 year old Boonrod Thongdee who was taken to a hospital in Phang Nga.
38 year old Somkid Tongdee says that he was heading from Koh Mak in Phang Nga Bay with two others friends to an island near Ao Nang in Krabi to collect wild orchids near a cave.
"Boonrod stepped on something in the ground before we heard the sound of an explosion."
At this stage police speculate that the bomb might belong to a company who received a concession to produce and farm bird nets. They speculate they might have placed the mines to prevent and deter thieves.
The Thaiger has sought comment from provincial police about the possible presence of live mines on a Krabi island.
Specialist clinics for pollution-related symptoms to be set up around the country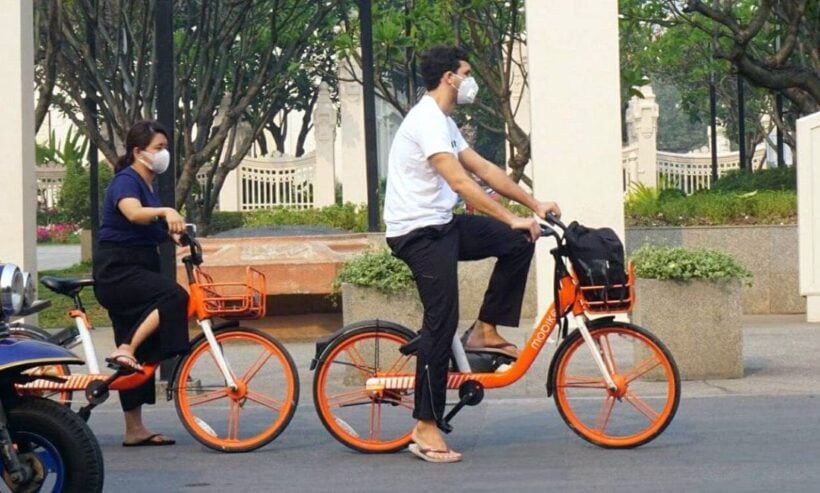 The Public Health Ministry says they are now preparing to set up specialised clinics to treat patients suffering from pollution-related symptoms in the northern parts of the country.

"At present, we have just one such clinic in the country. So, we have decided to introduce many more," according to permanent secretary Dr Sukhum Karnchanapimai.

He made the pledge in response to the high levels of choking smog and smoke that has been haunting several provinces of Thailand in recent months.

"We plan to set up pollution clinics in the North and the Northeast before the end of this year," Sukhum said.

Currently, the country's only 'pollution clinic' is located at Nopparatrajathanee Hospital in Bangkok.

According to the permanent secretary, the Medical Services Department has already prepared a manual on how to set up pollution clinics for hospitals to use.

Certain groups of people face a graver threat than the general population from dust problems: those working outdoors, young children, pregnant women, the elderly, asthma patients, and those suffering respiratory disorders.

Disease Control Department deputy director-general Dr Kajohnsak Kaewjarus said about 22,000 people had sought medical help about symptoms that could be associated with smog and air pollution.

"The most common symptoms concern respiratory disorders, heart and coronary-artery disease, eye inflammation and inflamed skin."

Health Department director-general Dr Panpimol Wipulakorn said people should try to protect themselves.

"Minimise exposure to dust. Keep your home clean. When going outdoors, wear a facemask. And if you develop health problems, go see a doctor," she said.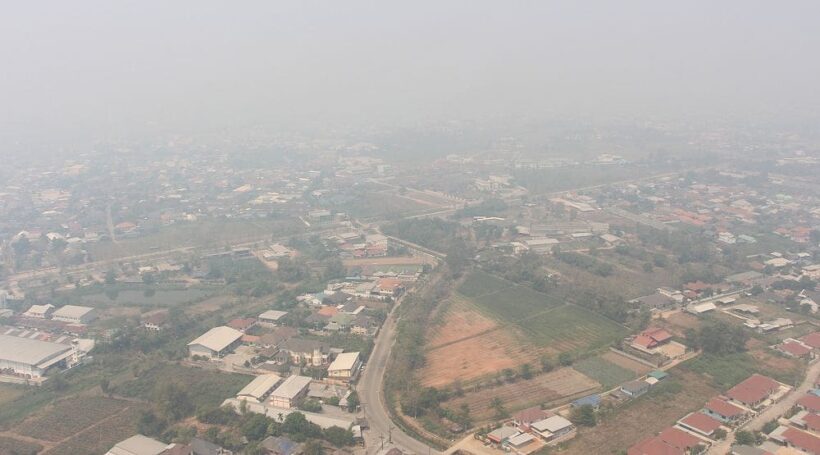 SOURCE: The Nation