Top 10 Most Beautiful Waterfalls in Thailand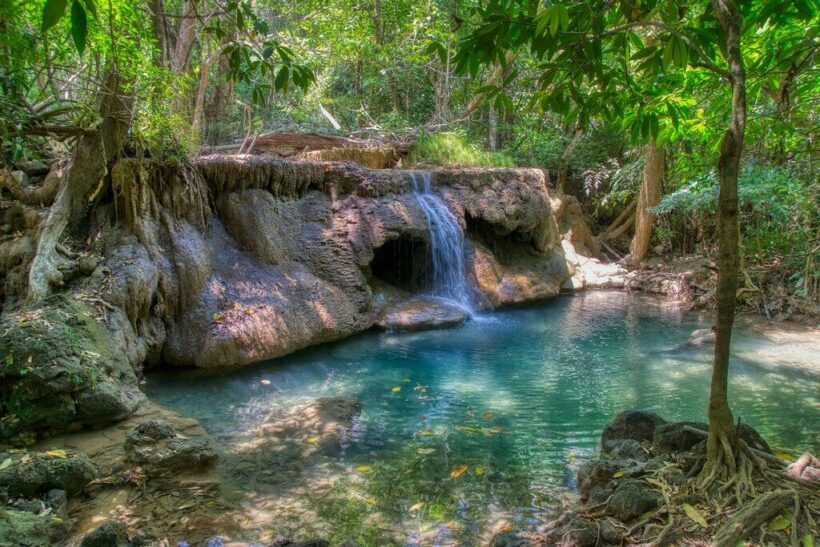 Looking for a new destination to visit in the Land of Smiles? Consider visiting the beautiful waterfalls in Thailand!
It's no secret that Thailand is home to pristine beaches and lively nightlife. However, this beautiful Southeast Asian country offers more than just the typical holiday destinations you see on the news or social media.
If you want to take a different route on your holiday around Thailand, you should consider visiting its countless waterfalls. While it might not receive as much attention as the beaches, the waterfalls in Thailand are some of the most wonderful in the world.
Nearly every province in the country has a waterfall worth visiting, which can be hard to know which ones are worth your time. Also, most of them are located in national parks. So, to make it a little easier for you, here are 10 of the most beautiful waterfalls in Thailand that will hopefully guide you toward some of the country's lesser recognized but are equally worthy attractions!
10 Most Beautiful Waterfalls in Thailand
Best of Thailand's waterfalls, listed below.
1. Erawan Waterfall
Erawan Waterfall is possibly the most beautiful and most famous waterfall in Thailand. It consisted of several waterfalls, most of which offer the potential for a swim or a quick dip to cool off from the humid jungle weather.
This seven-tier waterfall flows straight through the jungle down on the east side of Erawan National Park. Between each cascade is striking emerald green ponds, making the falls simply magical to look at. From photographers to sightseers, visitors of the national park flock here to admire its beauty or to escape the heat.
Address: Erawan National Park, Kanchanaburi Province, around 200 km northwest of Bangkok.
2. Mae Ya Waterfall
Located in Doi Inthanon National Park, just an hour away from the historical city of Chiang Mai, is Mae Ya Waterfall. The location of this jaw-dropping waterfall is quite isolated, far from other tourist attractions, so it's often relatively free from tourists. However, those who make an effort to visit are sure to be delighted with the perfect view of this natural wonder.
Mae Ya Waterfall is one of the tallest waterfalls in Thailand. Standing at 260 meters tall, and it falls in layers. In the rainy season, when the flow of the fall is at its fullest, you can hear the roar well before you see it.
Address: Doi Inthanon National Park, Ban Luang, Chom Thong District, Chiang Mai.

3. Koh Luang Waterfall
Amidst the scenic Mae Ping National Park in northern Thailand, you will find the Koh Luang waterfall. This multi-tiered waterfall cascades down limestone rock into a clear emerald pond, offering mesmerizing views ready to be captured and explored.
Although the fall is a 3 to 4-hour drive away from Chiang Mai and is hidden deep in the wild, it is well worth the trip. It is a great place to swim and appreciate Mother Nature.
Address: Mae Ping National park, Tambon Ko, Amphoe Li, Chang Wat Lamphun.
4. Bang Pae Waterfall
Phuket is famous for many things, from stunning beaches to energetic nightlife. Added to the list of fantastic places to visit in Phuket is the Bang Pae Waterfall, found within Khao Phra Thaeo National Park, around an hour outside the city. This waterfall provides a nice change of pace from the crowded popular tourist destinations on the island.
Thanks to its tiny, beautiful pools that flow with freshwater, Bang Pae waterfall is a favourite spot for locals who want to cool off during hotter weather. The waterfall itself is not very dramatic, especially compared to some of the others on this list. However, it is still worth a visit. The thick jungle surrounding the waterfall will make you feel like you are farther away from civilization than you actually are.
Address: Khao Phra Thaeo National Park, Pa Klok, Thalang District, Phuket.
5. Sridit Waterfall
Located in the charming city of Phetchabun, the Sridit waterfall offers a peaceful and relaxing atmosphere. The drop from this single-level waterfall is not very high. However, the constant curtain of water that fills the pool below makes it a great place to spend the day swimming and enjoying Thailand's tropical heat.
Like many waterfalls in Thailand, Sridit waterfall is best to visit during the rainy season. Due to its simplicity and clear view, this small but fascinating waterfall is also a popular photography spot.
Address: Nong Mae Na, Khao Kho District, Phetchabun.
6. Ton Nga Chang Waterfall
Also known as Elephant's Tusks Waterfall, Ton Nga Chang Waterfall is another seven-tier waterfall in Thailand. It owes its nickname to the way the stream splits and separates into two in its third tear, making it look like two elephant tusks.
Ton Nga Chang Waterfall is located in Hat Yai province in southern Thailand. It boasts superb scenery and numerous beautiful ponds to cool off in. the lower parts from the first level are impressive. However, make sure to walk up the trail beside the falls if you can. From above, you can see a more complete view and how different each of the tiers is.
Address: Hat Yai Province, Southern Thailand.
7. Khlong Lan Waterfall
Set in the UNESCO-recognized Khlong Lan National Park, Khlong Lan Waterfall is another waterfall in Thailand that is too beautiful to be missed. Surrounded by lush forests and mountains, this waterfall offers a dazzling view. It begins humbly as numerous smaller streams merge and create a forceful water flow. Then it descends more than 100 meters from top to bottom. The water's fall is split mid-flight by a few fantastic terraces, creating dramatic and mystic scenery.
Address: Khlong Lan National Park, Kamphaeng Phet Province.
8. Khlong Chak Waterfall
Enticingly hidden amidst stunning forests and geological features on the largest island of the Mu Ko Lanta National Park, Khlong Chak waterfall is a must-visit if you happen to find yourself on Thailand's Andaman coast. Although reaching it requires a decent, 30-minutes hike through the local rainforest, it offers scenic beauty with cool, clear waters. Besides, the hike itself is delightful, thanks to the surrounding dense jungle. You might even capture the sight of elephants and monkeys in the sanctuaries!
It is best to visit Khlong Chak waterfall during the rainy season, from April to October. In the dry season, the falls can disappear.
Address: Mu Ko Lanta National Park, Koh Lanta Yai, Ko Lanta District, Krabi.
9. Haew Suwat Waterfall
The phenomenal Haew Suwat Waterfall is located within the beautiful Khao Yai National Park. It is the park's best-known waterfall, as well as its easiest to reach. It is only a 5-minute walk from the parking area, and it has numerous spots where you can sit and relax after a swim. The waterfall boasts a stream of crystal clear water that free flows from the 20-meter high ledge.
Besides its beauty, Haew Suwat waterfall is also famous because it's been featured in well-known movies. One of the most famous is the iconic film The Beach, where Leonardo Di Caprio jumped from the cliff into the water below.
Address: Na Hin Lat, Pak Phli District, Nakhon Nayok 26130
10. Phliu Waterfall
Within the Namtok Phlio National Park, about four hours from Bangkok, is the wonderful Phliu Waterfall. This three-tier waterfall boasts plenty of swimming holes filled with fish that you can swim amongst. You can also have a picnic along the banks of the waterfalls.
The Phliu Waterfalls also have a unique history. Where King Rama V built a laterite Alongkorn Pagoda in 1876 to commemorate Queen Sunantha Kumariratana's visit in 1874, as well as a small Pyramid dedicated to His love and sorrow for The Queen's untimely death by boat capsize in 1881.
Address: Phlio, Laem Sing, Chanthaburi.
These waterfalls are proof that Thailand has many destinations waiting to be explored. While it will take a great effort to see all of these beautiful waterfalls in Thailand, it can be a fun way to spend your time!
---
Advertise On The Thaiger
Contact us to discuss advertising and custom solutions.

Join the conversation and have your say on Thailand news published on The Thaiger.
Thaiger Talk is our new Thaiger Community where you can join the discussion on everything happening in Thailand right now.
Please note that articles are not posted to the forum instantly and can take up to 20 min before being visible. Click for more information and the Thaiger Talk Guidelines.