Thai students want university entrance exams postponed citing fears over their futures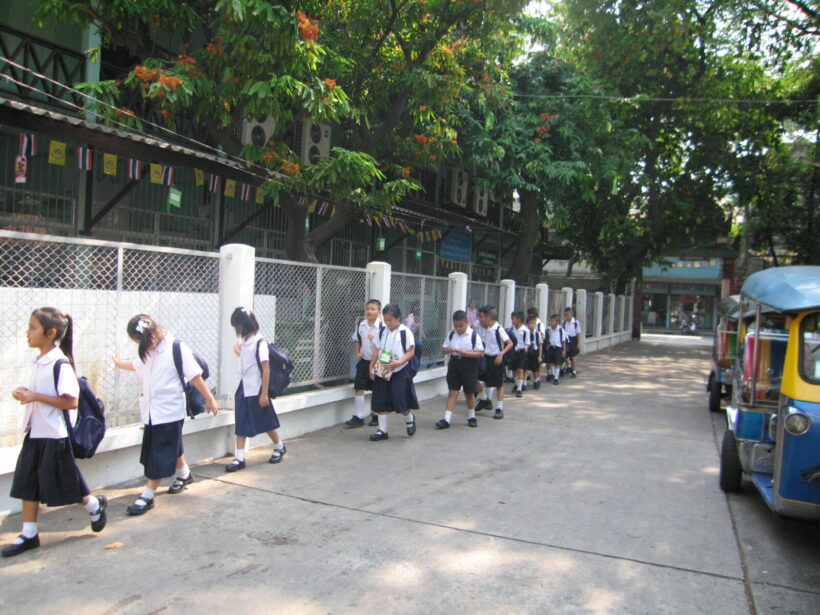 Thousands of Thai students are wanting their university entrance exams postponed over fears of their futures being impacted by Covid-19. #Courtpetitionsforexampostponement is now trending on Twitter after 6 students submitted a plea to the Central Administrative Court.
The Mathayom 6 students received help for their plea from Pheu Thai Party spokeswoman Arunee Kasayanond in lieu of exams scheduled to begin tomorrow, unless the Court intervenes. Nearly 10,000 students have signed the petition to postpone the exams, after complaining that Covid-19 has disrupted their studies and preparations for the Thai University Central Admission System.
The second wave of Covid, which started last December, saw students taking to online learning in 28 provinces, in which many say has not been ideal. Many are stating they returned to classes for only a month, and feel less prepared to sit the exams.
The TCAS matches students with universities majors of their choice using several admission rounds for applicants, with exam scores being the most important in determining which university they can attend. Despite the push to postpone the exams, education authorities have recently said that the exams will go ahead as scheduled.
According to Thai PBS World, Chulalongkorn University president and head of the University Presidents Council of Thailand, says exams will go ahead because more than 250,000 students had already prepared to sit the exams this weekend. Even more students are scheduled to take another type of university entrance exam next weekend.
"Many more students are worried about the exams being postponed. So, even though some have spoken up [against the exam schedule], we need to make a decision based on the bigger picture and the majority."
But Athapol Anunthavorasakul, who teaches at Chulalongkorn University's Faculty of Education, has agreed with students' postponement requests, given that they will be forced to sit for up to 35 tests in less than 1 month.
"Before [authorities] make a decision, they should imagine what it feels like to take 25 to 35 exams in merely 26 days."
Athapol says that universityworldnews.com shows that several countries have already put off exams over concerns for their students' readiness.
SOURCE: Thai PBS World
📱 Download our app on Android or iOS for instant updates on your mobile
📧 Subscribe to our daily email newsletter
👍 Like/Follow us on Facebook
🔔 Subscribe to or Join our YouTube channel for daily video updates
Phuket student protests and is flunked as "not loyal to the nation"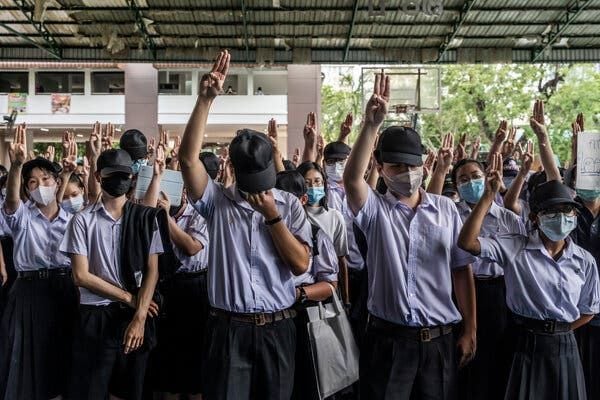 After participating in protests for student's rights, a Phuket student was barred from graduating 9th grade, moving from middle school to high school, charged with being "not loyal to the nation, institution of the monarchy". The student had advocated against mandatory uniforms and for student's liberties. He told reporters that the school started paying attention to his actions last year when he participated in rallies in solidarity with students across Thailand. The school's student affairs office received a copy of posts he made on social media encouraging others to join the cause. The school ordered a stop to his political actions, but he and his friends disregarded warnings and violated school rules when they handed out white ribbons to classmates. They received a warning from the student affairs office.
Student protests have increased after pro-democracy demonstrations surged in July last year, empowering many Thai people to speak out against injustices, including students' rights and liberties. People from schools across the nation have been banding together in solidarity to bring their issues to public light.
On graduation day, all the students were promoted into high school, except for the one student protestor, says the Bad Student protest group. The theme of the day focused on dedication to the monarchy, country and religion, and specifically how students should be obedient. The student said he has received support from friends, but his parents remain neutral and his teachers have been completely silent on the matter. He is frustrated that he was punished for his right to express himself. He plans on testing with incoming students to re-enrol in the same school, and if he is not accepted because of the disloyalty charge, he will pursue legal ramifications, suing the school for blocking his right to an education over the student's protests.
The student believes he needs to speak out to prevent school administrators from imposing on more students' rights. He advocates for diversity in schools and ending prejudices, with increased liberties and freedoms for students.
"Schools must teach children to be able to think by themselves, not force children to think like them. Schools should create opportunities for students to express their ideas more freely."
SOURCE: Prachatai
📱 Download our app on Android or iOS for instant updates on your mobile
📧 Subscribe to our daily email newsletter
👍 Like/Follow us on Facebook
🔔 Subscribe to or Join our YouTube channel for daily video updates
Thailand's first female Education Minister targets bullying in schools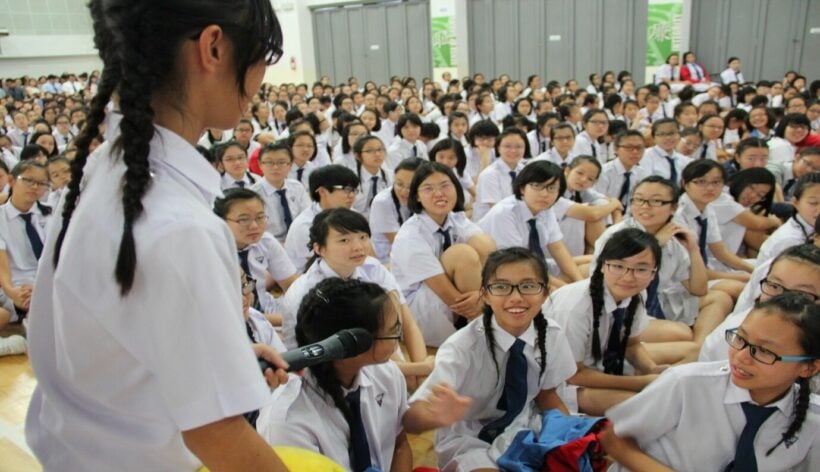 Thailand's first female education minister is targetting bullying in schools as part of 3 policies she says she will start implementing today. Trinuch Thienthong, an MP from the coalition – core Palang Pracharath Party, says she will promote safety at schools, access to digital resources and knowledge and campaign for vocational education.
Trinuch says Thailand's schools, must be free of bullies and child abuse. She says those who abuse students will face "decisive action." Thailand has made the news often in terms of bullying incidents as corporal punishment, although illegal, is still widely practised with educator's often receiving little to no repercussions. As Thailand's culture practises obeying those older and higher in status, most victims of abuse stay quiet or are blamed.
Recently, a franchised school sent shock waves through the nation after a teacher was caught on CCTV hitting and dragging a kindergarten student in class. The issue made headlines causing many to take a stand against such punishment in schools. After investigating, officials revealed that many teachers in government schools are not licenses, and therefore, do not have the training necessary to understand the psychological effects of such abuse on children. Student protesters also made a point of bringing a taboo subject to light with many being criticised even for doing so.
The issue of skin colour is also a subject in which students can be bullied. Many Thais pass on their views of skin colour to their children, who may then pass on those views to their peers. Patriarchy is alive and well in Thailand, with many of the students who brought such bullying to light, said they were discriminated against as females.
Trinuch says the Ministry of Education would also ensure that they share the knowledge and skills that were necessary for people of the 21st century and push for the development of adequate internet networks and relevant equipment to ensure public access to digital resources. The minister says Thailand suffers from a shortage of vocational workers and parents could plan a good future for their children by sending them to vocational schools.
📱 Download our app on Android or iOS for instant updates on your mobile
📧 Subscribe to our daily email newsletter
👍 Like/Follow us on Facebook
🔔 Subscribe to or Join our YouTube channel for daily video updates
Thai-language teacher suspended for throwing books at her students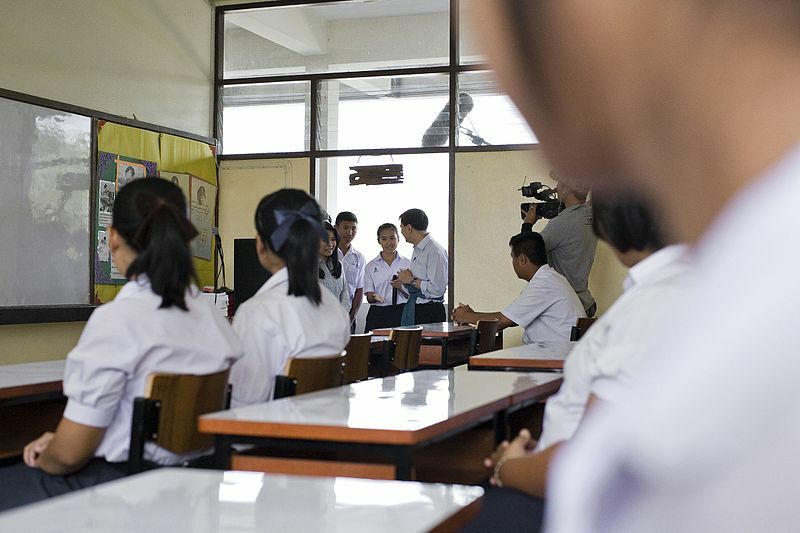 A Thai-language teacher was suspended after she was caught on video throwing textbooks at her students and even hitting a teenage student in the head with a book. Khun Sudawan, a teacher at the Manchasuksa State Secondary School in the Isaan province Khon Kaen, had been checking over class assignments and noticed many students had not finished.
As Sudawan started to raise her voice, some of the students in the back of the classroom started recording her outburst on their mobile phones. The videos show the teacher throwing the textbooks at the students, ages 16 to 17, and hitting a student in the head with a book.
The video was shared on social media and the school board decided to suspend Sudawan while school officials investigate. The local Secondary Educational Service Area Office is also reviewing the incident to determine whether the teacher should return to work or have her teaching license revoked.
The school's deputy director said "Ms. Sudawan is now suspended and we have issued her with a warning for her aggressive behavior. A substitute teacher will handle her class in the meantime."
The deputy director also said the teacher had already apologized to school officials and the students, some of whom had accepted the apology and said sorry to her in return for not doing the work.
There was a mixed reaction from the students in the class and one of the students, Amarit Tuankham, said that the teacher was very committed to the class and teaching. She also went on to say that they were wrong not to have finished the assignment and did not expect that reaction from the teacher.
The student who filmed the incident, Nantaporn Paedmod, said she deserved to be suspended as she should not have acted aggressively.
SOURCE: Pattaya Today
📱 Download our app on Android or iOS for instant updates on your mobile
📧 Subscribe to our daily email newsletter
👍 Like/Follow us on Facebook
🔔 Subscribe to or Join our YouTube channel for daily video updates