Survey shows majority of Thai people uneasy about returning to "normal"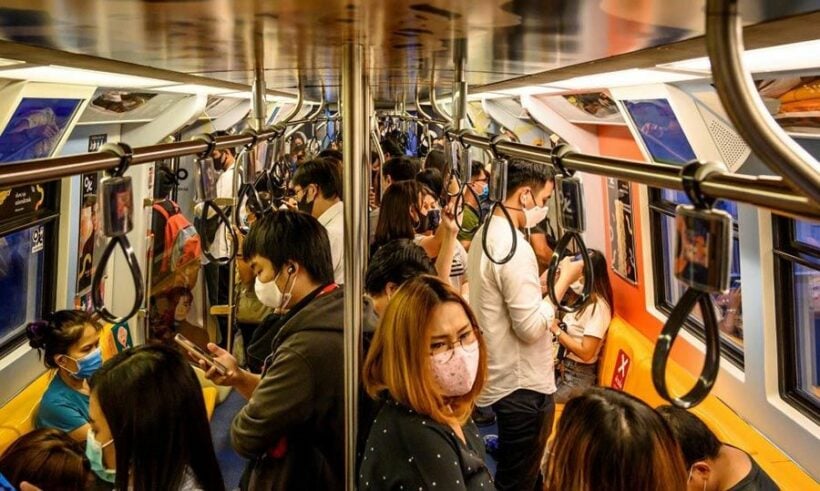 A poll conducted with over 500 workers in Thailand and Malaysia reveals that a majority of Thai people are anxious about going back to work and being expected to return to normal behaviour. The majority of employees want to see significant health and safety measures put in place, with 1 in 3 Thais saying they don't believe behaviour will ever return to the old normal.
According to a report in Coconuts, the poll was carried out by online survey company Qualtrics and illustrates that employers need to be aware of the anxiety people feel about returning to work, with many Thais saying they still feel uncomfortable just leaving their homes. The survey shows a need for businesses to acknowledge that many workers feel uneasy about commuting or attending events, or even shopping in the same way they did before the pandemic. Mao Gen Foo, from Qualtrics Southeast Asia, says employers have a responsibility to recognise this anxiety and implement safety measures to reassure staff.
"Organisations and governments need to understand how employee and customer behaviours and attitudes have changed so that they can take actions helping them feel confident during this next phase of the 'new normal'."
The poll shows that of the 62% who plan to go back to work next month, over half have said they would prefer to do so after a vaccine or effective treatment for Covid-19 becomes available. Over 80% of workers want their colleagues to wear face masks. Over 60% want to see social distancing implemented in their workplace, along with temperature checks and other safety measures.
When not at work, 70% of those surveyed say they are not ready to start attending concerts or sporting fixtures. Nearly half of those say they won't attend sports events until January, with 3 out of 5 people saying the same for concerts. Despite shopping malls and restaurants being open since mid-May, 60% of Thais say they don't feel comfortable eating in, and 36% say they still don't want to visit the shops. Transport is also a source of worry for the majority, with 65% saying they're not comfortable with the idea of travelling around the country by bus or plane right now.
SOURCE: Coconuts
Keep in contact with The Thaiger by following our Facebook page.
Never miss out on future posts by following The Thaiger.
Researchers claim Thailand's bats not responsible for Covid pandemic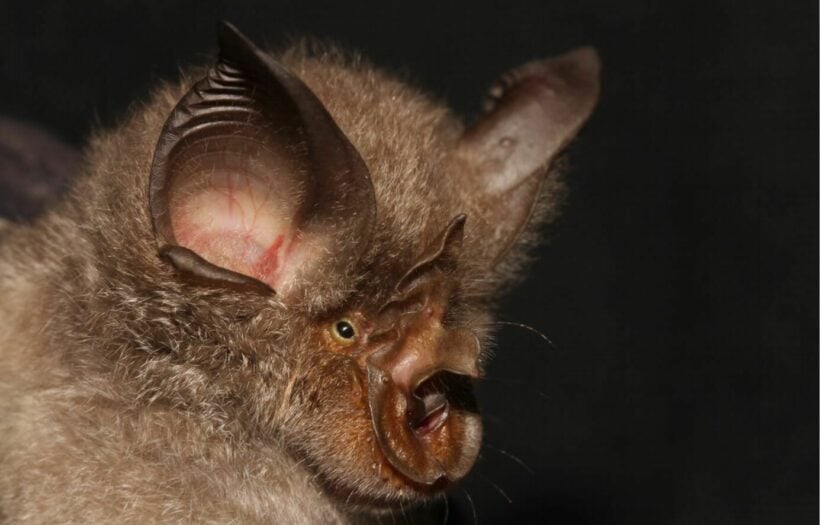 Thai researchers are claiming that horseshoe bats are not responsible for transmitting the Covid virus to humans. Supaporn Wacharapluesadee, a researcher with the Thai Red Cross Emerging Infectious Diseases-Health Science Centre, says hat even though the bats have tested for a coronavirus, it is not the strain that is transmissible to humans.
"They are in the same family [of coronaviruses], but they do not cause Covid-19. As of now, there is no evidence to show that the strain we found in bats [in Chachoengsao] can be transmitted to humans."
"However, we do need to carefully monitor its development because many emerging infectious diseases began in bat species."
Supaporn is an expert on emerging infectious diseases in bats and made the statement after a Russian news agency claimed that researchers found a new strain of coronaviruses in a Thai bat colony which closely resembles the Sars-CoV-2 virus that causes Covid-19.
Supaporn admitted that a research team from the Thai Red Cross Emerging Infectious Diseases-Health Science Centre is studying emerging pandemic threats in bat populations, she said the study's findings were misrepresented.
Rungnapar Pattanavibool, deputy chief of the DNP, says the department is aware that wild animals can transmit diseases to humans and they are working with other agencies to check imported animals for such diseases.
But Supaporn insists that public fears over the horseshoe bats are unwarranted as she says there is no evidence that the bats carrying a similar strain of Covid can transmit the strain to humans. The new strain's genetic code does, however, feature a 91.5% match with Sars-CoV-2.
And, that's not to say the bats cannot spread other strains of coronaviruses as scientists say it is likely that bats across Asia are doing the same thing. Infectious diseases such as SARS, MERS, Hendra, Ebola and Nipah, are thought to have emerged from bats, making research into Asian bats all the more necessary.
SOURCE: Bangkok Post
Keep in contact with The Thaiger by following our Facebook page.
Never miss out on future posts by following The Thaiger.
Samut Sakhon shrimp market, recent Covid-19 wave's epicentre, is back open and bustling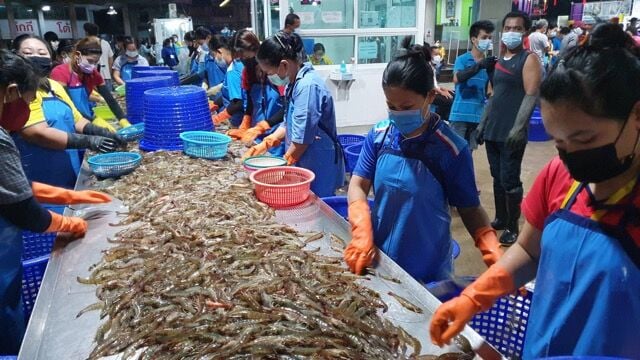 The Samut Sakhon seafood market, the epicentre of the recent wave of Covid-19 infections, has reopened. The Central Shrimp Market had been shut down, sealed off and sprayed down after hundreds of vendors, migrant workers and visitors were infected with the coronavirus. Now, 10 weeks later, the market at a fishing hub just southwest of Bangkok, is not only back open, it's bustling.
A waiting area now has rows sectioned off by plastic dividers to ensure social distancing. Those bringing fish to the market to sell must take a queue card and sit in the proper seat. The seafood will also be now sorted on a raised platform.
Market operators, vendors and customers are required to follow disease control measures. Screening points are set to check all vehicles entering the area including trucks delivering seafood as well as vendors and customers.
Workers are required to wear face masks, gloves, rubber boots and rubber aprons. Members of the market must have documents from a recent health screening.
SOURCE: Bangkok Post
Keep in contact with The Thaiger by following our Facebook page.
Never miss out on future posts by following The Thaiger.
CCSA Update: 80 new Covid-19 cases, active infections on a downward slope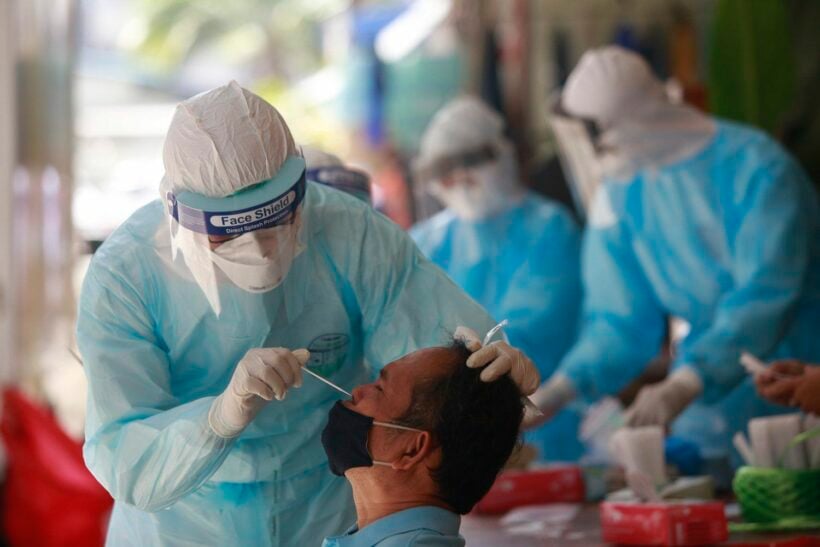 80 new Covid-19 cases were reported today in the Centre for Covid-19 Situation Administration's daily briefing while 142 new cases were reported on Saturday and Sunday. Since the start of the pandemic, Thailand has reported 26,031 coronavirus infections and 83 deaths.
There are currently 624 active Covid-19 infections, a record low for Thailand since the December outbreak at a Samut Sakhon seafood market. The number of active Covid-19 over the past month drastically dropped after health officials slowed down mass testing efforts in high risk areas.
Out of the 80 new cases reported today, 28 were exposed to the virus in areas considered to be at "high risk," including 19 in Samut Sakhon, 3 in Tak, 2 in Nakhon Pathom, 2 in Bangkok, 1 in Chon Buri and 1 in Ratchaburi.
36 cases were detected through proactive testing, including 35 cases in Pathum Thani and 1 in Nonthaburi.
The other 16 cases were detected in quarantine for those arriving to Thailand from overseas.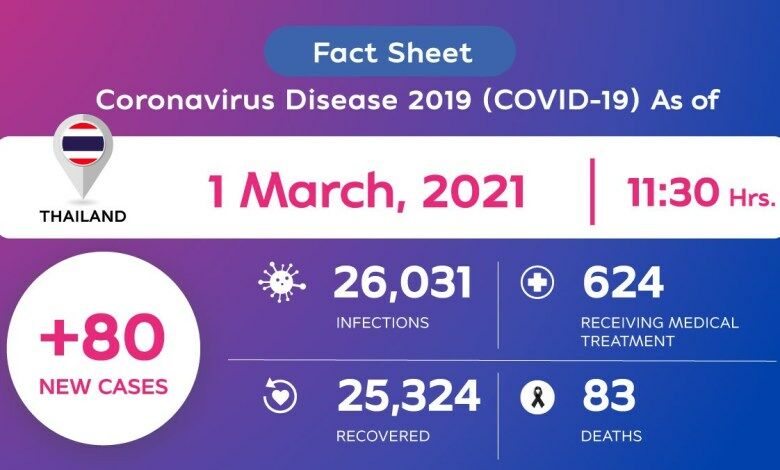 SOURCE: Nation Thailand
Keep in contact with The Thaiger by following our Facebook page.
Never miss out on future posts by following The Thaiger.