Supermarket delivery staff go the extra mile for bedridden customer in Bangkok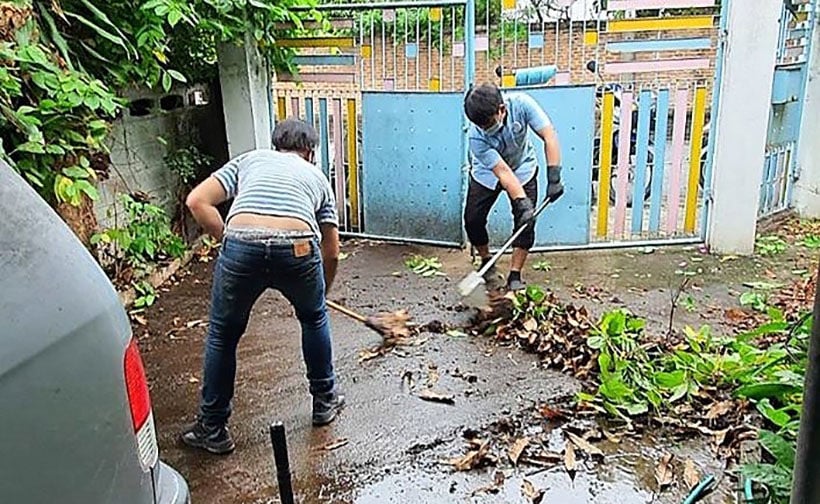 Every little bit helps…
Social media users in Thailand are praising a group of supermarket employees who went the extra mile while delivering groceries to a bedridden customer in the Bang Kapi district of Bangkok. Tesco Lotus shared pictures on its Facebook page of delivery staff who took it upon themselves to clean the elderly woman's home and garden after learning that she was bedridden and unable to do any housework. They then went a step further and gave her money to buy other items she might need.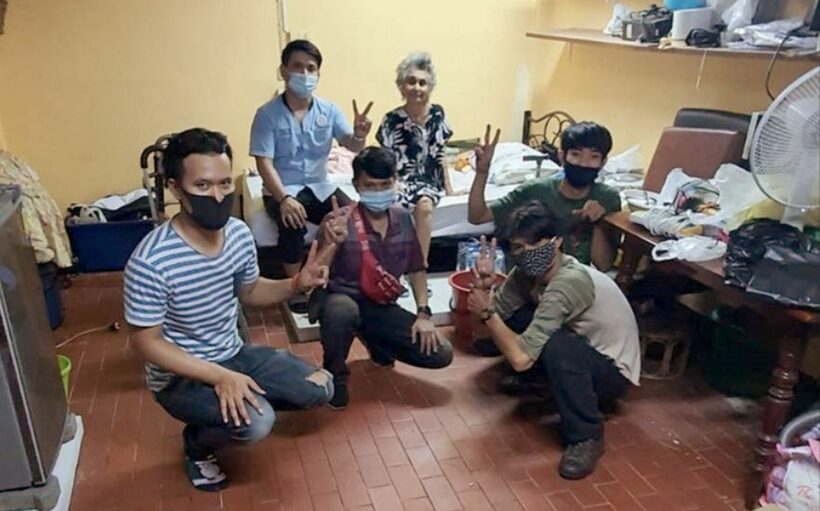 PHOTO: Nation Thailand
The Covid-19 crisis has left many Thai citizens facing unprecedented hardship but has also brought out the best in many people, both Thai and foreign, who have rallied to help those in need. In its Facebook post, Tesco Lotus says the delivery workers decided to help the woman when they realised she was confined to bed.
"After the group learned that the woman could not walk or do any chores, they offered to clean her house as well as the perimeter area. They also donated money to buy food and other necessary items for the woman."
Nation Thailand reports that news of the employees' good deed quickly took off on social media, with the post being "liked" over 20,000 times and shared by over 1,000 people so far. Netizens praised the kindness of the workers, citing it as an example of how Thai people help each other when times are hard.
There has been an increase in home delivery options for both supermarkets and restaurants, initially brought about by lockdowns and restrictions that shuttered many businesses, encouraging people to stay home. But even with shops and restaurants open again, the home delivery option continues to be a convenient and popular choice among customers.
SOURCE: Nation Thailand
Keep in contact with The Thaiger by following our Facebook page.
Never miss out on future posts by following The Thaiger.
Health officials deny WHO investigation into Bangkok's Chatuchak market as potential origin of Covid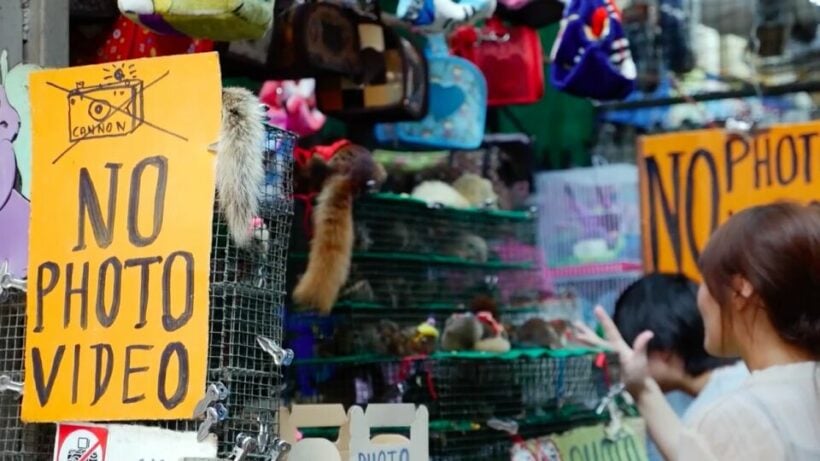 Health officials in Thailand are denying reports that the World Health Organisation is investigating Chatuchak market in Bangkok in ongoing efforts to establish the origin of Covid-19. The reports have surfaced in Danish media, following a WHO visit to Wuhan last month, with doubt hanging over the theory that the pandemic started in the central Chinese city.
Nation Thailand reports that the Department of Disease Control has held a press briefing in which it refutes suggestions the virus could have come from wildlife traded at Chatuchak market. The market has previously come under fire from animal welfare and wildlife protection organisations. In 2016, research by wildlife protection group Traffic pointed to the market's ongoing illegal trade in protected bird species, while an earlier report highlighted the market's role in the illegal trade of freshwater turtles and tortoises.
Despite several conservation experts pointing to the risks associated with the wildlife trade, Chawetsan Namwat from the DDC denies the suggestion the WHO is investigating the market for potential links to Covid-19. He says the media reports are based on evidence that the Thai horseshow bat carries another SARS virus that shares over 91% of its genetic code with the Covid-19 virus. He adds that this virus cannot be transmitted to humans, saying the DDC's advice continues to be that humans should not consume wild animals.
"This is just an academic assumption, not absolute truth. We are constantly monitoring the animal-trading zone in Chatuchak weekend market. Even if there is no clear evidence on the origin of this virus, we still need to be vigilant and maintain strong disease-prevention measures."
SOURCE: Nation Thailand
Keep in contact with The Thaiger by following our Facebook page.
Never miss out on future posts by following The Thaiger.
Thai temple tour, via a jet ski on Bangkok's Chao Phraya | VIDEO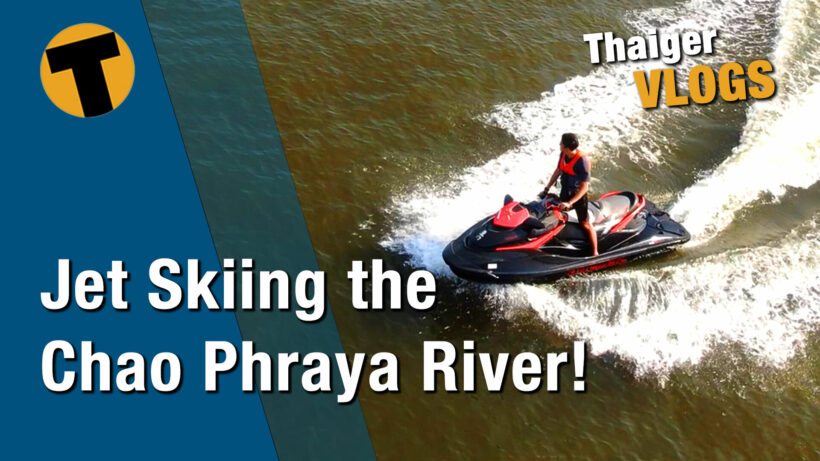 In this brief video, Chris our Thaiger 'adventure' Vlogger, takes you on a ride through the Chao Phraya River…on a jet ski! There are plenty of ways for tourists to take the well-trodden path of temple-hopping whilst in Thailand. THIS is a very fresh view of some of the famous river's lesser known temples.
You can stop off and a look around (make sure you're dressed appropriately) during your very-own river trip. The Chao Phraya River is the main river that runs through Thailand, and for 2,500 Thai baht you can rent out a jet ski and do some temple hopping as well as speeding your way around Ko Kret.
Keep in contact with The Thaiger by following our Facebook page.
Never miss out on future posts by following The Thaiger.
Pro-democracy activists rally against corrupt police promotion system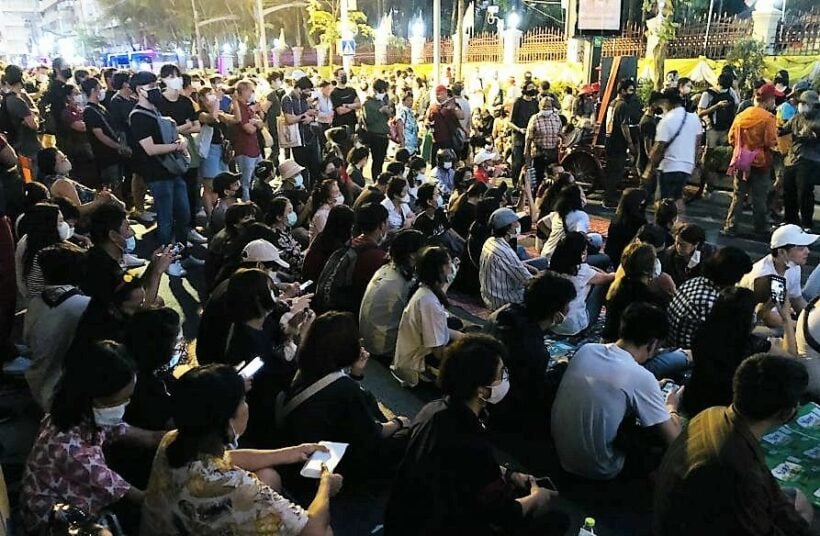 The pro-democracy group, Ratsadon, held a rally in Bangkok yesterday, this time with their sights set on Thailand's police force and the corrupt practices involved in promotion. The system in which officers have to pay bribes to senior figures, allegedly including senior politicians, was highlighted in a debate in parliament last week.
Activists met at the Ratchaprasong intersection in the capital at around 5pm and stayed there for an hour, according to a Thai PBS World report. However, most of the speakers were unknown faces, with more prominent leaders, such as Panasaya Sitthijirawattanakul, aka, "Rung", and Mike Rayong notably absent. Those who addressed the crowd called on "honest" officers to join them in the fight for justice, as they slammed the widespread nepotism and corruption that is allegedly rife in the police force.
Protesters then marched to the nearby headquarters of the Royal Thai Police and sat on the street outside while speeches continued. At one point, an activist read out a letter which the group says was written by a police officer and addressed to his colleagues. In it, the officer calls on his colleagues to decide if they are serving the people or those in power, and asks them if they think they've been fairly treated by their bosses or used for political purposes. After the reading, rally participants were given copies of the letter.
The protest dispersed peacefully around 8.30pm, with organisers saying another rally is planned for today. Activists are being asked to wear black and will gather in front of the Criminal Court in a symbolic show of mourning for the country's justice system. The "mourning" will last for 112 minutes, to protest Section 112 of Thailand's Criminal Code, also known as the lèse majesté law. Participants will also call for the release of 4 detained protest leaders, Parit Chiwarak, Anon Nampa, Somyos Prueksakasemsook, and Patiwat Saraiyaem.
SOURCE: Thai PBS World
Keep in contact with The Thaiger by following our Facebook page.
Never miss out on future posts by following The Thaiger.