Sitting down is the new smoking – exercise in a Covid-19 world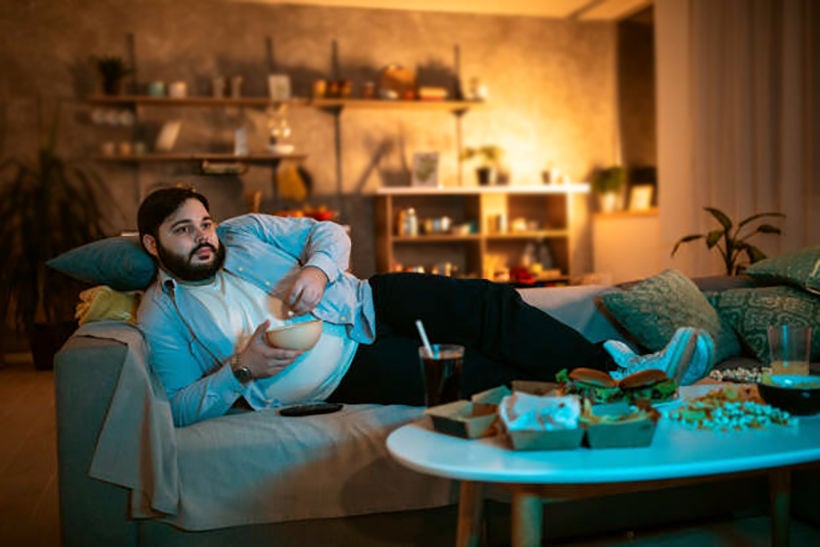 Now the world is in lock down because of the Coronavirus I bet you will be spending most of your time sitting down watching TV or working on the computer, only to then later sit down some more and watch some more TV… or like me just playing computer games all day. But I bet you didn't know that sitting down can be pretty harmful to your health as well.
"Sitting Down is the new Smoking" is a phrase coined by Dr. James Levine, director of Mayo Clinic at Arizona State University.
Here is a secret you didn't know about me, I have been a Personal Trainer all my life, always involved in physical sports and competed in competitions since primary school. But I have also been a huge gaming fan. I'm not talking about typical guy games like Call of Duty on the Xbox either. I mean super geeky, strategy games on the PC, like Command & Conquer and Eve Online, which is as geeky as it gets. Even now I host a 7 Days to Die dedicated server, which is like Minecraft 2 but for adults. 
"Sitting is more dangerous than smoking, kills more people than HIV, and is more treacherous than parachuting. We are sitting ourselves to death," says James Levine, a professor of medicine at the Mayo Clinic, in an interview with the LA Times. 
Ever since MS DOS was the main operating system of the worlds home computer, I was sitting down at one playing games for hours on end. But I don't have the generic postural problems the majority of my clients have from sitting down for hours at the office jobs. This is probably because I am aware of it and do my best to counter its negative effects. 
But sitting down for too long isn't just about back pain and postural issues. There is a huge amount of other health related issues you could get from it.
Why is sitting down so bad for you?
Research has shown that you increase the risk of getting cancer, diabetes and cardiovascular disease by sitting down for too long. Your metabolism slows down by 90% after just 30 minutes of sitting, the enzymes that transport fat from your arteries to the muscles where its burned off are slowed down. And after 2 hours of sitting, good cholesterol is reduced by 20%. 
"The chair is out to kill us."
Sitting down for too long also turns off the muscles in your lower body, shutting down the electrical activity in your legs. It also causes our body to be less sensitive to insulin which causes your body's ability to burn calories to drop significantly.
Good news is, getting up every 30 minutes will help, walking around a bit and do some stretches for about 5 minutes will get things going again. With all the gyms, fitness centers and yoga studios closed we are forced to come up with ideas to stay healthy and active at home. 
My friend Kim White is live streaming her Yoga classes on Facebook. So, if you're feeling stiff or bored you can follow along with her live classes for free. You might even see me stream some home workouts as well.
Either way I hope you all stay safe at home and just remember to keep moving around and stretch for a few moments every 30 minutes of sitting down. Stay active, stay productive.
There's also countless Apps you can download which can help you exercise and keep track of your non-sitting activities. And how about your own dancer-case class with one of your fave YouTube clips? Or become a clean freak and get about doing a daily routine cleaning the house. Even better get out and do all those jobs in the garden that needed doing. Really, the more you look around your house, the more there is to do, and now is the best time to do it!
Whatever you do, don't sit down all day – it's as bad as smoking!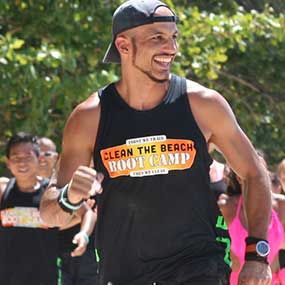 Krix Luther is a Phuket-based fitness and health leader.
Keep in contact with The Thaiger by following our
Facebook page
.
Google will publish user location data to aid in the fight against Covid-19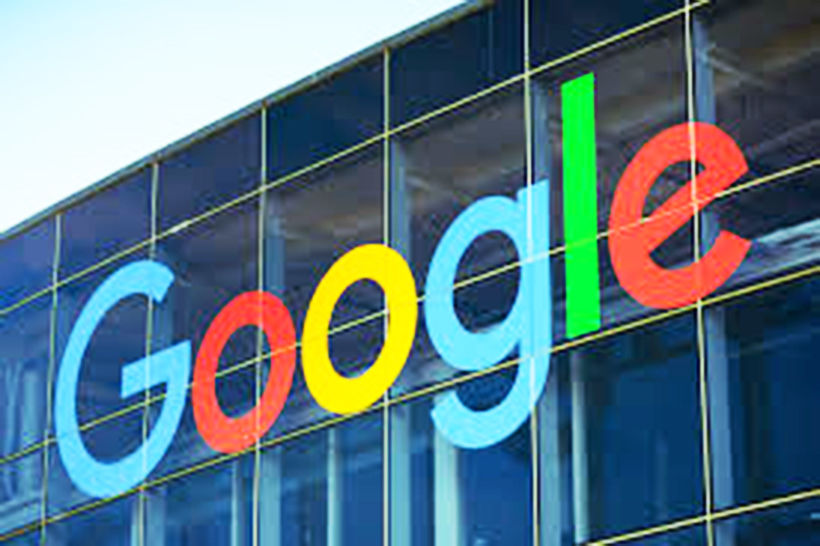 Today in Paris, Google has announced that it will start publishing location data from its users located in 131 countries, starting today. This will be done to allow the governments to indicate the performance of social distancing to help in the combat of the Covid-19 pandemic.
Reports of users' movement will be recorded on a special website and will 'chart movement trends over time by geography'. Trends will be displayed as 'a percentage point increase or decrease in visits' to locations like parks, shops, homes and places of work.
Leader of Google Maps Jen Fitzpatrick, and the company's chief health officer Karen DeSalvo says…
"We hope these reports will help support decisions about how to manage the Covid-19 pandemic, this information could help officials understand changes in essential trips that can shape recommendations on business hours or inform delivery service offerings."
Similar to the measurement of traffic on Google Maps, the new reports will use "aggregated, anonymised" data from users who have activated their location history. No "personally identifiable information," such as a person's location, contacts or movements, will be made available. To ensure this the reports will also employ a statistical technique that adds "artificial noise" to raw data, making it harder for users to be identified.
SOURCE: Bangkok Post
Keep in contact with The Thaiger by following our
Facebook page
.
Onerous new document requirements for stranded foreigners announced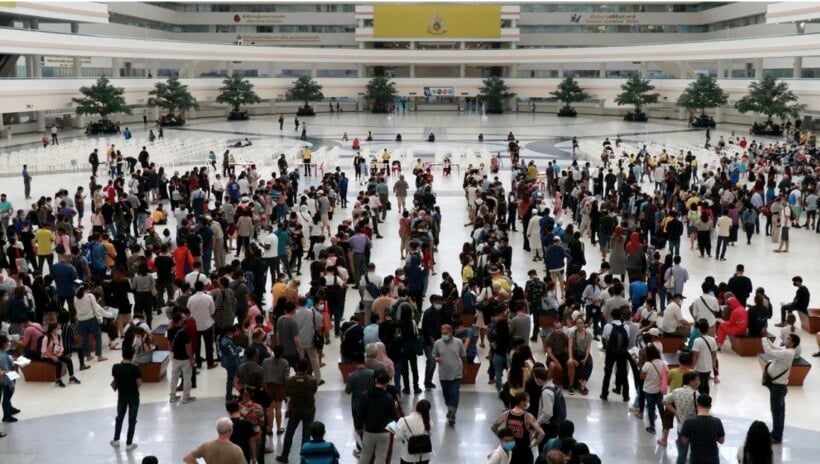 Thailand's Immigration Bureau announced yesterday that 9 separate documents are now required for foreigners stranded here to extend their stay for up to 30 days. New requirements include land deeds, rental contracts, even selfies of foreigners at their accommodations, even as scenes of chaos and massive queues at immigration continue unabated. A Thai Immigration spokesman defended the inconvenience on the grounds of "national security."
Countless long queues have been packing immigration offices around Thailand as foreigners scramble to sort out their visa situation and apply for extensions to avoid overstays. The long queues, many in stinking hot conditions around the country at the moment, are putting Thai immigration staff, and the applicants, in a dangerous NON social distancing situation.
Be aware that the same requirements may not be required at every immigration office on every day as the situation remains fluid and immigration officials are working hard to process all the paperwork and adapt to the changes in rules.
"Indeed, we are requiring more documents than usual because there are those who want to exploit the opportunity. We are doing our best to provide the best service, but bearing in mind that national security is our utmost priority."
The new rules were brought to public attention in a photo posted yesterday by longtime British expat Richard Barrow.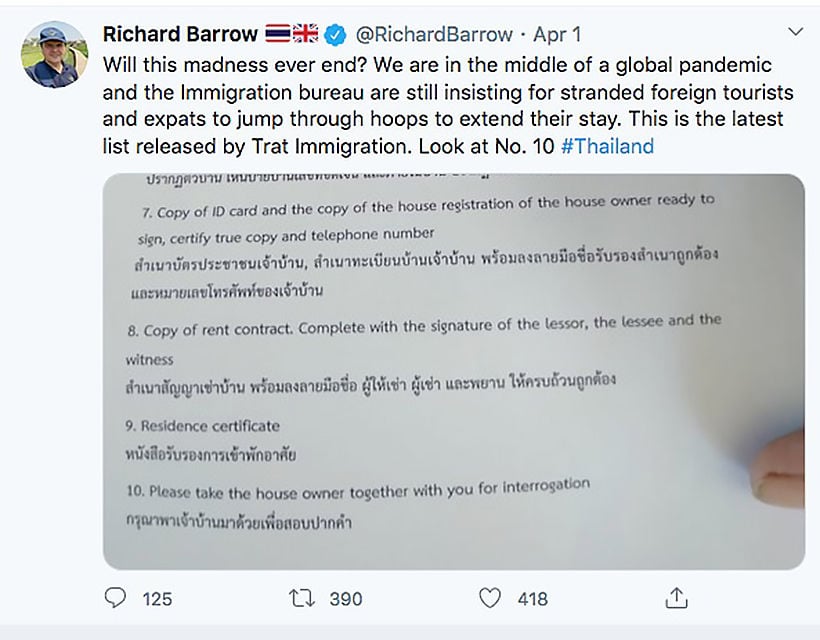 Apart from the usual TM7 application form, copies of passports, and applicants' photos, the new rules require a certificate from their respective embassies, a copy of a rental contract, a document confirming their stay at the accommodation, a copy of the landlord's ID card and house registration, and a map showing the location of their residence.
The landlord must accompany the applicant in person when submitting the documents (!!!??###!!!???) The applicant must also provide at least four photos of themselves at the accomodation, preferably showing the house or apartment number, to prove their residency.
The spokesman said these new regulations are "in accordance with immigration protocols."
Speaking by phone, the spokesman also shot down news reports that the Cabinet has approved automatic visa extensions for foreign tourists.
"In fact, the matter is still being deliberated."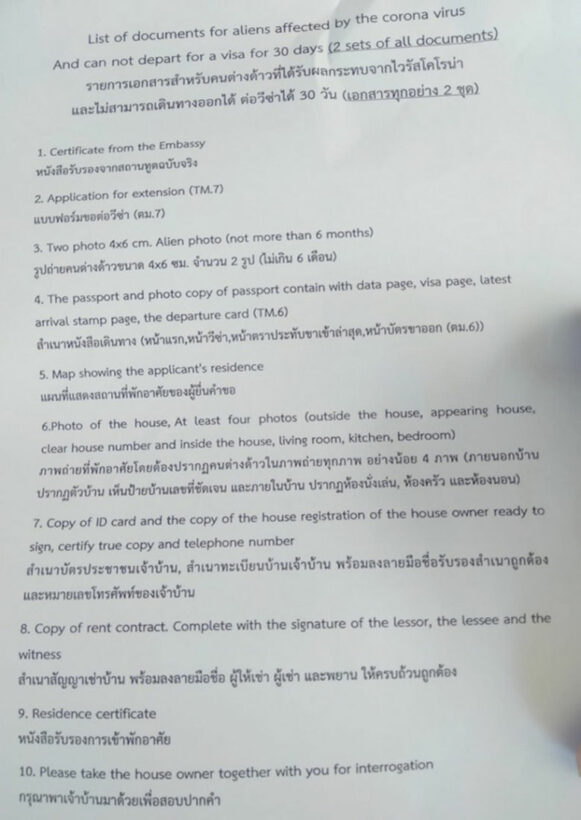 SOURCE: Khaosod English | Twitter/Richard Barrow
Keep in contact with The Thaiger by following our
Facebook page
.
Is a 24 hour national curfew next?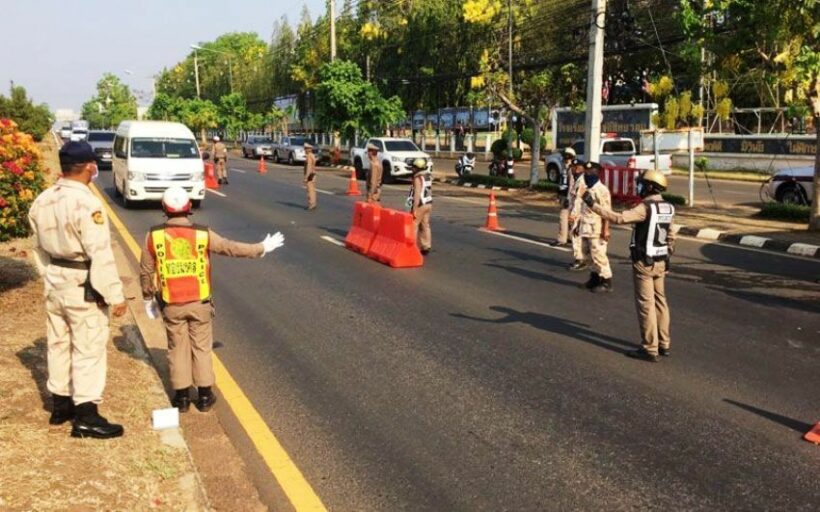 The Thai government may impose a 24-hour curfew if the rate of new Covid-19 infections does not slow to a manageable level after this current national trial curfew of 10pm to 4 am and 8pm to 3am in Phuket now in effect. The national curfew was announced yesterday by Thai PM Prayut Chan-o-cha and came into affect from today. There are number of provincial curfews already in place.
Government spokeswoman Mrs Narumon Pinyosinwat made the comment today that the Government will assess the results of the nationwide partial curfew. If the curfew is not having the desired effect, the Government may take a more drastic step but she said that PM Prayut Chan-o-cha does not want to resort to such a "bitter pill".
Pinyosinwat says it may not be required if the public cooperates with public health advice to stay home and observe strict social distancing when in public.
SOURCES: Chang Rai Times | Thai PBS
Keep in contact with The Thaiger by following our
Facebook page
.